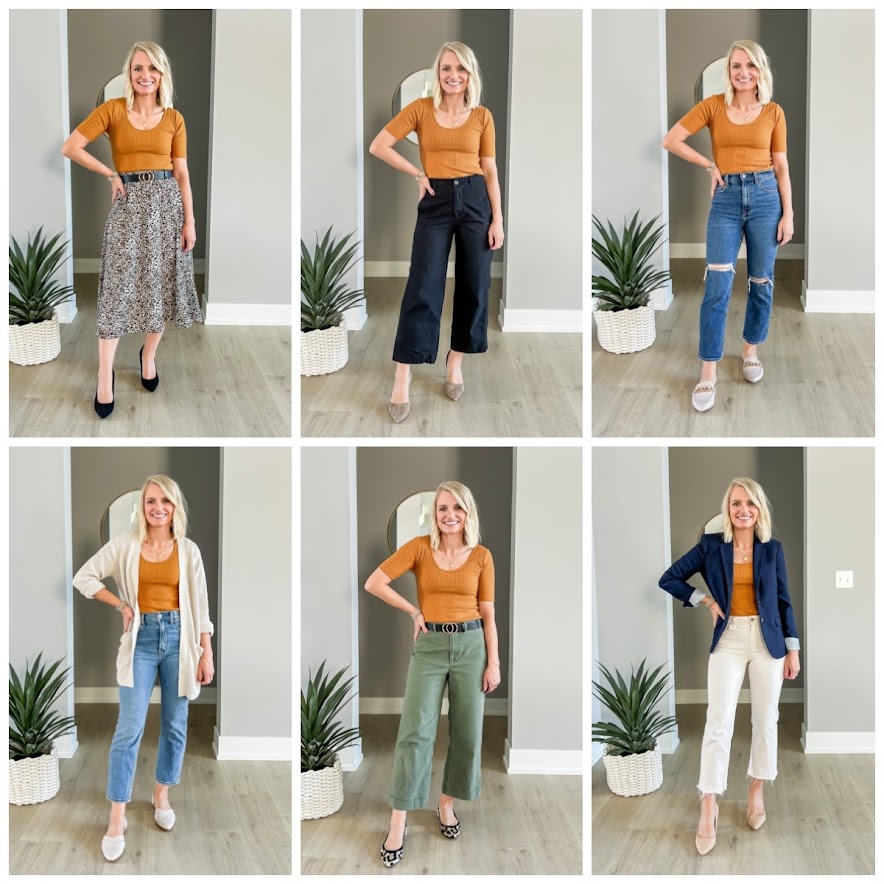 September is just flying by and I have so much to share still! Fall is one of my favorite seasons to dress for, so I always have so many ideas in my head. One thing I have been thinking about lately is styling colors into my wardrobe. I don't know about you, but I am a little intimidated when it comes to wearing colors. This is why I want to start a new series called "How to Wear Color".
*This post contains affiliate links.
Whenever I do a closet clean out, colors and prints are usually the first to go. (Read about a recent closet cleanout I did HERE!) I always hold on to the neutral colors for a long time. Some colors can be trendy and seem to go out of style quickly. Other colors seem to always be in style. This is why I thought it would be fun to explore some different color combinations through this series and how you can style them into your everyday outfits.
I recently bought this mustard yellow top at Old Navy. I was instantly drawn to the color in the store. This color always is a great color to wear in fall! Even though I love this color, I was a little stuck on what colors to pair with it. Whenever I am unsure of how to wear something, I like to play around with it. I try it on with different pieces in my wardrobe to see what feels right.
After exploring some of the different options that I have in my wardrobe I landed on these 6 outfit combinations to share with you here today!
How to wear color- Mustard Yellow Outfits
Outfit 1: Leopard skirt + Mustard yellow top
My leopard pleated skirt, which was a thrift find, has been one of my favorite skirts! Leopard can be paired with so many colors! I really love the combo of it with the mustard yellow top. I felt that this leopard pattern leans more toward the black tones rather than brown, so I went with a black belt and shoes to accessorize with.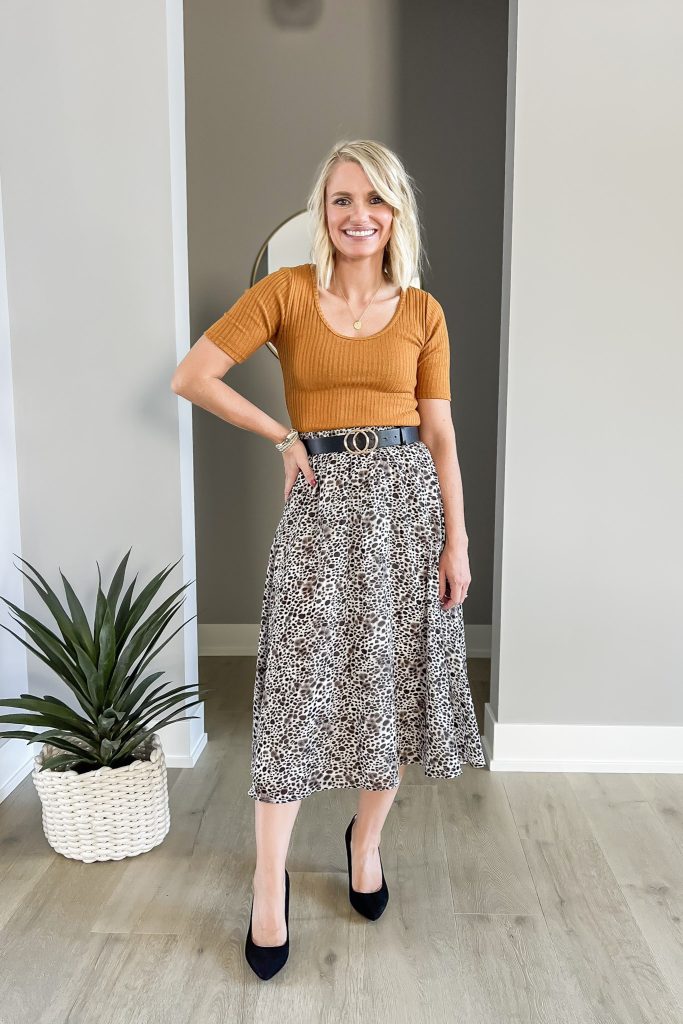 Top || Skirt (similar) || Shoes (similar) || Belt || Necklace || Bracelet
Outfit 2: Black pants + Mustard yellow top + Leopard shoes
Black pairs so well with any color. I really have been loving the black and gold together this fall. The mustard yellow almost works as a neutral with this outfit. To add a pop of pattern, I went with my leopard heels, which were a thrift find from last fall. I don't think I could ever have enough leopard shoes in my wardrobe.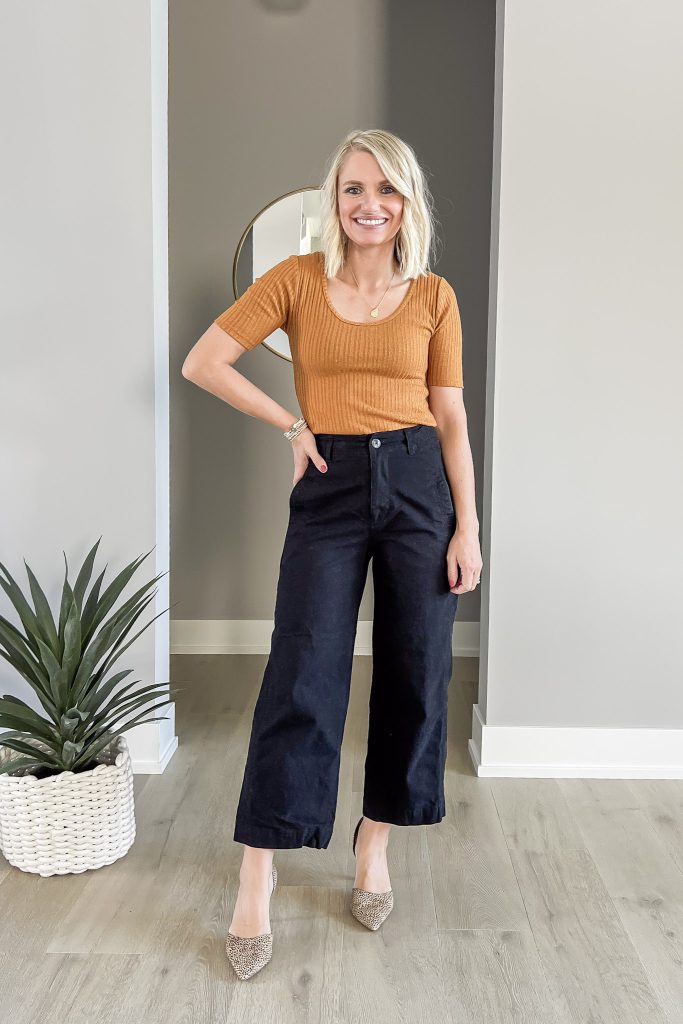 Top || Pants (similar) || Shoes (similar) || Necklace || Bracelet
Outfit 3: Dark medium wash jeans + Mustard yellow top
At first, I thought that it might be difficult to pair this color yellow with different shades of denim, but after trying it out with a bunch of my jeans, I learned that it pretty much goes with everything! I really love it with these dark medium-wash distressed jeans. It's such an easy combination. I went with just a simple neutral shoe color with these mules. The buckle in the mules gives it a little extra detail and so do the distressed knees in the jeans.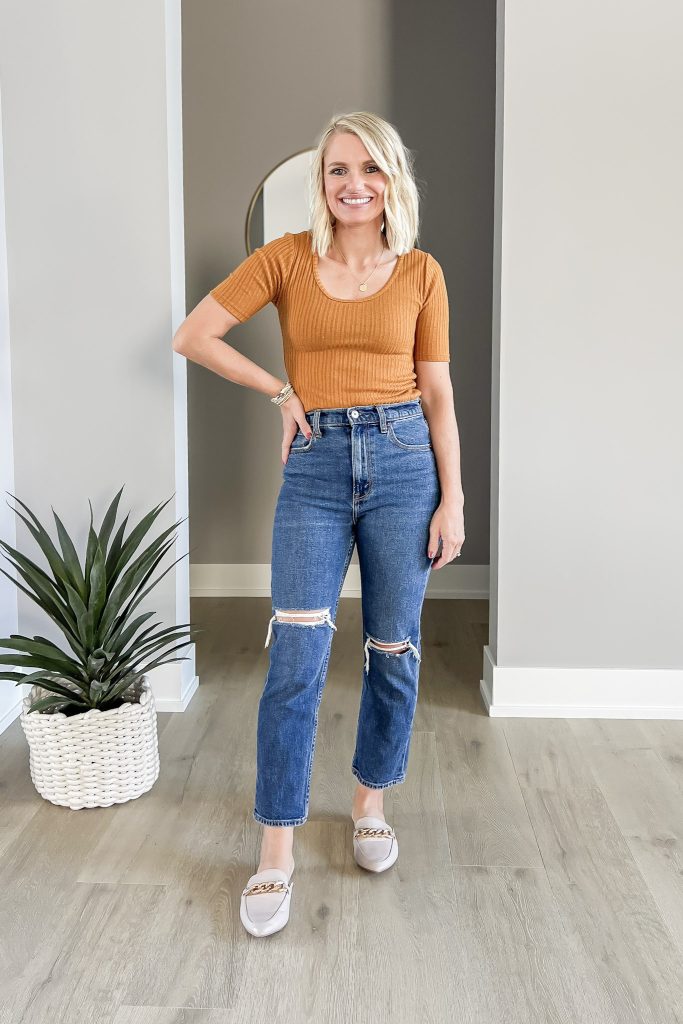 Top || Jeans || Mules (similar) || Bracelet || Necklace
Outfit 4: Medium wash jeans + Mustard yellow top + Tan cardigan
I wanted to share more than one jean wash option with this top, so I decided to go with these medium-wash jeans from Abercrombie. I felt that this tan cardigan was a good layering piece option with this outfit. The light neutral color goes well with the golden color. I kept that same light neutral color for the shoes as well!
Top || Cardigan || Jeans || Shoes || Necklace || Bracelet
Outfit 5: Green pants + Mustard yellow top + Leopard shoes
I always find it hard to pair a color with another color. A fellow petite blogger, Brooke from Pumps and Pushups shared this color combo recently in one of her posts and I just had to try it out myself! I love how it all flows together. This color combo just screens fall to me! I completed the outfit with some leopard flats. I pulled the black from my flats for my belt.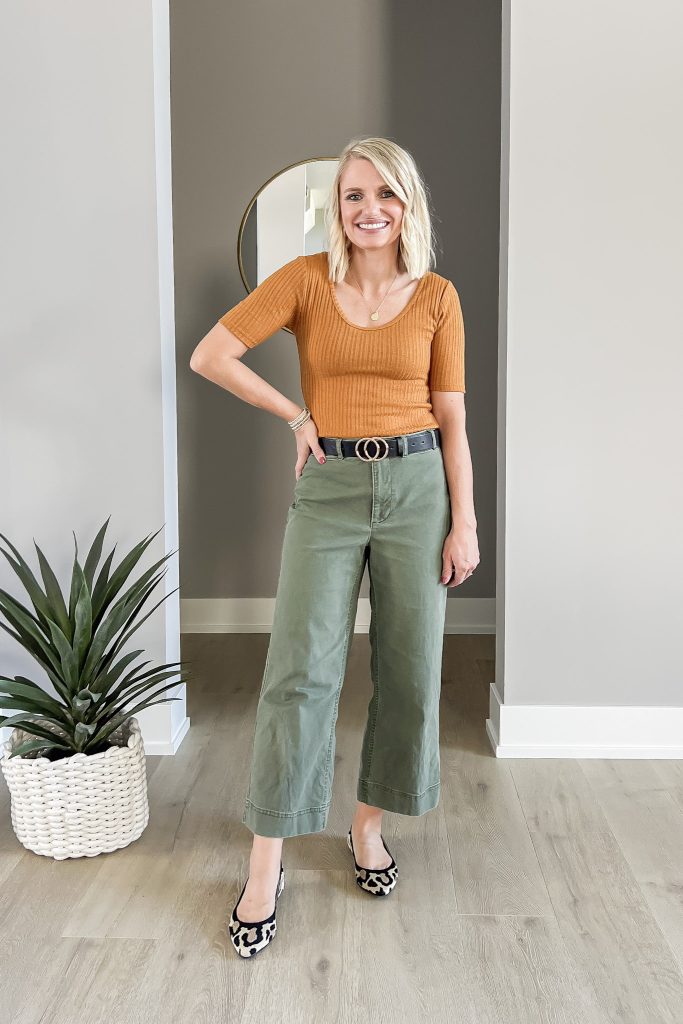 Top || Pants || Shoes || Belt || Necklace || Bracelet
Outfit 6: White pants + Mustard yellow top + Navy blazer
I have always loved this color combination. Navy and gold always go so well! I knew that this look was familiar to me, so I wasn't surprised when I saw myself wearing the outfit combination in a blog post from 2019- 3 Ways to Style a Yellow Shirt. For this updated look I went with a pair of wide-leg cropped white pants and a more polished blazer, both are thrift finds! With the heels, it makes a great work look or even a dinner-out outfit.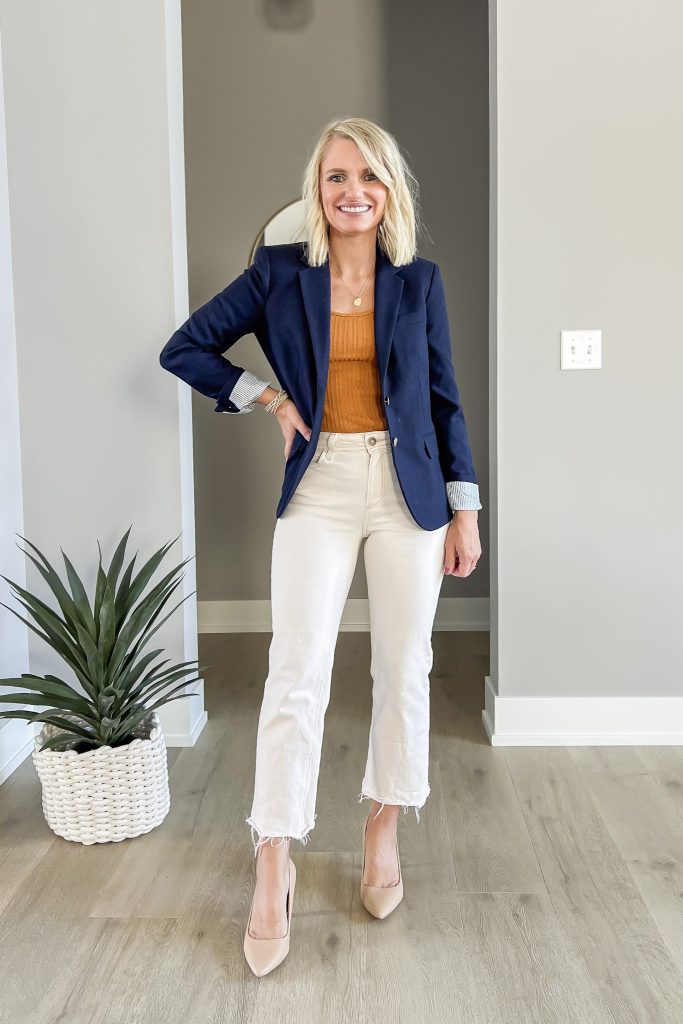 Top || Jeans (similar) || Blazer (similar) || Shoes || Necklace || Bracelete
You can look for more of this "How to Wear Color" series here on the blog and also on my Instagram! Let me know in the comments if there is a color that you struggle with wearing. You might just see it styled in a post soon!