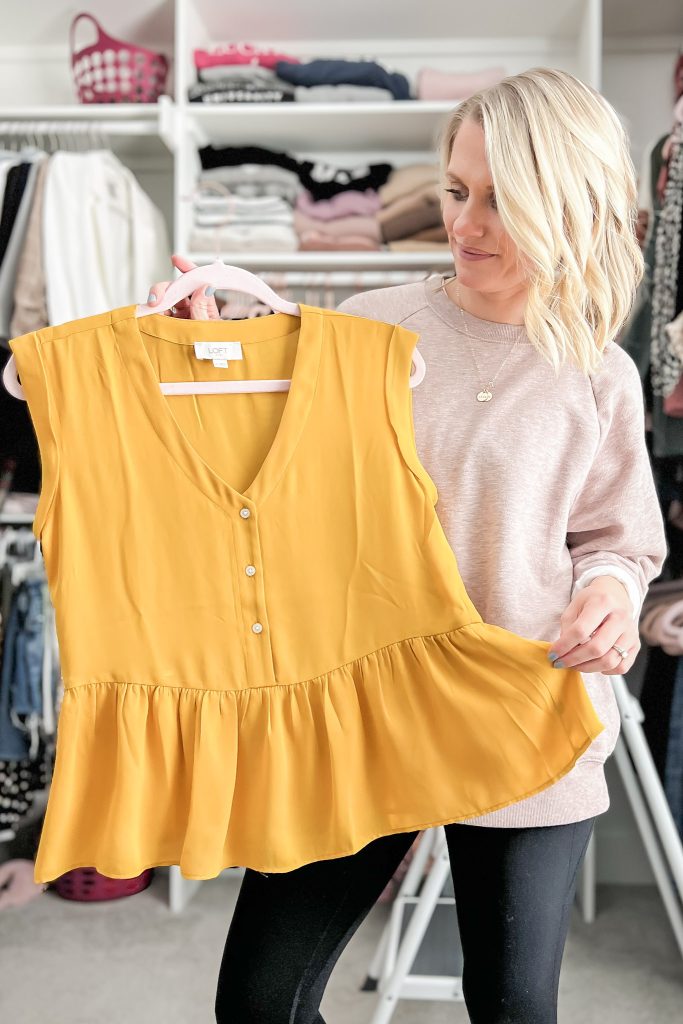 I recently did a big closet clean out. I always feel like I am left with an overload of clothes at the end of every year. Even though I do my best to keep up with my closet seasonally, I still felt like my closet needed a major refresh. That's why I spent most of the month of January going through all my clothes. Today I want to share what I learned in the process.
*This post contains affiliate links.
If you truly want to love your wardrobe, then you need to know what is inside your closet. Not knowing what's inside your closet can lead you to overspend on clothes. You are more prone to impulse buys, buying multiples, and buying clothes that don't fit into your lifestyle. It's important to appreciate the clothes that you already have. This is why I try to keep my closet organized and go through my clothes often to keep an inventory of what I own. (Read more on closet organizing HERE and HERE.)
As my blog has turned from a hobby to a business, my clothes intake has gone up a lot! It has been difficult for me to get wear out of every piece of clothing that comes my way. Between brand partnerships and the clothes that I buy on my own, I end up with an overload of clothes to keep up with. It can be difficult to keep up with seasonally, so this is why I wanted to go through and purge as much as I could.
What I got rid of in my closet clean out
The number of clothes that I got rid of in this closet clean out surprised me. There were some pieces that I was surprised that I was still holding on to and others that I couldn't believe I picked out. Some items had already been replaced with something new and other items had only been worn once and were just taking up space in my closet so it was time to go.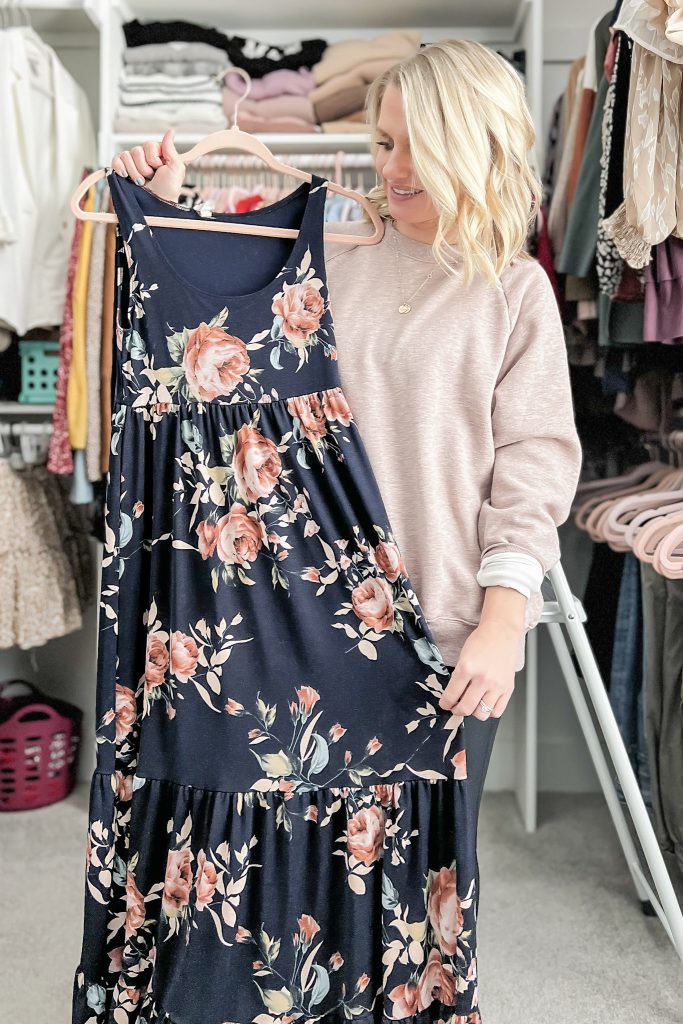 Low Rise skinny jeans- I know that low-rise jeans are making a comeback, but not in my wardrobe! I have fallen in love with high-rise jeans and I don't see my mind changing any time soon.
Floral print dresses- I don't love floral prints. Don't get me wrong, the right floral print can be great, but I've never been a fan of big prints on me. I did keep a lot of floral blouses because I prefer the print in smaller doses.
Square necklines- Square necklines have been pretty popular in recent years, but I am not always a fan. They are hard to find the right bra to wear with them which means they don't get much wear in my wardrobe.
Leopard print- I LOVE leopard print accessories, but as for leopard print tops I had to say goodbye to most of them. I did keep leopard print skirts.
Doubles- I'm all for buying the same Target tank top in multiple colors, but when it's a clothing item that doesn't get worn often it's time to say goodbye to one of them. For example, I had 2 navy blazers, 3 black blazers, and 3 black moto jackets. I don't need that many multiple items, so I kept my favorites and said goodbye to the others.
Non-versatile items- I recently heard about the "3 rule". For every item you buy, you should be able to wear it in 3 ways. I have always followed this rule, that's why if I had a piece in my wardrobe that I couldn't figure out how to wear more than 3 ways I had to let it go.
Colorful clothes– I like color, but sometimes color can be less versatile than neutrals. It's hard to mix and match colorful pieces, and this is why they didn't last as long in my closet.
What I kept…
I did end up keeping a lot of clothes during this closet clean-out because overall, I really love the clothes in my closet. There were a few pieces that I always consider getting rid of because I have had them for so long. But every time I go through my closet, I always end up keeping them because I love them and I still feel that they hold value in my wardrobe.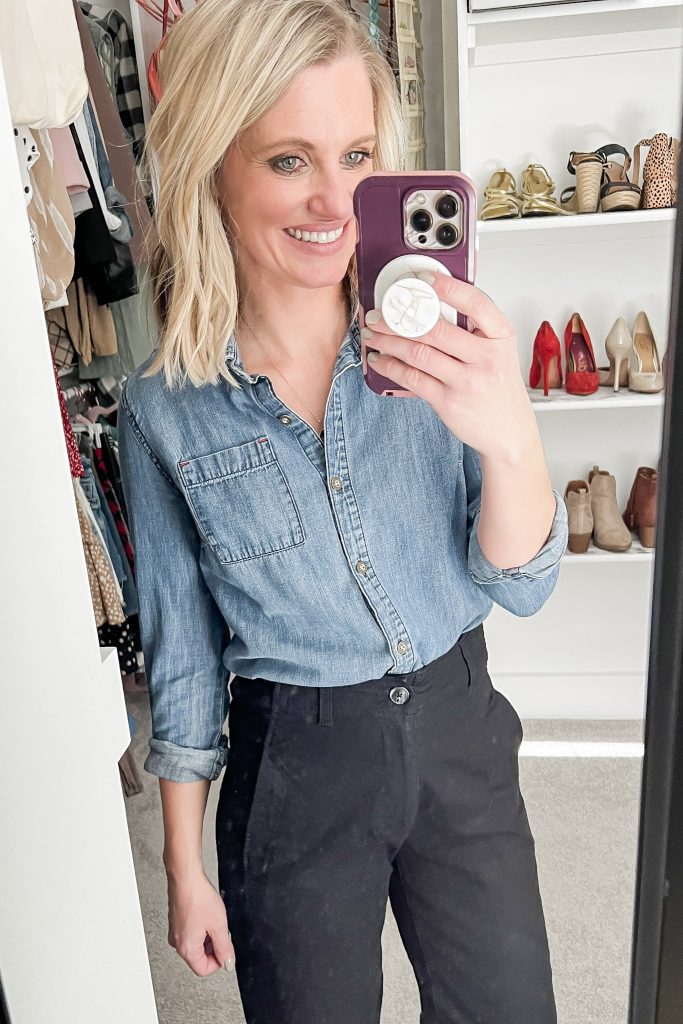 Little black dress- I bought this dress for my rehearsal dinner in 2011 at TJ. Maxx for $20. Since then I wore it to multiple weddings and special occasions. The empire waist and v-neck make this dress very flattering. I still see a lot of life in it.
Gold Strappy heels- I bought these heels in 2007 for a fraternity formal I went to in college. I had no idea when I bought them that they would be in my wardrobe for so many years. They don't get worn that often, but when I need a fun pair of shoes, they are my go-to. I have worn them to parties, as a bridesmaid, and most recently on a trip to Las Vegas.
Chambray button-down shirt- I bought this top at Target in 2014 in the clearance section. I kept it for so many years because I couldn't find a better replacement. This one fits great under sweaters and I like the material, so I keep it.
LC Lauren Conrad Polka-Dot Blouse- I bought this blouse at Kohl's in 2014 and it quickly became one of my favorite blouses. I keep it because the fit and the polka-dot pattern are classic. They still sell this style of blouse in the LC Lauren Conrad collection at Kohl's.
Metalic skirt- I bought this silver metallic skirt at Macy's in 2011 to wear on Christmas Eve. I have always found this skirt to be flattering and I still wear it around the holidays.
Old Navy denim jacket- This jacket isn't that old. I thrifted it in 2018. I actually have a very similar denim jacket, but I keep this one because the fit is great. Old Navy denim jackets only get better with age.
Purses– Believe it or not, I am not a big handbag person. I don't switch out my purses very often, so I end up keeping my purses for a very long time. I have a couple of nicer leather purses that I have had for years. I even still carry the same Coach change purse that my husband bought me while we were dating. I see no need to replace it.
What I learned from my closet cleanout
This closet cleanout taught me a lot about my personal style. When it really comes down to it, I love classic versatile clothes. This is what I preach here on the blog and this closet cleanout was evidence of that. There is nothing wrong with bringing trends into your closet, but at the end of the day, if it's not practical or it's run its course then it's time to let it go.
I also learned that it's okay to part with items that I love. I shared the items that I love and kept, but I also parted ways with a lot of pieces that I still loved. There were shoes collecting dust in my closet and tops that I had never worn with tags on them. I had an old pair of tennis shoes that I didn't want to part ways with because they were my favorite pair at one time and I spent a decent amount of money on them, but the soles were falling off and the white had turned to brown and was beyond washing. There is no sense to keep things in my wardrobe that are just taking up space and not holding any value to me, so I let them go.
Overall, this closet cleanout just reminded me of the importance of keeping a clean organized closet. Along with my seasonal cleanouts, I plan on doing some good inventory at the beginning of every year from now on.
I hope my closet clean-out inspires you to take a closer look at your own closet. Let's start the year off with a fresh start in our closets and make some intentional purchases as we add new pieces throughout the year!