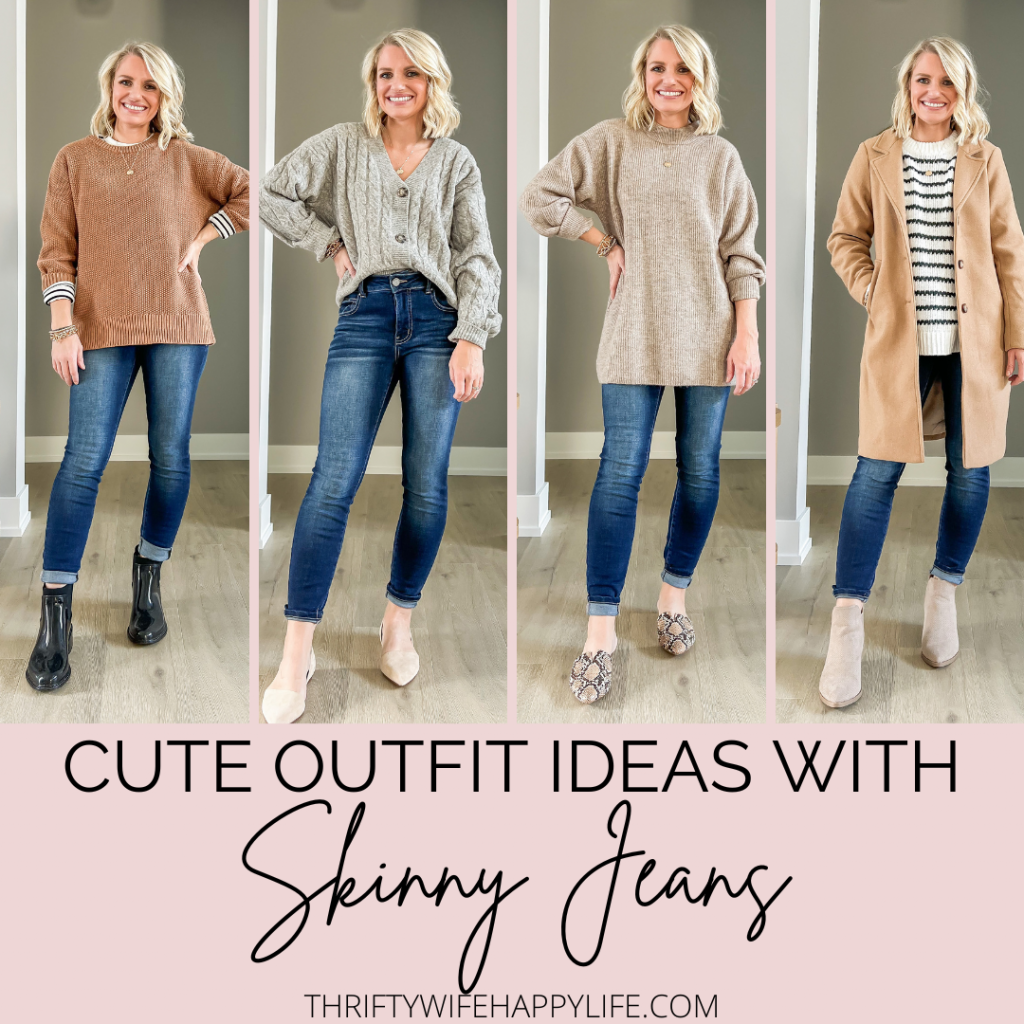 Jeans are a hot topic in the world of fashion right now. Most millennial women and older are feeling a little overwhelmed and confused about the change in jean styles. Well, I am here to say it's okay to wear your skinny jeans! All jeans are in style, so if you still love wearing your skinny jeans then keep wearing them! Today I want to share some updated cute outfits with skinny jeans for you to copy this year!
*This post contains affiliate links.
Skinny jeans will always have a place in my wardrobe because they are practical. Skinny jeans are the only style of jeans that I can wear comfortably during the winter months. In Michigan, winter is cold and messy! Sidewalks are covered in snow, slush, salt, and everything above! Skinny jeans were the first style of jeans that I didn't need to worry about dragging through all the winter mess. They tuck nicely into a pair of boots and stay dry, which for me has always been a big style win!
I do feel that it's all about the way you wear your skinny jeans that can make them feel dated. If you are able to mix in a few current pieces, just like I talk about in my tall boots blog post, you will be able to keep your skinny jean outfits feeling fresh and in style. If you are in need of a new pair of nice skinny jeans I have linked some of my favorites below, including the pair from maurices that I am wearing in this post.

Cute Outfits With Skinny Jeans
*Sizing reference: I am 5'1 and 115 lbs. I am wearing a size 2 short-length in my jeans.
1.) Sweater + Layered Striped shirt + Rainboots
One of my favorite ways to style my sweaters in the winter is by laying a striped long-sleeve t-shirt under them. It just adds a pop of pattern to the look. I also love a good ankle boot that keeps my feet dry in the winter. These rain boots are both stylish and practical!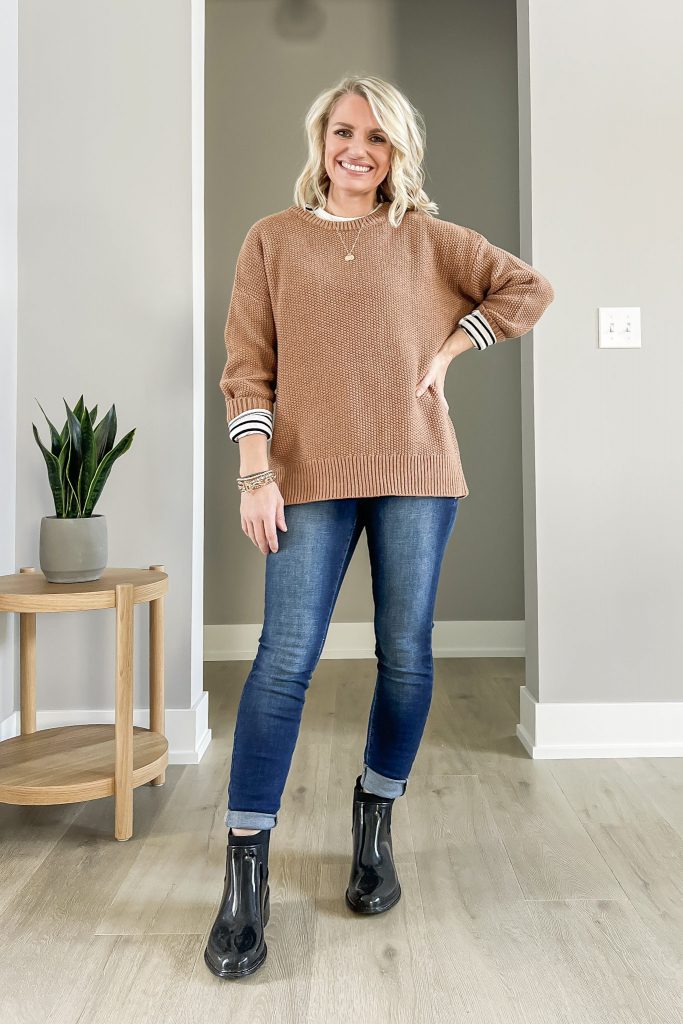 Sweater || T-shirt || Jeans || Boots
2.) Tunic Sweater + Snakeskin Mules
Cozy, soft tunic sweaters are so great to have during the winter months. I love being able to throw them on with a pair of skinny jeans. I love how this looks with my mules, but you could easily switch them out for a pair of booties or knee-high boots.
Tunic Sweater || Jeans || Shoes (similar)
3.) Grandpa cardigan + Neutral Flats
Another great sweater to wear with your skinny jeans is an oversized Grandpa cardigan, a.k.a- a short cardigan with buttons. This style of cardigan seems to be pretty popular this season and it's very versatile to wear! You can button it up and wear it like a pullover sweater or you can just leave it opened like a normal sweater.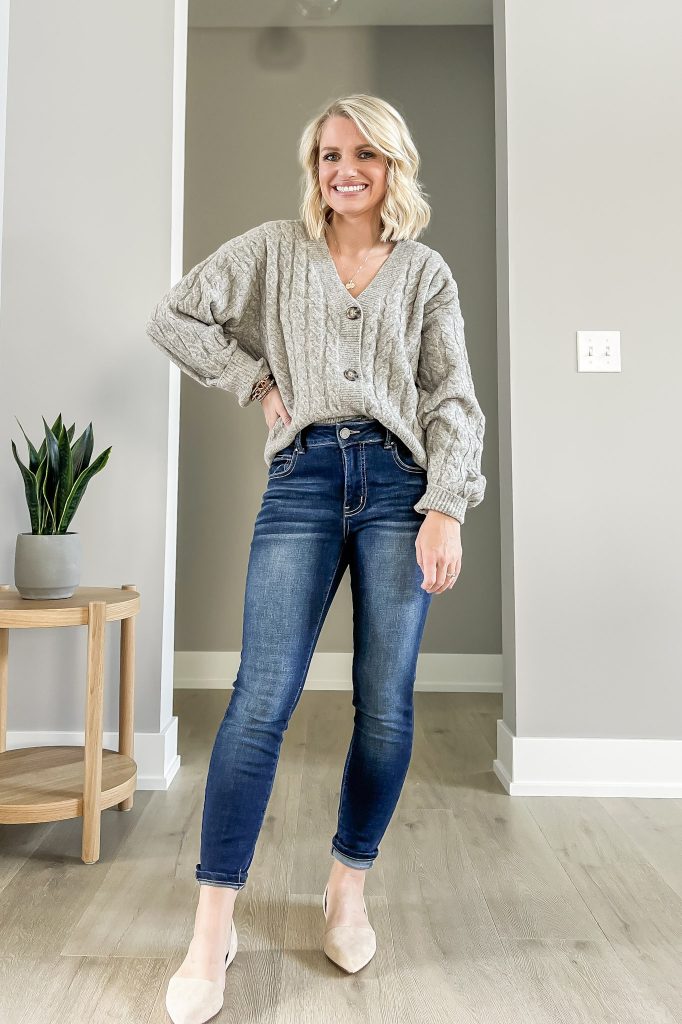 Cardigan (similar) || Jeans || Shoes (similar)
4.) Striped sweater + Camel Coat + Booties
I don't think that stripes ever go out of style. They seem to be popular year after year, that's why I just love wearing a striped sweater with some skinny jeans. I love how the camel coat makes the black and white stripes pop! Another thing I will not be ditching anytime soon is my tan booties. I love how the point and color help elongate my legs.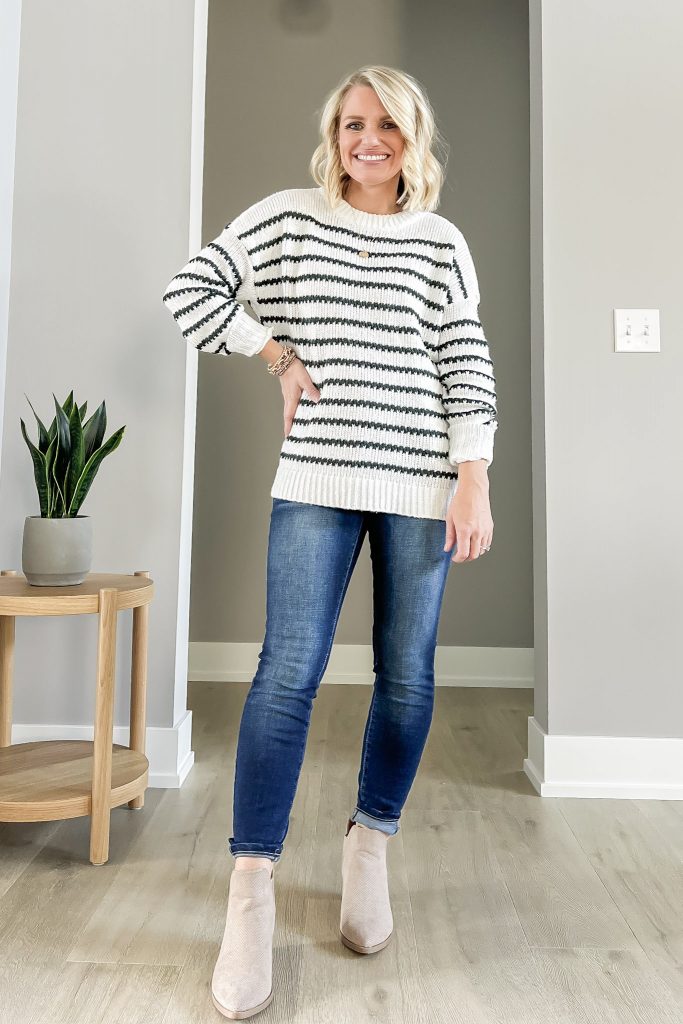 Sweater || Coat || Jeans || Boots (similar)
I hope you are feeling inspired to not give up on your skinny jeans just yet! I am sure that you can find some fun new ways to style your skinny jeans this year! Make sure you are following me on Instagram HERE to see more ways to style your skinny jeans throughout this winter!