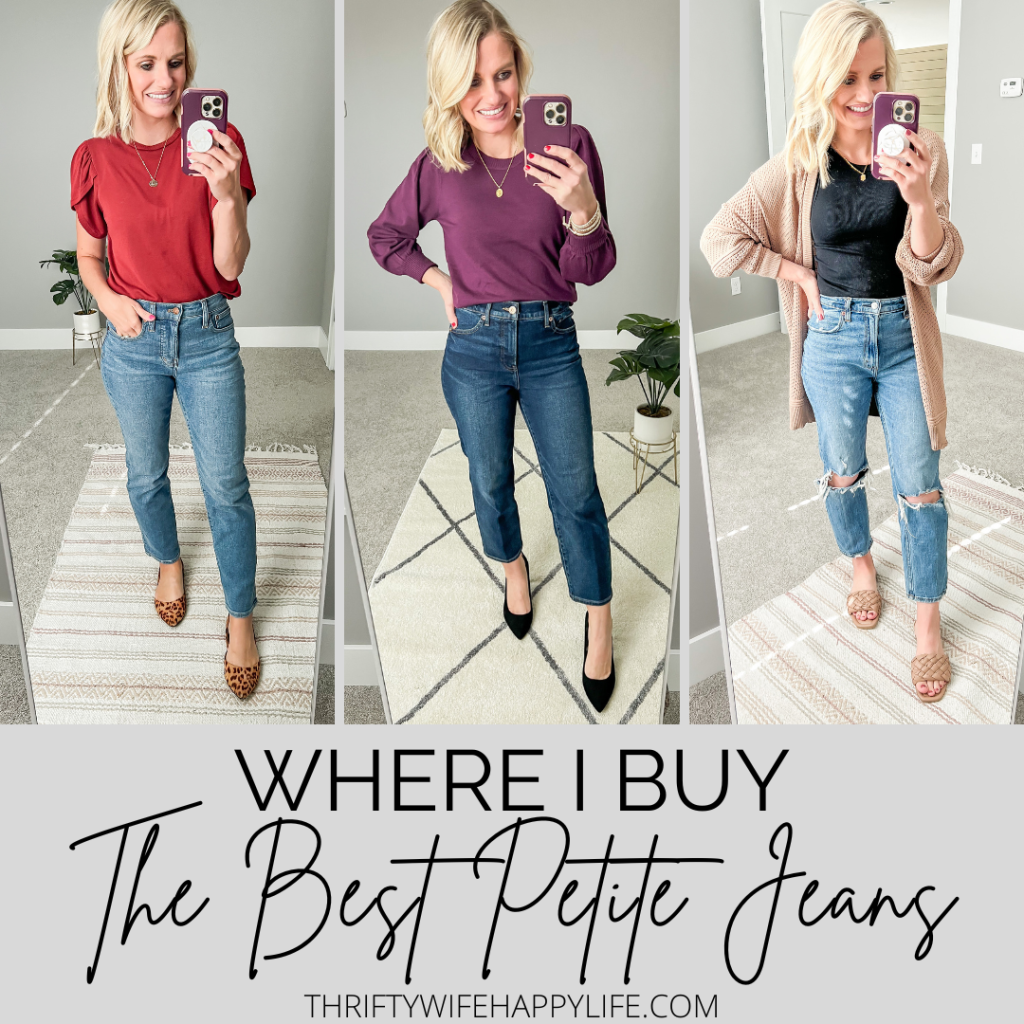 I am often asked by my followers on Instagram where I buy my jeans. The answer is that I buy my jeans everywhere. No store is off-limits for me. However, in the last couple of years, I have changed the way I shop for jeans. I am 5'1, so I am always on the hunt for jeans that will fit my short legs. That's why today I want to share with you some of the stores where I have found the best petite jeans for the best price.
This post contains affiliate links.
In the past, I wasn't always as picky with my jeans. It was all about finding the right price. If I could find a pair of jeans for under $20 I would buy them. What I often found out was that these cheap jeans I was buying didn't last in my wardrobe. There was always something that I didn't love about them. They were too long or had a weird fit. The worst was when the seams on the side would slide to the front of my leg.
I realized that I needed to change the way that I was shopping for jeans. I decided to focus less on the price and more on the fit and quality of the jeans. One of the things I look for in my jeans is length. I try to buy most of my jeans in a petite or short length and this has been making a big difference for me. It's not always possible to get that perfect length, but I will often cut my jeans if needed.
Another factor when buying jeans is the rise of the jeans. After having 2 babies I prefer a high-waisted fit. This helps define my waist and hides my mom pooch. I also find that a high-rise fit gives the appearance of longer legs, which helps me look taller and slimmer. This is my preference, and each body type is different so you just need to experiment to find what fit works best with your shape.
Where I Buy The Best Petite Jeans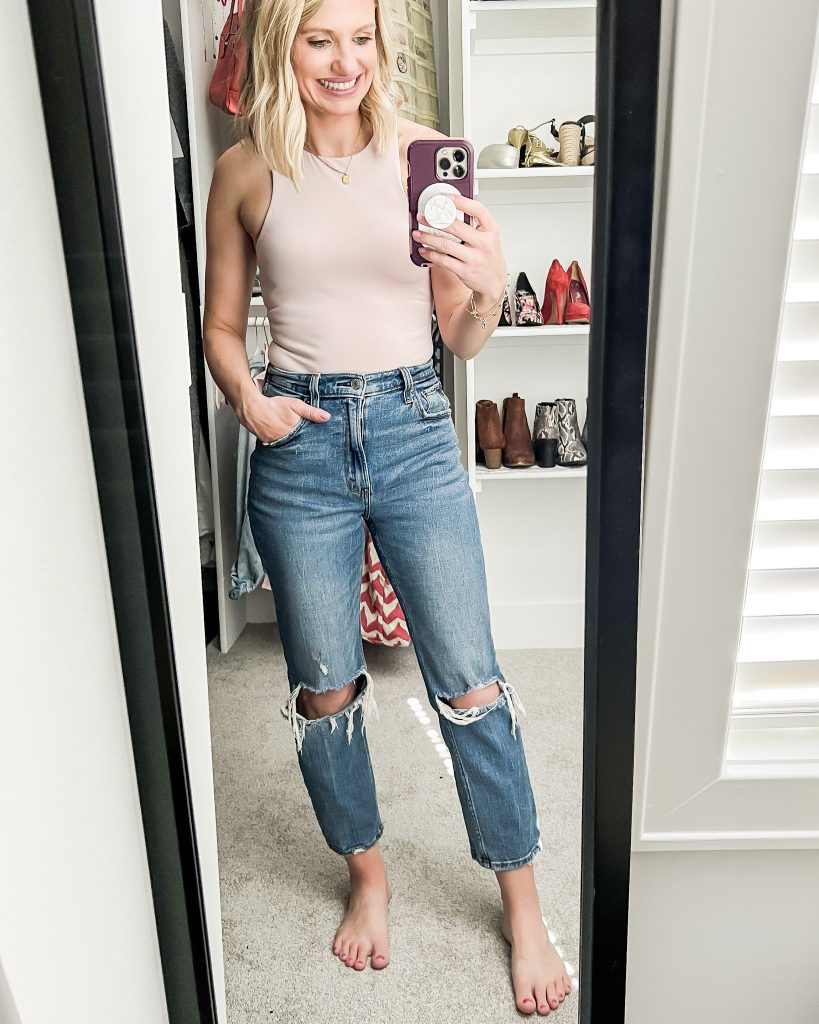 Abercrombie
If you haven't shopped at Abercrombie since high school, let me tell you, you are not too old to go back! A couple of years ago I started buying my jeans at Abercrombie and I have been so happy with them! I love the styles and fit! I wear a size 26 in a short length.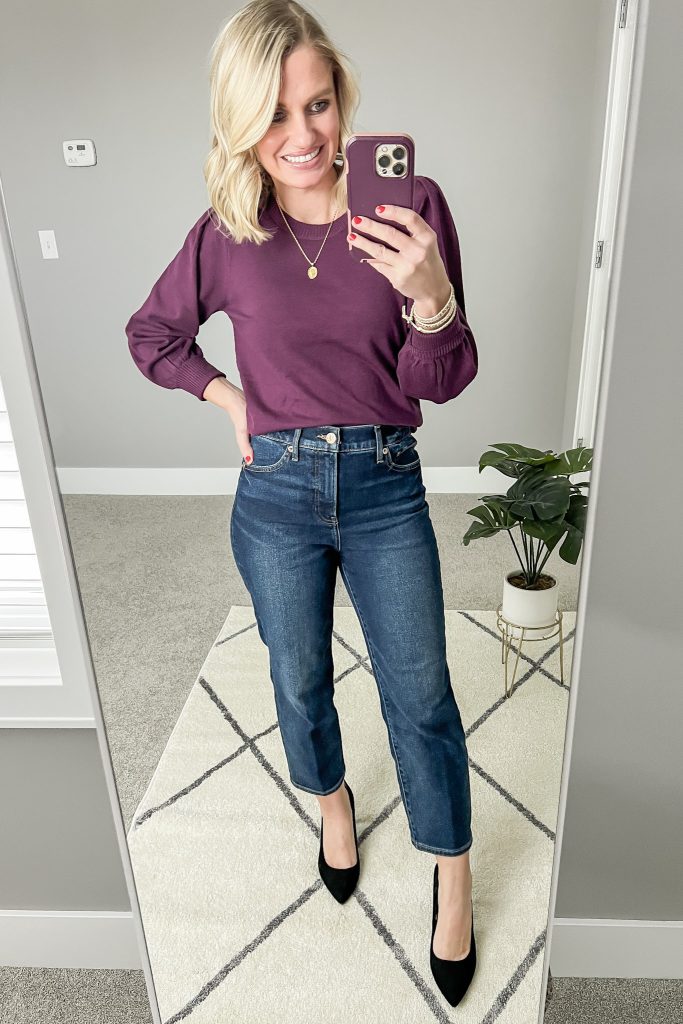 Express
Express was always my go-to store for jeans in my early 20s, but then I stopped shopping there for a while. Last year I bought a pair of straight-leg jeans on clearance and they quickly became one of my favorite pairs! I also have a couple of pairs of their supersoft jeans that I love! I wear a size 2 and usually order them in a short length. The sizing at Express is very constant, which makes ordering online very easy. They almost always fit TTS.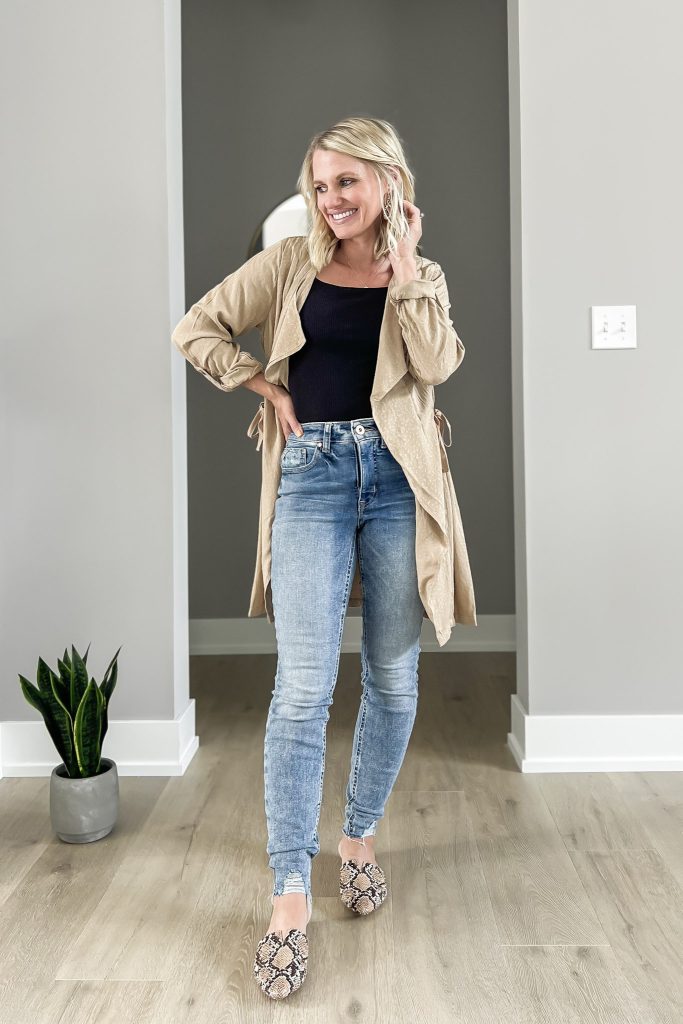 maurices
I have been pleasantly surprised by maurices jeans. They are very comfy and fit me great. They offer a variety of sizes and styles so there is something for everyone! Plus they have an amazing return policy! If you gain or lose weight within a year of purchasing their jeans you can exchange them at any time for a size that fits your current body! I wear a size 2/short length.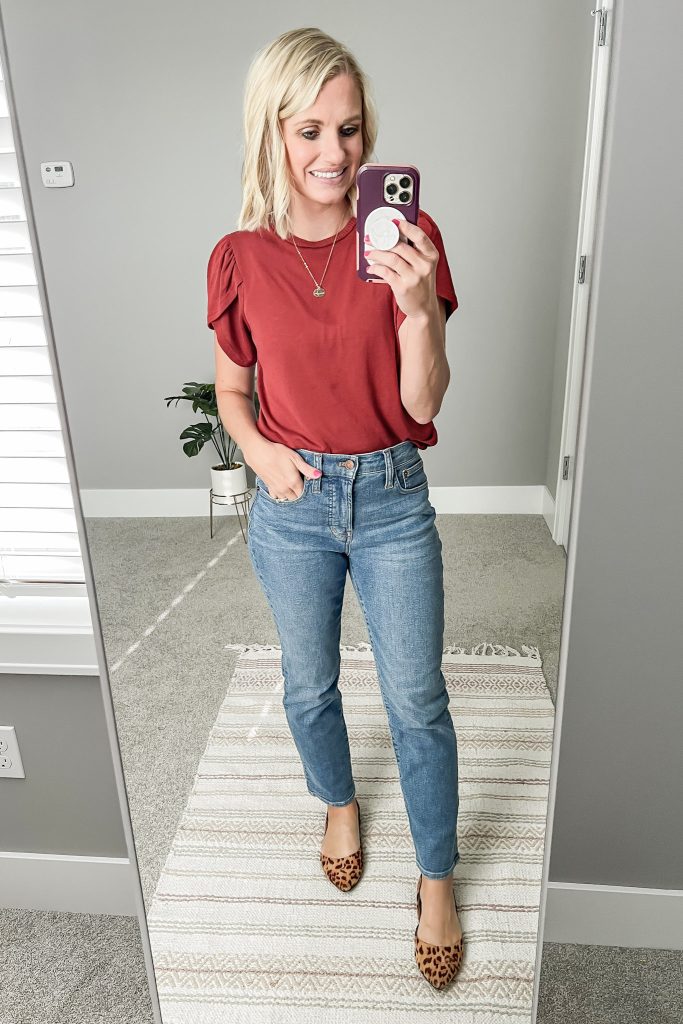 Madewell
Madewell jeans are a little more of a splurge for me, but they do have some amazing sales throughout the year and that's usually when I shop for them. They also have a section of their website where you can shop gently used preloved selections which I love! I also always look for this brand when I am thrift shopping.
For sizing, I always read the reviews carefully on the Madewell website! Most of the jeans I have from them run true to size, but I've needed to size down on a few pairs. I typically wear a 26/petite length.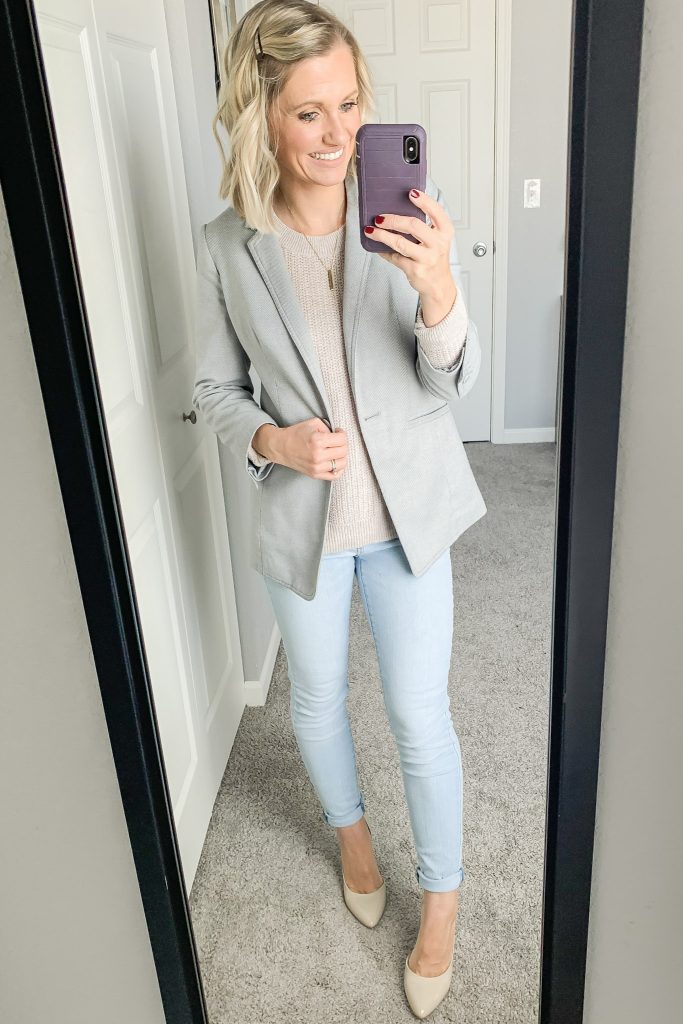 Old Navy
I've always really loved buying jeans at Old Navy because they have great styles and affordable prices! I often find their sizing to be all over the place so I will usually try them on at the store, but to find the petite sizes I will order them off their website.
Typically I wear a size 2 at Old Navy. I can often pull off a regular length, but if I'm going for a cropped look I am sure to order them in a petite length.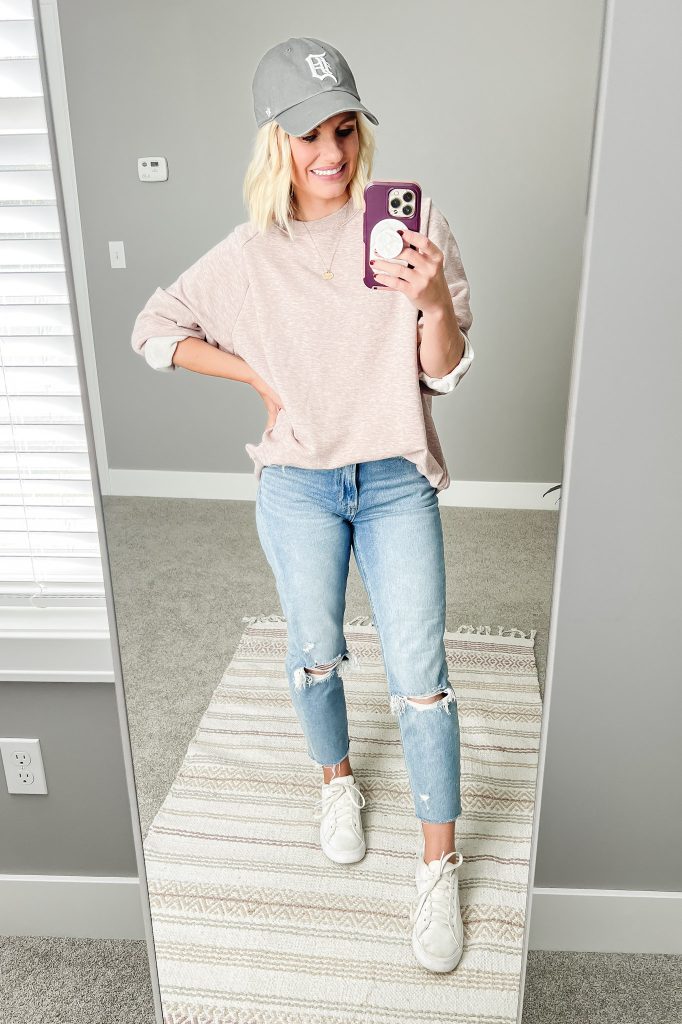 American Eagle
American Eagle is another store that brings me back to my teenage years. Their jeans are still amazing though! I really love their mom jeans! They fit more like a relaxed skinny jean, which is perfect if you don't like overly wide legs. I wear a size 2/short.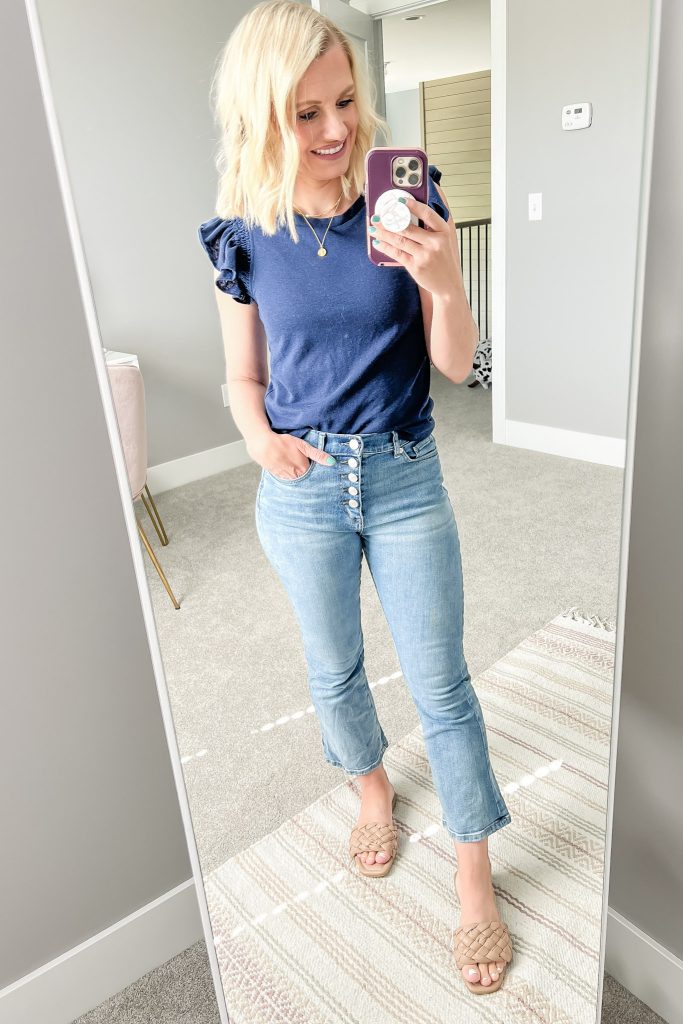 Other brands I have found petite-friendly jeans…
Target– Target is hit or miss for me. I have found some great jeans there and some not-so-great jeans, but I always keep my eye out!
Loft/ Loft Outlet– Loft and Loft Outlet cater to petite sizes, so it's always a good place to find cute petite jeans.
Stitch Fix– Stitch Fix is the perfect place to go if you are unsure of sizing. You enter in all your size info and they recommend sizes that will work for your body type. (Get $20 off your first fix HERE!)
J. Crew Factory– I have tried on a lot of jeans at J.Crew Factory and they always have a good selection of petite sizing options.
Brands I like to look for while thrifting…
When I am thrifting, I always keep an eye out for nice jeans. These are the brands that are more expensive that I am less likely to pay retail price for them. I also love to look for brands that I already know and love when thrifting.
All the brands I have already listed
I hope this post is helpful for you as you shop for petite jeans or just any jeans in general. If you are looking for some styling tips on jeans be sure to check out my post HERE, HERE, and HERE for some tips!