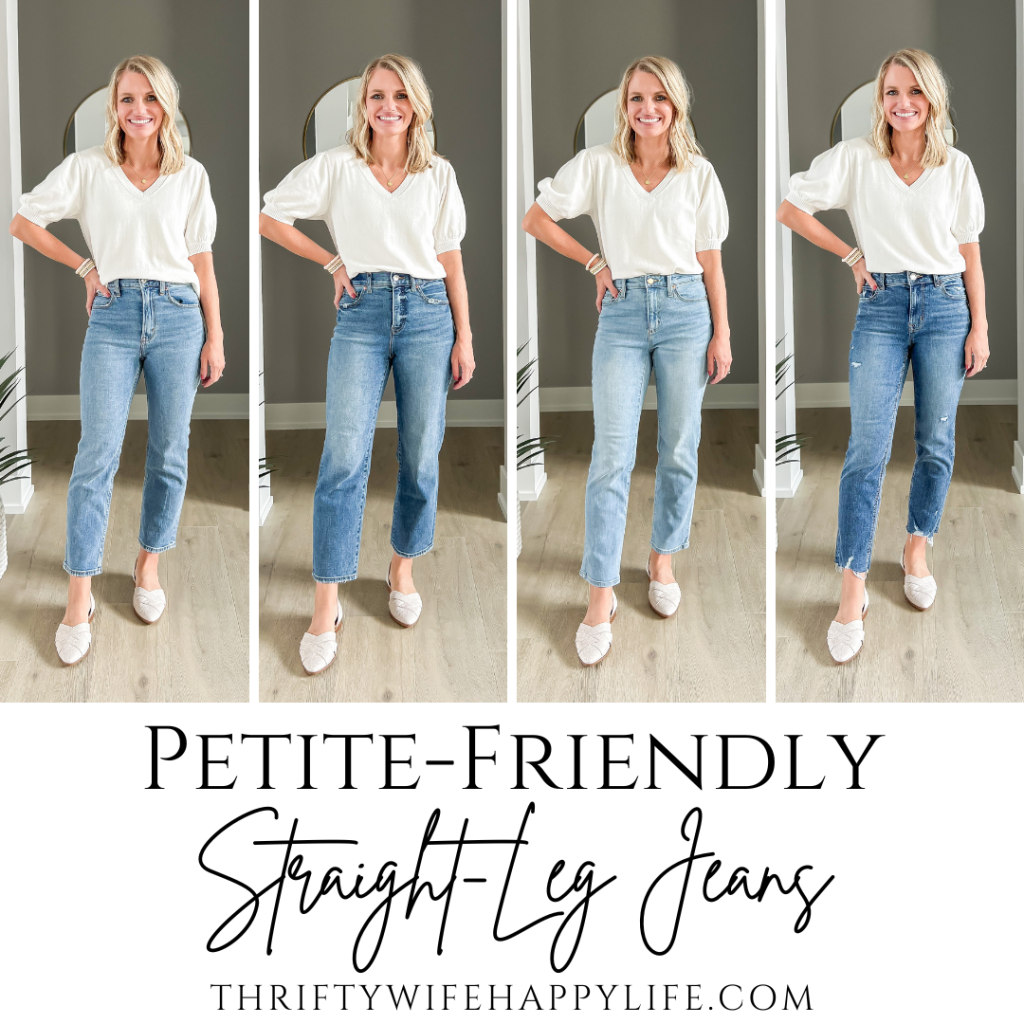 With fall just around the corner, I know that many people are shopping for jeans. Personally, I think jeans are one of the important staples in any wardrobe. Finding a pair that fits just right can seriously boost your confidence. While I'm not dismissing skinny jeans, it seems like more people are getting interested in straight-leg jeans and are ready to accept them into their wardrobe. That's why I want to share with you four awesome options for petite straight-leg jeans —all under $100!
*This post contains affiliate links.
Finding the right fit of jeans is key. Since I am on the shorter side, I struggle with some of the straight-leg and wide-leg styles that are popular at the moment. This doesn't mean that I want to give up on the trend. It takes a lot of trial and error when it comes to finding the perfect pair of jeans. If you want to know where I find the best petite jeans check out my post- Where I Buy the Best Petite Jeans.
What I like about all of the 4 pairs of petite straight-leg jeans that I am sharing today is that I find them to be the most flattering fit for my short frame. I find a cropped high-waisted jean to look best with my body type. I seem to have a longer torso with short legs, so this style of jean helps elongate my legs and makes me look a little taller.
All of these jeans are also what I like to call a "transitional skinny to straight-leg" jean. I say this because the legs aren't overly wide. If you still love your skinny jeans, but you want to update your jean collection with a modern style, then these jeans are for you!
Another reason why I love these jeans is because they are all within my budget! Jeans are an important wardrobe staple so I will splurge on a good pair, but I still like to cap it off at around $100!
*For sizing reference I am 5'1 and 115 lbs.
1.) Abercrombie Ultra High-Rise Ankle Straight-Leg Jeans (26/short)
Abercrombie was huge when I was in high school and college and I feel that they have done an excellent job of knowing its customers and growing up with them, especially when it comes to their jeans. They offer a great selection of jeans in all styles and sizes, The ultra high-rise straight-ankle jean is my personal favorite style of the moment.
I love how the rise on these jeans is nice and high. After having 2 kids, find high-rise jeans to be the most comfortable. I also love how the high waist helps make your legs look longer. This style of jeans also comes in 2 different fits, regular and curve love. I couple of years ago I bought the curve love style, but I decided this year to try out the regular fit. The biggest difference between the 2 fits is that the curve love hugs you more at the waist which gives you a curvy look.
Although Abercrombie jeans are my favorite, they are at the top of my price point. Full price, this pair of jeans is $90, but these jeans do go on sale often and that's when I buy them! I also love the myAberombie rewards program. When you sign up, you get $10 off your first $50 purchase. After that, you can earn rewards for every $1 you spend. They also send you birthday and anniversary offers as well as special member pricing during certain sales.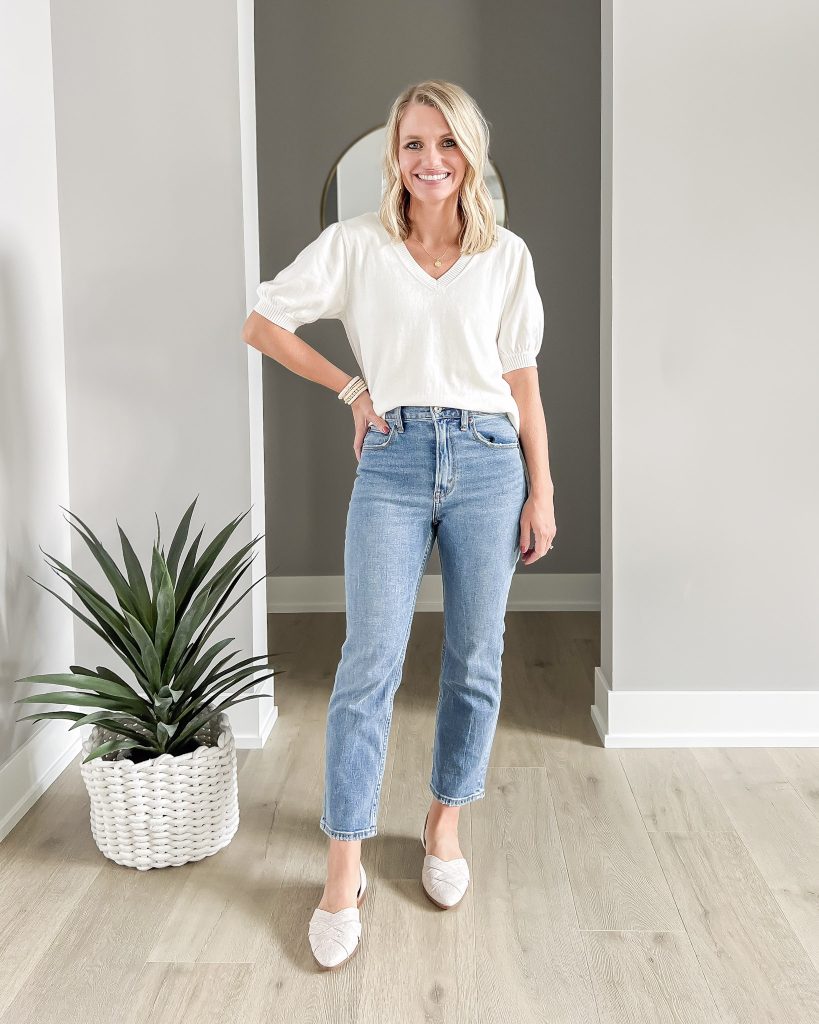 Top (similar) || Shoes || Jeans

2.) Express High Waisted Straight Ankle Jeans (2/petite)
Express is another favorite jeans brand of mine! I have been loving their jeans since high school! No matter what style I am looking for, they always fit amazing! I really love the high-waisted straight-ankle jeans. I have 2 pairs, one in a medium wash and another in a dark wash.
Express jeans fit true to size, however, I will say that the petite and short length sometimes is too short. If you are petite but taller than 5 feet, you might want to test out a regular length and a short length when trying out their jeans. Everyone's legs are different sizes so it's very important that you find a size that works with your body.
Express jeans are also at the top of my price range at $88 full price, but Express also offers so many great sales throughout the year that it's not uncommon to find these jeans for 40% or even 50% off. Express also has a really great insider rewards program. They send offers for birthdays and half birthdays, along with Express cash offers and early access to sales.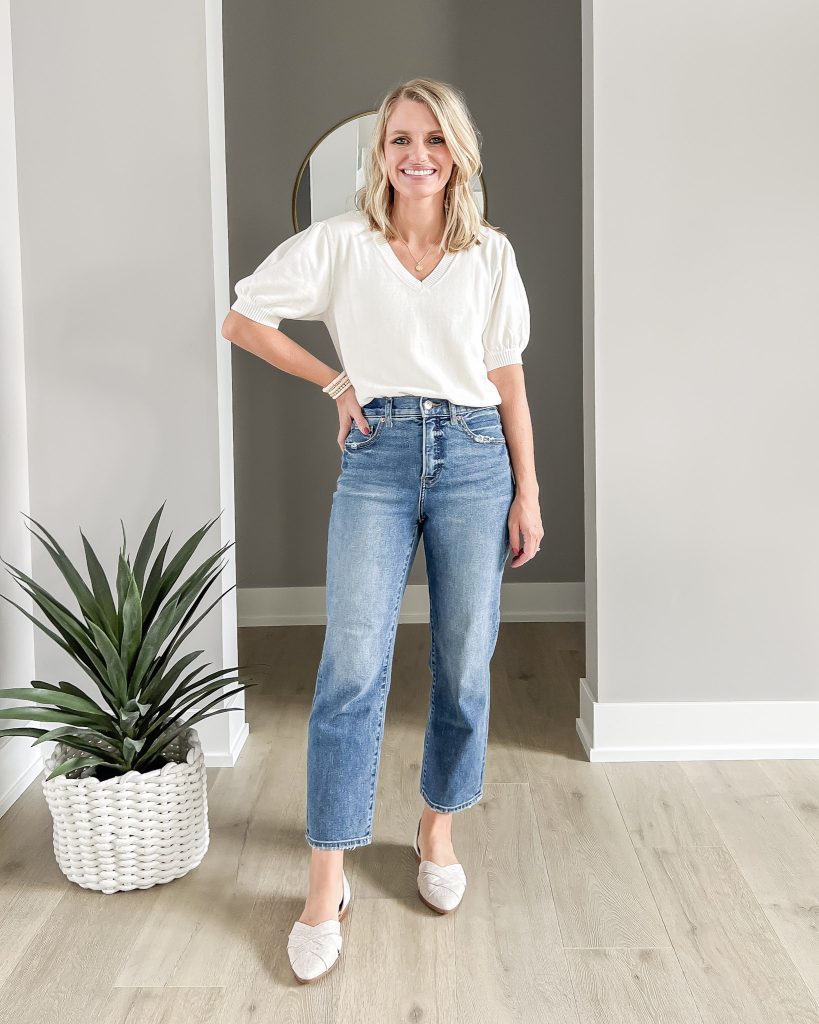 Top (similar) || Shoes || Jeans

Target Universal Thread Slim Straight-Leg Jeans (2/short)
To be honest, Target isn't always my favorite place to buy jeans. When I tried on this pair of slim straight-leg jeans in the spring, I was pleasantly surprised by how well they fit. I also was happy to see that they offered short sizes at the store, so I was able to try on both the regular and the short lengths to compare the two.
The rise on this pair of jeans is not as high as the other jeans I've shared. It fits more like a mid-rise, which I find a lot of people like that fit. Some women find the higher rises on jeans to be too high, especially if they have a shorter torso.
My favorite part of these jeans is the price. If you want to get the look, but don't want to spend a lot of money on your jeans, this pair is only $28 full price! That is hard to beat! They currently are out of stock of the light wash that I have, but you can shop them in the medium and dark washes, which are both perfect colors for fall!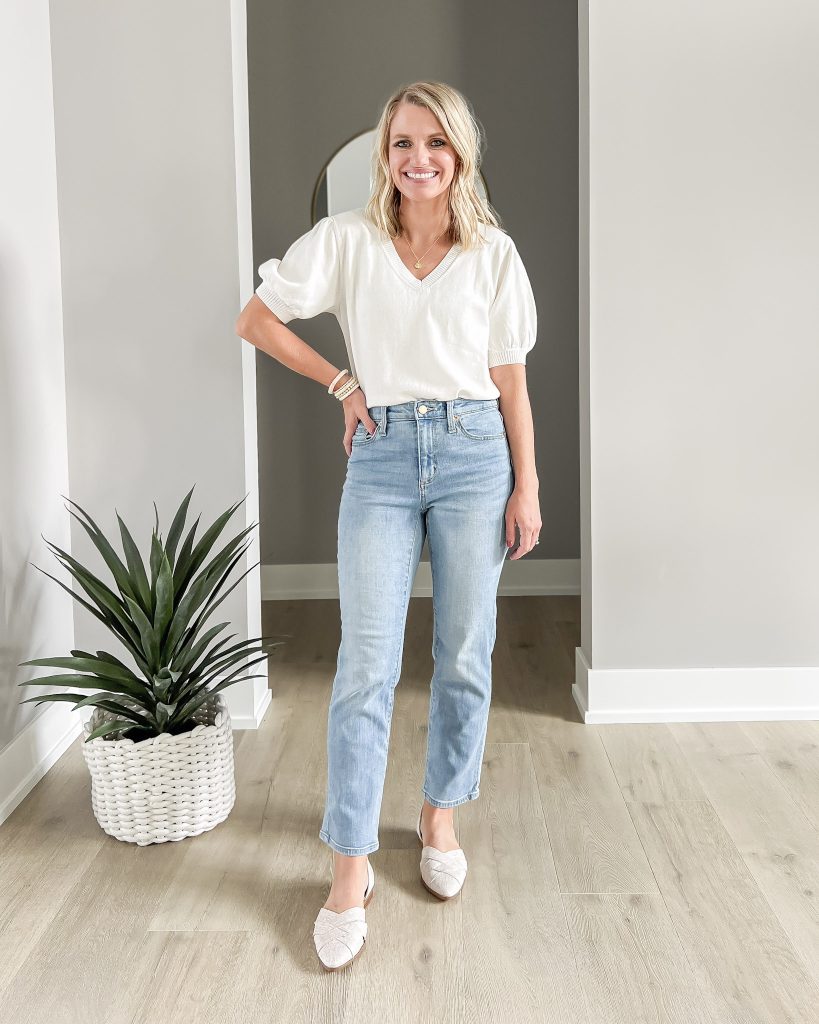 Top (similar) || Shoes || Jeans

m jeans by maurices Slim Straight Ankle High Rise Jeans (2/short)
I have become a huge fan of maurice's jeans! These slim straight ankle jeans are in between a skinny jean and a straight leg jean, making them perfect for anyone who still loves the skinny jean style. They have a high waist with the perfect amount of distressing.
Full price, these jeans are $49.90, but you can often catch a sale! Maurice also has a great mymaurcice rewards program with an even better exchange policy on their jeans. If you are someone who often fluctuates in size, you can bring back your jeans within a year of purchase and exchange them for a pair of jeans that fit, no questions asked! As I have said before, finding the right fit in your jeans is so important, so I love that maurices helps you out on that!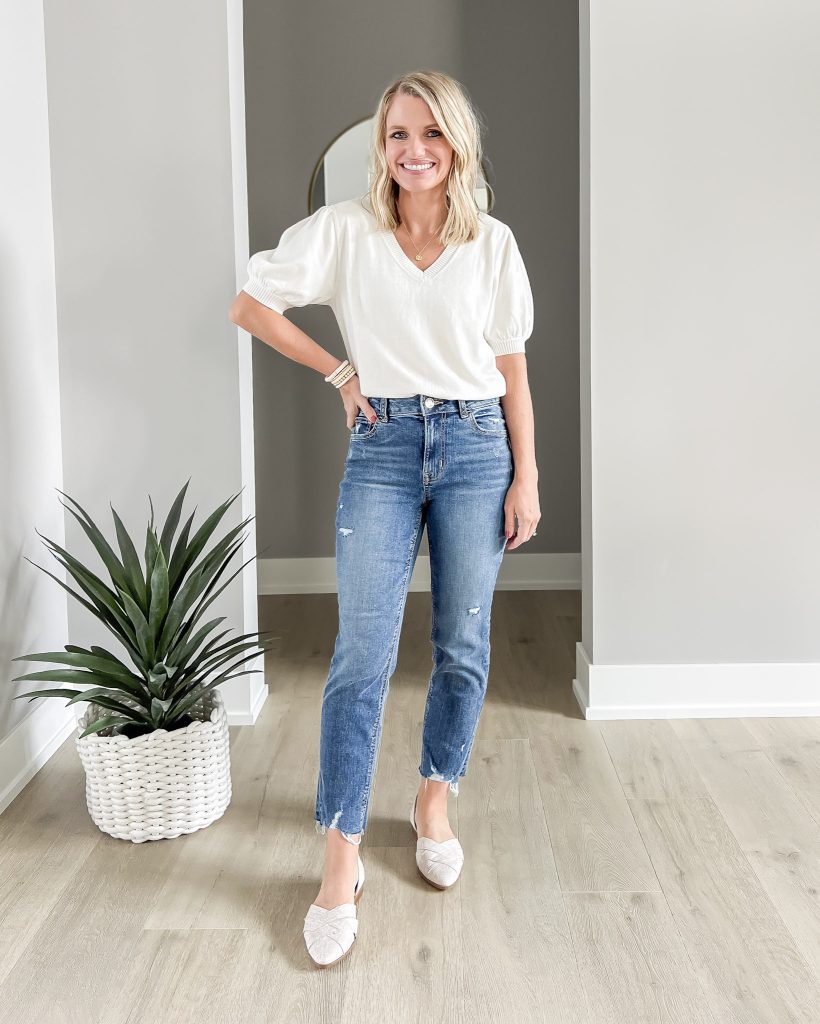 Top (similar) || Shoes || Jeans

If you want to see more, check out my video