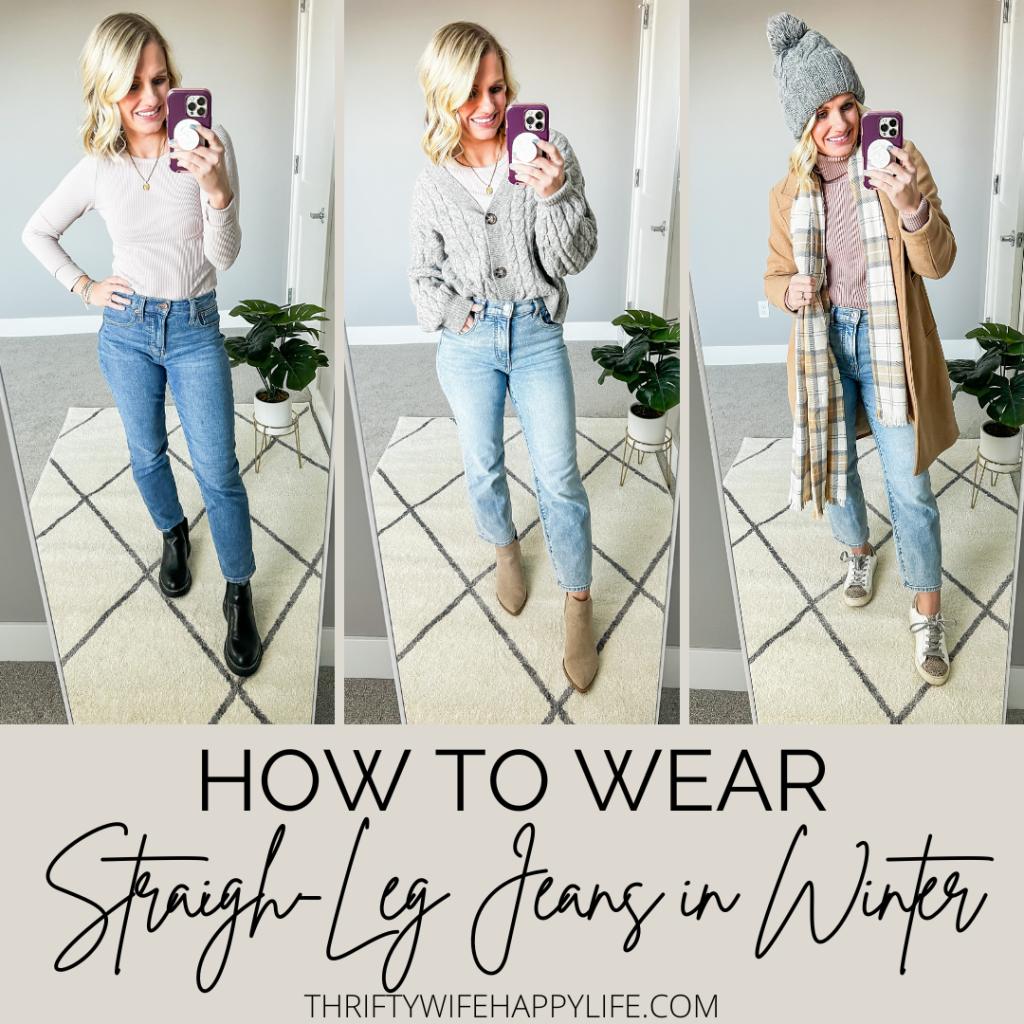 I love wearing straight-leg jeans, but they can be a little tricky to style in the winter months. There are a lot of questions about what kind of winter shoes you should wear with these jeans and how to style them. Well, today I want to dive into it and share some of my best tips on how I style straight-leg jeans in winter.
*This post contains affiliate links.
To be completely honest, skinny jeans are my go-to jean during the winter months. They just work better with wearing all styles of boots, but this doesn't mean that I completely ditch my straight-leg jeans in the winter. I find ways to make them work in the winter weather.
Tips for styling straight-leg jeans in winter
Find the right length of straight-leg jeans for you. I personally like cropped lengths because I find them more flattering on my petite frame. I also like that the bottoms don't drag on the ground.
When wearing boots, make sure that they are balanced with your jeans. You don't want a boot that hits at the same height that your pant hem ends because your pants will bunch up. Try a boot that has just a little bit of ankle or something that is slim and can fit inside your pant leg. (This is all about trial and error. Every boot and pant combination is different.)
Don't be afraid to show your ankle in the winter. If this makes you cold, try to layer up on top. I always find that when I wear a hat, scarf, turtleneck, and other top layers it helps hold the heat in my body. If my top half is warm, I don't mind a little ankle skin showing.
If you want to keep your ankles warm, try wearing boot socks under your jeans with your boots.
Avoid distressed jeans with big holes in winter. Obviously, winter is cold, so holes in your jeans will make your legs cold.
What type of shoes to try wearing in the winter with straight-leg jeans
Chelsea boots
Booties (I like booties that have a pointed toe because they elongate my legs)
Statement sneaker
Loafers or ballet flats
Sock boots
High top sneakers

Option 1: Straight-leg jeans with boot socks and Chelsea boots
This pair of jeans is perfect because they are in-between skinny jeans and straight-leg jeans. The legs aren't too wide, but they still offer a relaxed fit around the ankle. I like to wear these jeans with Chelsea boots. This style of boot goes well with straight-leg jeans because they can slide into the jean leg. To keep my ankles warm I am wearing a pair of boot socks.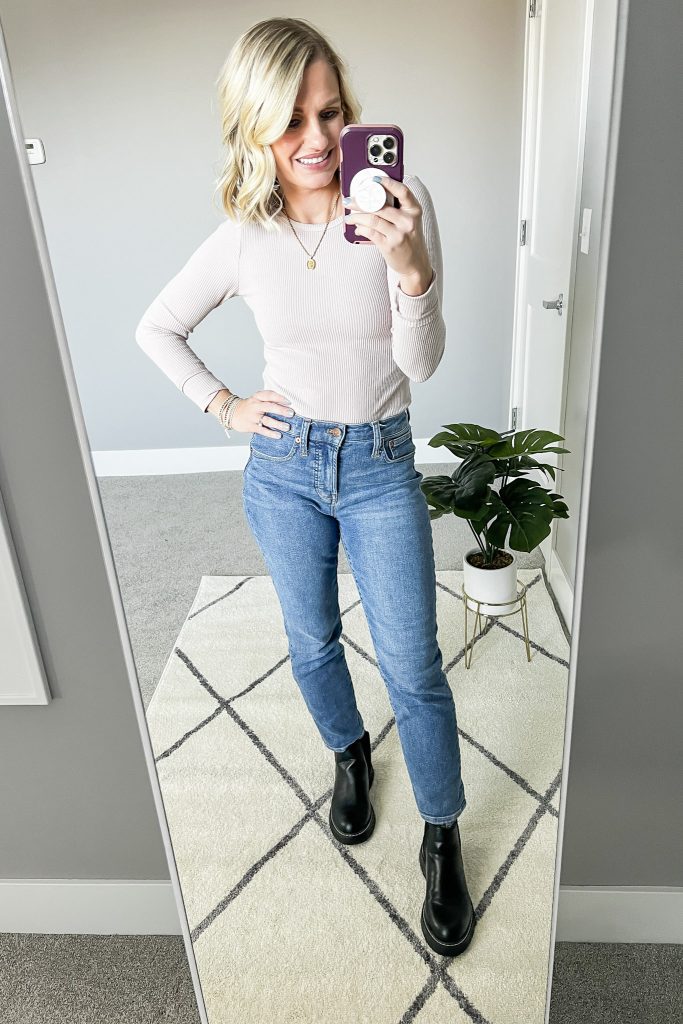 Top || Jeans (similar) || Boots (similar, similar) || Socks (similar) || Necklace || Bracelet
Option 2: Straight-leg jeans with booties
This pair of straight-leg jeans are one of my favorite pairs. They have a slightly wider leg than the first pair of jeans, but they aren't overly wide. I've always liked the look of nude booties with this style of jeans in the winter. The color and the pointed toe on this shoe help elongate my legs and create some balance with the wider leg of the jeans.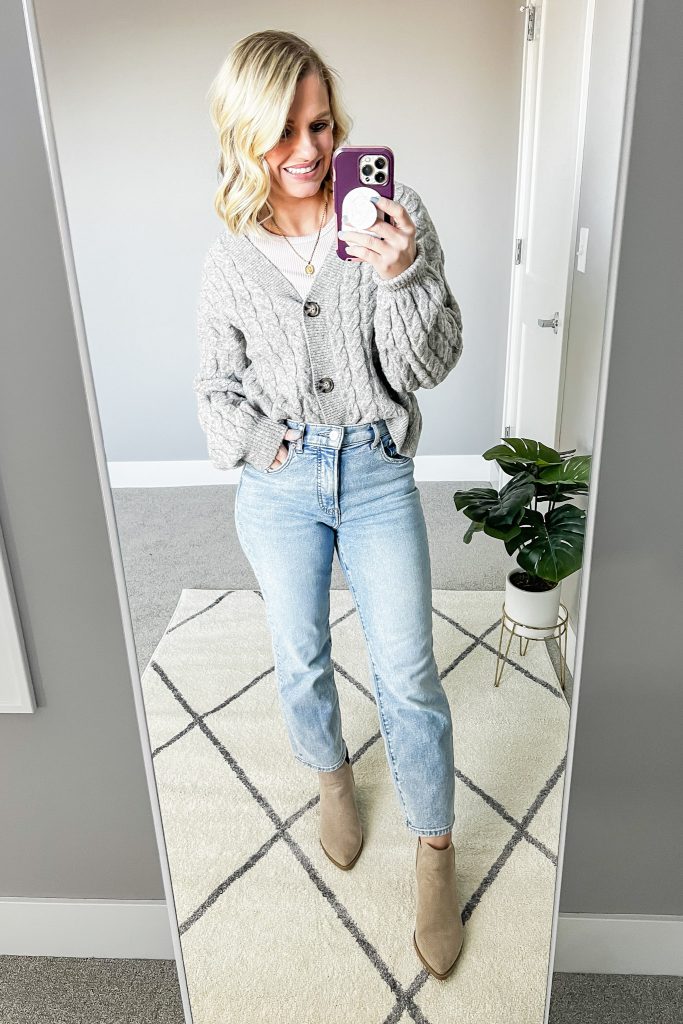 Sweater || Top || Jeans (similar, similar) || Booties (similar, similar) || Necklace
Option 3: Straight-leg jeans with sneakers and winter layers
Lastly, I wanted to share how I usually wear my straight-leg jeans in the winter with sneakers. To help keep me warm on top I am wearing a cozy turtleneck sweater with lots of winter accessories and a coat. For me, if the top half of my body is warm, I don't mind a little ankle skin showing. Obviously, I use my best judgment when getting dressed in the winter and if there is a foot of snow on the grown, this look isn't going to work.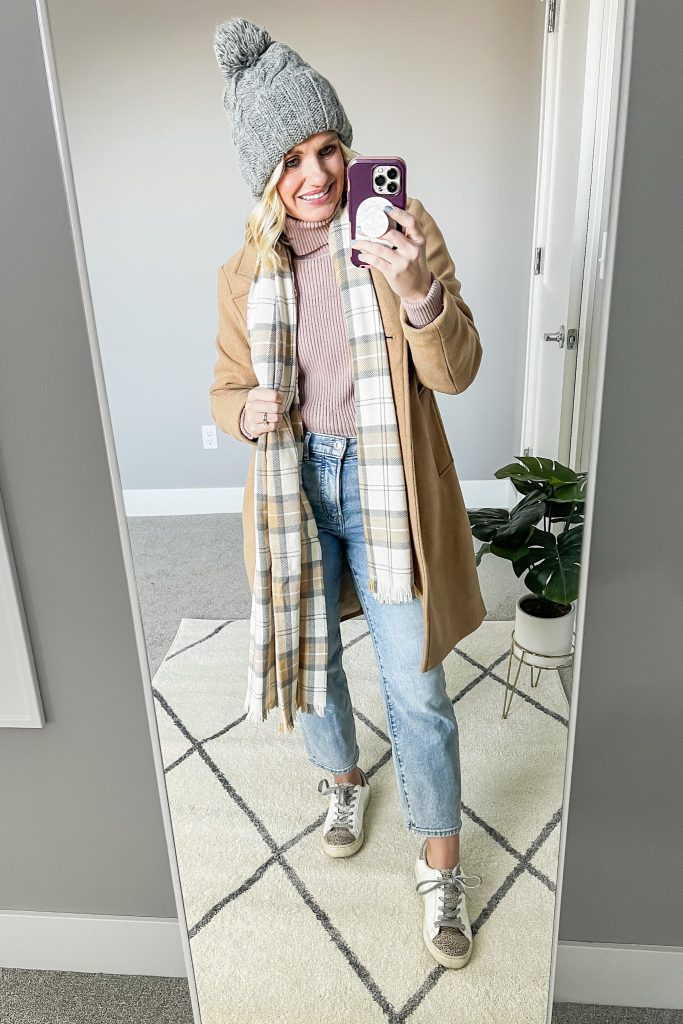 Coat || Sweater (similar) || Jeans (similar, similar) || Scarf || Shoes (similar) || Hat (similar)
If you are looking for more styling tips on straight-leg jeans you can find them in my post: How to Style Straight-Leg Jeans! Also, make sure you are following me on Instagram to see more ways I style my straight-leg jeans in my everyday outfits this winter.