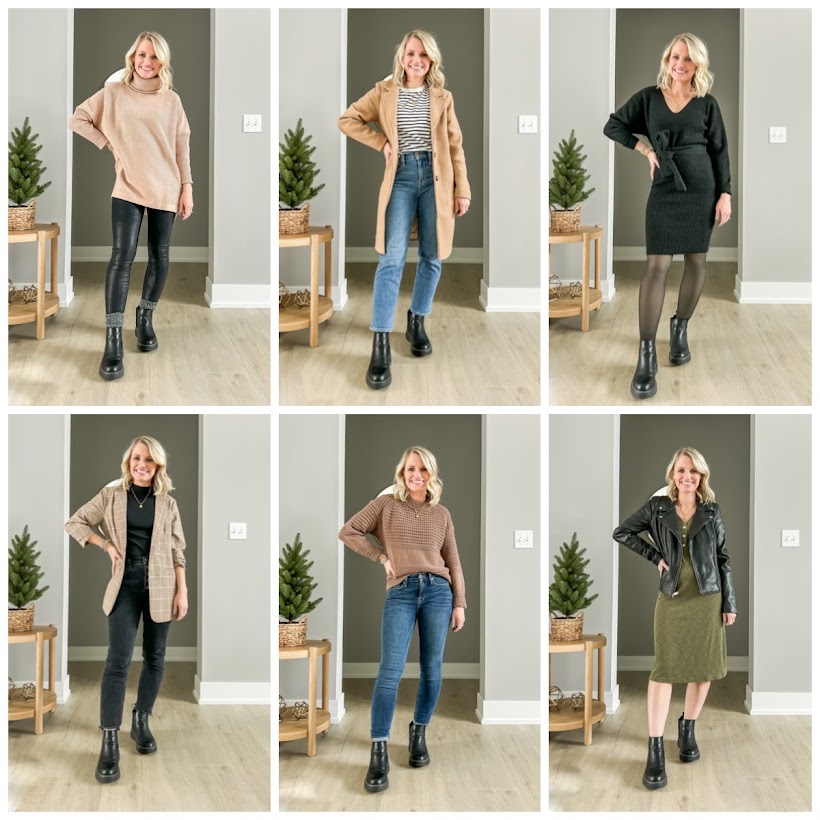 One popular question that I have gotten a lot in the last couple of months is how to wear Chelsea boots. I actually wrote a blog post on how to wear Chelsea boots a year ago, but I keep getting asked about them, so I figured that I would do an updated post this year with some new outfit ideas to wear with Chelsea boots.
*This post contains affiliate links.
I have had my Chelsea boots in my wardrobe for over a year now and wear them all the time. What I like most about this style of boot is that it's cute and stylish, but also practical to wear in the winter months. A lot of shoes are just not suitable to wear in the winter weather. Although this pair of Chelsea boots aren't considered waterproof, they still keep my feet nice and dry and I don't worry about the material of these shoes getting ruined. When they get dirty, I just take damp clothes and wipe them off.
Another thing I like about my chelsea boots is how easy they are to style. They can be worn with almost any style of pants or skirt. Here are some outfit ideas that you can try with your boots this winter.
*Sizing info- My typical shoe size is 7 1/2. I found that this pair of boots run big. I sized down to a 7.
How to wear Chelsea boots

1.) Leggings
Leggings are usually my go-to winter pant option for wearing my Chelsea boots. You can wear them on their own or add a cute boot sock to the look. I personally like to add boot socks when it's cold outside to give my feet some extra warmth.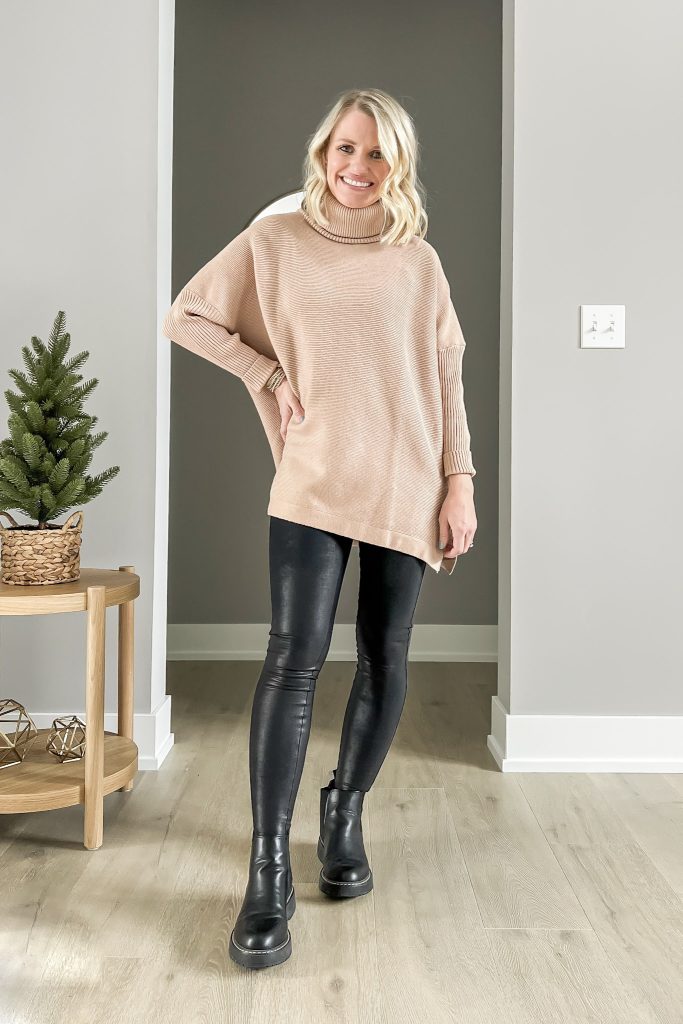 Sweater || Leggings (similar)|| Boots || Socks
2.) Straight-leg jeans
When it comes to wearing straight-leg jeans with Chelsea boots I like to opt for a pair of straight-leg jeans that aren't too wide. Something in between a skinny jean and a straight-leg jean is perfect. You also need a pant that isn't going to hit your boot at the wrong spot causing it to bunch up. It takes some trial and error to figure out the right combination. You can read more about how to style straight-leg jeans in the winter HERE!
I also love to wear a pair of boot socks with my boots. It's a great way to help keep your ankles warm when you are wearing cropped straight-leg jeans.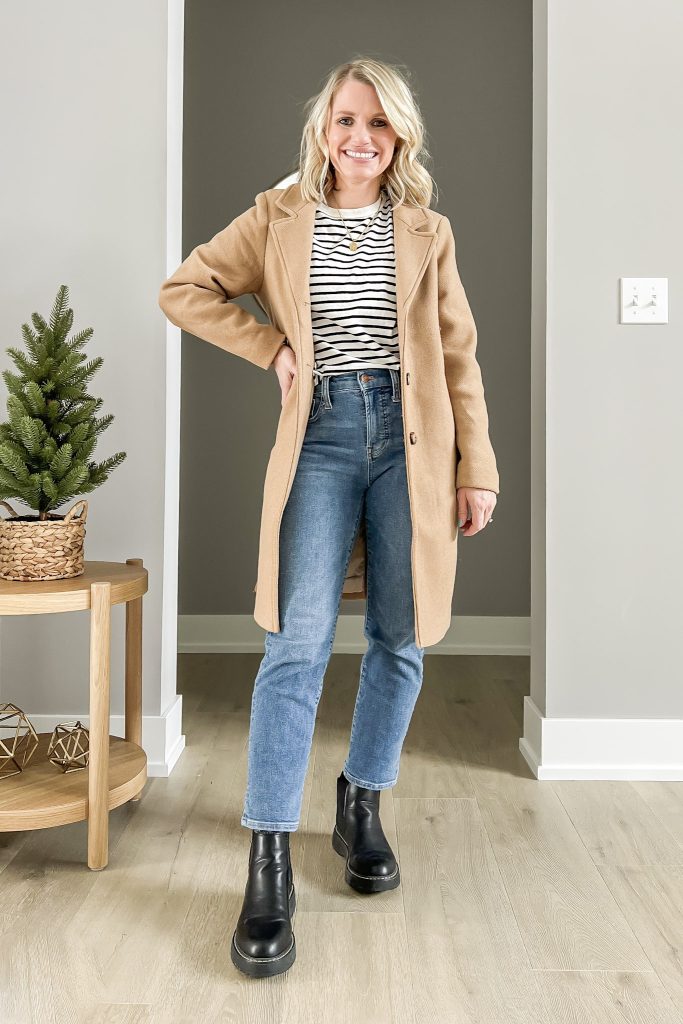 Shirt || Jeans (similar) || Coat (similar) || Boots || Socks || Necklace
3.) A sweater dress with tights
I love the look of Chelsea boots with a dress and black tights. They give your dress a little more of a casual look. If you live somewhere cold, fleece-lined tights are a great option to wear with a dress and Chelsea boots.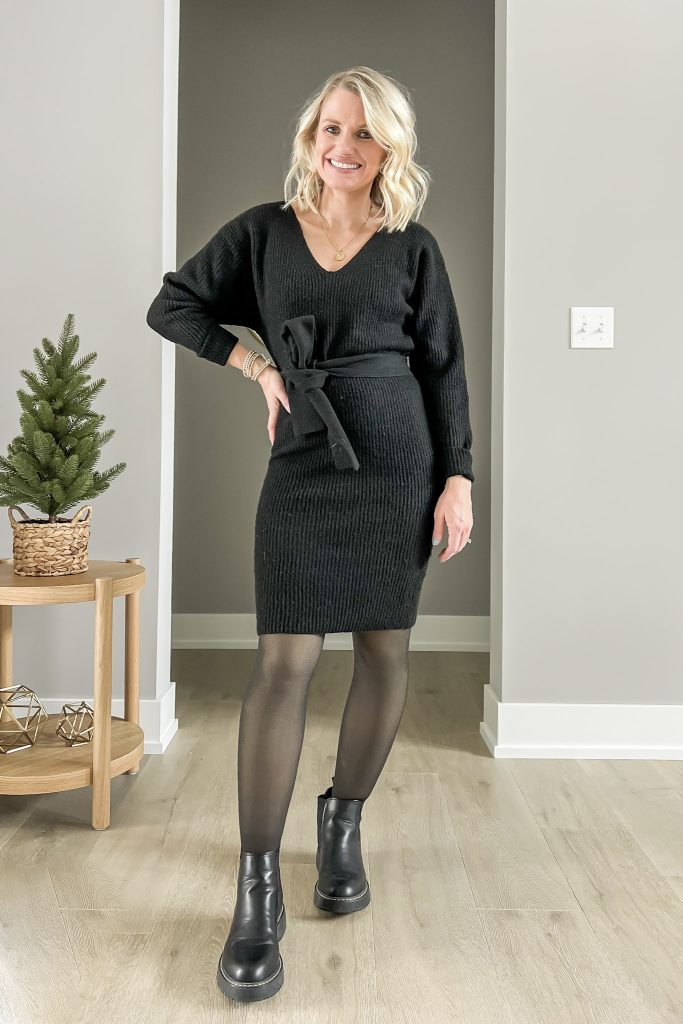 Dress (similar) || Tights || Boots || Necklace
4.) Black jeans
Black jeans are a great pant option with Chelsea boots. I always love an all-black base with a neutral layer over it. The black pants do a good job of helping my legs look longer with the flat round-toed boots. As I said before, you want to make sure that your pants and boots hit at the right spot so they don't compete with one another and cause bunching. If you are struggling with the length, you can always roll your jeans or cut them for a better fit.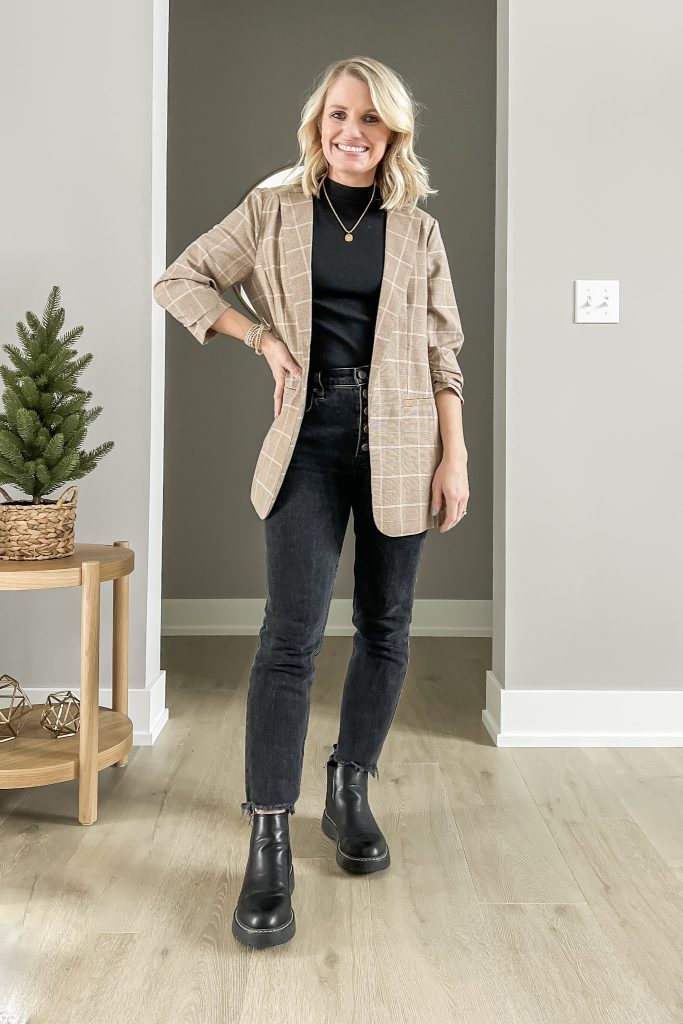 Top || Jeans (similar, similar) || Blazer (similar, similar) || Boots || Necklace
5.) Skinny jeans
Pairing skinny jeans and Chelsea boots together can be the perfect way to update some of your skinny jean outfits. I like to roll my jean a little at the bottom so they hit just on top of the boot. It's the same way that I style my skinny jeans with booties.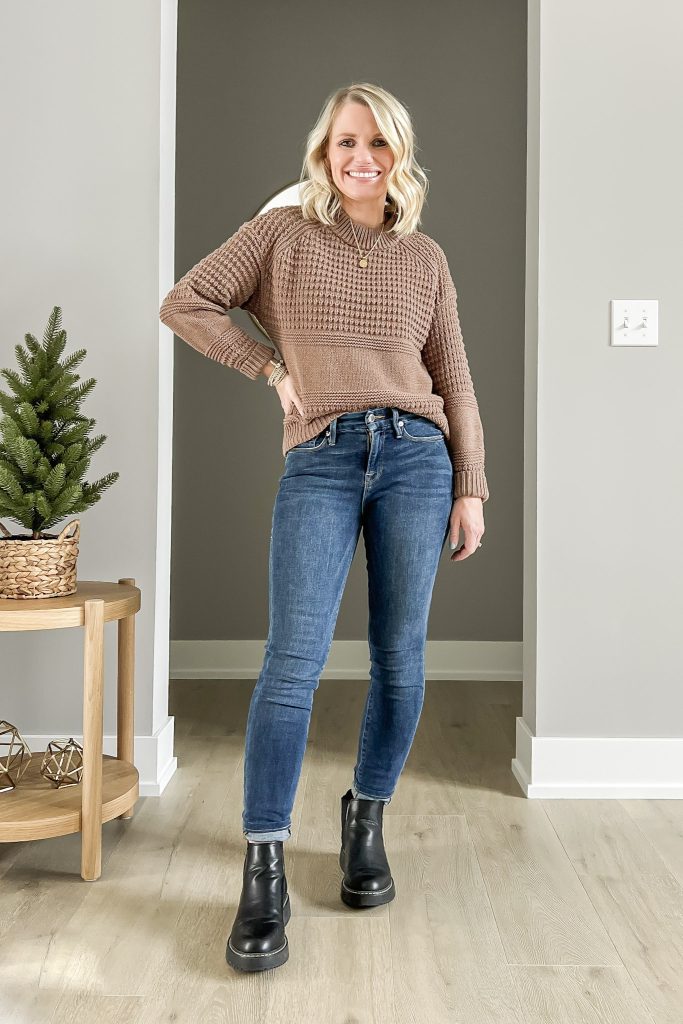 Sweater || Jeans (similar, similar) || Boots || Necklace
6.) Midi Dress
Chelsea boots often go really well on their own with just a simple dress. They have a bit of an edgy style to them, so it's always fun to explore that when putting together outfits. This simple winter dress is a great way to style these boots. I added the faux leather jacket to complete the look.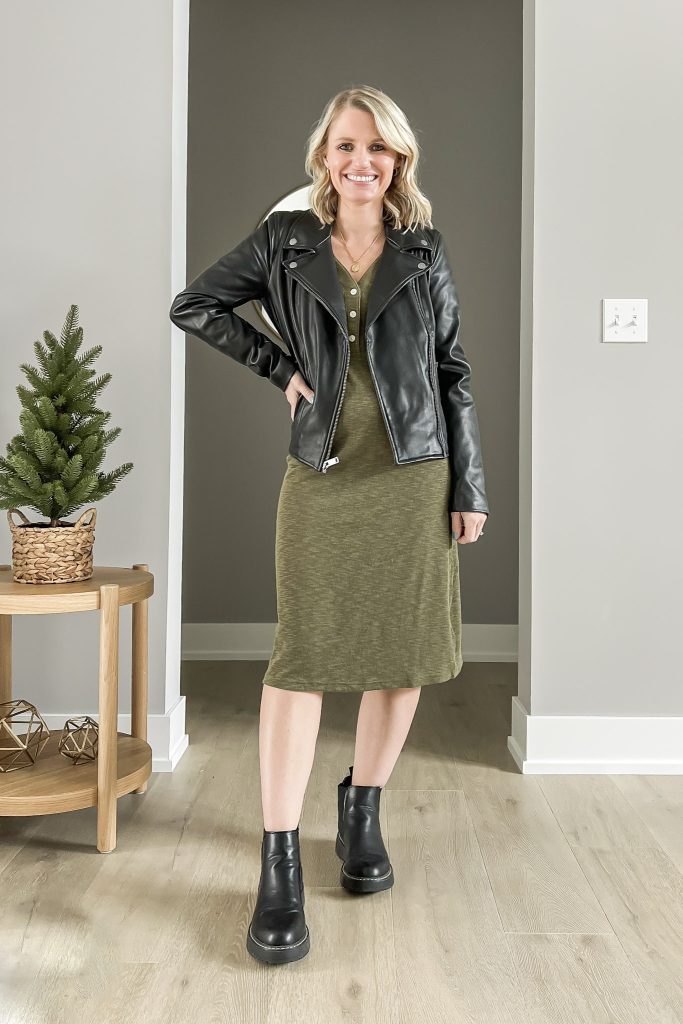 Dress || Jacket || Boots || Necklace
Make sure you are following me on Instagram for more style tips!