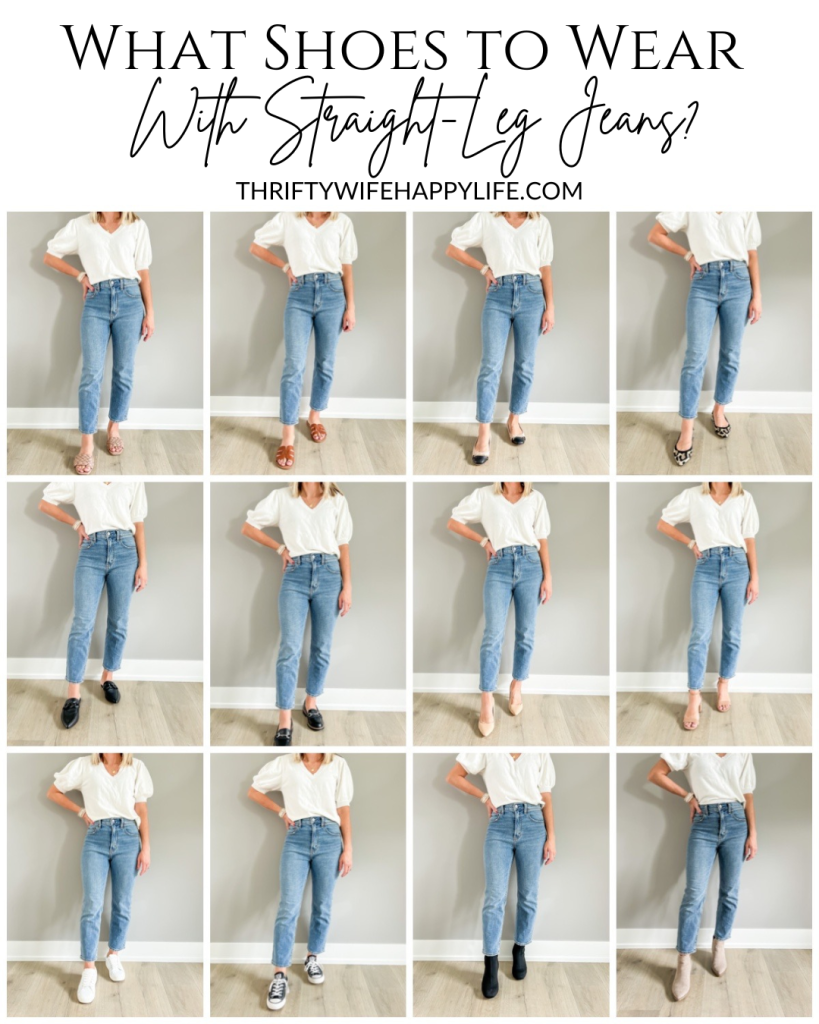 Last week when I shared a post on my favorite affordable petite straight-leg jeans I had a bunch of questions come in about what shoes to wear with straight-leg jeans. There are so many great options out there. That's why today I wanted to do a follow-up post to round up my favorite shoe options to wear with straight-leg jeans.
*This post contains affiliate links.
First, let's start off with the jeans. Not all jeans are created equal and you need to find a pair that's right for you. My personal favorite style of jeans is a high-rise cropped straight leg. I find this to be the most flattering on my body. The jeans I am wearing today are my favorite style from Abercrombie. They are the ultra high-rise straight-ankle jeans. I love the quality of these jeans and the fit is perfect!

What shoes to wear with straight-leg jeans?
When it comes to pairing shoes and straight-leg jeans there really is no wrong answer. Personally, I think many people are overthinking it. I will never say that you can't wear something that feels right to you. It takes trial and error to figure out what shoes feel best to you. All jeans are a little different. You might have one pair of straight-leg jeans that look super cute with one pair of shoes, but another pair that feels awkward with the same shoe.
The best way to figure out what shoes to wear with straight-leg jeans is to just try on different pairs. When I am wearing cropped straight-leg jeans, I look for a shoe that will flatter the length of the jeans. I like something that will help elongate my legs to make it look longer. I also want the shoe to be low enough that it won't cause bunching in the pant leg.
Here are some of my favorite styles of shoes to wear with straight-leg jeans.
1.) Sandals
Sandals are a great shoe option to wear during the warmer months of the year with straight-leg jeans. I love how they have a laid-back casual feel to them. Most styles of sandals will work great, but I prefer a slide sandal rather an a sandal with a thick strap around the ankle. My braided sandals and slide cognac sandals are the sandals that I wear the most with my straight-leg jeans.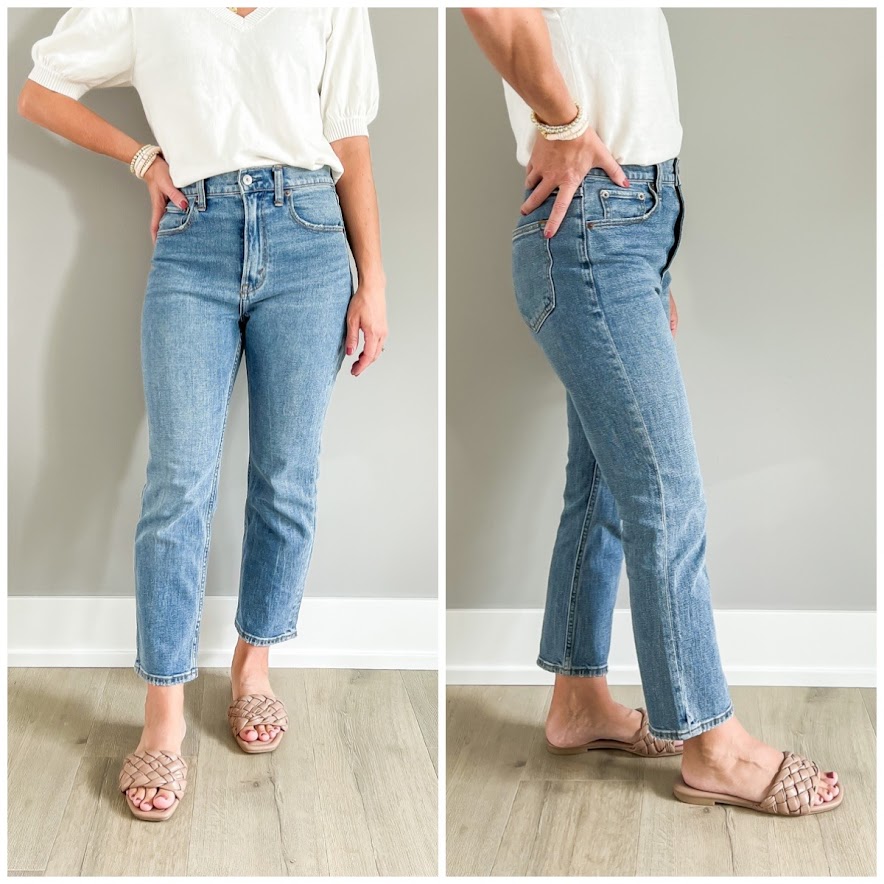 2.) Ballet Flats
Flats are a personal favorite shoe of mine to wear during the in-between seasons of fall and spring. They are comfortable and versatile. I often opt for a pointed-toe flat in a neutral color because it helps elongate my legs, especially when paired with straight-leg jeans. But I also love a round-toe ballet flat. I also don't think you can ever go wrong with a cute pair of leopard flats!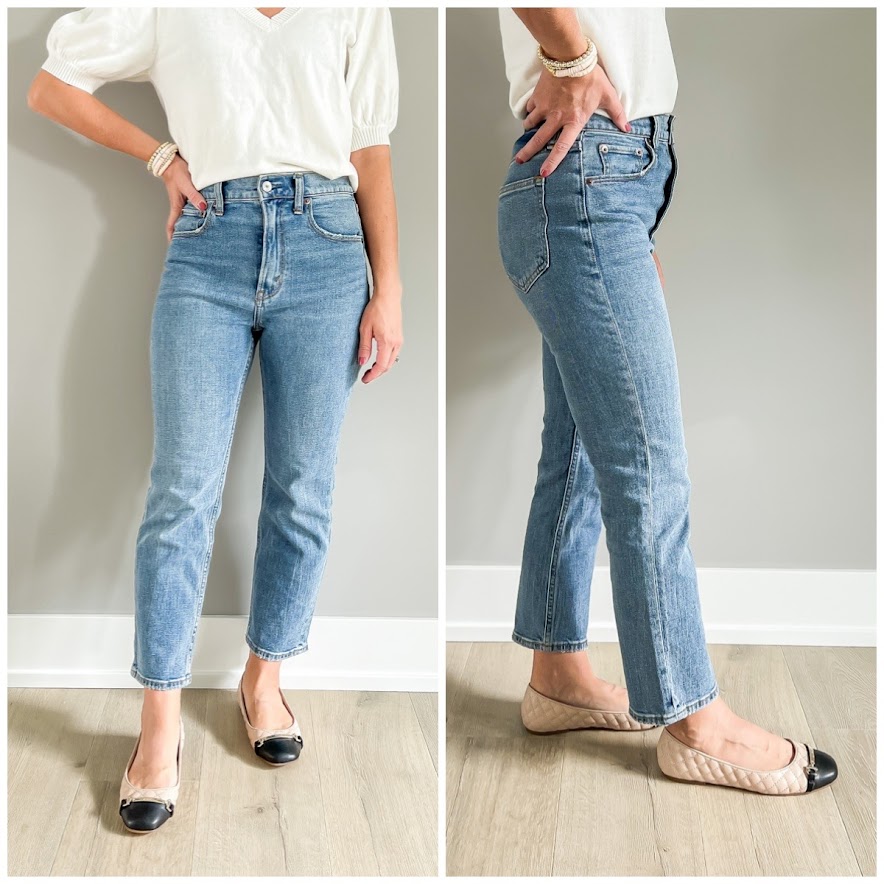 3.) Mules
Mules are another great flat shoe option to wear with your straight-leg jeans. They are trendy, yet practical. I always say mules are a great shoe to transition you out of wearing sandals in the early fall when it's still warm out, but you want your toes covered. These Target mules are a great option and they come in 3 different colors!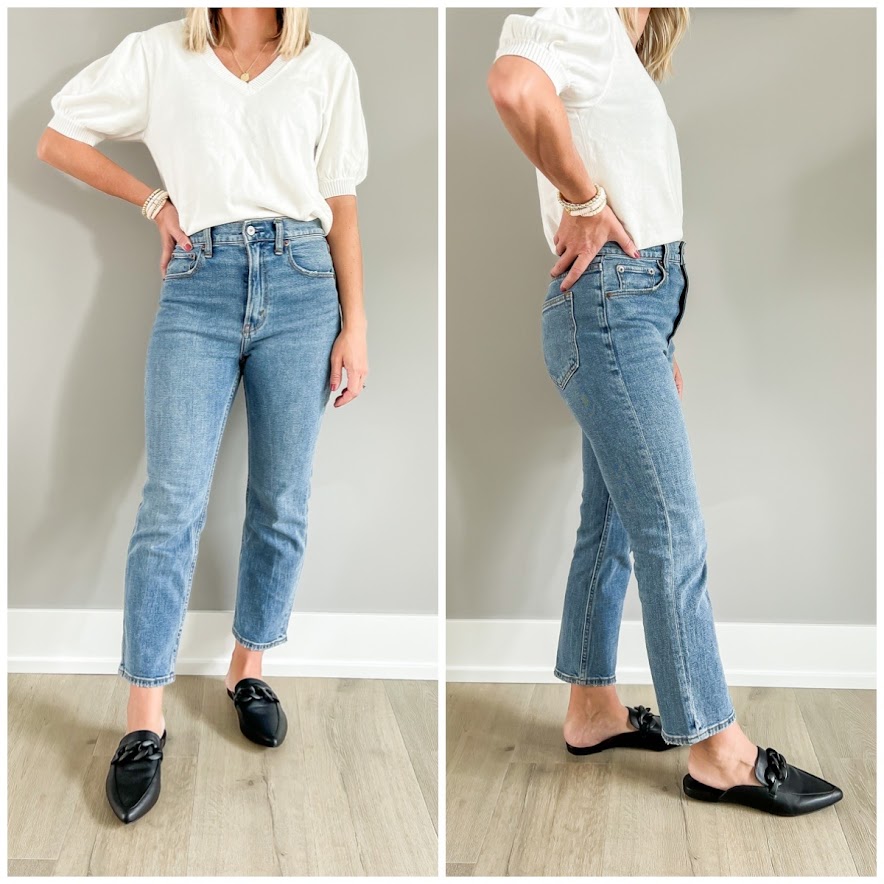 4.) Loafers
I have been reluctant to jump on the lug sole loafer trend, but this fall I have found a couple of loafer options that I really love. This DV by Dolce Vita loafer is perfect for me, because the sole is not overly heavy. I love how they look with straight-leg jeans. They give a very polished and classic vibe to your outfit.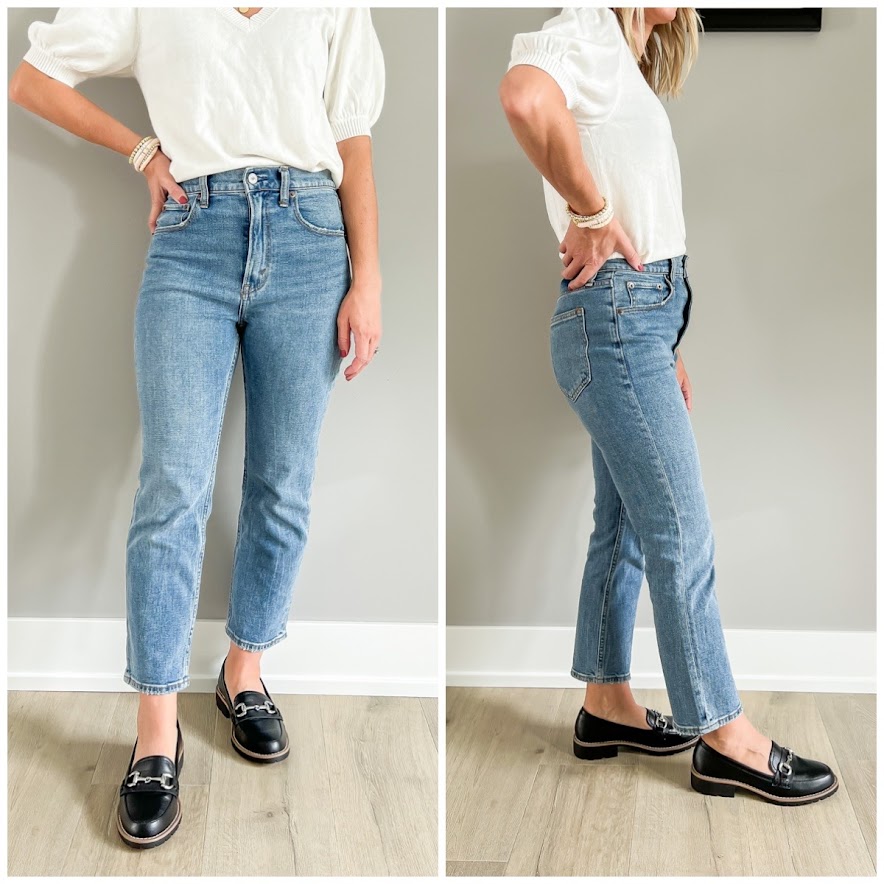 5.) Heels
When looking to elongate your legs in straight-leg jeans, heels are always a great option! I love a nude color pump or a cute block heel sandal. Comfort is key when wearing heels, so I always mention that my most comfortable heels come from Target. The heel placement and height make them easy to wear.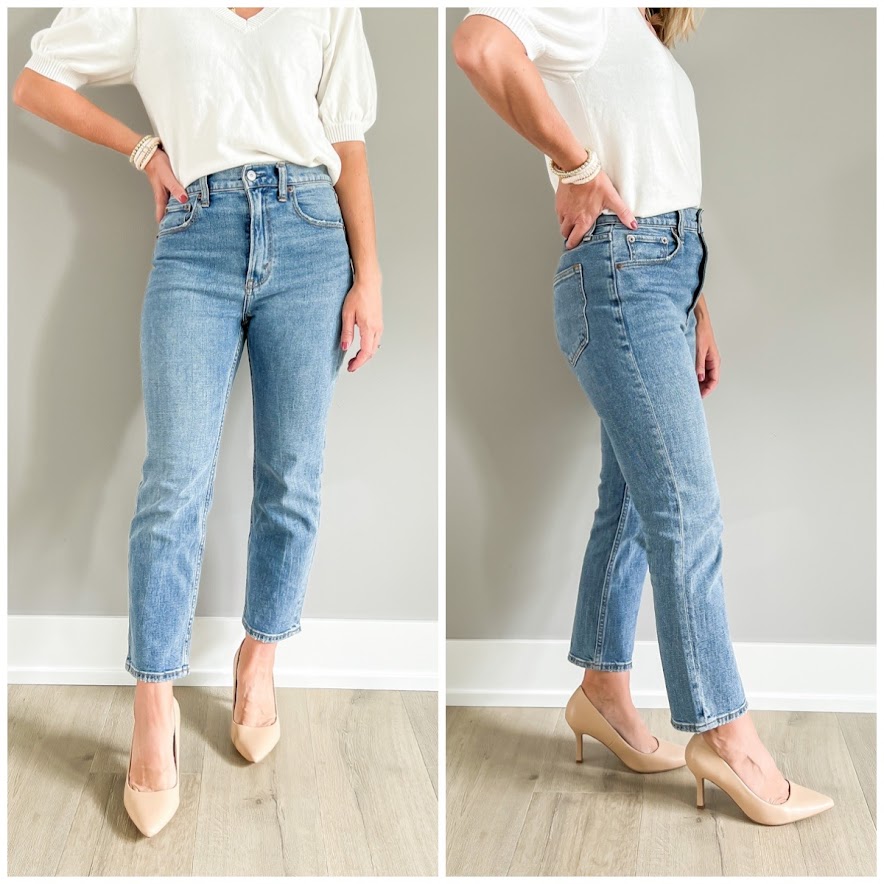 6.) Sneakers
In my everyday mom wardrobe, sneakers are probably one of my most worn shoes. They are practical, and comfortable and look great with straight-leg jeans. I recommend a sneaker that comes down low enough to show your ankle. I also find that a sneaker with laces looks better than a slip-on sneaker. The laces help elongate your foot. My personal favorite sneakers are my white sneakers or Converse Chuck Taylor sneakers.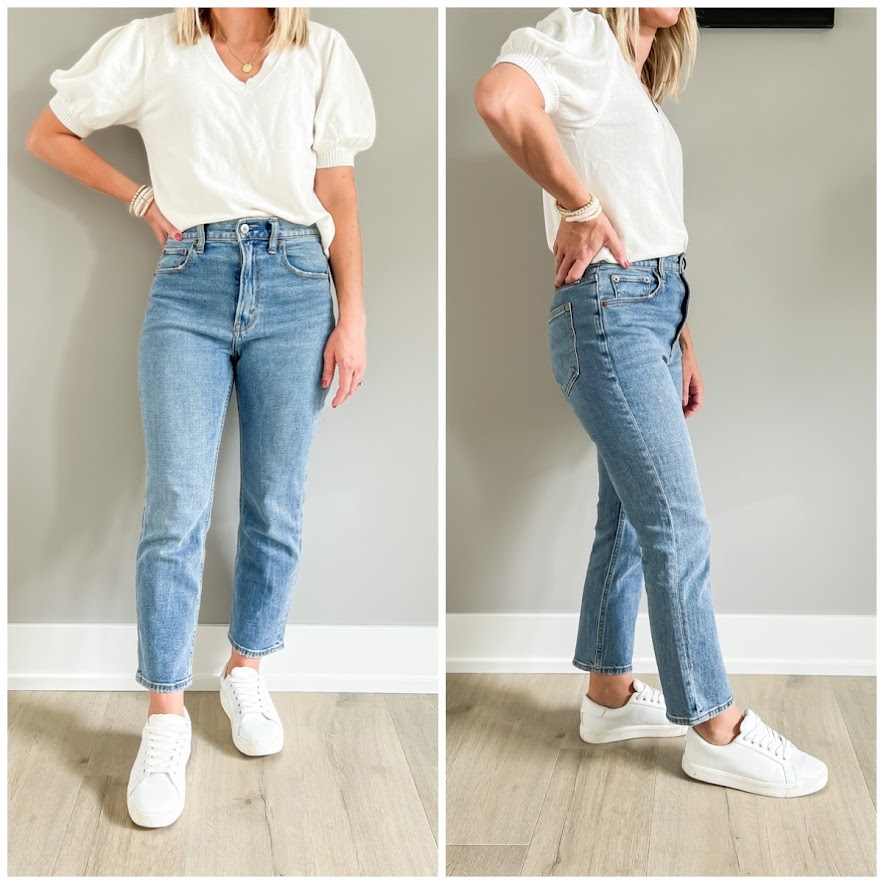 7.) Booties
Booties are a great winter shoe option with straight-leg jeans, but they are probably the most tricky shoes to figure out the right style. The biggest thing you need to keep in mind when styling booties with straight-leg jeans is that you want to avoid your jeans scrunching up with the top of the shoe. I like to pick a style of bootie that hits just under the hem of the jeans or slides inside the pant leg.
As I have said before, the goal when styling shoes with straight-leg jeans is to elongate your legs, so I love a neutral color pointed-toe bootie or something with a heel. These two options from my shoe collection are what I typically wear with my straight-leg jeans. The tan booties are from Target a couple of years ago, but this is a similar option to try. The black booties are newer and they come in lighter options as well!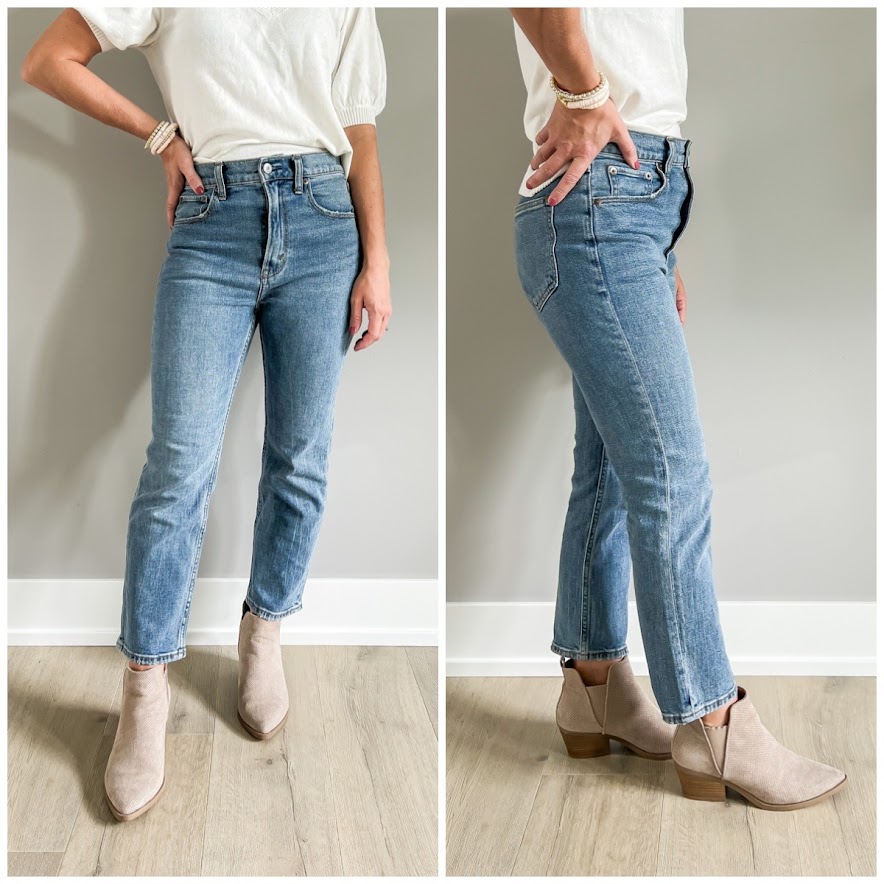 What shoes not to wear with straight-leg jeans
As I said before, I am not going to tell you what you can and can't wear with straight-leg jeans, but these are a few styles of shoes that I typically avoid wearing with my straight-leg jeans.
Tall boots- I have seen this trend of wearing tall boots with straight-leg jeans and I just can't get into that look. It seems uncomfortable to scrunch up your jeans and shove them into a boot. If I want to wear tall boots with pants I usually opt for a skinny jean or legging pant instead.
Athletic sneakers- I will not rule out all athletic shoes, because you never know if you might have a pair that works well with your jeans, but in general, I wouldn't wear an athletic tennis shoe with straight-leg jeans. Instead of athletic tennis shoes, you can try some of the sneaker options that I mentioned above. A shoe that's comfortable, but not necessarily something that you would work out in.
Chunky winter boots- Winter boots tend to clash with straight-leg jeans. I will not rule out all chunky winter boots because I have been able to style my Chelsea boots with some of my straight-leg jeans in the past. You can read more about that in my blog post- How to Style Straight-Leg Jeans in the Winter and How to Wear Chelsea Boots. But overall, as a rule of thumb, I think it's easier to avoid chunky sole winter boots with straight-leg jeans.
I hope you have some ideas on how to style your straight-leg jeans and you can start playing around with your shoes in your wardrobe! I'm sure I'll be styling more jeans as the cooler months roll in so be sure to check back for more blog posts!!