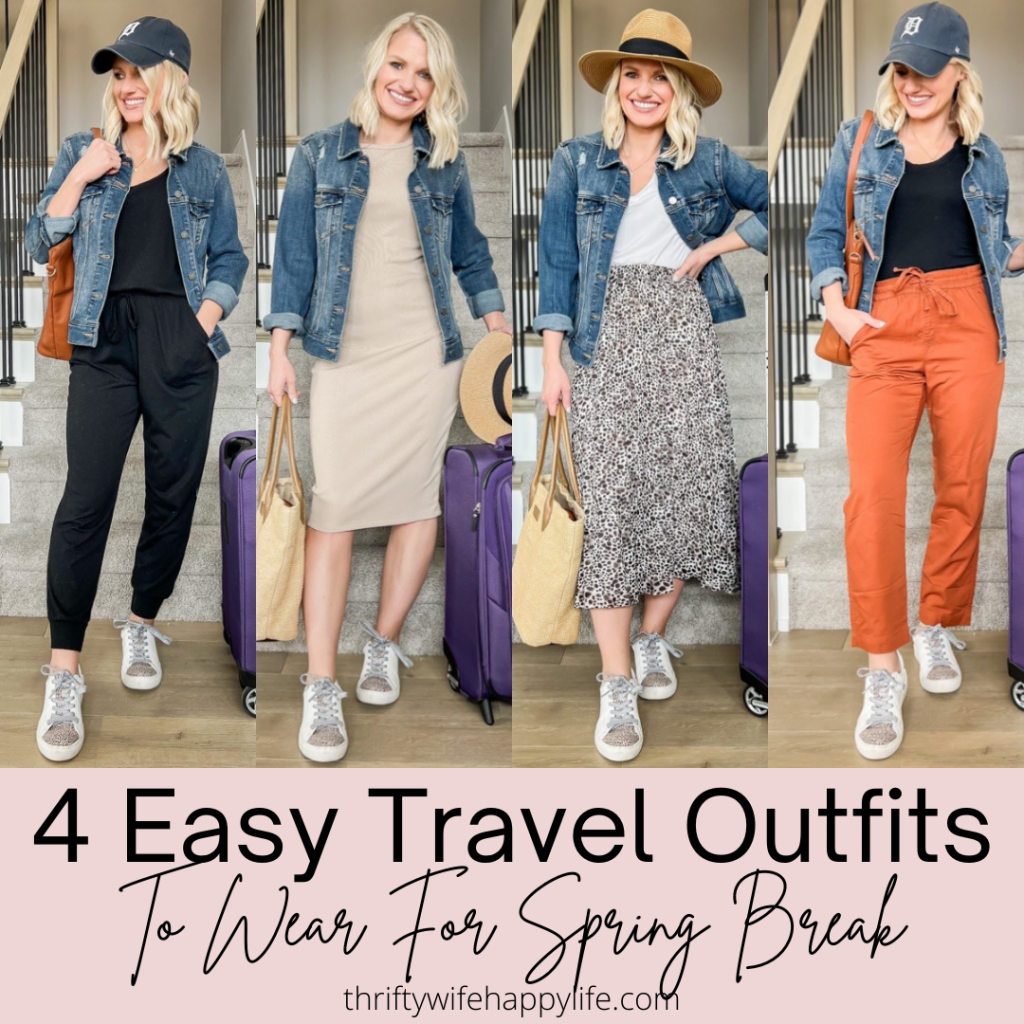 It's that time of the year when I get to be jealous of everyone's warm weather spring break pictures on Instagram. With our recent move and Kevin's busy work schedule, it looks like we will be staying home for another spring break in Michigan. I would love a good vacation, but at the same time, there are lots of things to be done around here. I'll just have to wait until summer.
*This post contains affiliate links.
Just because I am not traveling this year, doesn't mean that I can't share what I would wear if I was traveling. I think that your travel outfit is important. You want to wear something comfortable, but you also want something that looks cute and put together. You can read more about put-together travel outfits in my post HERE! But before I get to the outfits, I first want to share the 5 travel items that I always wear or carry almost every time I go to the airport.
My travel outfit essentials…
Carry-on suitcase– I never check a bag anymore. I fly standby with Kevin's travel benefits as a pilot, so I need to be flexible when I fly. I have needed to switch flights quickly and even go to a different airport last minute to catch a flight, so a carry-on suitcase is a must. On our last vacation, the suitcase I had for the last 10 years broke, so I felt that it was a sign to upgrade my suitcase. I bought myself the Travelpro Maxlite Carry-On Suitcase. I had Kevin pick it out for me because he knows his luggage! It's the perfect carry-on size and will fit in any overhead space on any size airplane. I like that there is a ton of space to pack in and the wheels roll so smoothly. I will say that this is not a cheap $30 suitcase, but if you are looking to invest in a good piece of luggage that will last you forever, then I highly recommend this suitcase!
A hat- I always want to bring a hat with me on a trip, but I don't like to pack them in my suitcase. I am always afraid that they will get smooshed. This is why I almost always wear a hat while traveling. The hat also helps me hide dirty hair if I don't want to wash my hair before an early morning flight, so it's always a win-win for me!
A large tote purse- You get a carry-on and a personal item when you fly. That's it, so I want to fit as much into those 2 items as I can. A large tote bag works as a purse, but you can fill it with so much. I even like to pack my smaller purses I plan to use on the trip in the tote bag.
Sneakers– My favorite style of shoe to wear while traveling is a cute pair of sneakers. They are comfortable on my feet, but also practical. Sneakers can be an awkward item to pack in your suitcase and they tend to take up a lot of space, so I always prefer to wear mine on travel days.
Denim Jacket– The last item that I almost always wear while traveling is a denim jacket. I always like to wear a layer when traveling, especially in the spring when temperatures can vary. A denim jacket is a perfect layering piece that can be worn with so many different travel outfits. It also saves some space in my suitcase, because denim jackets can take up a lot of space.
Travel Outfit Ideas…
Look 1- Jumpsuit
I cannot get over how much I love this Amazon jumpsuit. I've had it for 3 years and it's always my go-to when I need something comfy and cute to throw on. You don't need to put much thought into this outfit and it pairs perfectly with sneakers and a denim jacket!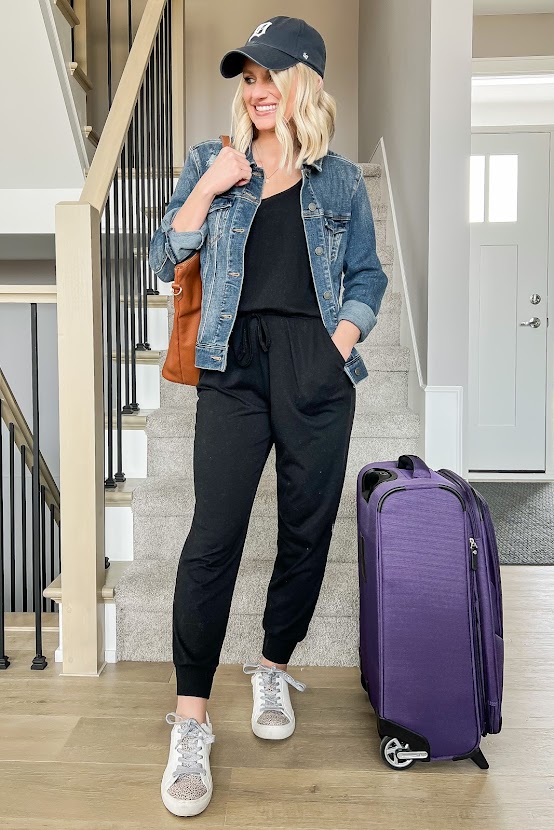 Jumpsuit || Jacket (similar) || Shoes || Tote (similar) || Hat || Suitcase
Outfit 2- Fitted Midi Dress
This fitted midi dress is another Amazon favorite of mine. This dress works perfectly as a travel day outfit, but you can also re-wear it on your trip with a pair of sandals. I like to pair it with straw accessories, like my straw hat and straw tote.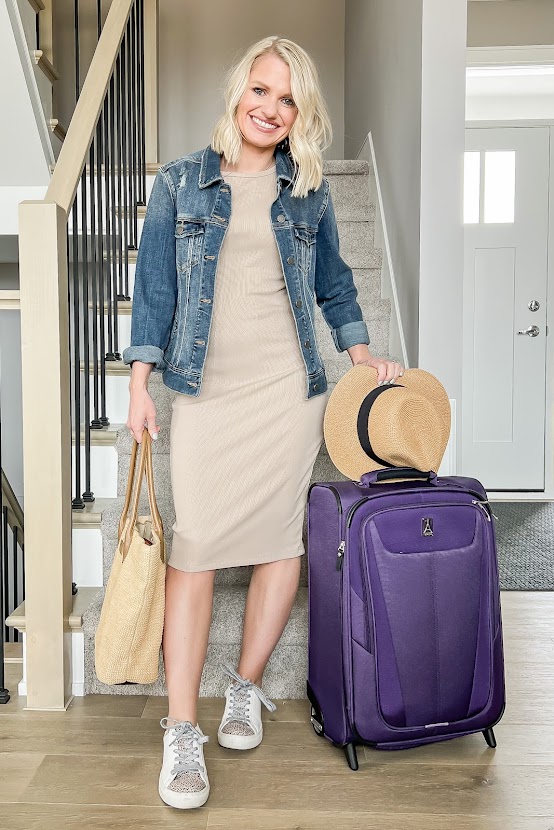 Dress || Jacket (similar) || Shoes || Tote || Hat || Suitcase
Outfit #3- Pleated Skirt
One of my favorite clothing items in my wardrobe at the moment is my leopard pleated skirt that I thrifted last fall at Goodwill. This is the perfect skirt to bring on a spring break vacation because it is so versatile. I love how it looks as a travel day outfit with my denim jacket and sneakers.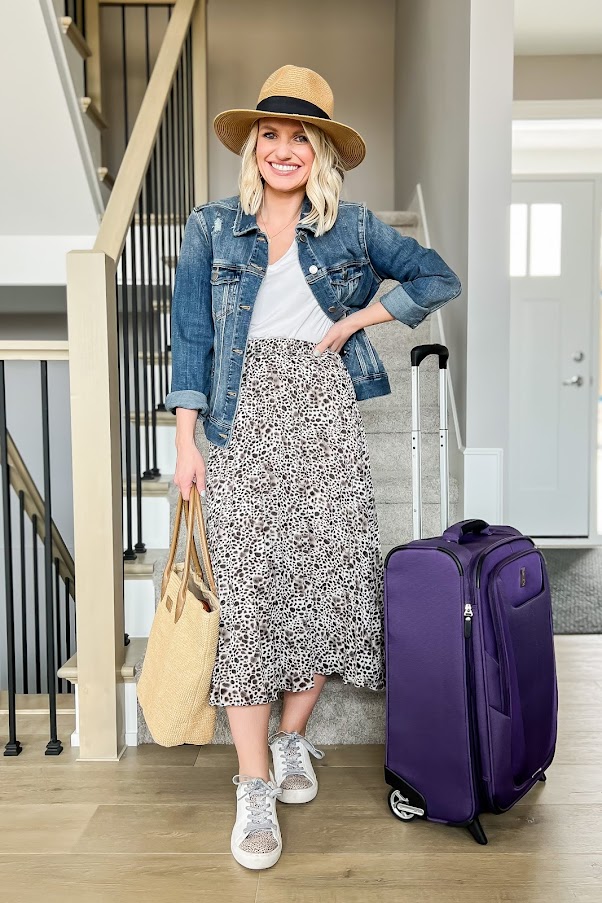 Skirt (similar) || Top || Jacket (similar) || Shoes || Hat || Tote || Suitcase
Outfit #4- Drawstring pants
These rust orange drawstring pants from Gap Factory are perfect to wear while traveling. They are comfy, but they look nicer than your traditional sweatpant style of drawstring pants. They go perfectly with my denim jacket and sneaker. I also like to add a baseball cap to the look.
Top || Pants || Jacket (similar) || Shoes || Tote (similar) || Hat || Suitcase
Hopefully, this gives you a few outfit ideas to wear this spring break while traveling. Let me know which outfit is your favorite in the comments.
Shop the post