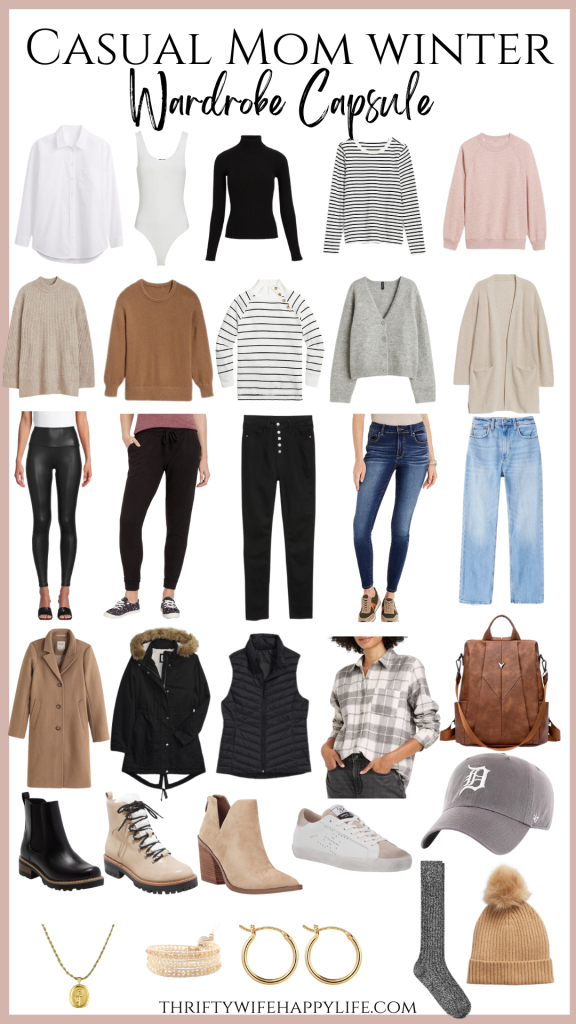 My casual mom winter wardrobe capsule is here and I am so excited to share it with all of you! I got so much good feedback on my fall mom wardrobe capsule and my teacher wardrobe capsule that I had to do another capsule for the winter season!
*This post contains affiliate links.
I'm not going to lie, this wardrobe capsule was much harder for me to put together than the other 2. Winter is a tough season for me to dress for and it was hard for me to narrow down just 15 pieces like my other capsules. That's why I have included 30 wardrobe pieces for this winter wardrobe capsule with 54 outfit ideas!!
The goal for me when creating this casual mom winter wardrobe capsule is to help you simplify the getting dressed process and keep you feeling stylish and loving what you wear. I could have switched out many of these pieces for something similar, so I hope you can look closely inside your wardrobe to see what you have to use before purchasing any of these items!
What's in the casual mom winter wardrobe capsule?
Shirts
I wanted to include a white button-down shirt because I think that it's the perfect piece of clothing to help elevate your winter outfits. It's so versatile and really just a great year-round wardrobe staple! (Tip: If you can, look through your husband's closet to see if he has an old white button-down shirt. Men's shirts are great for getting that oversized fit!)
Bodysuit- Express (xsmall, I would size up if you have a bigger chest.)
I like to wear bodysuits under my clothes in the winter. Because they are fitted, they give me extra insulation to keep me warm. You can just wear a fitted tank top, but bodysuits don't ride up, so you won't need to worry about any cold air getting in.
I love a good turtleneck in the winter. I am wearing a 3/4 sleeve turtleneck from Target in the post, which is a great option if you are someone who doesn't love a high turtleneck. I also love the Express turtlenecks and I have one in a tan color.
I love to layer with a striped t-shirt in the winter. They give just a pop of pattern to your outfit. They are such an easy piece to elevate your winter look!

Sweater and Sweatshirts
You can't do winter without a cozy sweatshirt. I can't say enough good things about my Old Navy tunic sweatshirt. It's long and so soft on the inside and out!
I love tunic sweaters that are long enough to wear with leggings. Any kind of neckline works with me. As long as it's soft and cozy!
I have bought one of these crewneck sweaters at Old Navy every year for the last 4 years. They are easily one of my most worn sweaters each year. This year I am loving the camel color!
What I love about this sweatshirt is that it gives you the option to wear it open or buttoned up like a turtleneck. It's just a step up from a regular sweatshirt.
I wanted to add a Grandpa cardigan to the capsule because they are versatile and trendy at the moment. You can wear them buttoned like a normal sweater or open like a cardigan.
This cardigan is my favorite and it was also featured in my last 2 capsule posts! I always love having a long open cardigan to layer with.

Bottoms
I love the look of faux leather leggings in the winter and I wear them a few times a week. I am wearing my Spax faux leather leggings in this post, but if you are looking for a cheaper option, I have linked my Time and Tru leggings from Walmart because they are very similar and you can't beat the price.
I love cozy joggers in the winter time! I have found that the key to buying cute joggers is to buy my smaller size. I feel that you look more polished if your joggers are fitted, rather than baggy.
Black jeans are always a good pant option for the winter. I feel like we often neglect our jeans in the winter because we are too busy staying cozy, but that is why I wanted to include a lot of jeans options. I am wearing my Abercrombie black jeans in the post, but they are out of stock so I linked to a similar pair from Old Navy.
I talked about this in my recent post on Skinny jeans, but they are the best jeans to wear in the wintertime! They stay dry and look cute with boots. I am wearing a pair of thrifted Good American jeans in this post, but an affordable option that I also love is my maurices skinny jeans because they are very comfortable.
I still love to wear my straight-leg jeans in the wintertime, I just usually avoid jeans with holes when it's cold. My favorite pair of straight-leg jeans are from Express (similar), but they are sold out, so I have linked to a pair from Abercrombie because I always love their jeans as well!

Outerwear and Layers
I always have a classic wool coat in my coat collection in the wintertime. I always feel put together when I am wearing this coat, even if I wear it just over joggers.
I have had this coat for 3 winters now and I love it! It's warm and stylish plus it's easy to clean. I wear it almost every day.
I love my thrifted black puffer vest I am wearing in the post. It's perfect for laying over sweaters and sweatshirts, but it also fits comfortably under a jacket.
I was going to include a shacket in this capsule, but to be honest, I don't love how thick shackets are. That's why I opted for a heavier flannel shirt instead. This shirt makes a great layering piece, but it's also a shirt that you can wear on its own.

Shoes
I wore my chelsea boots so much last winter that I knew I had to add them to this capsule. They are cute boots, but also practical. I am wearing my Madden Girl Chelsea boots in the post, but linked to an affordable pair from Target.
Another cute and practical boot for winter is a hiking boot. I love this pair from Target because you don't need to lace them up, so they are easy to get on. They are also extremely comfortable!
When sidewalks are clean in the winter, I love to wear my booties. They are a cute option to wear with jeans any time you want to dress up your outfits.
I also wear sneakers a lot in the winter. I typically save my sneakers for warmer winter days because I don't want my ankles to get too cold, but I still get a lot of use out of them. My favorite sneakers are from Target and they are sold out, but I did link to a few similar options.

Accessories
As a mom, a backpack purse is always my everyday purse. It's big and fits all of my mom accessories. Plus it stays on my back and doesn't slide off my shoulder, especially on slippery winter coats.
I am a big fan of wearing baseball caps. They are one of my favorite accessories to wear year round, so of course, I had to include them in my winter wardrobe capsule.
A warm winter hat is always a good accessory to have and I wear mine almost every day when I leave the house if I'm not wearing my baseball cap already. The beanie I styled in this post is from Express last year.
I usually just wear sport no-show socks with my booties and sneakers, but when I want to keep my feet warm I will wear boot socks or knee socks.

Jewelry
I never feel fully dressed without a little jewelry. I love wearing light dainty necklaces, but I recently bought this rope chain necklace and I have been wearing it on repeat. It's simple and goes with everything!
I typically don't wear bracelets, but I have been loving this wrap bracelet! It's very lightweight and I can hardly tell that I am wearing anything on my wrist at all!
For earrings, I love something small and lightweight. I love wearing a gold pair of lightweight hoops that I got for my 18th birthday. I rediscovered them a few years ago and I wear them all the time. Anything small will work!

Casual Mom Winter Wardrobe Capsule Outfits
Now for the fun part! I have put together 54 outfit combinations with the 30 pieces in this capsule. I hope that there is something here for everyone. I wanted to include some cozy comfy outfits as well as a few nicer outfits that you could wear while volunteering at school or possibly going out to a family event. I also have some outfits for those of you who are always cold and also some outfits for those of you who live in a mild winter climate. There is a little bit of everything here!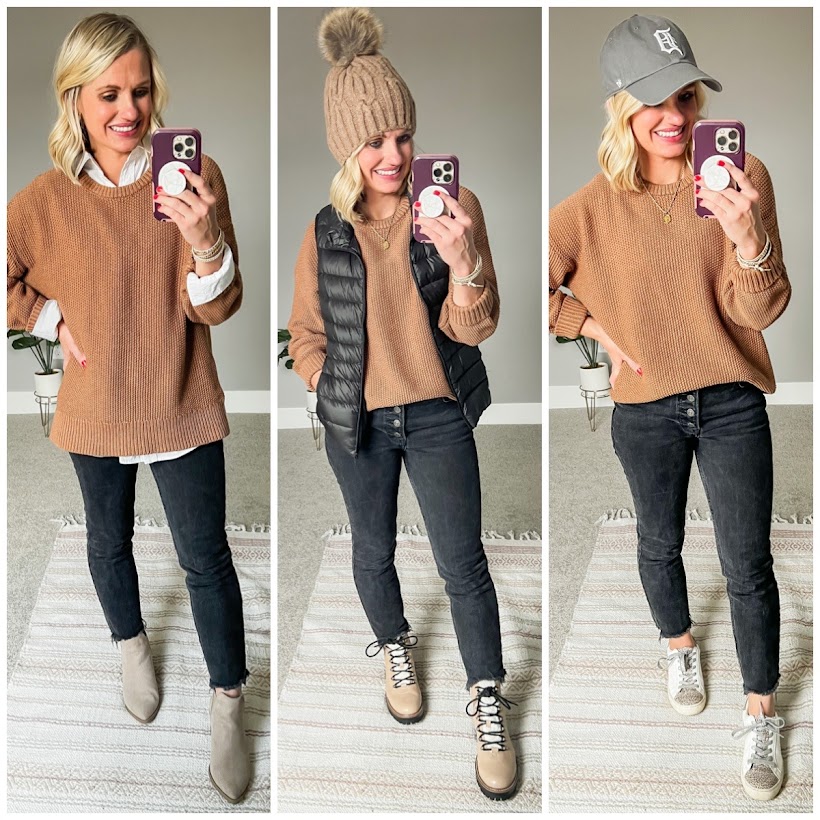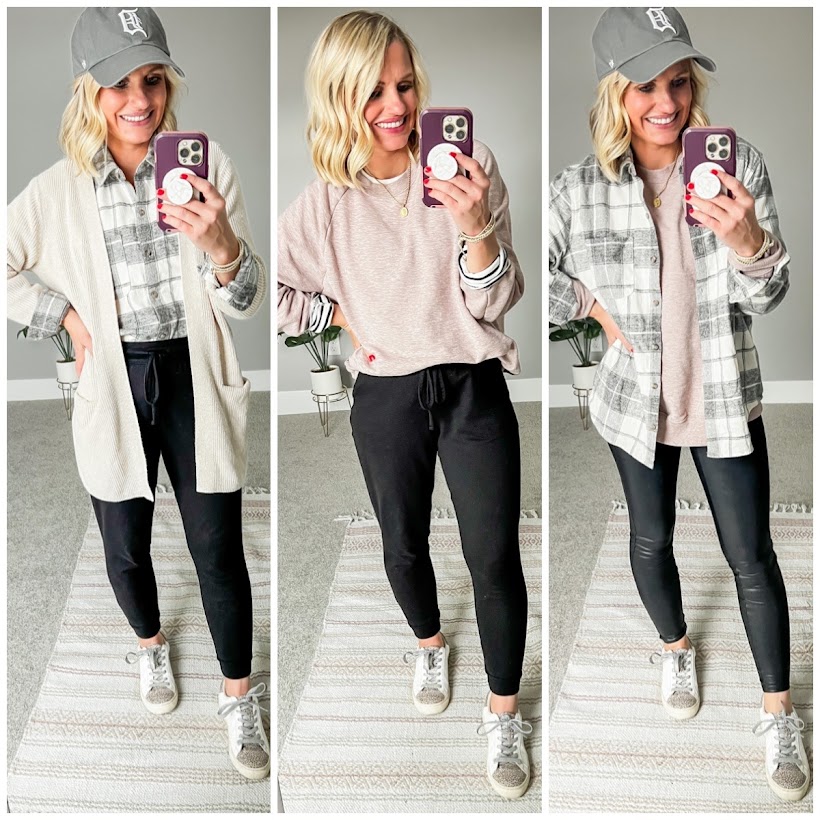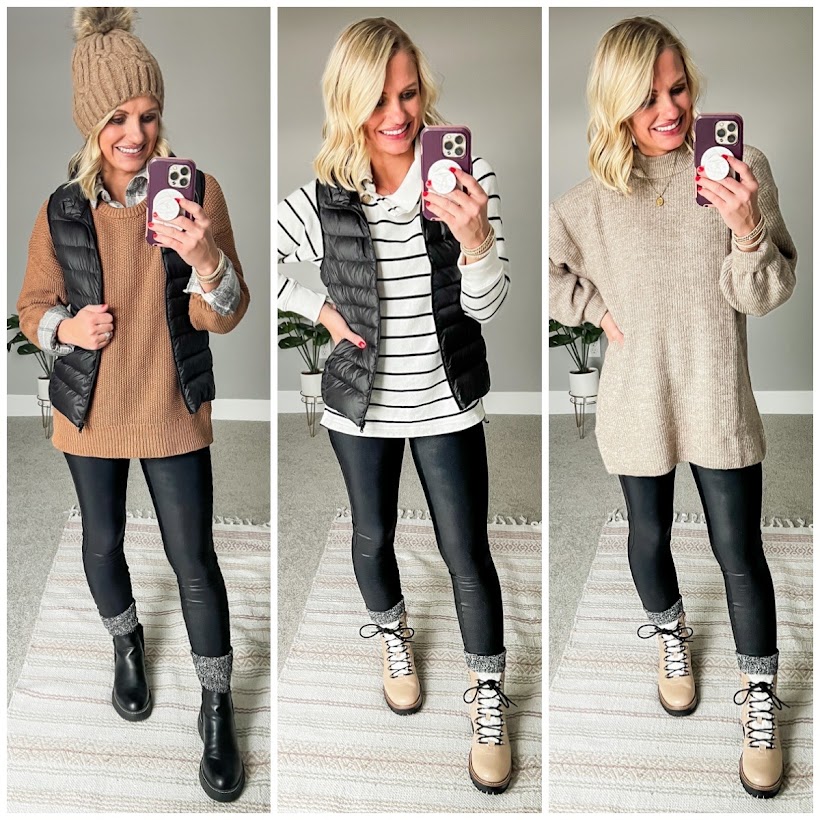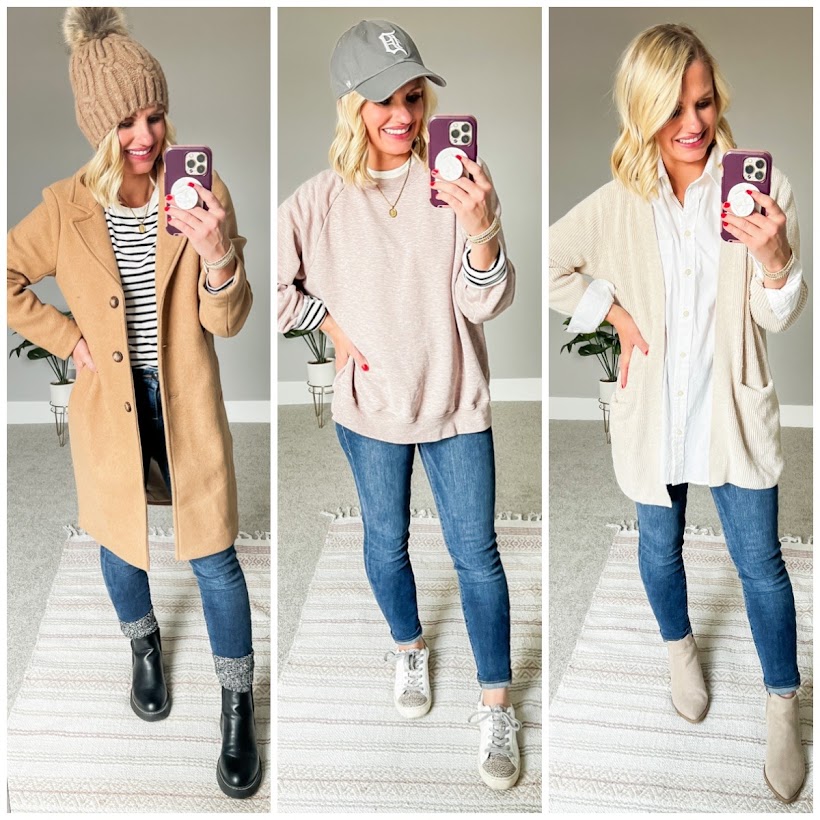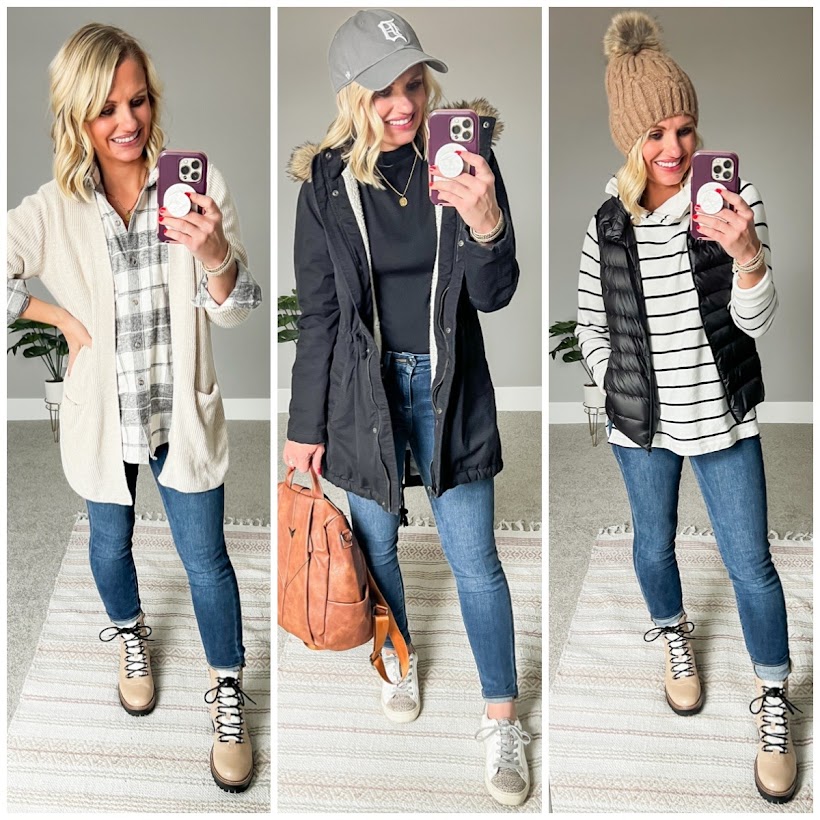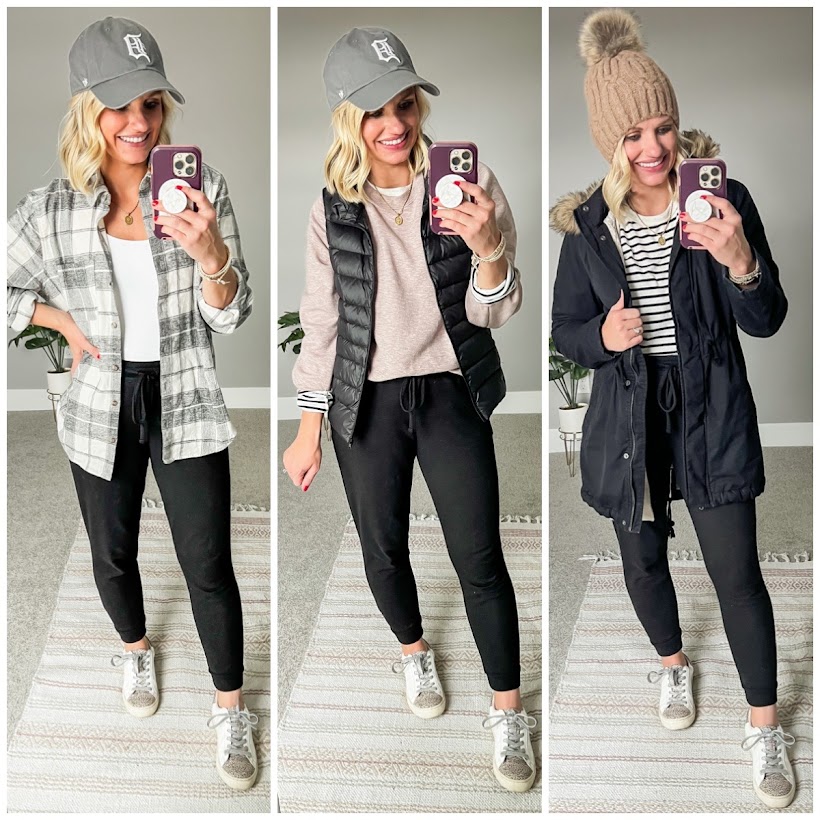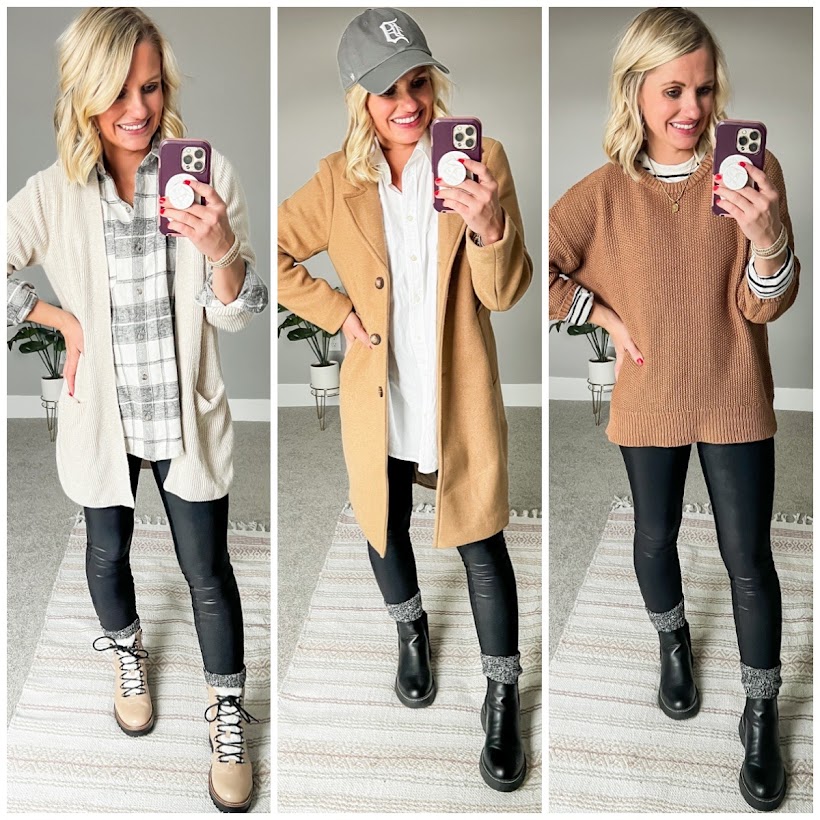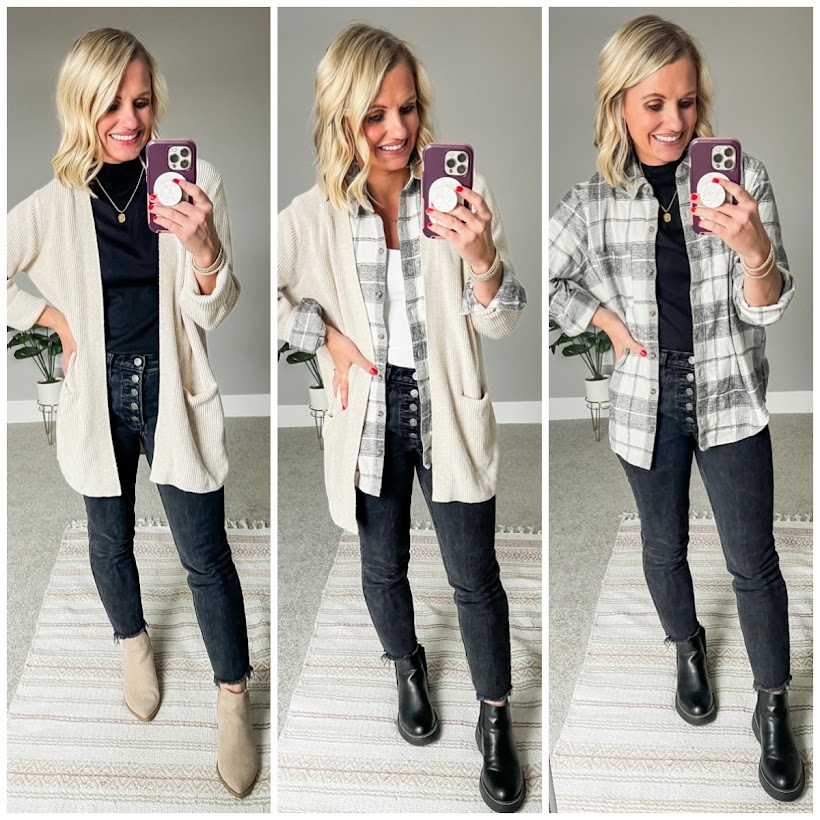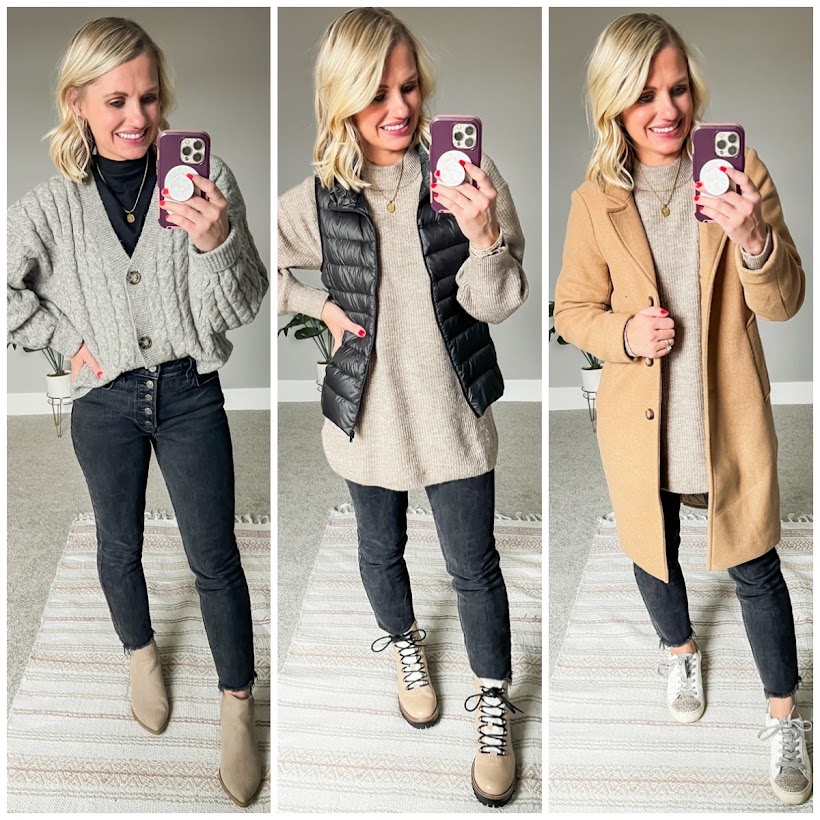 I hope you are feeling inspired to take on your winter wardrobe this year and step up your style! Be sure to follow along with me on Instagram to see some more winter outfit ideas though out the season!