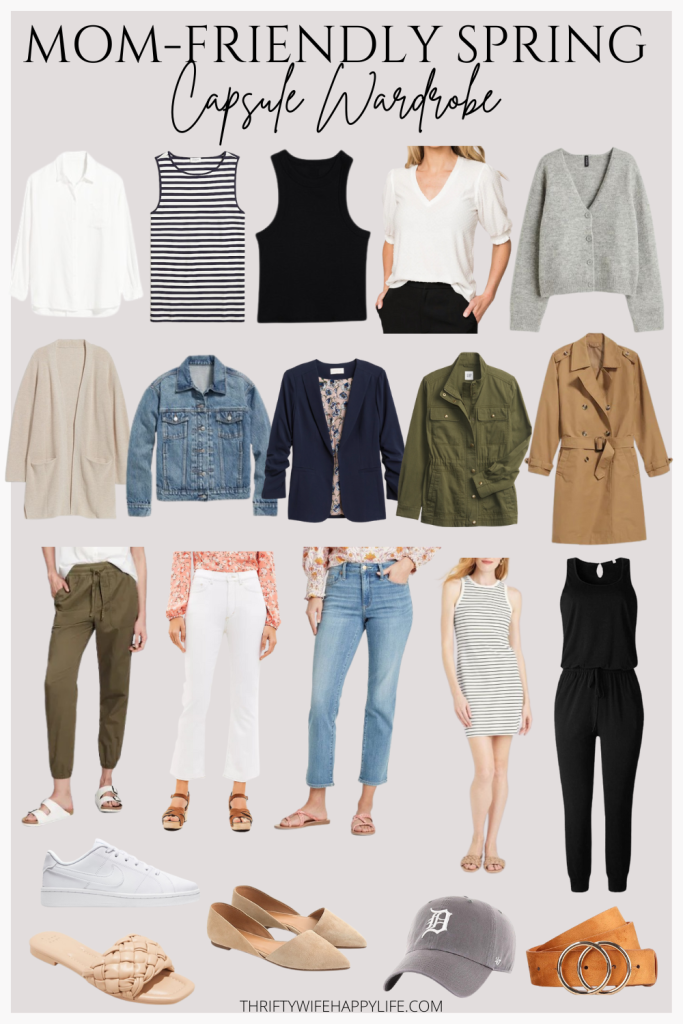 The wait is finally over! My spring capsule wardrobe for 2023 is finally here! Creating an effortless, versatile wardrobe capsule blog post can be time-consuming. It requires a lot of thought and planning. However, the end result is always worth the work. I have had so many messages from women telling me how helpful these posts are. If I can help make the getting dressed process a little easier for busy moms, then I am here for that! This is why I want to continue to put out at least one capsule wardrobe post per season!
*This post contains affiliate links.
Why have a wardrobe capsule?
As a little recap, this is the 3rd mom-friendly wardrobe capsule post that I have done in recent months. If you haven't read my fall mom wardrobe capsule or my casual mom winter wardrobe capsule posts, I recommend checking those out before you leave my site today!
Creating a seasonal wardrobe capsule is one of the best ways to build a budget-friendly wardrobe. Too many clothes can often be overwhelming and overcomplicate the getting dressed process. Having a small collection of versatile clothing pieces that you can mix and match to create many different outfits will simplify getting dressed every day. Which at the end of the day will help you feel content with your wardrobe and you will spend less money on shopping for new clothes!
What's in my mom-friendly spring capsule wardrobe?
With this spring capsule wardrobe, I wanted to fill it with easy-to-style pieces that can be mixed and matched in so many different ways. This is why I kept everything very simple and classic. As always, I try to repeat some of the same pieces from my prior wardrobe capsules. That way if you have been following along with these posts, you may already own some of these items. I also like to pick out pieces that you probably already have in your wardrobe.
Keeping my wardrobe capsule budget-friendly is important to me, that's why many of the items that I am sharing today are at affordable price points. For anything that I feel is a higher price point, I am also sharing some affordable alternative options to shop as well. If you are a thrifter, like myself, you can also find many of these pieces secondhand.
Tops:

Layers/ Outerwear

Bottoms

Green (non-sweatpants) joggers– Joggers that are comfy, but not sweatpants, are great for a relaxed, easy-going style. They make your casual look a little more polished. My green joggers are from Gibsonlook (code: THRIFTYWIFE10) but I have also linked some affordable options at both Target and Gap Factory!
White jeans– I was hesitant to include white jeans in a "mom-friendly" capsule wardrobe, but the thing is, I still love wearing white jeans in spring. I don't care that they might get messy, I still wear them. I am loving this pair of cropped flare pants from LOFT.
Light wash straight-leg jeans– My favorite fit of jeans at the moment is slim straight-leg jeans. Something that is in between skinny jeans and straight-leg jeans. This pair from Target is a great affordable pair of jeans! They fit and feel exactly like my Madewell Vintage jeans. The Madewell jeans are over $100, but the Target jeans are only $28!
Dresses/jumpsuit

Striped dress– You can't go wrong with a striped dress in your spring wardrobe. For this capsule, I went with a simple tank striped dress from Target, but you could do any striped dress that you like.
Black jogger jumpsuit– I am not kidding when I say that this Amazon jumpsuit may have been the best clothing purchase that I made in the last 5 years. It is so comfortable and easy to throw on in the spring with a layer. I automatically feel cute and put together when wearing this, even if I am just home cleaning the house that day. That's why I had to include it in this capsule guide.
Shoes

White sneakers– White sneakers are my favorite style of shoe in my spring wardrobe. They pair so well with any outfit that I wear. I bought my Nike sneakers a couple of years ago and I wear them all the time. My pair is canvas, which I don't love as much as the pair I linked, but they are still one of my most worn pairs of shoes. Target also has some affordable and cute white sneaker options!
Slide sandals– I pull my sandals out as soon as I possibly can in the spring! Slide sandals are my favorite because you can just throw them on your feet and go. I love this pair of braided sandals from Target because they go with any outfit that I wear, but I also have some other affordable options linked above.
Neutral flats– I love wearing my neutral flats in the spring. They always look polished and put together. I love my J. Crew Factory pointed-toe flats. (heel cushions are a must for comfort with these shoes.) I find the pointed toe to be the most flattering style for my body, but you could also wear a ballet flat or a loafer to create the same effect.
Accessories

Baseball cap– My gray 47′ Tigers baseball cap is probably one of the most worn accessories in my wardrobe. I love the color because it goes with everything! If you are not a baseball fan or just looking for something a little different I've also linked some other baseball caps to try.
Belt– I wanted to add a belt to this capsule because I often add belts when I feel like it's needed. Sometimes I just want the look to feel complete and a belt is a perfect way to do that.
Extra accessories not shown in the capsule
Mom-friendly Outfit Ideas