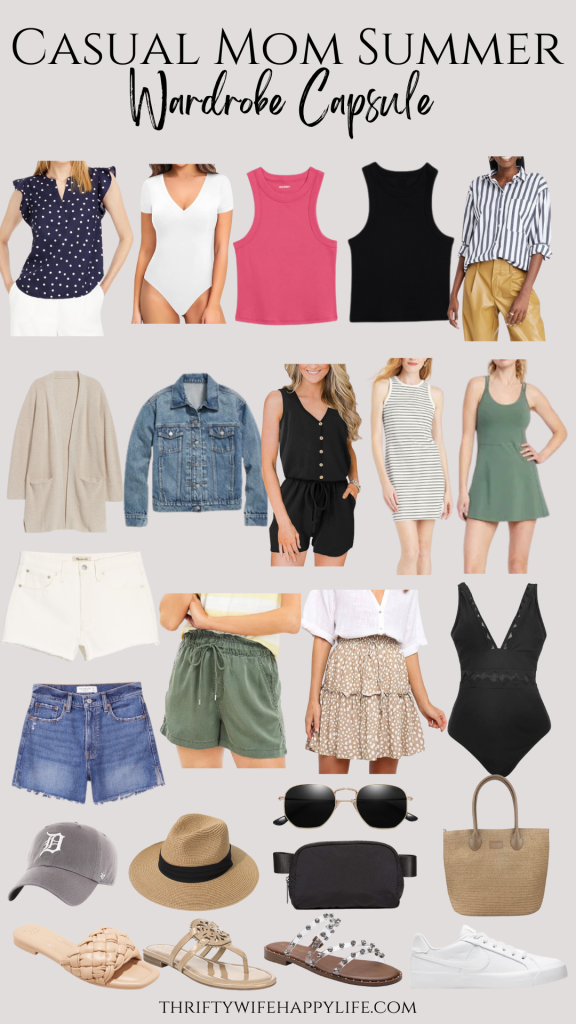 I am so excited to share my mom-friendly summer capsule wardrobe today! Summer is my favorite season to dress for! I know that it's not the case for everyone because summer can be hot. It's hard to put together cute outfits when the weather is too warm. That's why I am hoping that this capsule wardrobe will help you stay stylish, cute, and cool all summer long!
*This post contains affiliate links.
How to make getting dressed easy in the summer?
If you are like me, getting dressed in the summer needs to be easy. My kids expect me to be ready for anything and this is why I don't want to spend any time putting much thought or effort into my summer outfits. That's why for this summer capsule wardrobe I wanted to pick pieces that are easy to throw on and go!
Dresses and rompers always make great throw-on-and-go pieces because they are just one item. You just need a cute sandal and your outfit is complete. I also like to have a variety of simple tank tops and shorts to mix and match.
How to keep your summer wardrobe cute when it's so hot out?
As I mentioned, summer can be hot. With other seasons you can add layers that help complete your outfits, but in summer we often have to skip the layers. This is why I like to step it up with my accessories! Jewelry, like statement earrings or cute necklaces, can really help elevate your look. Some of my favorite statement earrings that I wear are from TLD Jewelry! (Code: KATIE10!) They have a great selection of lightweight statement earrings that are easy to wear and pair with simple outfits.
You can also use accessories like hats, sunglasses, and purses to elevate your summer outfits. Having a few cute pairs of sandals that you can rotate through is always helpful in the summertime as well. As far as layers in the summer, I still wear them indoors. The A/C is cold in the summertime, and I always keep something light to throw on in my car. Especially when I am heading into the grocery store.
What bras to wear with your summer tops?
Bras and tops in the summer are hard to match up. I have 2 favorite bras for summer. My Aerie Real Sunnie Wireless Lightly Lined bralette is my go-to for wearing under my high-neck tank tops. The bra comes in enough in the front and back so it doesn't pop out on the side of your tops. It's also great for wearing with v-neck shirts.
For strapless bras, I have the All.You. LIVELY no wire strapless bra from Target. It's very comfortable and doesn't slide down like other strapless bras. I also just ordered the Enbliss wireless strapless bra from Soma, so I will be sure to share a review over on Instagram once I try it!
What's in my mom-friendly summer capsule wardrobe?
In this summer capsule wardrobe, you will find lots of easy-to-put-together pieces. Casual shorts and tops to mix and match along with easy one-piece dresses and rompers. I did include a couple of layers because you never know when you might want to throw on a light layer in the summer. I also have a few repeat pieces from my spring capsule wardrobe!
As always I do my best to include affordable pieces, but I always encourage you to shop your own closet first. You don't know what you need to shop for until you know what you actually already own. I hope that this capsule can help you rediscover some of the clothes you already own and learn a new way to wear them. Or you might be able to find something new that your wardrobe is missing.
Tops:

Layers

Dresses/Rompers/Jumpsuits

Black Romper (small)- This black button romper from Amazon has been a summer staple in my closet for the past couple of summers. If you have been unsure about rompers, then this is a great one to try! I really love wearing them as a bathing suit cover-up or just something quick and easy to throw on to run errands or take the kids to the park.
Striped Tank Dress (small)- I find a striped tank dress to be an easy throw-on-and-go wardrobe piece for summer. They are always fun to dress up or down! I had this Target striped dress in my spring wardrobe capsule so I decided to keep it for summer!
Athletic dress (small)- I love wearing athletic dresses in the summer. When it's really hot out you can easily throw on an athletic dress and feel put together. You don't even need to wear a bra with them because they are built-in. I know that some people find the one-piece athletic dresses to be a little uncomfortable for using the bathroom, but that's why I also am sharing 2 piece athletic dresses with shorts separately.
Bottoms

White Shorts– I love white shorts in the summertime. I find white shorts to be less intimidating to wear as a mom than long white pants. I guess there is less white material to worry about getting dirty with shorts. My white shorts were bought last summer at Madewell when they had a huge sale. I have found that this pair of shorts from Target has a good fit. I also like the Abercrombie white shorts.
Denim shorts (size 2) I actually never used to like denim shorts. For years I avoided them, but in the last few summers, I think I have found the secret to finding denim shorts that make me feel good wearing. They need to be high-waisted and they need to be at least a 4-inch inseam. This summer I am really loving the dad short style, which is more of a 5-inch inseam. Abercrombie dad shorts are a great pair, but I was able to find a similar less expensive pair at Walmart that has a very similar fit!
Color pull-on shorts– Pull-on shorts are so comfortable in summer! There are lots of options out there at the moment, but my favorite pair is my green pull-on shorts from LOFT. I like the material of these shorts much better than the linen materials I have tried.
Ruffle skirt (small)- A comfy pull-on skirt is a great bottom to have in your wardrobe in summer. I have this ruffle skirt from Amazon and I love it. You can wear it over a bathing suit or dress it up. It's just a great versatile bottom!
Bathing Suit

Black bathing suit (small)- I wanted to include a bathing suit in the summer capsule wardrobe because I feel that a good mom-friendly bathing suit is important to have. My personal favorite style of bathing suit is a black one-piece with a deep v-neck like this bathing suit from Amazon. You really can't go wrong with black.
Shoes

Accessories

Mom-friendly outfit ideas