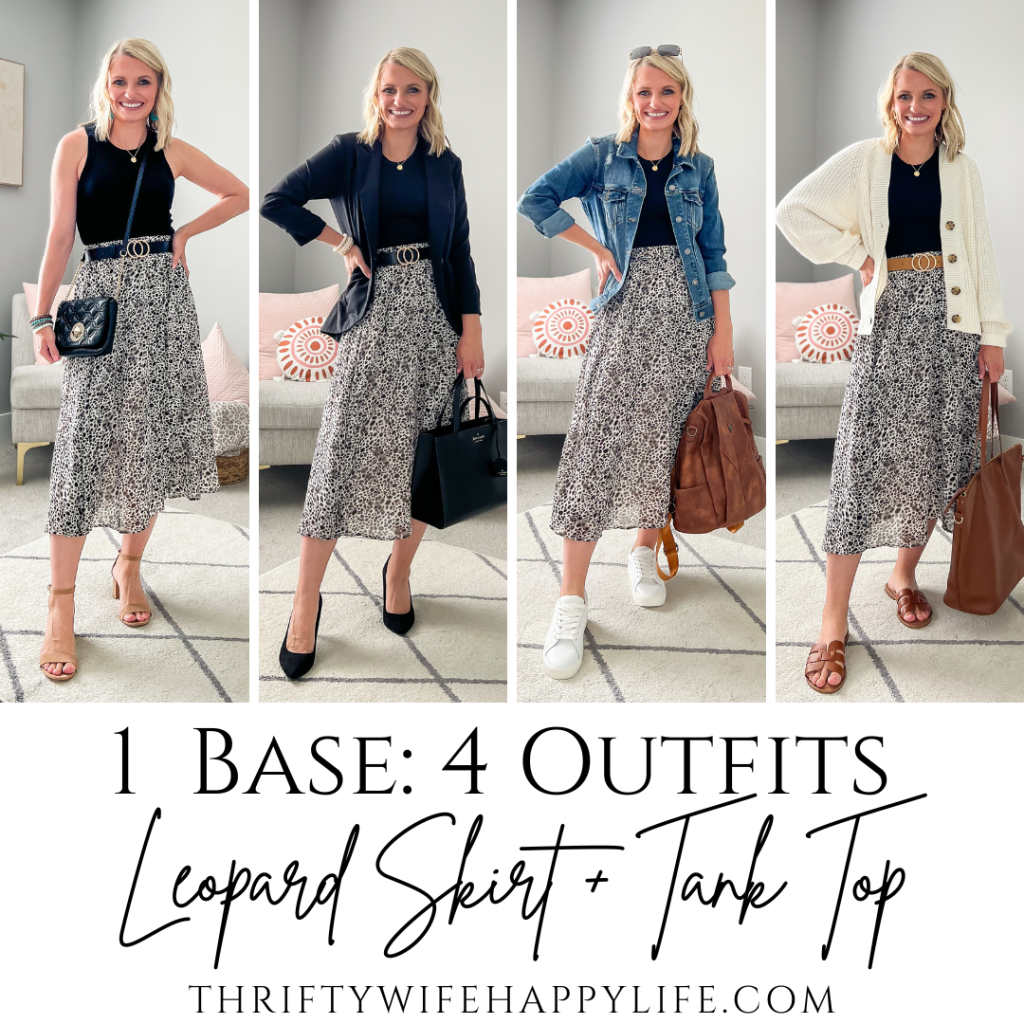 Today I am sharing four different ways to wear a leopard pleated skirt and a black tank top. I love to style clothes in multiple ways so you can see how versatile the clothes in your wardrobe can be. That's why I want to take it one step deeper and start a series where I share how 1 base outfit can be worn in multiple ways.
*This post contains affiliate links.
What is a base outfit?
A base outfit is the starting point of every outfit you create. It typically consists of essential clothing items that can be mixed and matched with various accessories or layering pieces to create distinct outfits.
To me, a base outfit is everything! It creates the foundation of your outfit, which you can build on to meet the needs of the season and/or occasion you are getting dressed for. By utilizing a base outfit, you can maximize your wardrobe and create multiple outfits using a limited number of clothing items. This is basically what I do when I create a wardrobe capsule.
Base Outfit: Leopard Pleated Skirt and Black Tank Top
A favorite base outfit of mine is a leopard pleated midi skirt and a black tank top. This combination is so effortless, yet looks so polished. I love that this combination can be worn for almost any occasion in your life. It can also be worn year-round!
I found my leopard pleated skirt at Goodwill a few years ago. It's originally from Target and I had been eyeing it at the store but never bought it. When I found it at the thrift store for only $3.99 it was one of those magical thrift finds.
When it comes to recreating these outfits I am sharing today, any pleated would work great with a black tank top. However, there's an undeniable charm that a leopard print skirt brings to the table. The timeless pattern adds a touch of boldness and playfulness to your outfit. Below are some affordable leopard midi skirt options to shop from.
Shop Similar Leopard Pleated Midi Skirts

How to wear a leopard pleated skirt + black tank top base outfit
1.) Outfit 1- Date Night
This base outfit on its own makes for a great date night look! It pairs perfectly with my block heel sandals – a comfortable and practical choice for summer. For a fun pop of color, I'm wearing turquoise jewelry – one of my favorite color accents when wearing neutrals. To top off the look, I'm carrying my Kate Spade purse, which I thrifted from Poshmark last year. It's my favorite purse to wear out when I don't have the kids with me.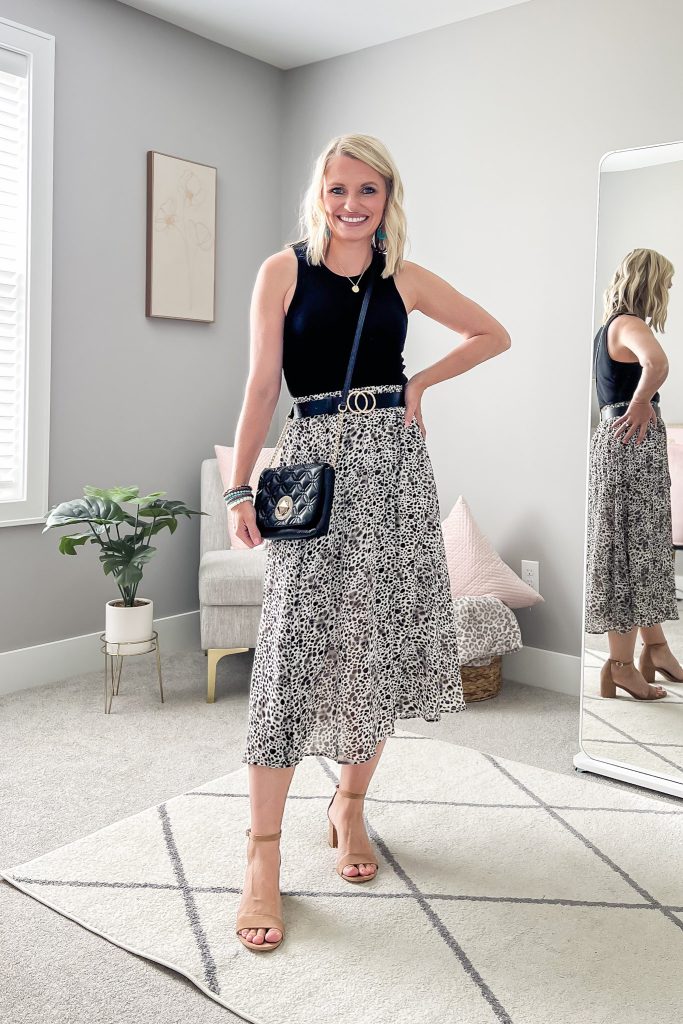 Skirt (similar) || Top || Shoes (similar) || Belt || Earrings (Code: KATIE10!) || Bracelets (similar) || Purse (similar)
Outfit 2- Work
I believe that you can make anything a professional work look just by adding a blazer. That is why to dress this base outfit up for a work setting I added a black blazer. I also added some comfortable heels and my Kate Spade satchel purse. I thrifted this bag from TheRealReal. At this point, most of the purses in my wardrobe are second-hand.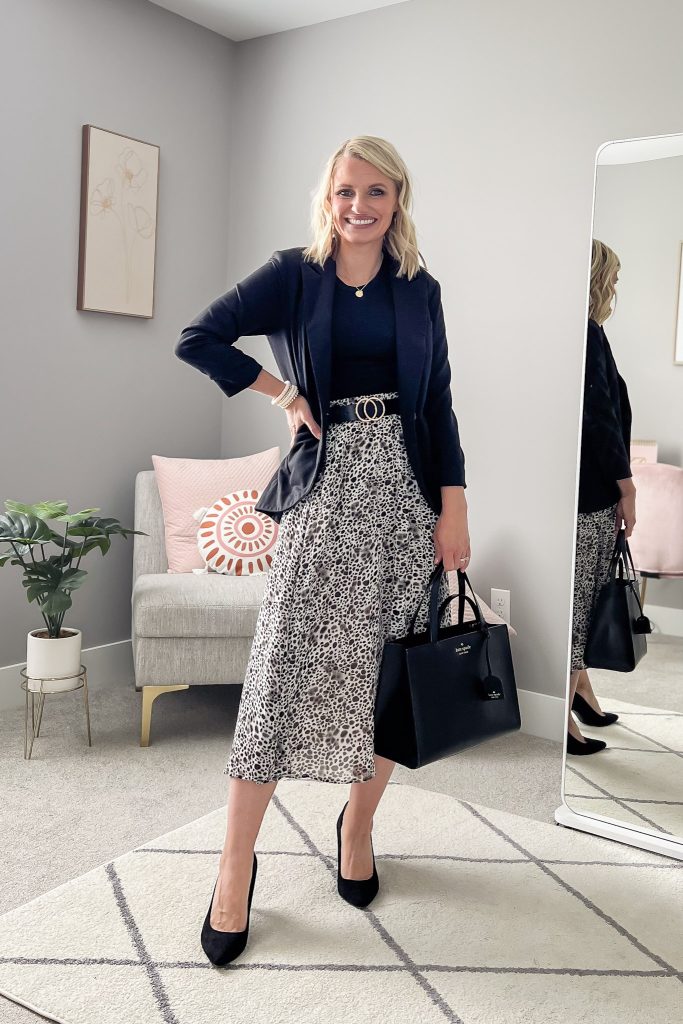 Tank top || Skirt (similar) || Blazer (similar) || Heels (similar) || Purse (similar) || Belt
Outfit 3- Errand Running Look
For my daily lifestyle, the easiest way for me to style my leopard pleated skirt is by adding some sneakers and a denim jacket. I always find that these two pieces can dress down any outfit and make it perfect to wear for everyday mom life.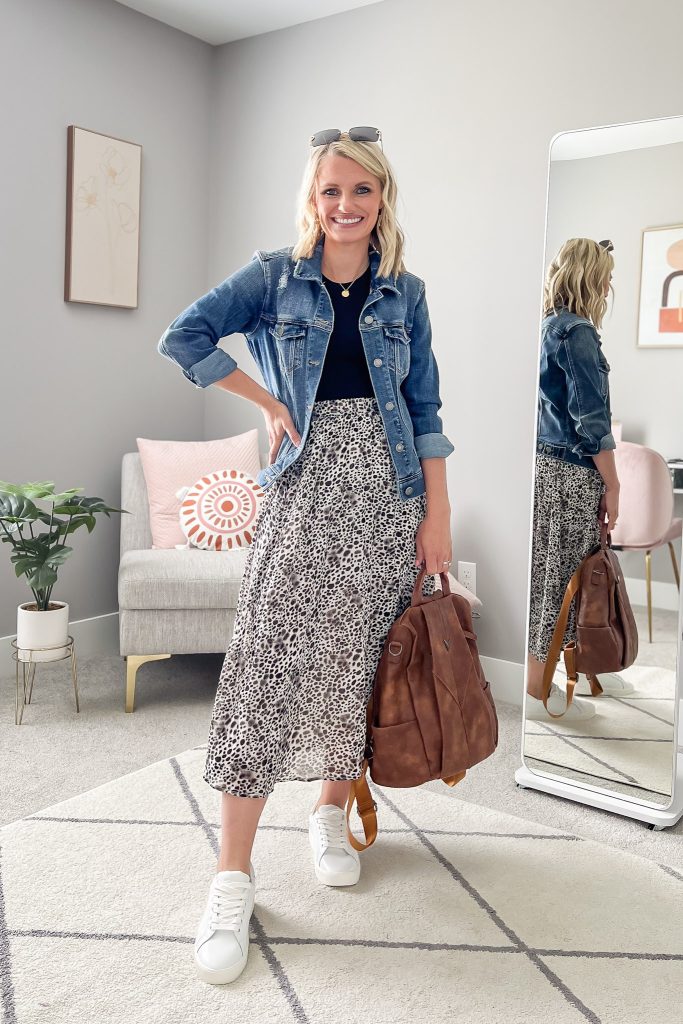 Jacket || Tank top || Skirt (similar) || Shoes || Purse (similar) || Sunglasses
Outfit 4- Church look
This look would be a great outfit to wear for church or even in the classroom as a teacher. I like to wear a shorter cardigan with this skirt. It helps create balance in the outfit rather than a long cardigan. For shoes, I went with some comfortable slide sandals.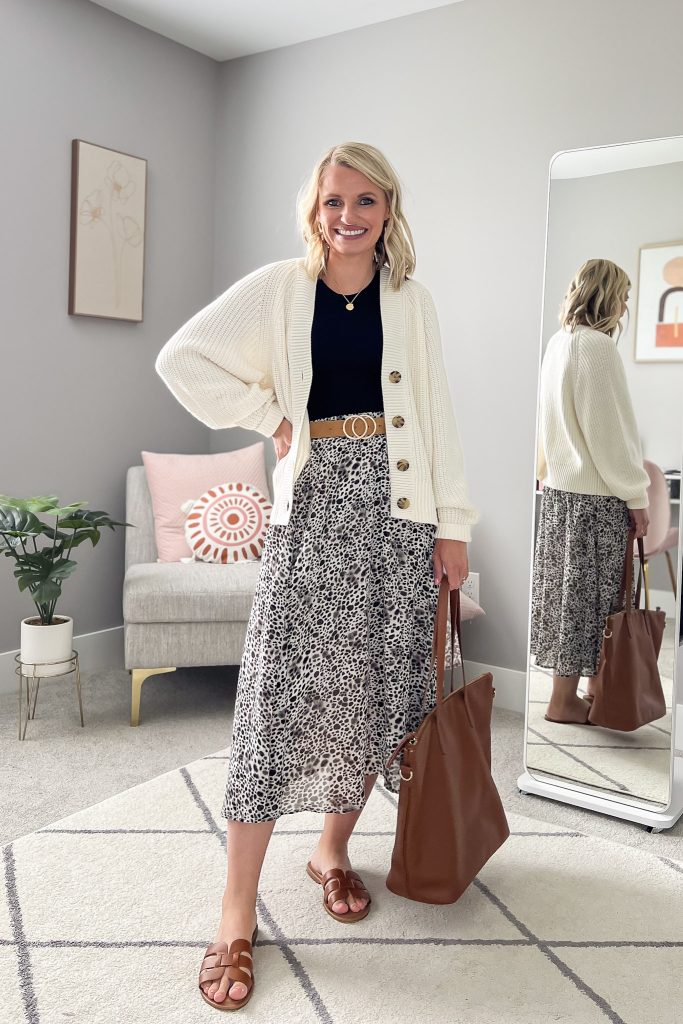 Tank top || Cardigan || Skirt (similar) || Sandals || Purse (similar) || Belt