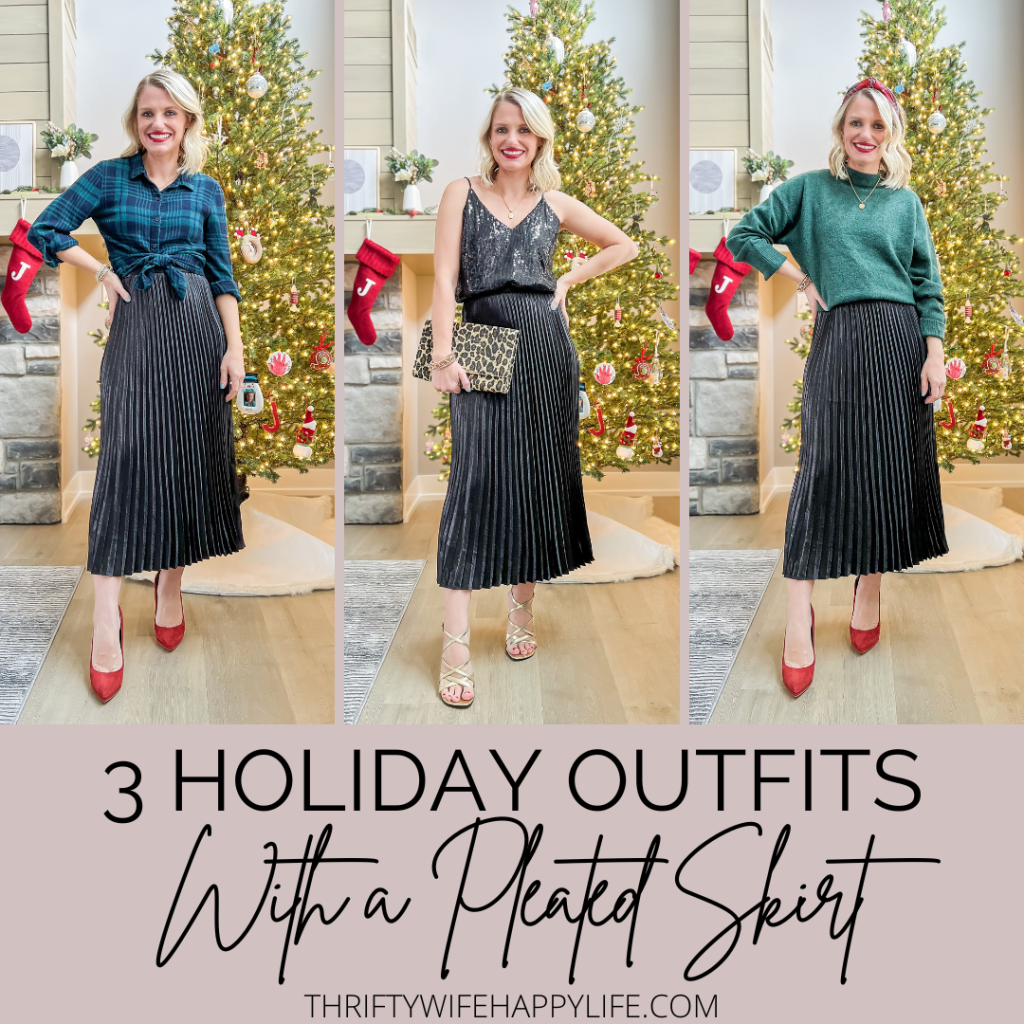 Can you believe that Christmas is only 9 days away? My kids are counting down to Christmas and I am reminded that we are getting closer every day and I still feel like there is so much left for me to do, including figuring out what outfit to wear on Christmas day. I have just too many options. When it comes to dressing up around Christmas I really love skirts. They are so versital, so today I want to share 3 pleated skirt holiday outfits.
*This post contains affiliate links.
I really love styling different textures of skirts. This year I have really been loving the look of satin. In my last post I shared how to wear a satin green shirt and this week I decided to pull out my satin pleated skirt to style. To me, you really can't go wrong with a pleated skirt, especially around the holidays.
Here are 3 foolproof pleated skirt holiday outfits to copy!
*Please note that my skirt is sold out, but I did link a similar affordable option!
3 Pleated Skirt Holiday Outfits
1.) Plaid Shirt + Pleated Skirt
A plaid shirt is always a staple in my wardrobe and I love how it looks with a pleated skirt. I have 2 plaid holiday shirts that I thrifted. I have this print in the green that I am styling today and also a red buffalo plaid. This is the perfect outfit to wear on Christmas day or to a Santa brunch. Tucking in a flannel shirt to a skirt can be a little tricky, so I prefer to knot my button down shirts instead when I wear them with a skirt.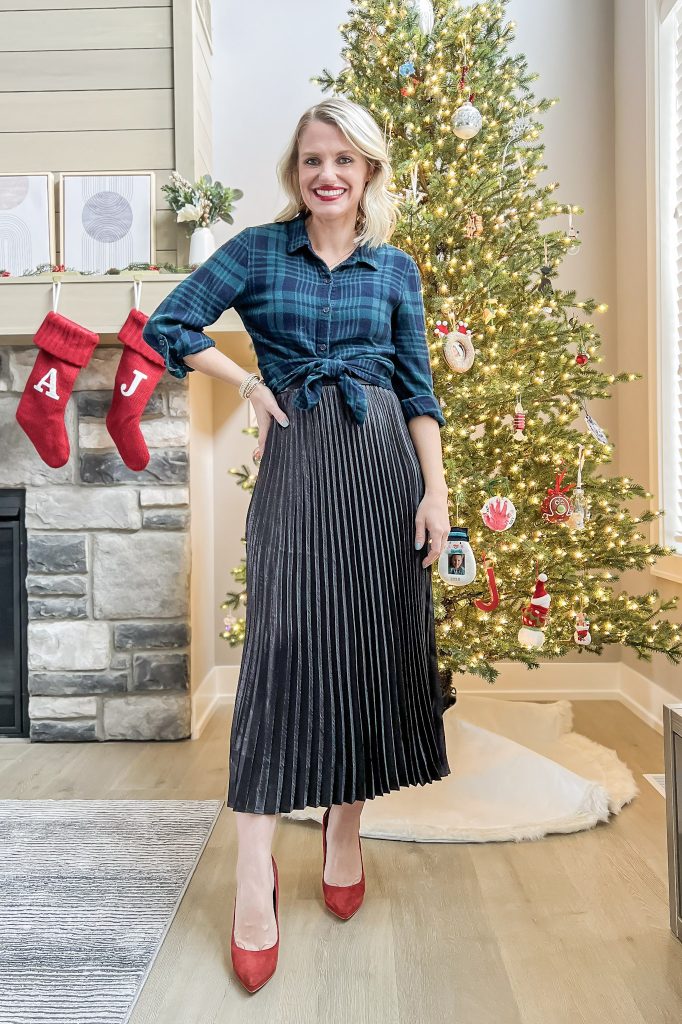 Plaid shirt (similar) || Skirt (similar) || Shoes (similar)
2.) Sequin Cami + Pleated Skirt
I love how the satin skirt looks with a sequin top. This outfit would be fun to wear for New Year's Eve or a holiday party. I pulled out my strappy gold sandals that I bought back in college for a semi formal I went to. Even thought I have had them forever, I still find ways to incorporate them into my outfits. I also love bringing in a little leopard print with my thrifted clutch.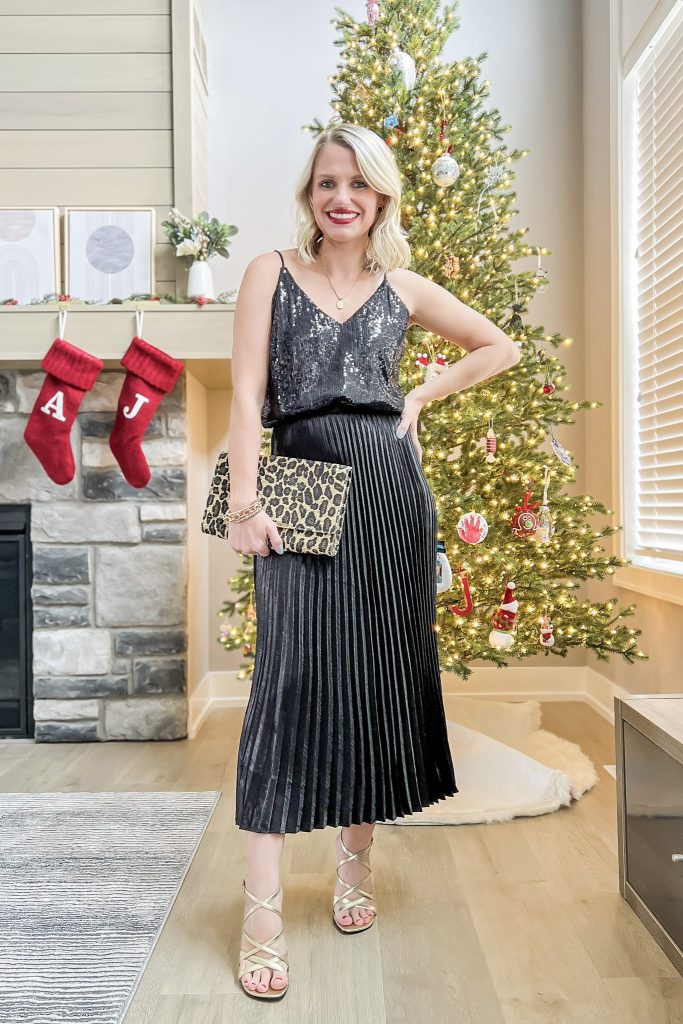 Sequin cami || Skirt (similar) || Shoes (similar) || Clutch (similar) || Necklace
3.) Sweater + Pleated Skirt
It's cold in December, so a sweater is always a practical top to wear with a skirt. Sweaters can be hard to style with a skirt because you don't want them to hang down too low. The goal is to create a balanced look and the easiest way to do that is by tucking in your top to define your waist. Sweaters are bulky and can't be tucked into a tight-waisted skirt so I always like to use the belt trick. I add a belt to my waist and then tuck the sweater into that.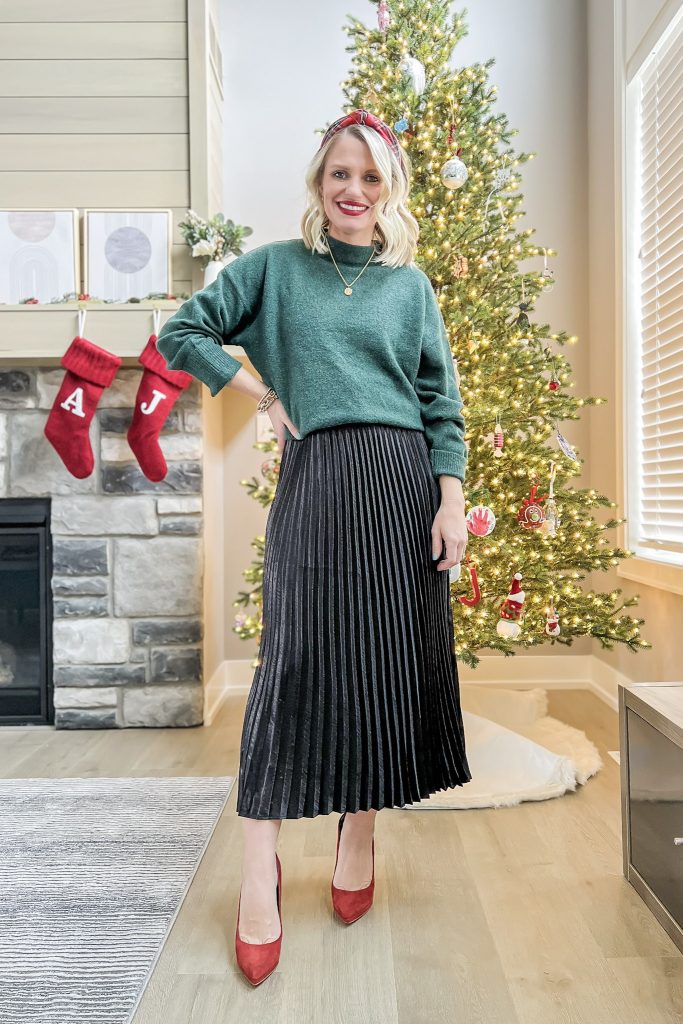 Sweater || Skirt (similar) || Shoes (similar) || Headband || Necklace

I plan on sharing some more of my favorite holiday essentials over on Instagram so make sure that you are following along with me!