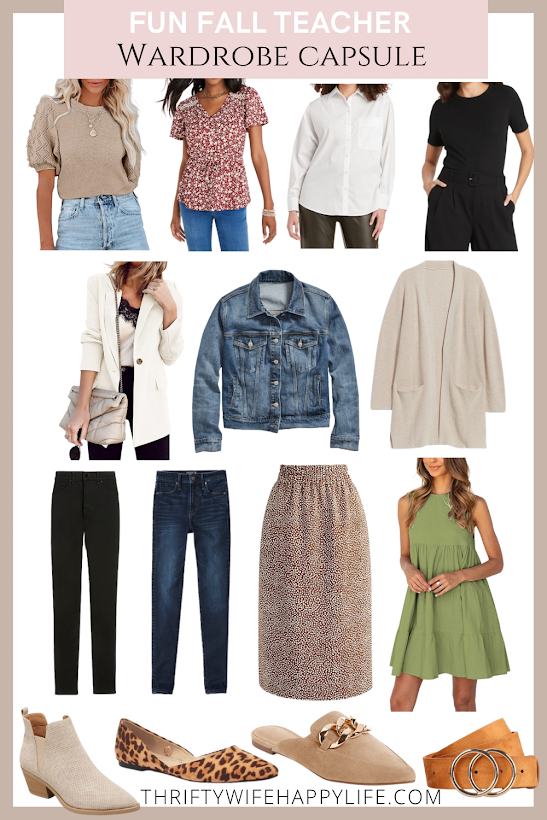 I am so excited to share my fun fall teacher wardrobe capsule with you today! To be honest, this post has taken me the longest time to complete because it is jammed-packed with teacher outfit inspiration! Last year I shared a post on thrifted teacher outfits, but this year I thought it would be fun to do something a little different to create a teacher wardrobe capsule. I have taken 15 pieces and created 20 different teacher outfit ideas! That is one full month of teacher outfits!!
*This post contains affiliate links!
Personally, I have always felt that teachers have the best work dress code. No matter what grade you teach, you can still have a little more fun with your work clothes compared to other professional jobs. That is why I wanted to create a fun fall teacher wardrobe capsule that had a mix of both basic clothing pieces and fun/trendy clothing pieces.
My hope is that this post can be a great resource for teachers looking to create a versatile teaching wardrobe that is also fun and trendy at the same time.

Basic Wardrobe Capsule Pieces:
Every wardrobe needs to have basic wardrobe pieces. These are clothes and accessories that go with everything. They are usually neutral colors with a classic design. Here is what I picked for this teacher wardrobe capsule.
I wore my high-neck tank top from Target for these photos, but any black basic top will do. I always buy my basic tops at Target because they have a great selection of styles and the price is right!
I chose a white blazer for this post, but any neutral color would do. Tan, navy, black, gray, or any color that would pair nicely with the colors you want to bring into your fall teacher outfits.
A classic white button-down is always a great basic piece. It's extremely versatile. Not only is it a top, but it also works as a layering piece.
A denim jacket is always a must for me in my teaching wardrobe. It is perfect to layer over dresses, skirts, or pants.
I always love a neutral color cardigan! Old Navy has some adorable oversized cardigans this season! They would work great for a teacher's wardrobe.
Black pants are a must in any work wardrobe. My favorite pair of black pants are my Express super high-waisted supersoft jeans. They are so comfortable and perfect for teaching!
I know that many teaching wardrobes are shifting towards casual, but even if you can't wear jeans, hopefully, you can on Fridays. This pair of high-waisted super skinny jeans from maurices is a great pair for the classroom. They have some stretch to them which makes them very comfortable!
I love taupe booties for fall. They go with everything! Often times booties are a great shoe option for teachers looking for a comfortable shoe, but also wanting a little heel. My booties are from Target, but I bought them last year.

Fun Wardrobe Capsule Pieces:
These are the fun and trendy pieces that I added to the wardrobe capsule. To me, fun means anything with a bright color, pattern, or some sort of extra detail that makes it a statement. When you mix the trendy and classic pieces together, you come up with a balanced outfit that has something a little extra to it! Here are the fun pieces from my wardrobe that I added to the capsule.
This puffy short sleeve sweater from Amazon is the perfect sweater to add to your teacher wardrobe this fall. It's in a neutral color so it's easy to pair with other pieces, but the details on the sleeve make it the perfect statement top
I love this floral peplum top from maurces. The way that the waist comes in is very flattering on all body types. The floral print is also pretty for fall and it's easy to pair with pants.
This printed midi pencil skirt from J.Crew Factory is such a great teacher piece. It has a comfortable stretchy waistband, plus it's a great length.
I usually would recommend having a black dress in your wardrobe, but not for the fun teacher wardrobe capsule. A bright-colored dress can be a great way to switch things up and add in some color. This Amazon ruffled dress is perfect for that.
Leopard flats were always a must in my teaching wardrobe. They are a good neutral print that adds a subtle statement to any outfit.
Typically, I would consider tan mules as a basic wardrobe piece. But for this wardrobe capsule, I am calling them a fun piece. The buckle detail on the shoe adds a little more than just your basic pair of flats. Best of all, these shoes are neutral so they can be paired with any color or print.
I wasn't sure if a belt should be a basic or a fun piece to the wardrobe capsule. I decided it was fun because it's an extra accessory that you can use to completely change the look of your outfit!
4 Weeks of Fun Fall Teacher Wardrobe Capsule Outfits!!
1st Week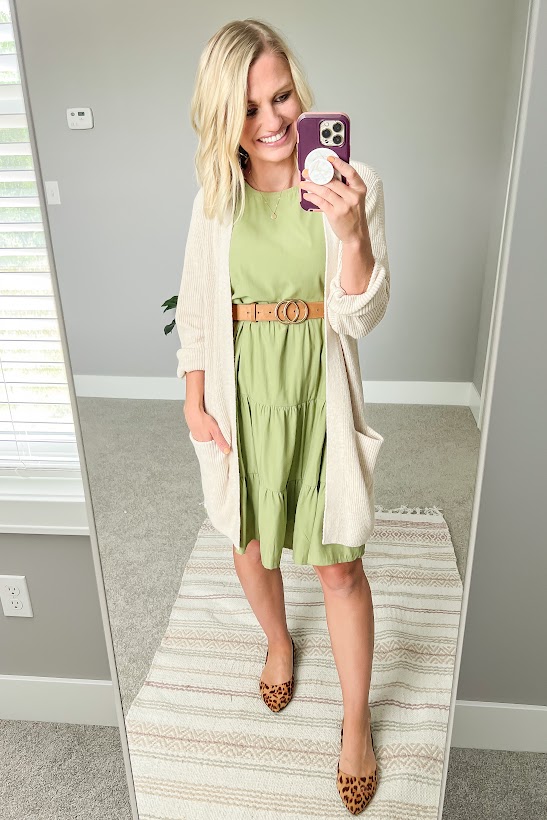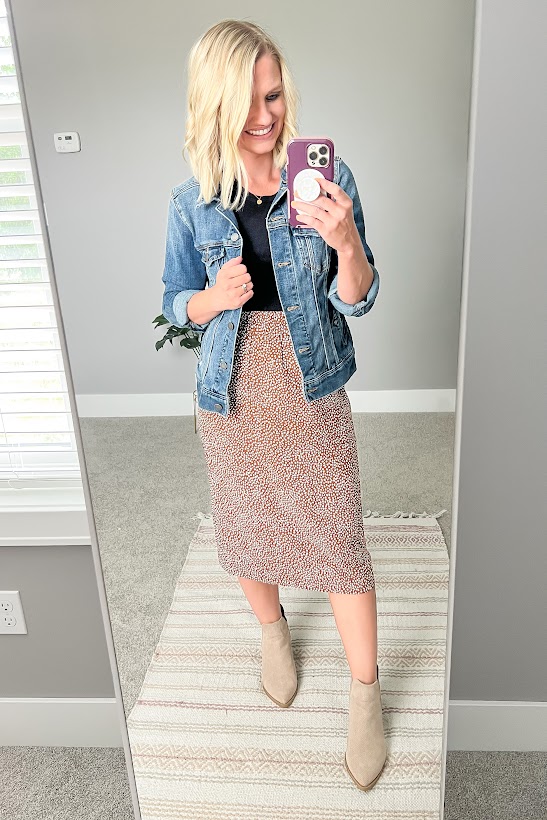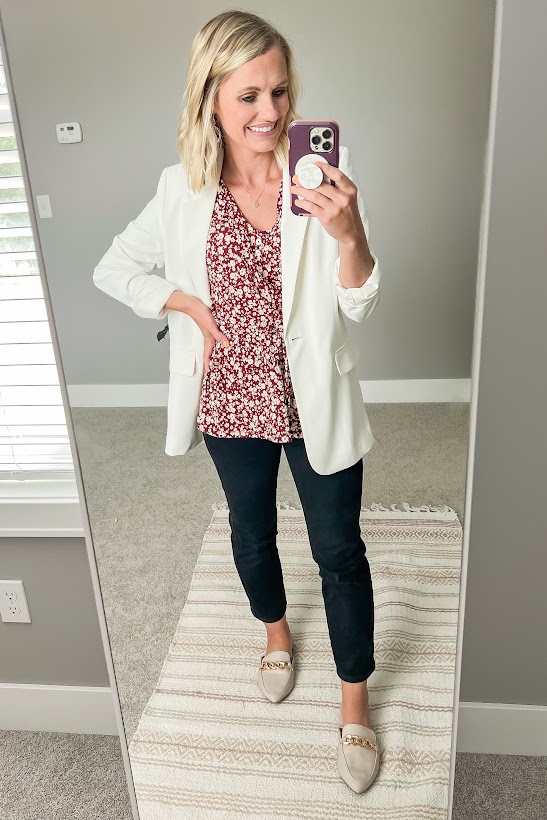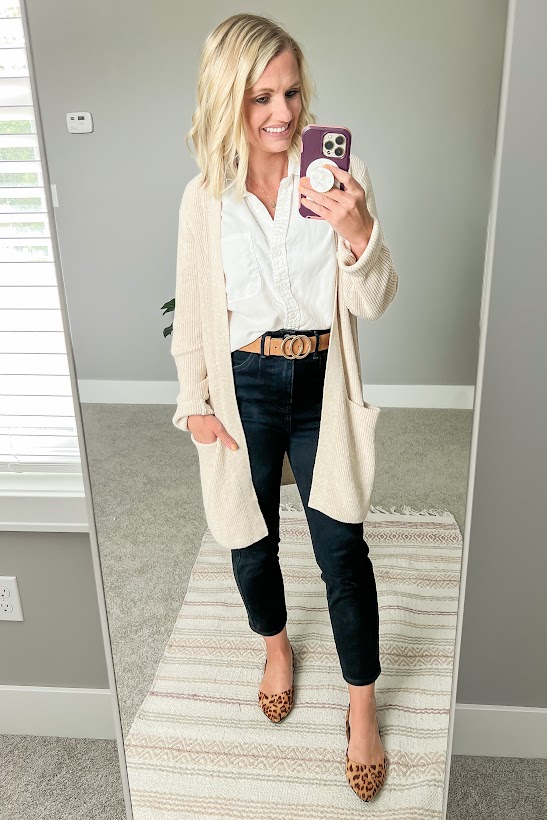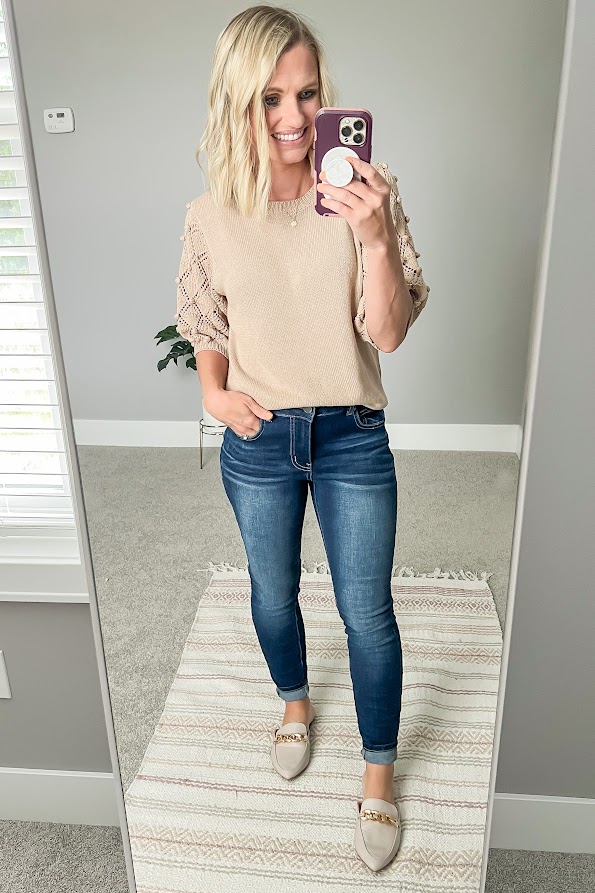 2nd Week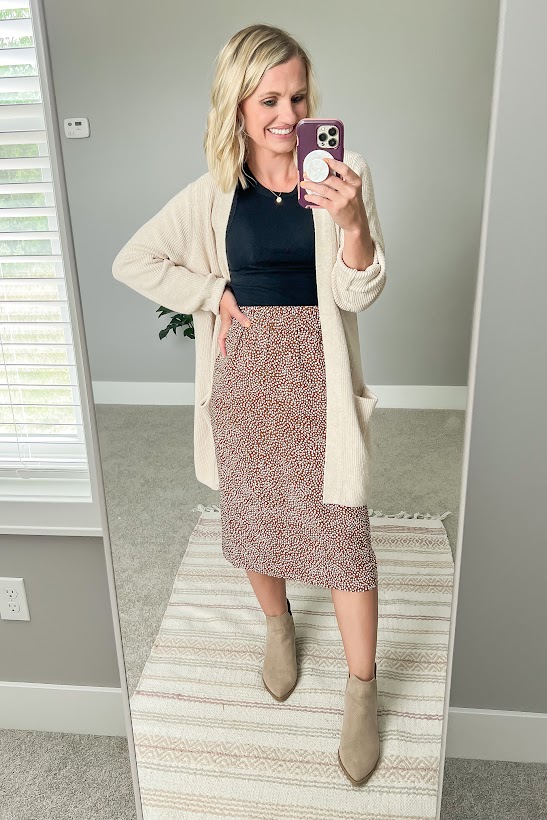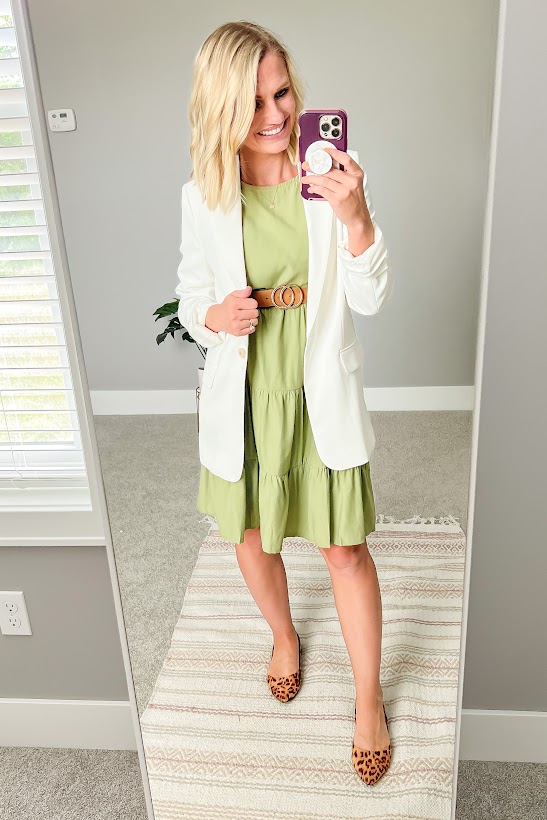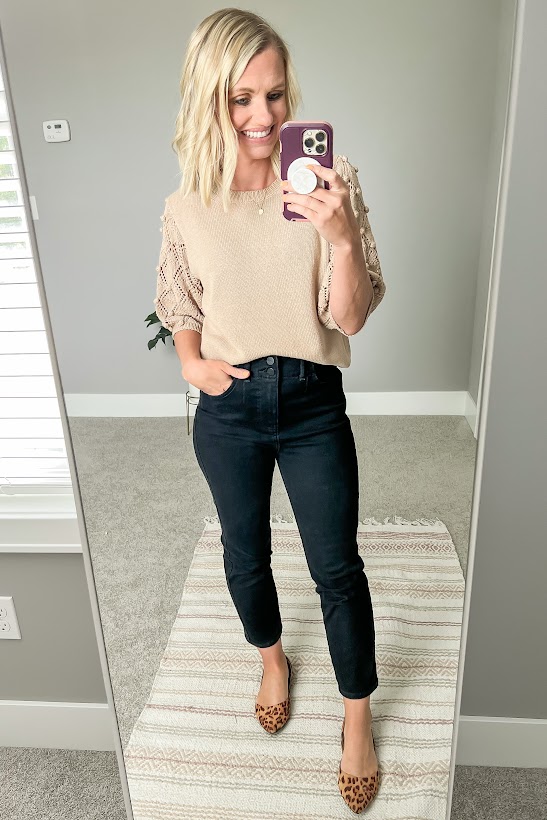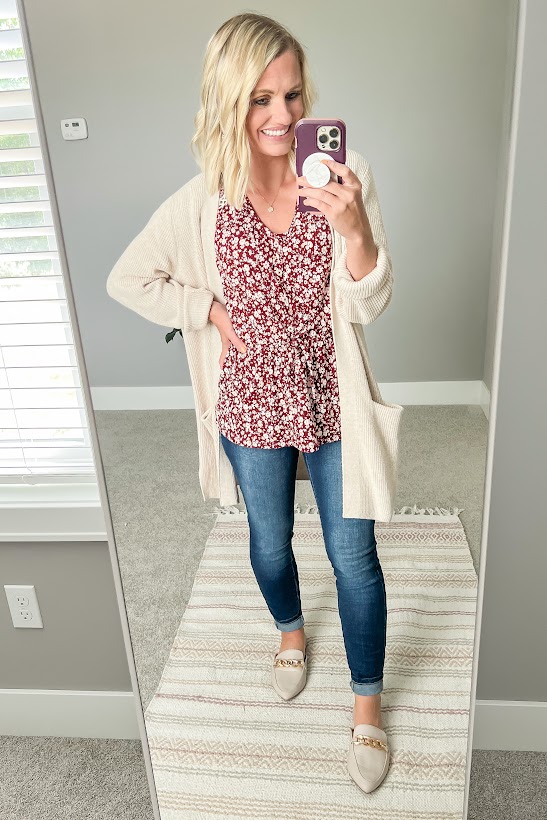 3rd Week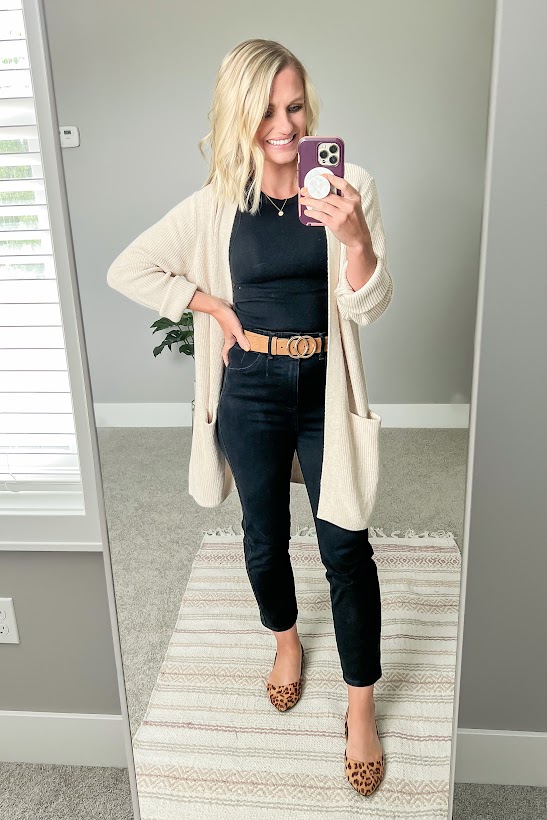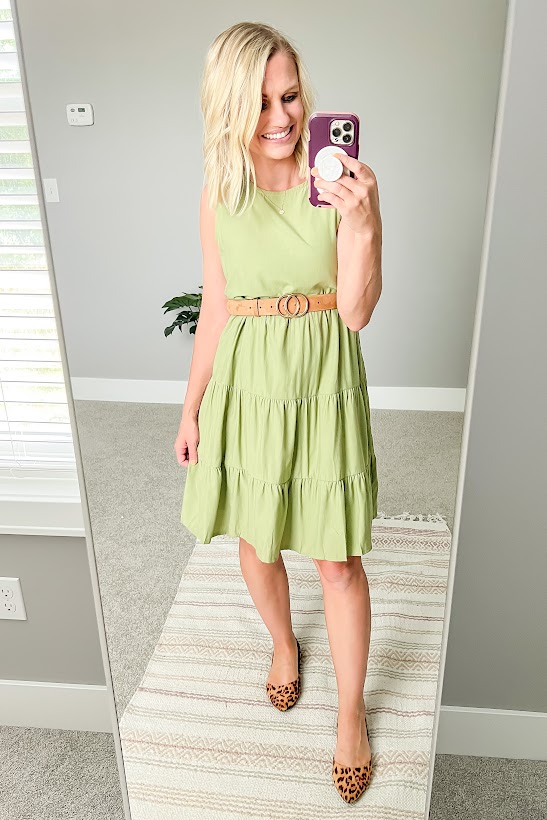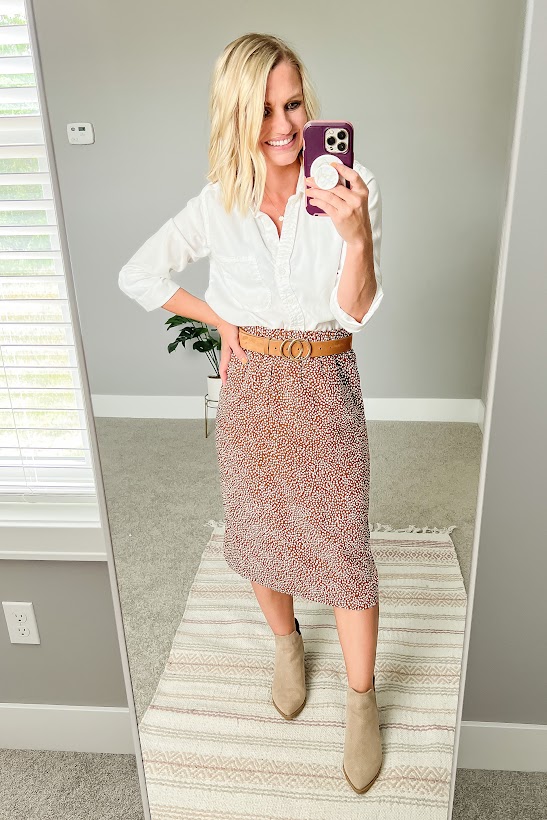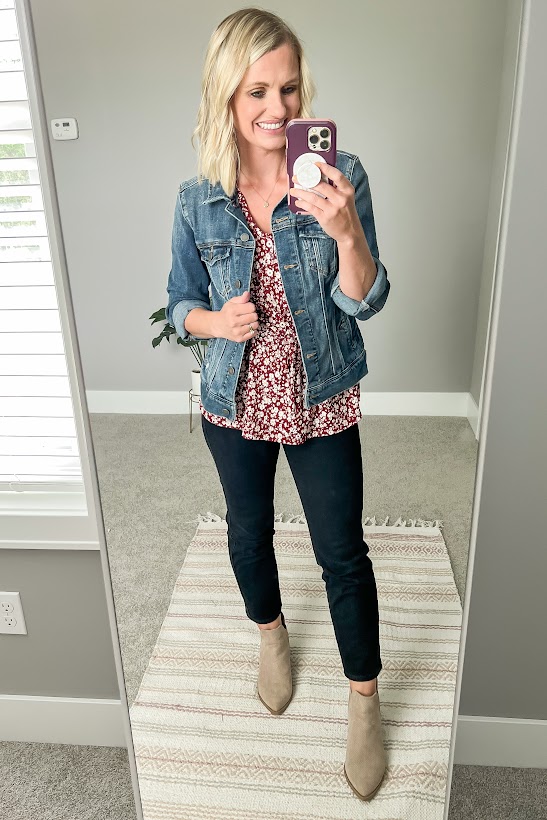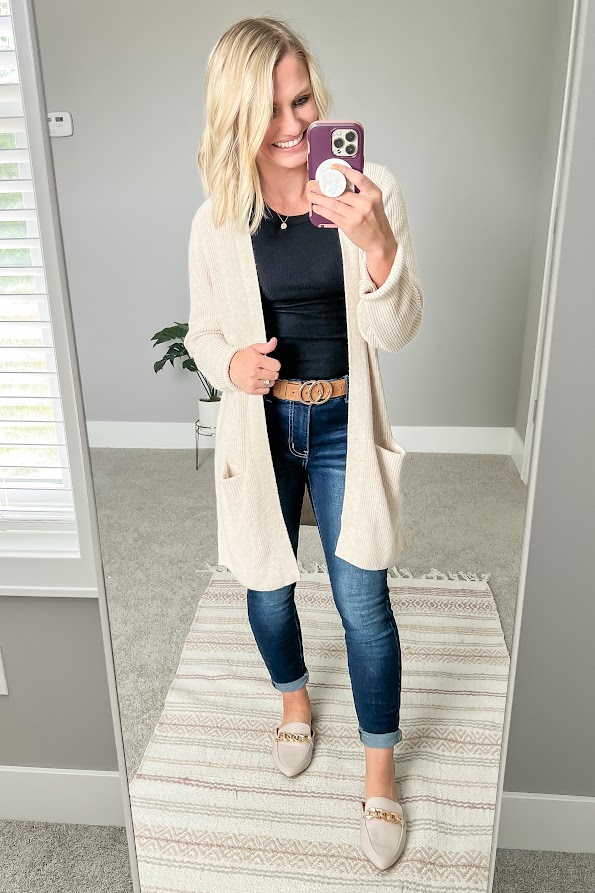 4th Week