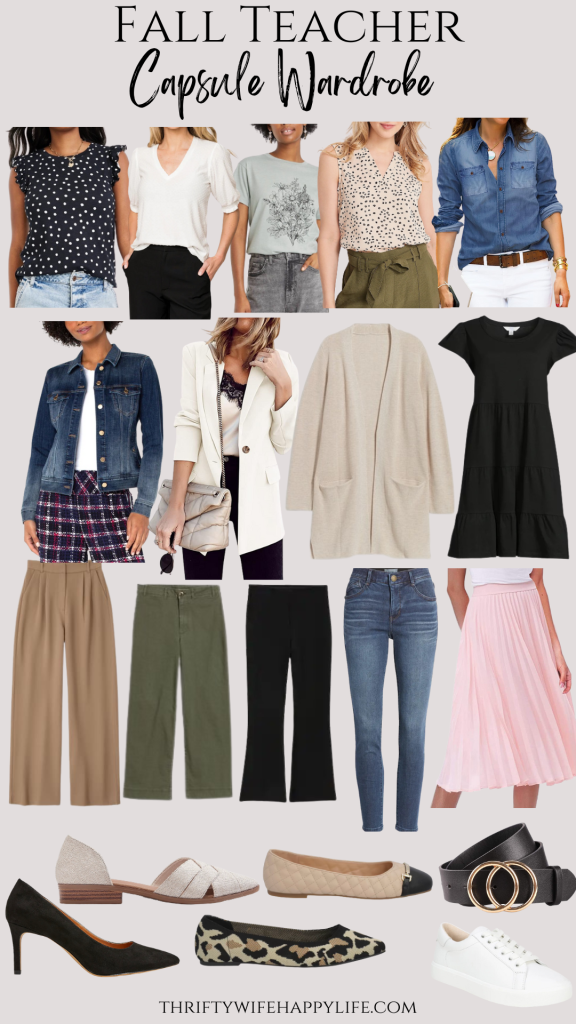 I am so excited to share my fall teacher capsule wardrobe for 2023! This is one of my favorite posts to put together because I love styling teacher outfits! As a teacher, you have the opportunity to dress professionally, fun, and comfortably! For those of you who need some help figuring out how to master that combination, then this capsule wardrobe is for you!
*This post contains affiliate links.
What's in the fall teacher capsule wardrobe for 2023?
For this year's teacher capsule wardrobe, I've picked a mix of classic pieces along with a few trendy items. My aim is to give your teacher wardrobe a fresh update without it feeling too overwhelming. While this capsule focuses on fall, many of these pieces can work well throughout the year.
I remember when I was teaching preschool it was always difficult for me to find outfit ideas that met my needs working with younger children. That's why I created this capsule with all teachers in mind. Whether you are a preschool teacher or a college professor, I hope that this capsule has something for everyone.
If you are looking for some more teacher outfit inspiration, you can check out my fun teacher wardrobe capsule post from last year!
How to shop the fall teacher capsule wardrobe?
I do my best to make my capsule wardrobes easy to shop. You will find the links to the items I shared below. I know that clothes can quickly go out of stock, so you will find several similar items linked in the shopping images. You may also find that some items that I am wearing are slightly different than the ones I have linked. This is because I am either wearing something that is older and out of stock or I have thrifted that particular piece.
Affordability is always a priority for me when putting together a capsule wardrobe, this is why almost everything in this teacher capsule wardrobe is under $100, with the exception of one favorite denim jacket. I also try to include a variety of options for each item to fit the style and price point for everyone! And as always, thrifting is always an option to build your capsule wardrobe.
Remember that my capsule wardrobes are meant to be a guide for you to recreate. I encourage you to make the capsule your own. Pick colors and styles that work with your style. The best place to start building a work wardrobe capsule is in your own closet. See what you already own and make a list of items that you want to add.
Hopefully, this capsule wardrobe will help you feel stylish and confident in your outfits all school year long!
Fall Teacher Wardrobe Capsule
*Sizing Reference: I'm 5'1 and 115lbs. I typically wear an xsmall or small in tops and dresses and a 26 or 2 petite/short. For shoes, I wear a 7.5.
Tops:

Polka-dot pattern top (x-small)- I love polka dots, that's why I thought it was the perfect print to include in this capsule wardrobe. Black and white polka dots are classic and always in style. I recently got this polka dot flutter sleeve top from maurices. A top like this is easy to style with any solid color of bottoms.
White Puff Sleeve Top (x-small)- I have been really into this style of top with a slightly puffed sleeve. This is what I refer to as an elevated basic top. It's still basic but the sleeves give it a little extra detail, making the outfit a little more interesting, without you needing to try too hard. The top that I have is from Amazon and it's a knit material that feels like a lightweight sweater. It's thin enough to wear under layers but perfect to wear on its own.
Graphic Tee (small) – I think it's safe to say that most teachers have a graphic tee or more in their wardrobe. Whether it's a cute teacher tee or your school team shirt, it's always nice to know how to style a graphic tee in more than one way.
I thought that this graphic tee from Target was the perfect neutral t-shirt to keep in your wardrobe. I like that it doesn't have any writing on it, just a cute floral print. It's also a really nice color that pairs nicely with lots of different bottoms.
Neutral Print Tank Top (x-small) – Because most of the pants I choose for this capsule are solid colors, I wanted to have another print option for my tops. That's why I went with this neural animal print tank from maurices. This style is very simple and some of you might already have a top like this in your wardrobe that you could use.
Black Button-Down Chambray/Denim Shirt– I wanted to include a button-down shirt into this fall teacher capsule wardrobe because they are so versatile. They can be worn as a shirt or a layer. I decided to go with a denim button-down shirt because I felt that it would be perfect for fall.
My denim button-down is thrifted, but the brand is Madewell. I often thrift my chambray and denim button-down shirts because I can always find great brands at amazing prices.
Layers:

Denim Jacket (small)- It's hard for me to put together any capsule wardrobe without a denim jacket. As a former teacher, my denim jacket was always my go-to laying piece! My favorite denim jacket is from Liverpool. I love it because it's soft, stretchy and the fit is amazing. My Liverpool jacket is slightly different than the one I have linked because it has some slight distressing, but the classic one is probably best for a professional work environment.
White blazer– Last year in my teacher capsule wardrobe, I included my white blazer, so I decided to repeat that this year. Any natural-colored blazer will go, but the white gives a clean bright look to your outfits. My blazer is from H&M and it's currently out of stock, but I linked some similar options to shop from.
Tan cardigan (small)- I have included this tan long cardigan from Old Navy on every single capsule wardrobe that I have done in the last year. I tried to go with a different cardigan, but ultimately, I had to go with this one again because it's just that great of a cardigan. It's classic and pairs well with everything!
Dresses:

Black midi dress (x-small) – For dresses, I went with a classic black tiered dress from Walmart. I could not pass up this dress because the price is so good and the style goes with everything! It also comes in other colors! I just thought it was a perfect teacher dress that could be worn all year long. Check out how to style it for all 4 seasons HERE!
Bottoms:

Wide-Leg Trousers (26/short)- I have been on the hunt for a cute pair of wide-leg tailored trousers for a while. Because I am only 5'1, this is a style that has been hard for me to pull off. I recently bought this pair from Abercrombie and I am so happy with them! They are excellent quality and petite-friendly! I have also linked a few other wide-leg pant options in some lower price ranges.
Colored Cropped Wide-Leg Pants (2/petite)- I bought this pair of wide-leg pants from Old Navy last February and they have been a best seller ever since! I love styling them casually, but I also think that they would be the perfect work pants for a teacher. They are comfortable and cute. I have them in green, but they also come in lots of other fun colors that would coordinate well with this capsule.
Black Cropped Kick Flare Pants (xsmall/petite)- Black pants are always an excellent pant option for work. I chose this pair of kick-flare pants because I think this style is so cute! Plus this particular pair of pants from Old Navy is stretchy and high-waisted. They are so comfortable you will want to wear them every day!
Comfortable Skinny Jeans– Most teachers have the option to wear jeans to work, some more than just once per week. That's why jeans were an essential that I didn't want to skip. I decided to go with a classic pair of skinny jeans, which you probably already own in your closet. If you haven't updated your jeans in a while and are still into the skinny jean style, then this pair of jeans from Wit and Wisdom is a great option. My favorite thing about these jeans is that they are very stretchy and comfortable.
I love the blog Putting Me Together, and Audrey has been recommending this brand of jeans for years. That's why I had to give them a try. They do go on sale throughout the year, but I decided to thrift mine from Poshmark, which is a great option because I found a pair with tags for $24.
Pleated Skirt (small)- Back when I was teaching a maxi skirt was a staple in my wardrobe. Although that was a very comfortable option, that style of skirt is a little dated. I have updated all my long skirts to a midi pleated skirt. They are flowy and fun and perfect for teaching. I have them in many different colors, but for this teacher capsule wardrobe, I went with this pink skirt from Amazon.
Shoes/ Accessories

Comfortable Black Pumps (7.5)- If you are going to wear heels as a teacher you need to make sure that they are comfortable! I find Target to have the most comfortable heels! They have padding on the inside and the heel isn't too high. I have also linked some similar heel options.
Neutral Flats (7.5)- I had to include these canvas flats from Maurices because I was so impressed by how cute and comfortable they were! They go with almost everything! I love the little woven details on the shoe. You could also go with a regular nude flat as well or even a loafer!
Leopard Flats (7.5)- Leopard flats have always been one of my favorite items in a teacher wardrobe capsule! I wore leopard flats all the time as a teacher! They at a pop of print and style to a simple outfit! I have been eyeing the Rothy leopard flats, but I ended up going with these MIA leopard flats that look almost identical, but they are half the price.
Black Toe Ballet Flats (7.5)– Classic ballet flats are making a come back and since I have always loved the style of them, I am excited to welcome them back into my wardrobe. I fell in love with this quilted black-toe ballet flat from Stitch Fix. They are so classic and they go with everything! The black-toe shoe brings just a little extra detail than a solid-color shoe would.
White Sneakers (7.5)- When I was teaching preschool, tennis shoes were a must for me. White sneakers are my favorite. They are always classic and they can take any outfit and dress them down. My current favorite pair of white sneakers are my Sam Edelman sneakers. I have also linked some affordable options!
Black Belt (small)- A belt is always essential in a wardrobe capsule because you can do so much with it. Sometimes you wear it out of necessity and sometimes it's just for style. I love this Amazon belt! It's at a great price point and the quality is so nice! I have it in both brown and black, but I choose the black belt for this capsule because it flowed best.
60 Teacher Outfit Ideas
This capsule is so versatile the outfit combinations are endless. With these 20 items, I was able to put together over 60 outfits. Some outfits didn't make the cut, but you can see how easy these items can be to style. Hopefully, you can take a few of these outfits and try them yourself this school year!