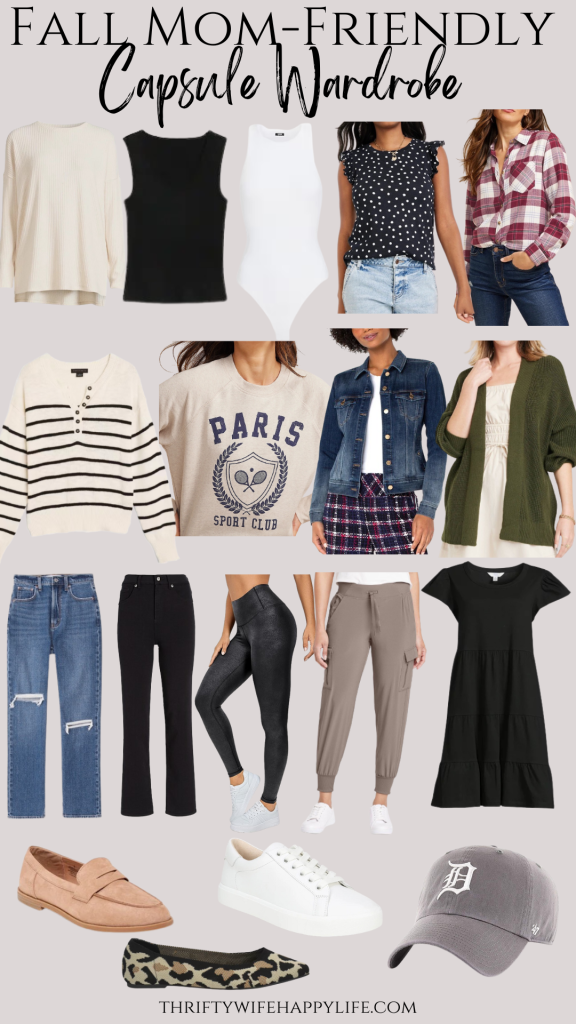 I am back by popular demand with another mom capsule wardrobe post for you! It seems like just last week that I posted my fall teacher capsule wardrobe, but this time around I am keeping things a little more casual to help you create an effortless, yet stylish mom wardrobe this fall!
*This post contains affiliate links.
If you are new to my mom-friendly capsule wardrobe series that I do here at TWHL, then let me tell you a little about it! Each season, I put together an easy-to-style mom capsule wardrobe to help moms feel a little more put together in their everyday lives.
I am a mom of two young children who are 7 and 3. Everything I wear is mom-friendly. Mom-friendly doesn't need to mean frumpy and it doesn't need to be just sweats and t-shirts. The definition of mom-friendly fashion is "clothing and styles that are comfortable, practical, and versatile for mothers who are often on the go and need to tend to their children's needs".
I believe getting dressed in the morning should be the easiest part of your getting ready process. Getting dressed becomes a lot easier when your closet is full of versatile pieces that you can mix and match to create new looks! That's what I hope my mom-friendly capsule wardrobes will help you do!
What's in the fall 2023 mom capsule wardrobe?
This fall my capsule wardrobe is filled with with a lot of elevated basics. Wardrobe basics are the clothes that make up your outfit. They aren't the most exciting pieces in your wardrobe, but they are very important. Elevated basics help step up your style slightly. By adding textures or subtle details, these basic pieces will help make your outfits feel a little more polished and put together.
I wanted to bring in a few trends that I am enjoying this fall, but also keep it classic. Just like all my wardrobe capsules, I like to overlap them and repeat items I have shared in previous capsules. I do this so if you have been following along with my capsule wardrobes you will be able to build on what you already have.
My main goal, besides helping you feel stylish in your daily life, is to also help you save money on your wardrobe. One thing I have discovered in the last decade is the power of a versatile wardrobe when it comes to saving money on your clothes. When you love what you own and know how to wear it, you will end up shopping less. Having a capsule wardrobe is a great way to do that!
Tops:

Tan Tunic (small)- I am such a fan of this tan ribbed tunic from Walmart! I have a black one from last year and I wear it all the time! This year, I knew I had to grab another one. It's great to wear with leggings or jeans! I love the weight of this sweater too! It's not overly heavy!
V-neck ribbed tank top (small)- This tank top is a great elevated basic. It's a basic black tank top, but the ribbed knit material gives it a little extra detail with the appearance of a sweater. This is a great top to wear on its own when the weather is still warm or you can layer it under cardigans and jackets!
White bodysuit (small)- I am always a fan of a white bodysuit! It's perfect to layer under your cardigans and jackets. I also like that a bodysuit can help suck everything in and it helps keep you covered up in the back. This high-neck bodysuit from Amazon is one of my favorites!
Polka-dot ruffled sleeve top (xsmall)- This top is a repeat from my teacher capsule wardrobe last month! I wanted to use it again because it's a great elevated basic top. It's a basic t-shirt material, but the print and the sleeve details take it up a notch! As a mom, it's always nice to have that go-to top in your wardrobe that will help step up your outfit on the days you want to feel a little more put together.
Flannel button-down shirt (small)- I always love to have a flannel shirt in my fall wardrobe. Nothing says fall like plaid. My favorite fall flannel shirts are from maurices! They are nice and lightweight, perfect to layer or wear on their own. When it's still hot out, I will often tie them around my waist just to add the plaid pattern to a summer outfit.
Layers and Sweaters

Striped henley sweater (small)- Striped sweaters are always in style, but this year I am seeing so many striped sweaters with a henley neckline. I love how this style of sweater can give your outfit a classic and polished appearance. I have linked several different options to shop from at different price points. This is a versatile piece that will work great into the winter and spring!
Graphic Sweatshirt (small)- I love a good graphic sweatshirt in my mom wardrobe! They are comfy and perfect for wearing casually! My graphic sweatshirt is from maurices! I love the style, but I will say that it is a fitted material so you will want to size up for comfort!
Denim Jacket (small)- If you don't own a denim jacket by now that you love, then this is the time to get one! My denim jackets are the most worn staples in my wardrobe year-round! My favorite denim jacket of all time is my Liverpool jacket because of the fit and how soft it is! I can't say enough good things about this jacket. But if that one is out of your budget, I have also included a few of my other favorite denim jackets including the Time and Tru Walmart jacket which is a great affordable option! Thrifting a denim jacket is always a great option as well!
Olive green cardigan– Olive green is one of my favorite colors for fall and it's everywhere this year! This Target cardigan is the perfect way that you can incorporate this color into your fall wardrobe. It's super cozy and the color goes with so much!
Bottoms

Distressed jeans (26/short)- I love a casual pair of distressed jeans in the fall. The distressing just makes the jeans feel a little more casual and laid-back. They are also an elevated basic because the distressing gives jeans just a little extra detail. This season, my taste in distressed jeans has changed a little bit. I'm opting for a more subtle distressed look with smaller slits in the knee. My favorite pair of jeans is the ultra high-rise straight ankle jeans from Abercrombie but I have also linked some similar options.
Black jeans– Black jeans in the fall are what white jeans in the spring are to me. They are casual, yet you can still dress them up to create a more polished look! You can never go wrong with dark jeans in the fall! My black jeans are from Express and they are no longer in stock, but I have linked some similar options of black jeans to shop from if you are in the market for a new pair.
Matte Leggings (small/25 inch)- I always get asked if leggings are still in style and I always answer yes!! Leggings are practical and comfortable. I plan on keeping leggings in my wardrobe for years to come. Faux leather leggings or matte leggings are always a nice elevated basic when it comes to leggings. I love the shiny finish. I do own the Spanx leggings that I bought on sale, but for this post, I am wearing my CRZ Yoga leggings from Amazon, and dare I say I like them more. They are a great quality and a great price!
Cargo Joggers (xsmall)- Cargo pants are all the rage this fall, but I'm not sure how I feel about that style yet. When I found these cargo jogger pants at Target, I felt that they were a perfect way for me to embrace the cargo pant trend, while still keeping me in my comfort zone. That's why I had to include them in this capsule wardrobe.
Dress

Black dress (xsmall)- I always love to include a dress in my mom-friendly capsule wardrobes because I find dresses to be easy. They are a one-and-done outfit. I always say that a dress is just as comfortable and easier than a pair of sweatpants and a t-shirt.
You can't go wrong with a black dress. There are so many ways that you can layer and wear a black dress. I find this Walmart dress to be an easy dress to build upon. You can layer with a jacket or cardigan, but you can also wear a sweater, sweatshirt, or t-shirt over it to give the look of a skirt and top. (I knotted the back of my tops with a hair tie and then tucked them under!)
Shoes

Loafers (8) Booties are always popular in fall capsule wardrobes, but to be honest, I don't start pulling my booties out until November when it really cools down. This is why I wanted to go with a neutral color loafer instead. Loafers are practical and on-trend for fall. There are so many options to choose from at the moment.
Leopard flats (7.5)- Leopard is another pattern that I just can't help but embrace during the fall months. Leopard flats will always be a staple fall shoe in my wardrobe. This year I am obsessed with these MIA flats. They are so similar to the Rothy pointed-toe flats, but less than half the price!
White sneakers (7.5)- White sneakers are another shoe option that you just can't go wrong with! They go with EVERYTHING!! This summer and fall I have been loving my Sam Edelman sneakers, but for this capsule, I decided to share a new pair of white sneakers I recently got from maurices! I am impressed by the quality and comfort, plus the price point is on point!
Accessories

Hats– I always love a good baseball cap! This is how I am able to save time on doing my hair on most days! My favorite style of hat is a 47′ clean up adjustable hat. I have tried a lot of different options for baseball caps, but this style works best with my face and hair.
Mom Capsule Wardrobe Outfit Ideas
With these 18 basic wardrobe pieces, I am sharing 48 outfit ideas. Of course, there were more outfits that didn't make the cut, but I figured you could have fun creating some more combinations on your own if needed! I am hoping that there is an outfit for everyone, whether you are a stay-at-home mom looking for some comfy casual outfits or you just want to look cute and put together while strolling through the aisle of your local grocery store!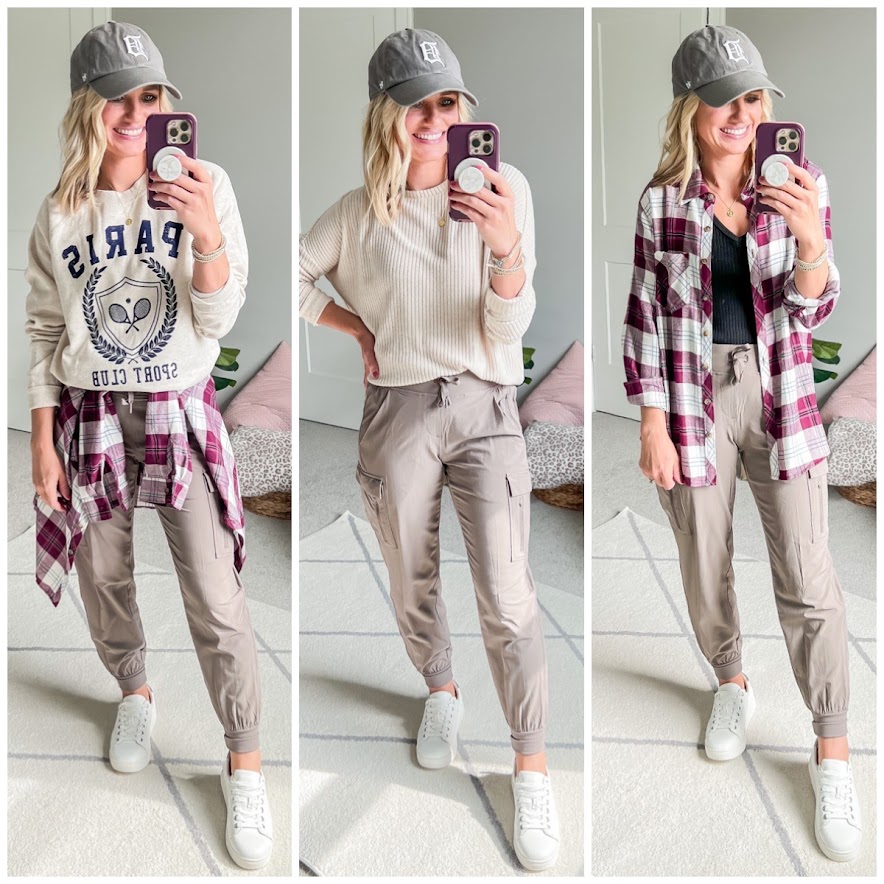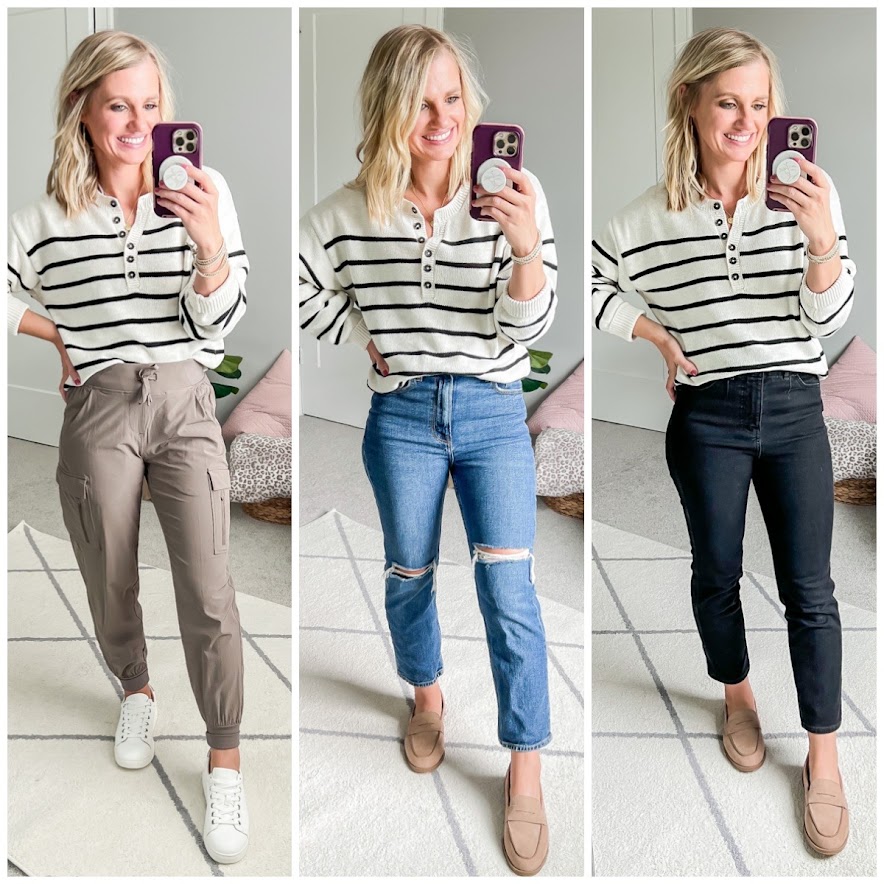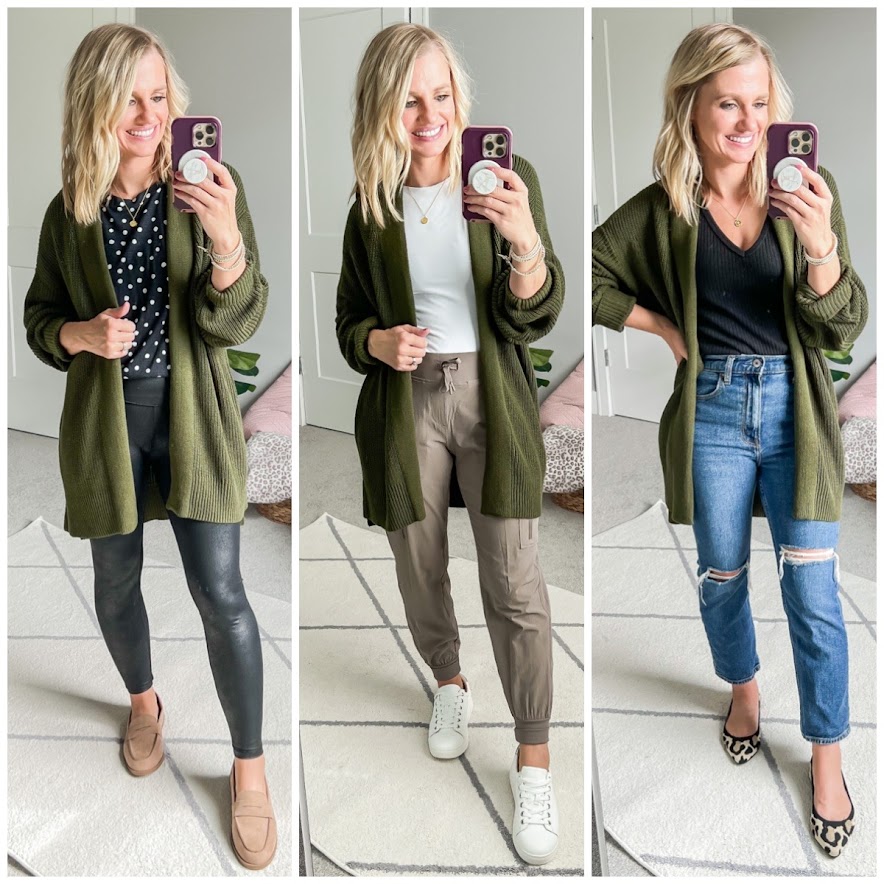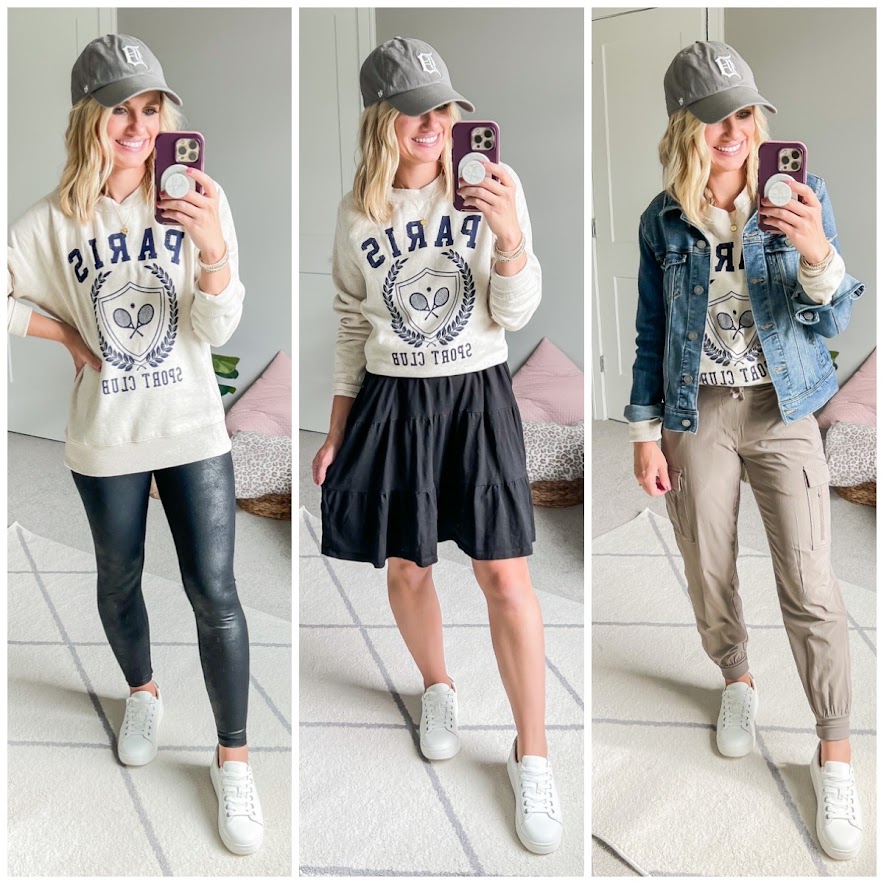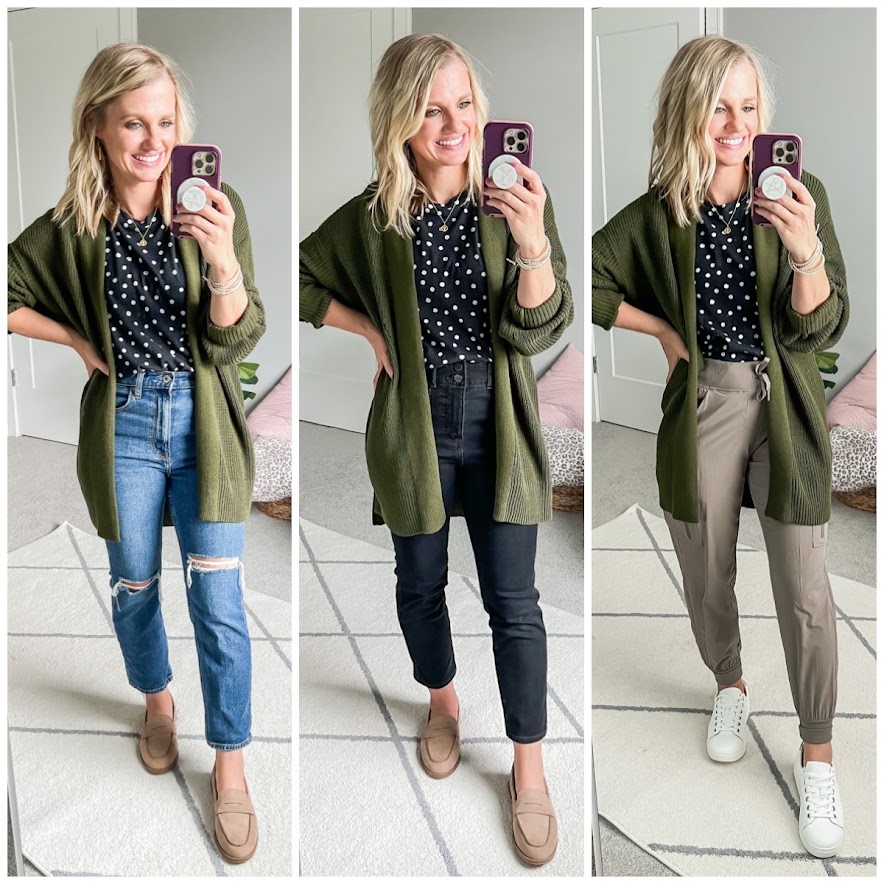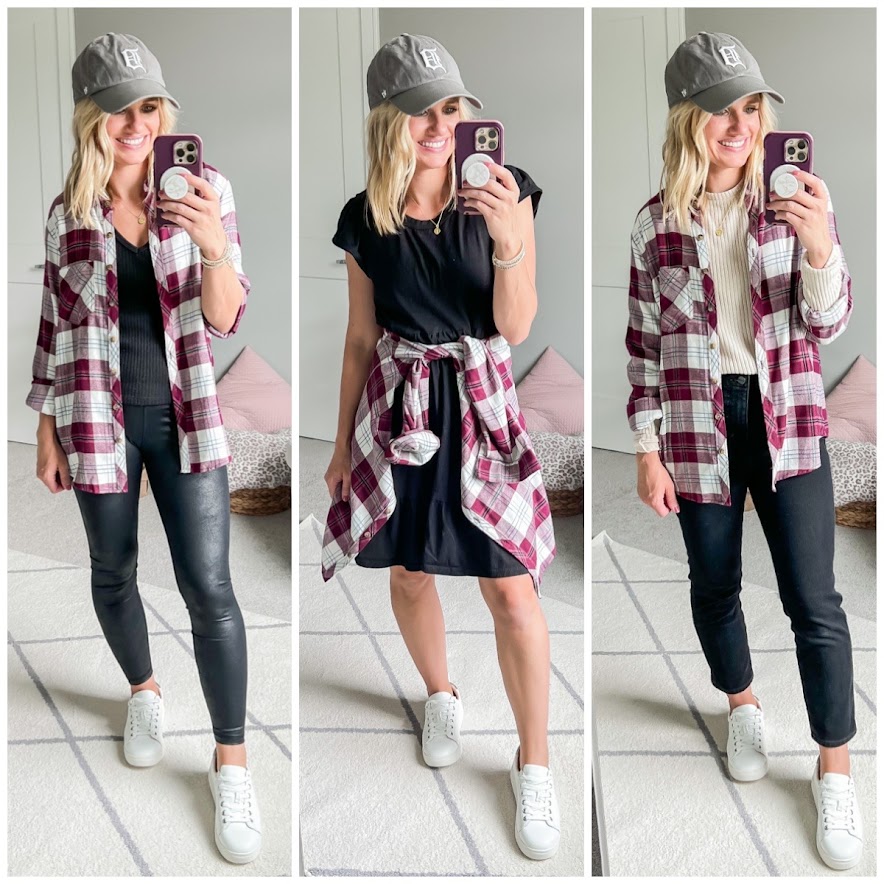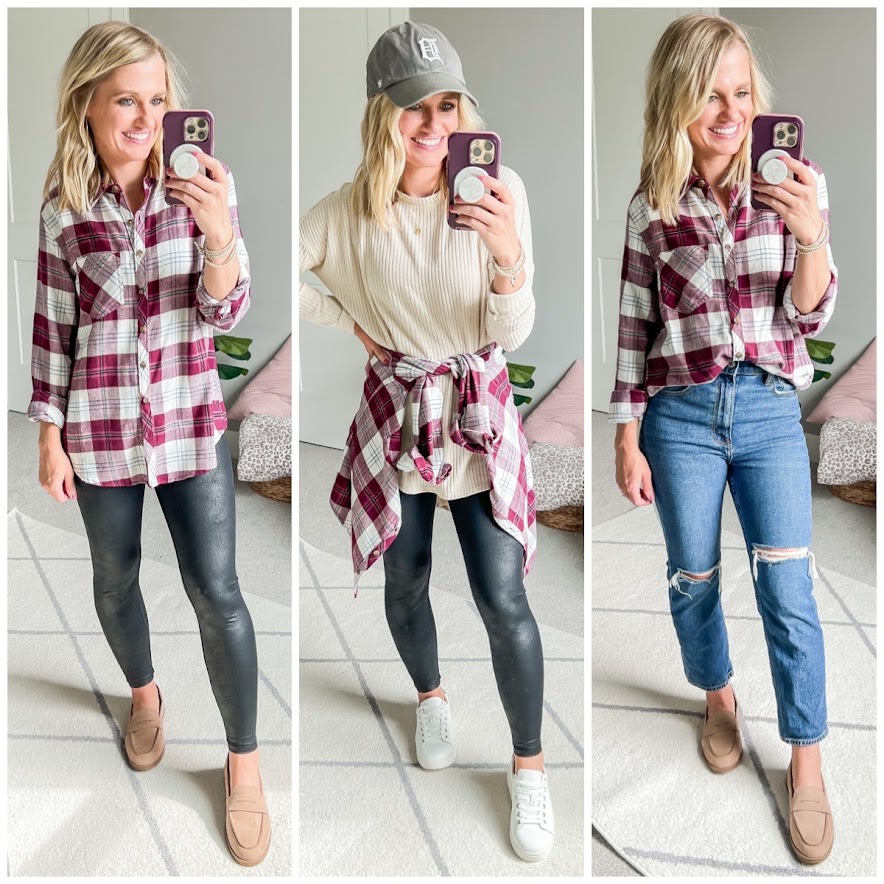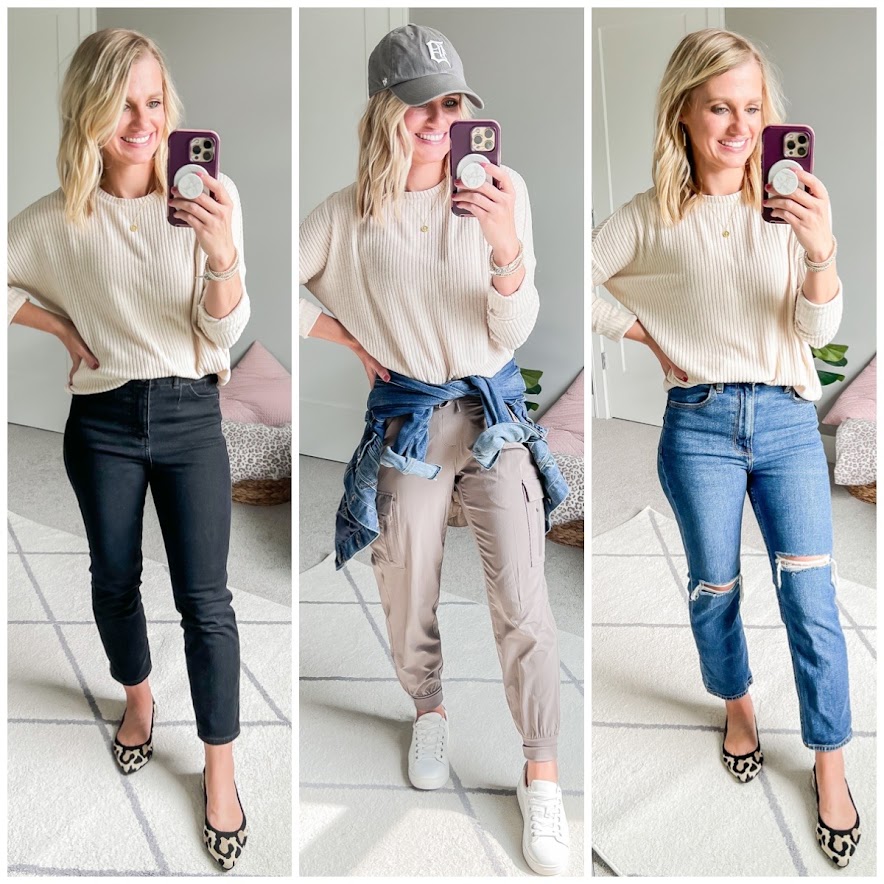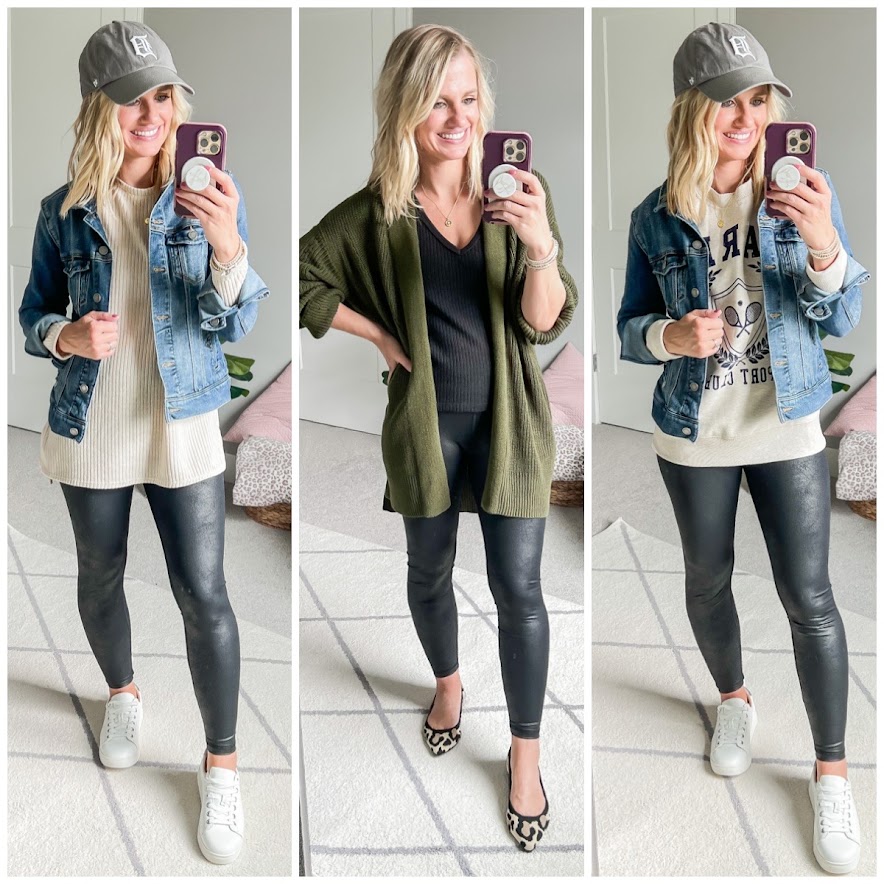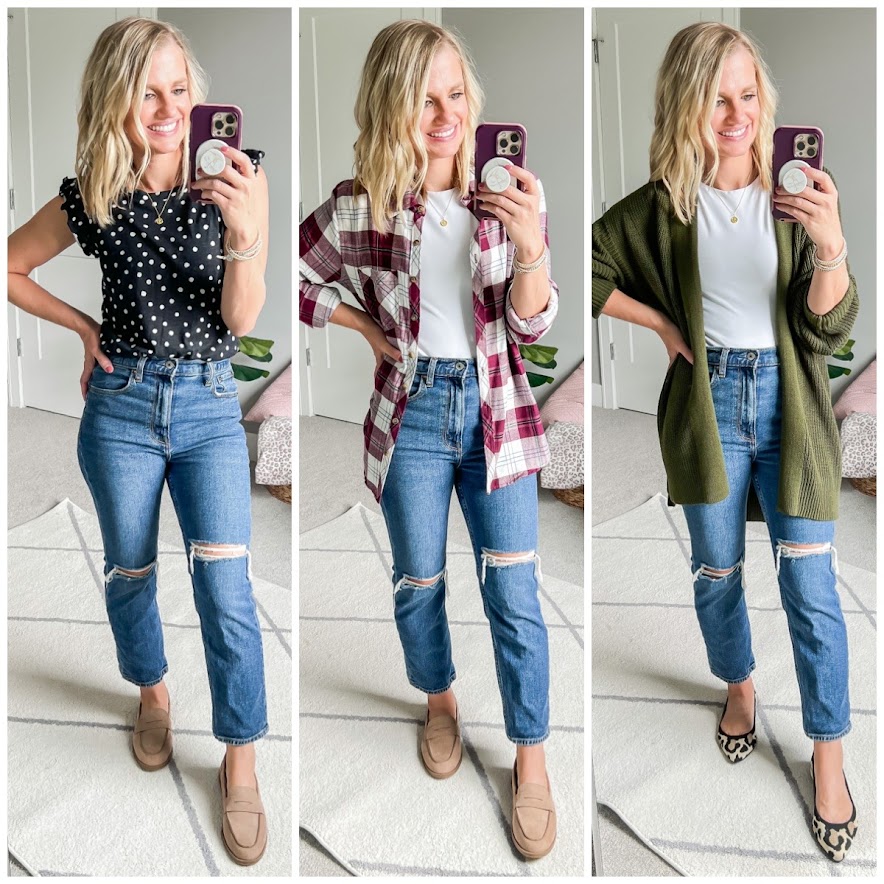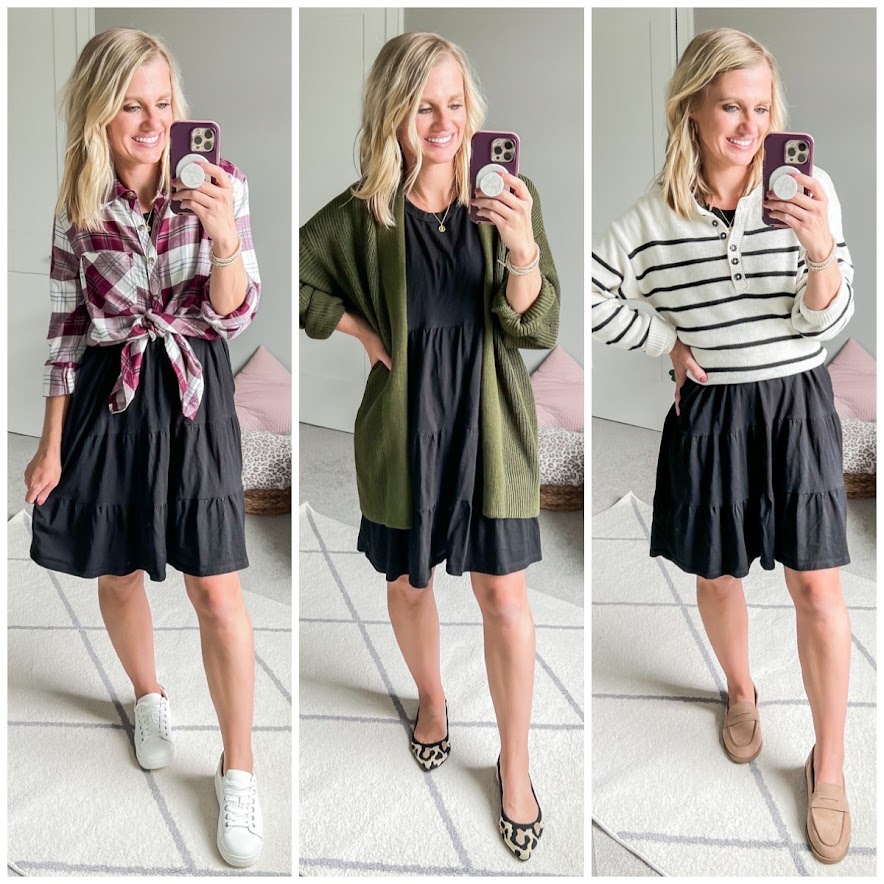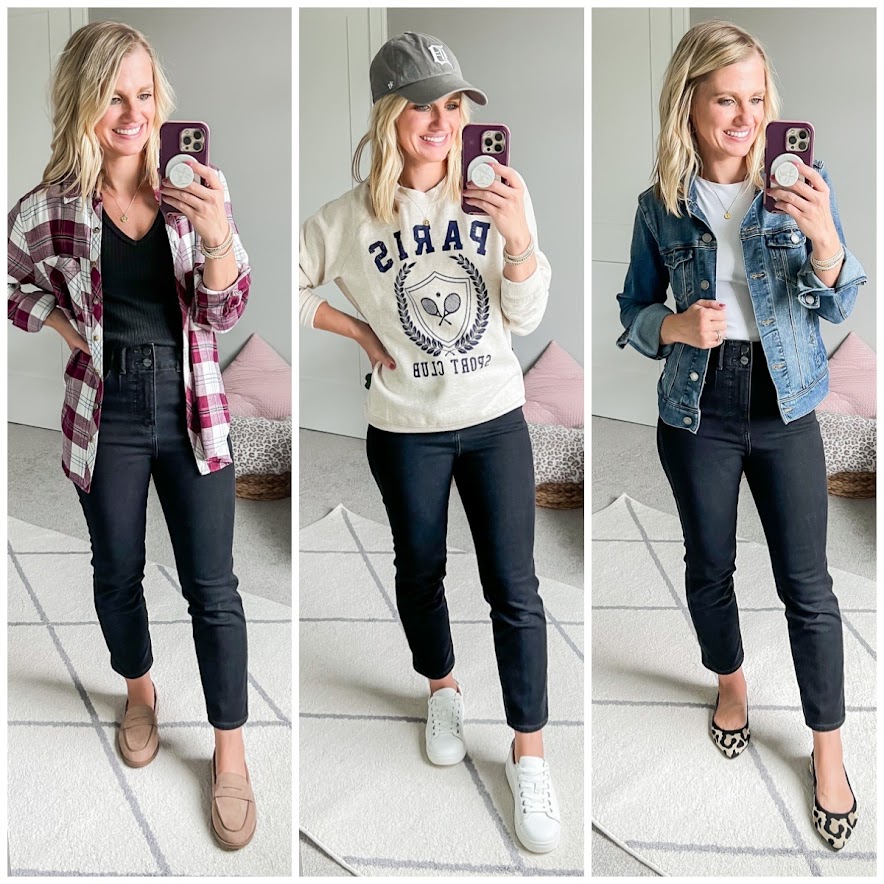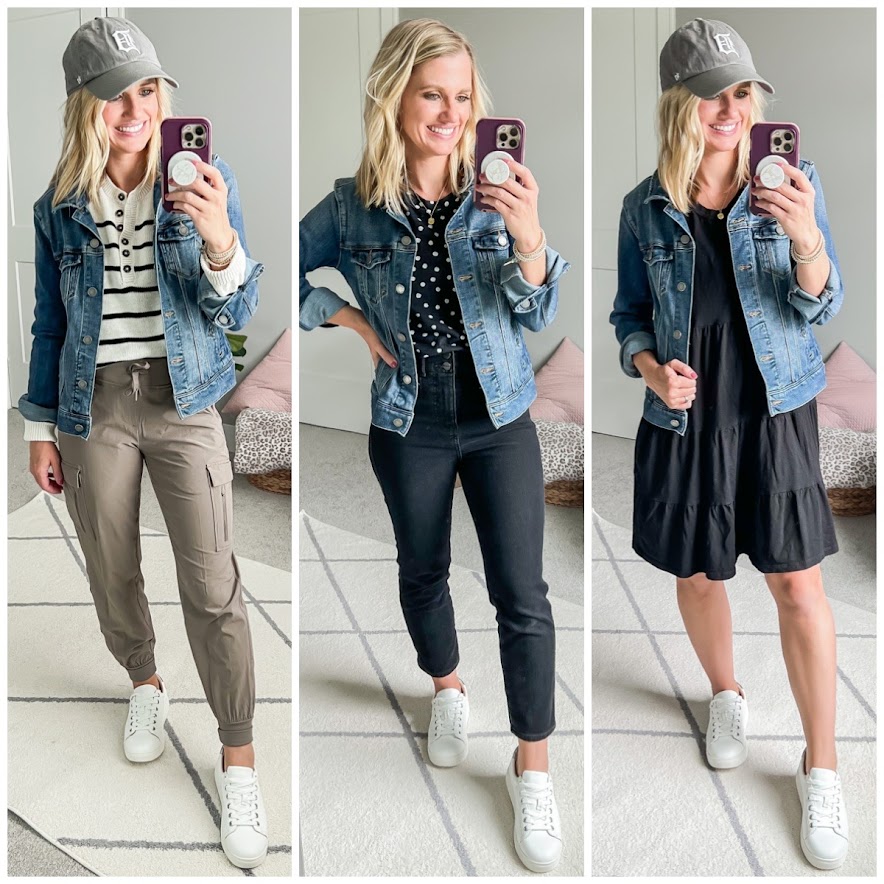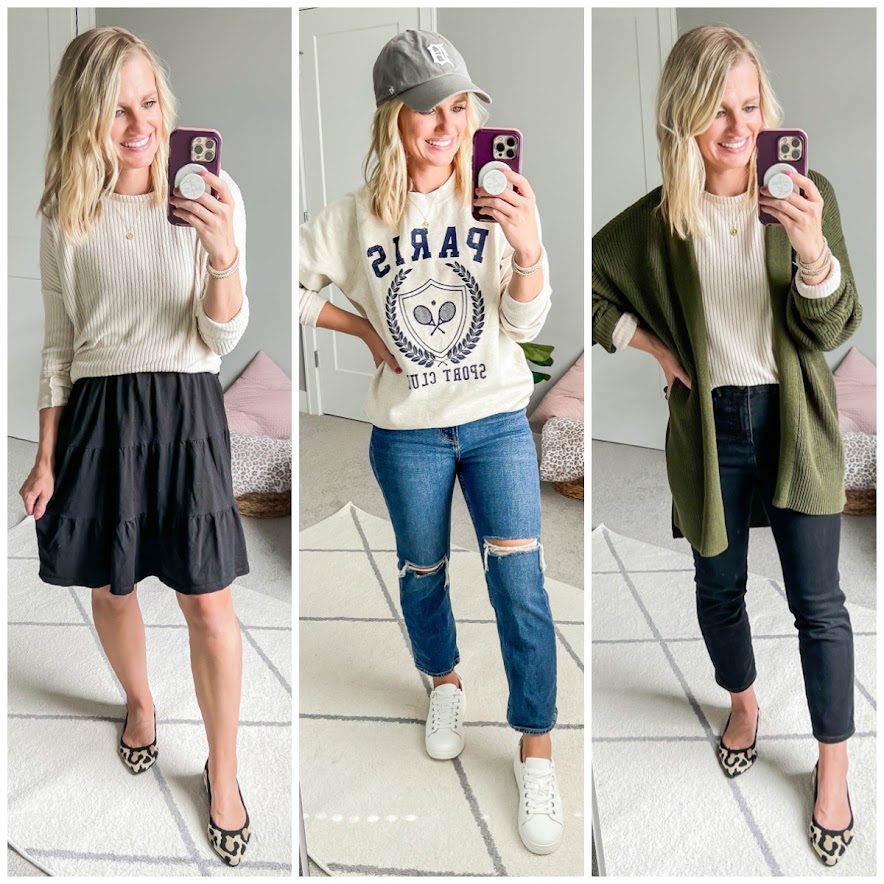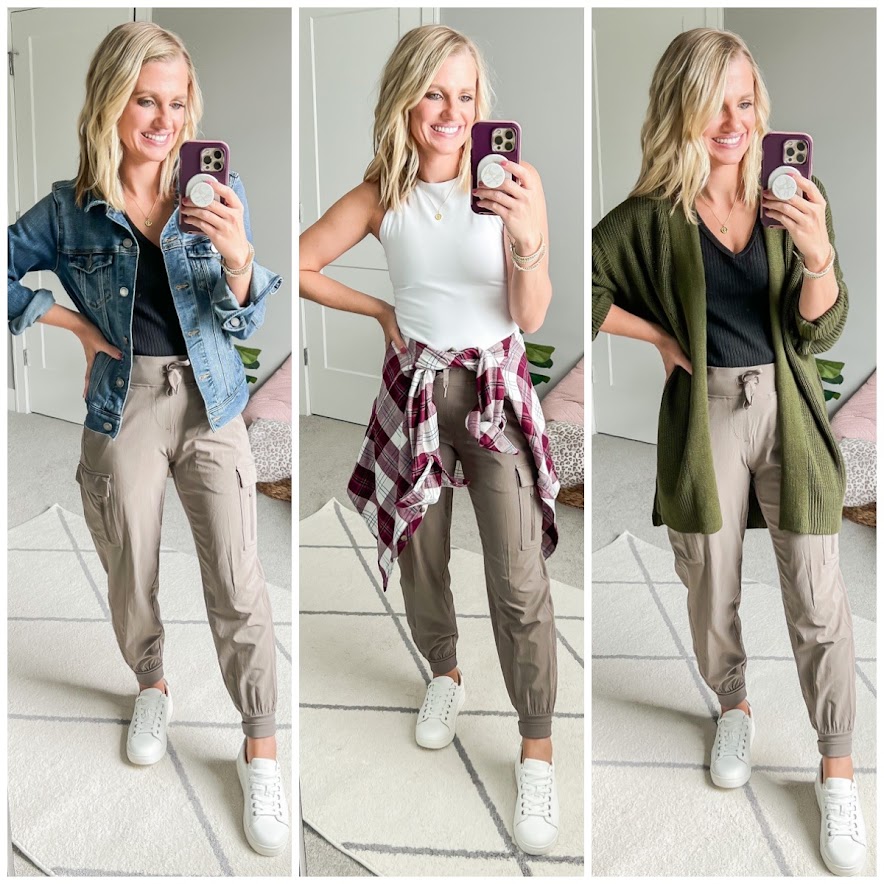 Hopefully, this capsule will help you find some new fall favorites or even rediscover some old pieces in your closet you want to re-explore! Look for another mom-friendly capsule wardrobe this winter, but until then have a stylish fall!!