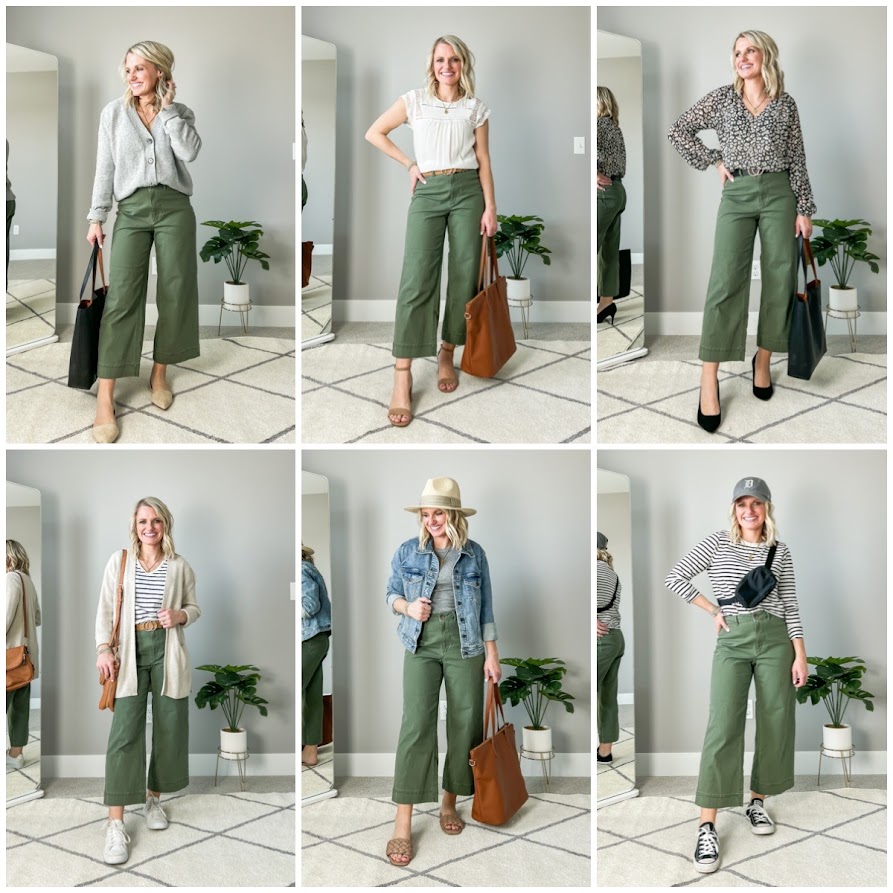 I am loving these cropped wide-leg olive green pants from Old Navy. They have been on my best-seller list every week since I first shared them on Instagram. One thing I never want is for you to buy something that I share and not know how to style them. That's why today I want to share how to wear olive green pants for both work and weekend wear!
*This post contains affiliate links!
When it comes to adding trendier pieces to my wardrobe, I always ask myself 2 questions before I make a purchase. Is it practical and is it versatile? If the answer is yes for both, then it's worth trying. These pants meet the criteria for both. Olive green is a classic color that can be paired with so many different colors. The wide-leg pant style is perfect if you are looking to branch away from skinny jeans. They are so comfortable and fit perfectly into both your work wardrobe and weekend wardrobe. Here are 6 different ways that I am styling these olive green pants for both work and play.
* For sizing reference, I am 5'1 and about 115 lbs. I am wearing a size 2 in a petite length.
How to wear olive green pants for workwear…
Outfit 1: Gray cardigan sweater + Neutral flats
For my first look, I paired my olive green pants with a cropped gray cardigan. This cardigan was one of my latest Stitch Fix finds. The gray pairs nicely with the olive green. To complete the look I wore my J. Crew Factory flats. These classic flats are one of my favorites! They are perfect to wear to work! To make these flats more comfortable, I add these heel cushions. They are a game changer for me!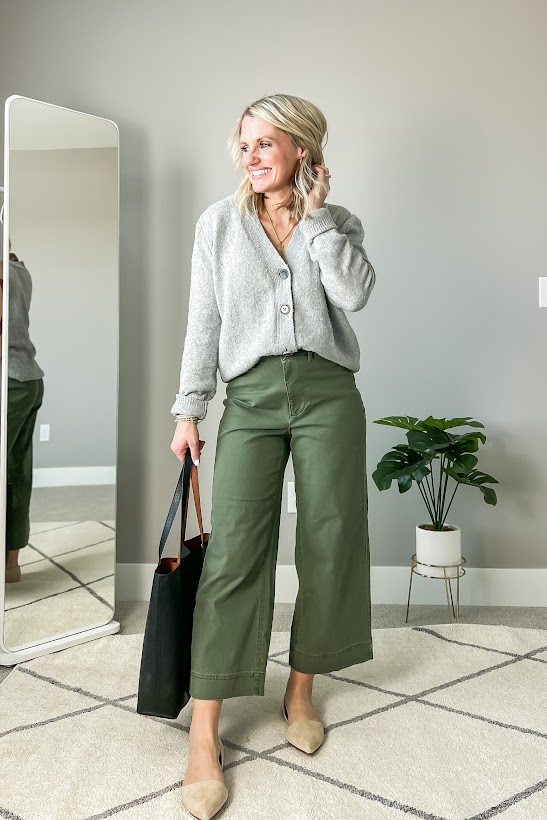 Sweater || Pants || Shoes || Bag (similar)
Outfit 2: White Blouse + Block heel sandals
A white blouse with some lace detail and olive green pants make for the perfect spring office look. This blouse is also from Stitch Fix, but it's no longer available so I will link a similar blouse below. For shoes, I chose my block-heel sandals from Target, but if you have to wear closed-toed shoes for your work dress code you could easily switch them out for some flats or pumps.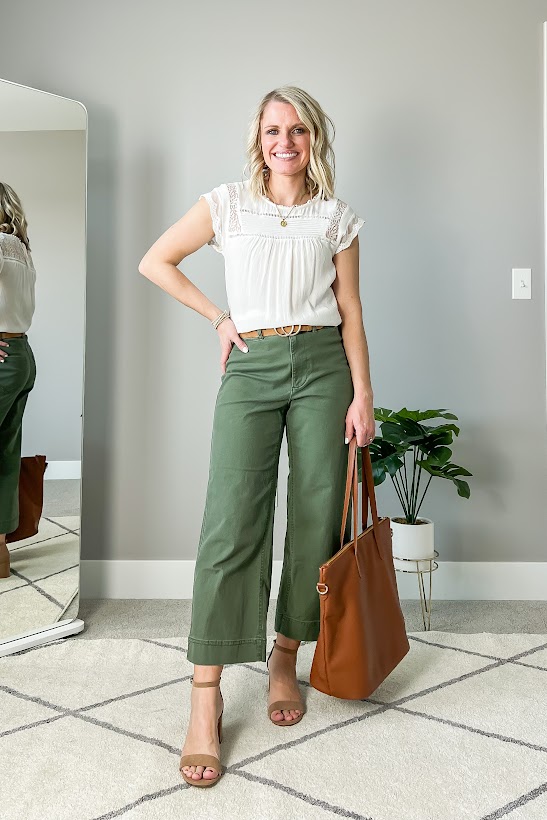 Blouse (similar) || Pants || Belt || Shoes || Bag (similar)
Outfit 3: Floral Print Blouse + Black pumps
I love how olive green pairs so nicely with almost anything, even prints. This Amazon floral blouse is the perfect printed blouse to pair with these pants for a work look. I completed the look with a black belt and my thrifted black Target pumps. I find Target to have the most comfortable heels and I love to find secondhand if I can. The heels aren't too high and they have lots of cushions on the inside.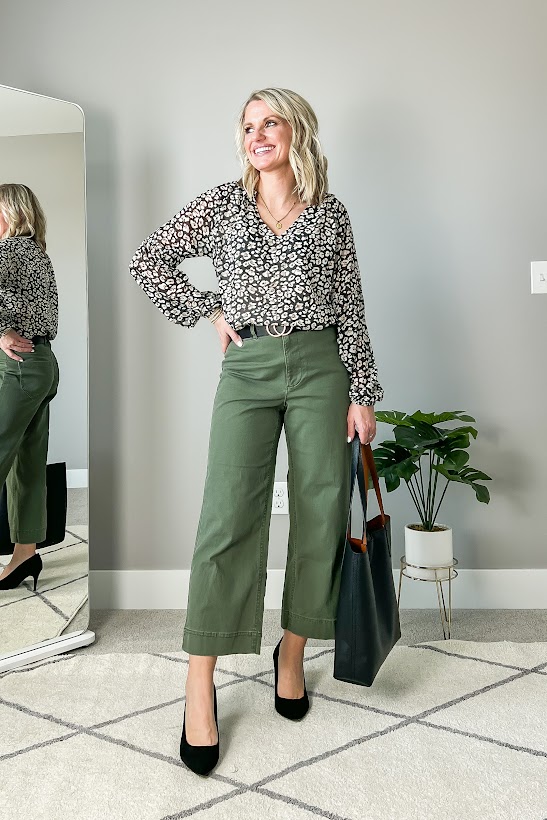 Blouse || Pants || Belt || Shoes (similar, similar) || Bag (similar)
How to wear olive green pants for weekend wear…
Outfit 4: Striped T-shirt + Cardigan + White Sneakers
This outfit is the perfect weekend outfit for family outings or going to sporting activities. I paired a striped v-neck t-shirt with my tan cardigan, both from Old Navy. For shoes, you can't go wrong with a pair of white sneakers for a good mom-friendly weekend outfit.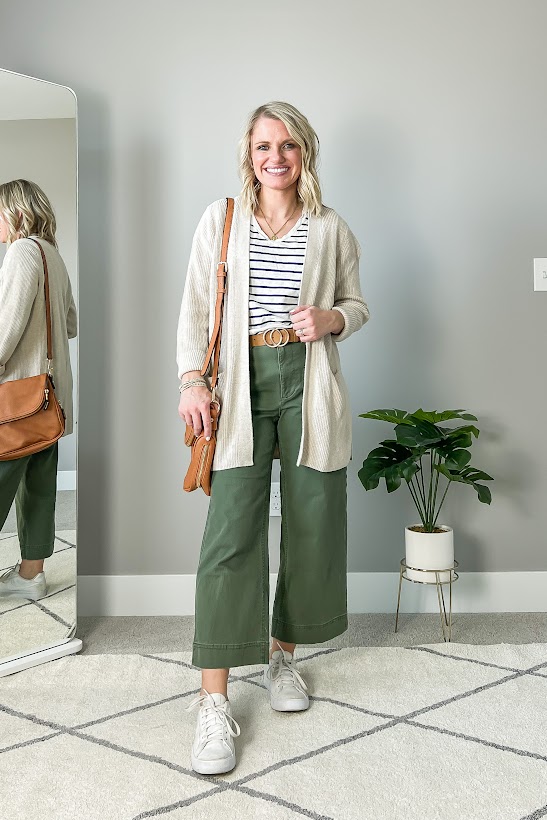 Shirt || Cardigan || Pants || Shoes || Belt || Purse (similar)
Outfit 5: Denim jacket + Sandals + Straw hat
I always love a good denim jacket outfit. A medium-to-light-wash denim jacket is always one of my favorite layering pieces to have for spring. I also love a good tank top to layer under my jackets and cardigans. Target has the best tanks at the best prices! My favorite mom-friendly sandals are always a pair of slide-on sandals. Something easy to slip on while I'm running out the door.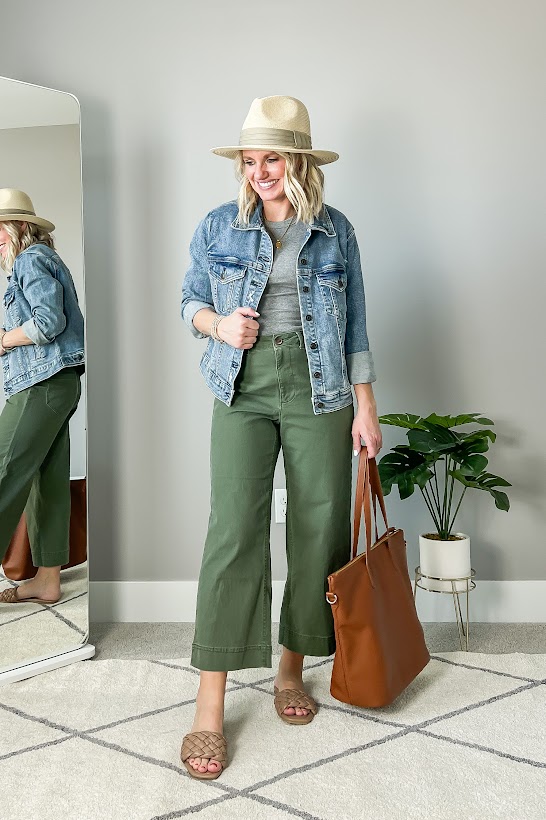 Tank top || Jacket (similar) || Pants || Sandals || Hat || Bag (similar)
Outfit 6: Striped Shirt + Moto Jacket + Converse
I love a classic striped shirt and this one pairs so well with the olive green pants. I pulled in my moto jacket as a laying piece. Moto jackets are always a fun way to bring an edgy feel to the look. If you don't own a moto jacket you could easily trade it out for a denim jacket to complete the look.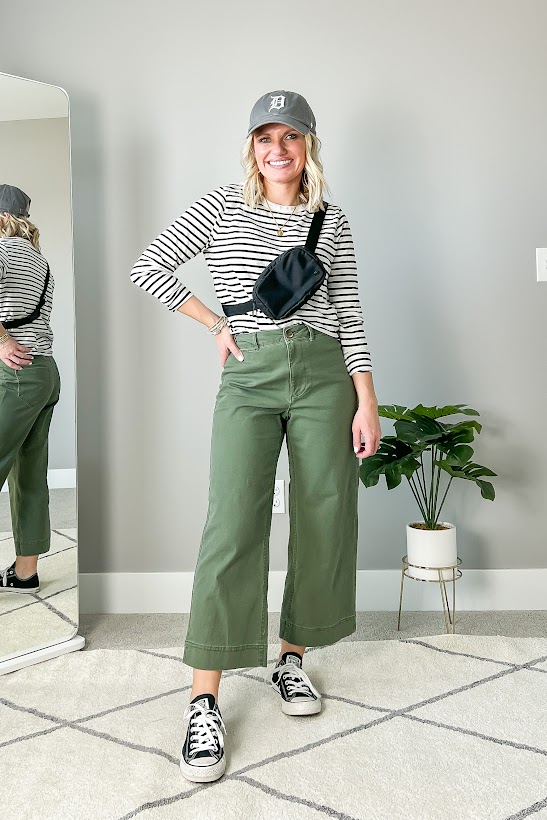 Shirt (similar) || Pants || Moto jacket || Shoes || Belt bag (similar)
I know many of you have told me that you have purchased these pants already, so hopefully, this post has given you some ideas of how to incorporate them into your wardrobe. If you want some more inspiration, you can find 2 more outfits in last week's post HERE!