This year as I sat down to write about my favorite holiday wardrobe essentials, I realized that I have already written the same exact post. I went back through my archives and realized that everything I wanted to share this year was the same thing I posted 2 years ago. So instead of writing the same exact post, I decided to update it and repost.
Every year when the holiday season rolls around I find myself reaching for the same wardrobe items in my closet. These are what I call my holiday wardrobe staples. They are the clothes and accessories that I re-wear every year in December. Many of my holiday staples have been in my closet for years. I don't get rid of them because I know that when December rolls around I will want to wear them again. I have also thrifted many of my holiday wardrobe staples. It saves me money and they are usually classic pieces that are always in style year after year.
Here are my holiday wardrobe staples in my closet.
Red and Green
My wardrobe is filled with red and green pieces that I wear year-round, but in December I love to mix the two colors together to create festive looks.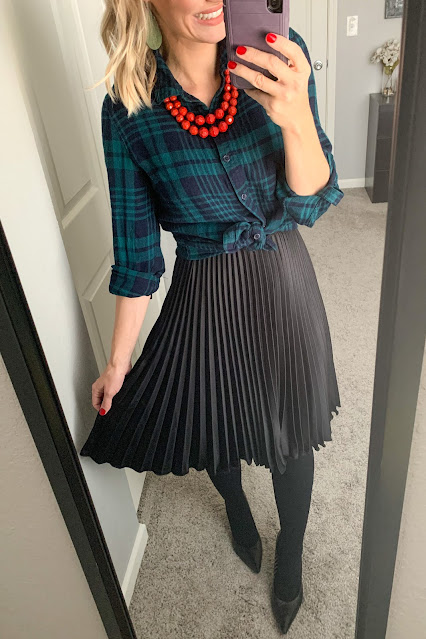 Plaid
Nothing says Christmas to me like plaid. I love to wear plaid around the holidays. Any plaid with pops of green and red are perfect to wear in December.

Scarves
I've been asked recently if scarves are out of style. My answer is no! Especially around the holidays. I love a cute plaid scarf in December. Even better if the scarf has red and green in it!

Sequins
Sequins are everywhere this holiday season. I have been loving sequins in my holiday wardrobe for years now. They always make the best New Year's Even outfit!

Metallics
Just like sequins, I love anything shiny, so metallics are always a must in my holiday wardrobe!

What are your favorite holiday wardrobe staples?
Don't forget to pin the post!