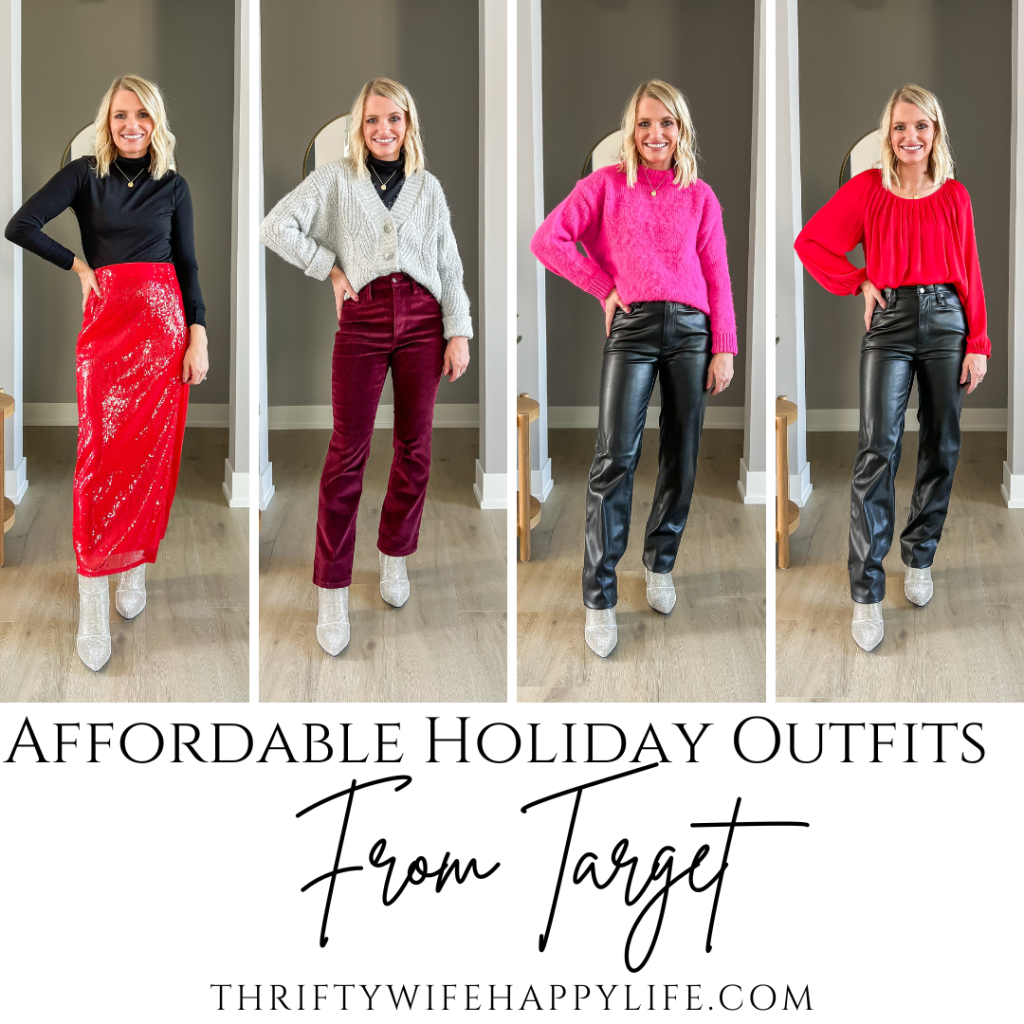 The holiday season is the one time of the year that I love to elevate my usual neutral attire with a touch of festive flair. Incorporating vibrant colors and textures such as sequins, metallics, and faux leather can effortlessly enhance your holiday style. One store I always know I can find affordable festive pieces to elevate my holiday wardrobe is Target. That's why I am excited to partner with Target today to share some fun affordable holiday outfits!
*Thank you to Target for sponsoring today's post! This post also contains affiliate links.
Whether you are looking for an outfit for an upcoming Christmas party or just looking to elevate a casual outfit for a family event, Target has a wide range of clothes to choose from this holiday season. I have been particularly drawn to the vibrant colors and shiny materials this year at Target. I call these pieces my Holiday Wardrobe Staples because every year I always get a lot of wear out of them.
Today I want to share with you how to style these holiday wardrobe essentials practically to help you get the most wear out of them! Best of all, all these cute pieces are under $50 at full price! With all the upcoming Black Friday and Cyber Week deals you will definitely be able to score these holiday outfits at an even lower price!
*For sizing reference I am 5'1 and 115 lbs. I typically wear an xsmall, 2/petite and 7.5 shoe. Everything fits TTS, unless otherwise stated.
4 Holiday Outfits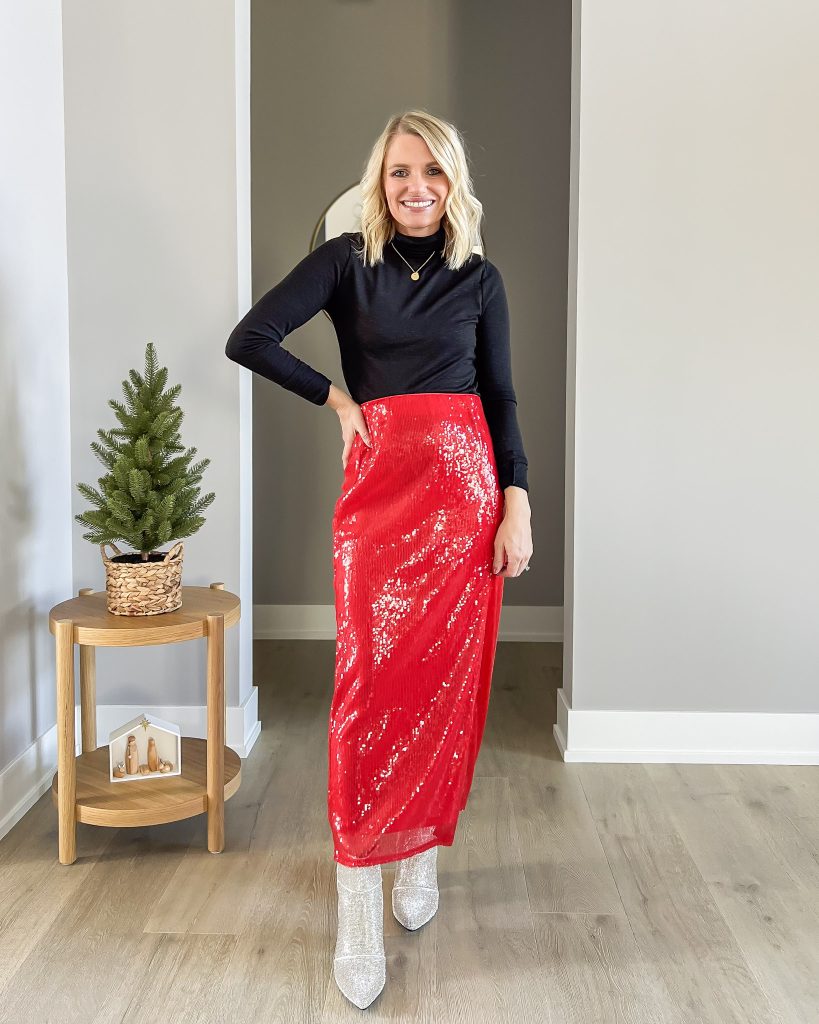 Skirt (xsmall) || Top (xsmall) || Booties (7.5)

1.) Red Sequin Skirt + Black Mock Turtleneck Top + Cailin Ankle Booties
This would make for such a fun holiday party outfit! This A New Day Red sequin skirt is so fun, yet also comfortable. I find skirts to be more versital than dresses because you can mix and match your tops with them! I paired this skirt with a Universal Thread black mock turtleneck top, which is one of my favorite everyday winter essentials. To complete the look I went with these A New Day Cailin ankle booties. I have the same style of bootie in a taupe color and I just love the fit! When I saw this pair I was drawn to them right away!
One thing that I like about dressing up with booties rather than heels in the winter is that they are a little more practical. Not only can they keep your feet warm, but I find them to be more comfortable to walk in than a pair of heels. That's why I find this pair of booties to be a great option if you are looking for a statement shoe to dress up your holiday outfits!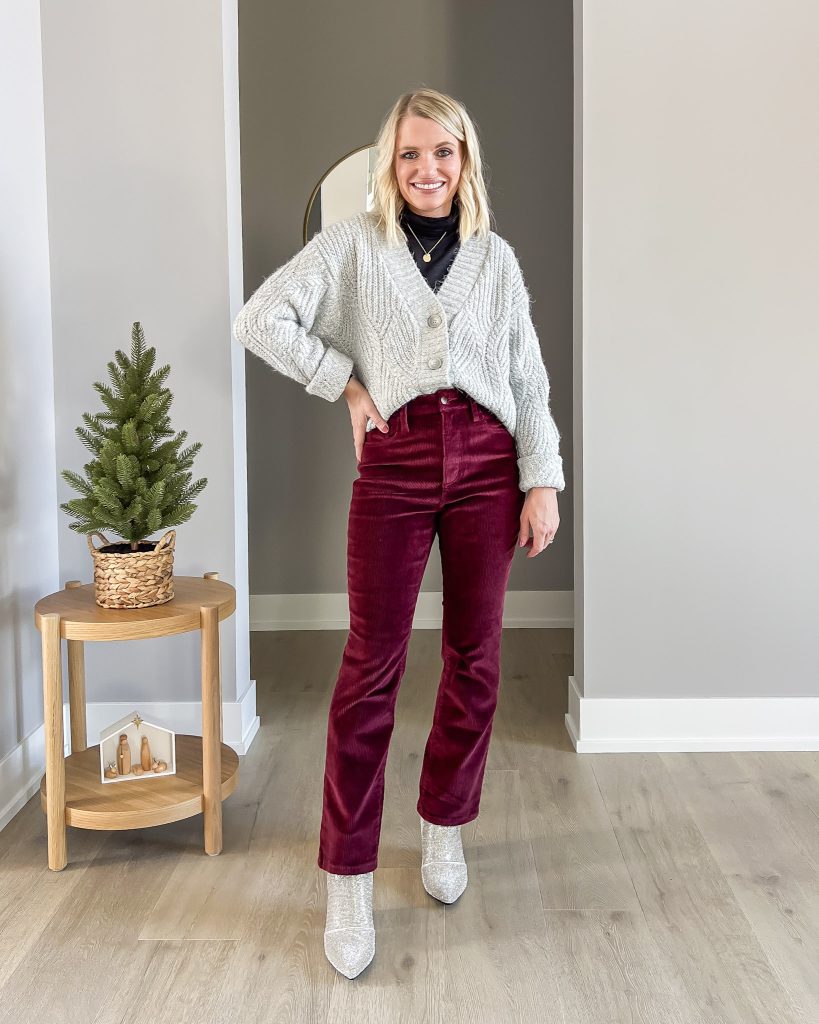 Top (xsmall) || Cardigan (xsmall) || Pants (2/regular) || Booties (7.5)

2.) Corduroy Bootcut Jeans + Mock Turtleneck + Cable Lurex Cardigan + Cailin Ankle booties
If sequin skirts are too much for you, then I find this pair of Universal Thread corduroy bootcut jeans to be a great pant option. They add some fun texture and this color is great to wear all winter long. These pants fit TTS, but they do fit longer on me at only 5'1. However, I think the length works perfectly with booties!
To add some extra warmth on top, I layered this Universal Thread gray cable lurex cropped cardigan over the mock turtleneck top. This cardigan is a great winter wardrobe staple that can be worn throughout the year. I love the it has sparkly thread sewn into it, which gives it a subtle festive flare.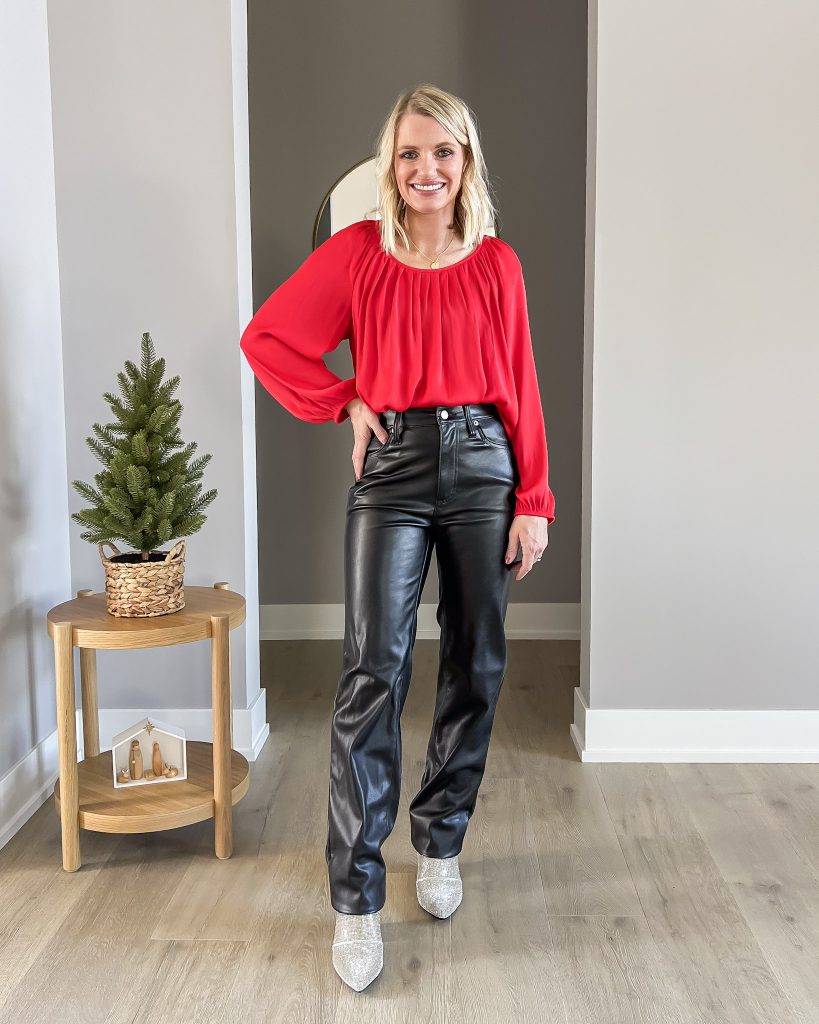 Top (xsmall) || Jeans (0) || Booties (7.5)

3.) Faux Leather 90's Straight Leg Jeans + Balloon Long Sleeve Red Blouse + Rhinestone Booties
Another fun texture that I wear a lot around the holidays is faux leather. I just love the extra shine it gives off. This pair of Universal Thread faux leather 90's straight-leg jeans are a great option. They are very comfortable and of great quality. I found that this pair of pants runs a bit large and you might want to go down a size.
I paired the pants with this red A New Day balloon long sleeve blouse, which I absolutely love. Red is such a fun color to wear around the holiday season, but it's also a color that I enjoy wearing year-round. This blouse could be dressed down with jeans or worn as work wear. It also comes in other colors.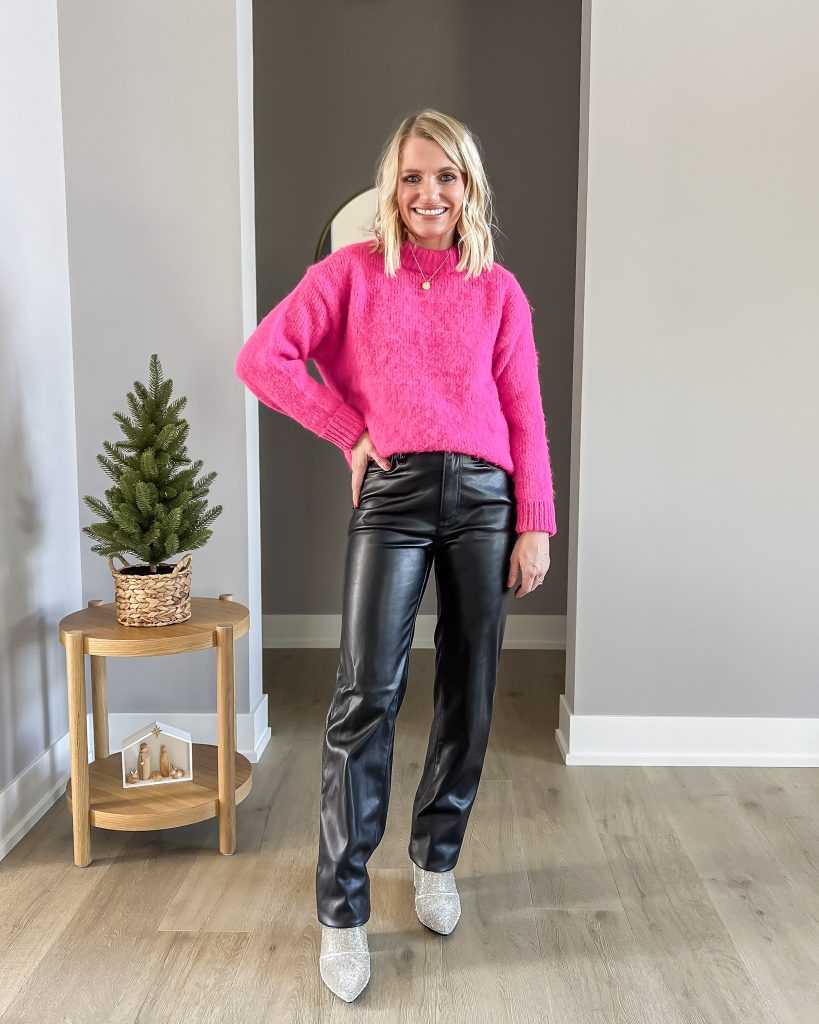 Sweater (xsmall) || Pants (0) || Booties (7.5)

4.) Hot Pink Sweater + Faux Leather 90's Straight-Leg Pants + Rhinestone Booties
Another fun top option to pair with the faux leather jeans is a bright-colored sweater. There is a lot that you can do with a colorful sweater. I was drawn to this hot pink A New Day crewneck brushed sweater. The material is so soft. I just love the quality! It comes in 6 different colorful options.
Hopefully, this gave you some ideas of how to style some festive holiday outfits this year. Make sure you are following along with me on the LTK app! I will keep you up to date on all the Target Black Friday and Cyber Week deals plus any other sales that pop up over the holiday season!