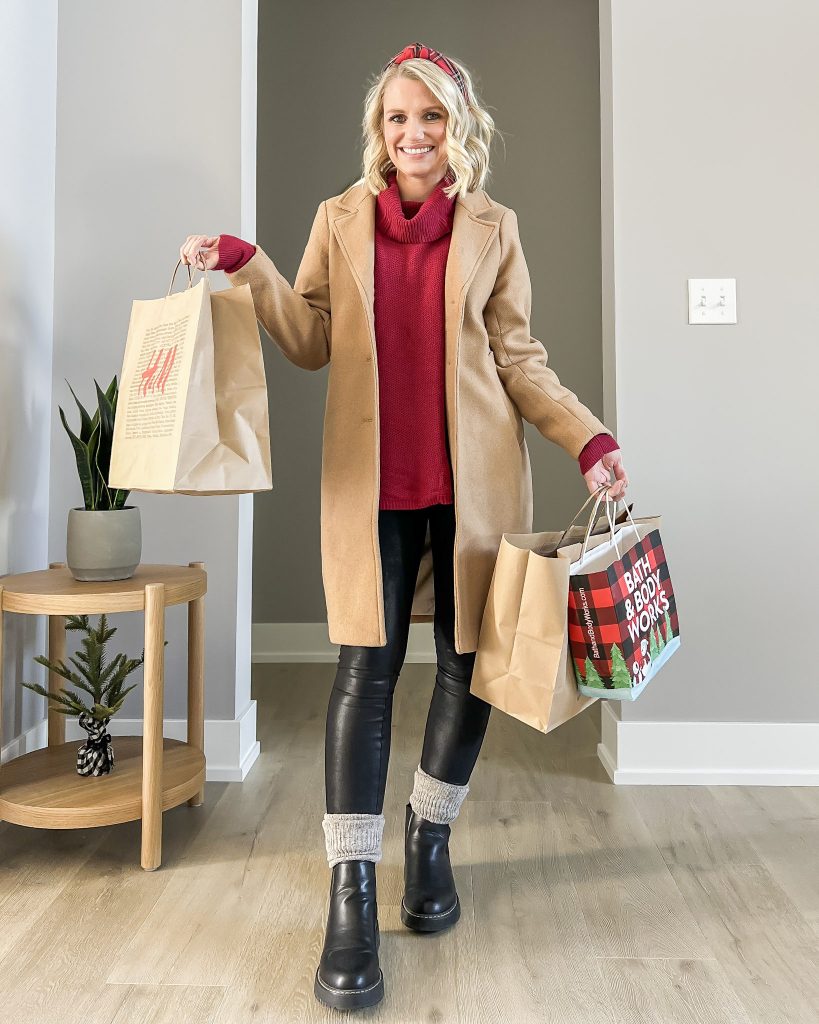 It's November, which means that the holiday shopping season is officially here. I don't know about you, but I feel like the holiday sales start earlier and earlier each year. I'm not going to lie, it can be overwhelming sometimes. As a budget shopper always looking for a good deal, it can be hard to not shop every sale that comes my way. This is why I want to share some of my holiday shopping budget tips to help you stay on track with your spending this holiday season!
*This post contains affiliate links.
As an influencer, it has been difficult to always share a sale. As much as I love helping people add to their wardrobes and find great deals, I also want people to be smart about their purchases and only buy what they need. Things can easily get out of control this time of the year and that's why I feel that it's important to share some holiday budget tips to keep your spending on track this season.
10 Holiday Shopping Budget Tips!!
Outfit details: Sweater (similar) || Leggings || Coat || Headband || Boots (similar) || Socks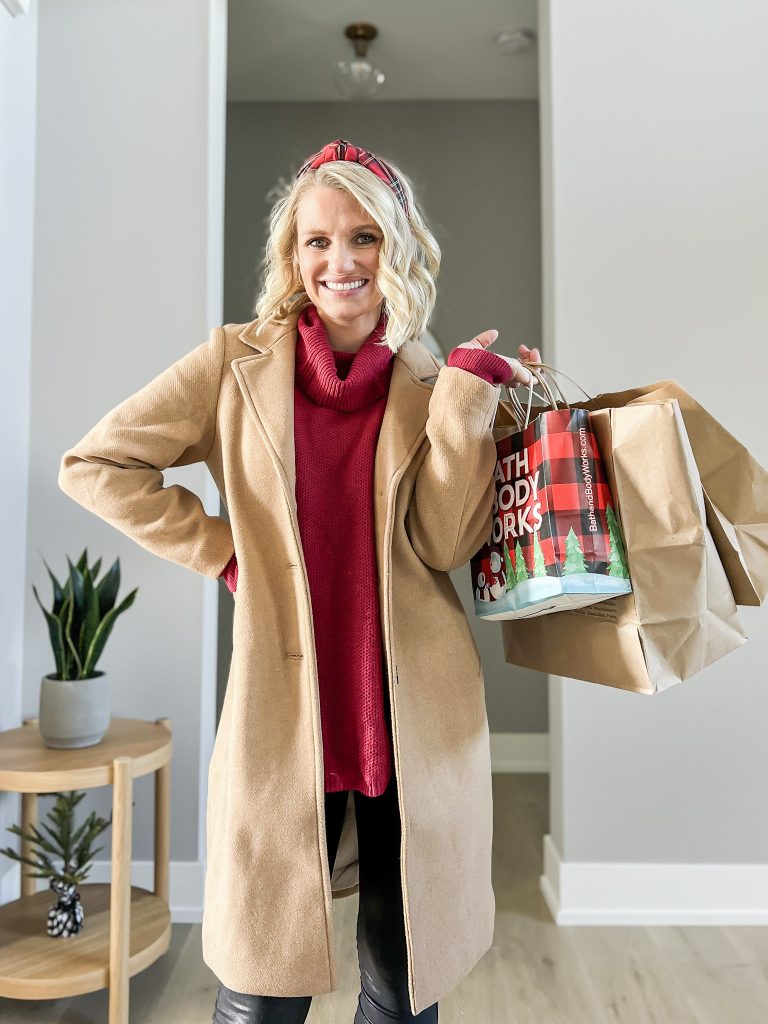 1.) Make a holiday shopping list
When it comes to holiday shopping budget tips, we have to start off by talking about a list. I always recommend keeping a shopping wishlist on hand. (You can read more about budgeting tips in my post on how to build a wardrobe on a budget!) A list will help you stay on track. It will narrow down the items you really want to buy. This way when you see a sale on something that is on your list, you can easily make your purchase knowing that you have already given it some thought.
2.) Set a spending budget per person
I'm not big on setting budgets, but when it comes to holiday shopping it's important to have some sort of budget set in place to keep track of your spending. One way that really helps me stay on track with my holiday shopping budget is to just buy gift cards. This way you spend the exact amount of money on each person. It also takes all the stress out of picking out gifts, plus who doesn't love a gift card to their favorite store?
3.) Keep Track of your purchases
It's important to keep track of your holiday purchases. As a mom, it can be hard to remember everything I bought for each of my kids. This is why I keep a list on my phone of each gift I buy and I also include the prices. This helps me stick to the budget that I set and it also keeps things even.
4.) Minimize who you buy gifts for
You don't need to feel obligated to buy a gift for everyone. A gift should be something thoughtful that comes from the heart, not because you feel that you have to give a gift. I personally don't exchange gifts with my husband. We have both always had a very practical view of gift-giving with each other. We would rather use that money on other experiences together throughout the year.
5.) Shop early
When it comes to holiday shopping budget tips, starting your shopping early in the season is one way for you to get your spending out of the way. With sales starting earlier and earlier it makes it easy to get good deals early on. Plus, if you plan to do most of your holiday shopping online, then getting an early start will save you from the hassle of worrying about delivery dates and getting your items on time.
6.) Thrift your holiday clothes
My holiday wardrobe is a little different than my wardrobe during the rest of the year. I wear a lot of green and red, lots of plaids and anything sparkly. You probably won't catch me in a sequin skirt in June, but you will in December and that's why I don't like to spend a lot of money on my holiday wardrobe. I often end up thrifting most of my holiday clothes. This way I spend less on clothing that I know I will only wear once per year.
7.) Gift experiences over material gifts
To me, experiences will always be more meaningful than material gifts. Although some experience gifts like vacations and museum memberships can be expensive, you don't need to go all out. Sometimes just donating your time to someone can mean more than a material gift. As a mom of 2 young children, free babysitting is a priceless gift to me!
8.) Shop with cashback credit cards
Before I talk about credit cards, I have to say that this tip is only for people who are responsibly using their credit cards. If you pay off your credit cards each month and only use them as a financial tool, then this tip is for you. If you use your credit cards as a loan and pay them off later, then you probably won't benefit from cashback rewards.
With that said, cashback credit cards can be a great way to earn a little extra cash on the money you are already spending. Make sure you are aware of what percentage you get back in different categories. For example, I have a credit card for dining and entertaining where I earn 3% cash back, and another that gets 3% cash back at online retailers. Sometimes the categories change monthly, so you definitely want to keep an eye on where you can get the most rewards. The only thing I do not do is pay yearly fees to get higher rewards on my credit cards. I haven't found those cards worth it over the long run.
9.) Sign up for store reward programs
If you want to earn some extra savings at every store you shop at, then I would say store reward programs are for you! I would make sure that you are a part of every free reward program at every store you shop at. However, you need to have self-control with these programs. You can't shop every sale and if they tell you that your points will expire soon and you don't need anything then let your points expire. There will always be another sale or opportunity to save.
10.) Don't shop every sale that you see
The most important way to save money over the holidays is to have self-control. Try to remember that you don't need to shop every sale that you see. Every retailer will try to tell you that it's the best deal of the season, but just remember what all those pieces look like in January when they all go on clearance. They aren't as tempting anymore. Stick to your wishlist and set your budget and you will do just fine!!
I hope that these shopping tips are helpful for you and that you shop responsibly this holiday season.

Don't forget to pin the post!!