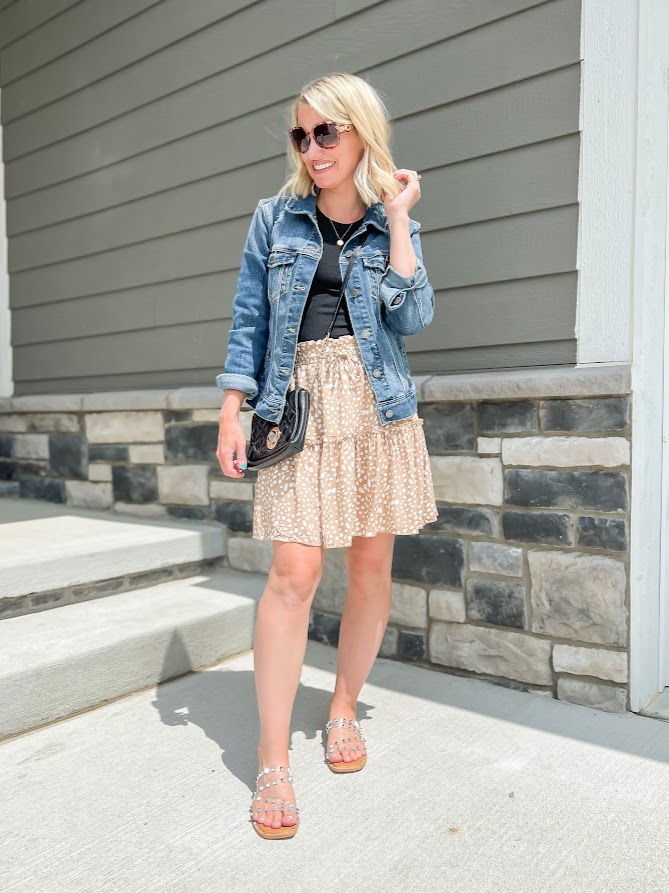 Top || Skirt || Jacket || Sandals (similar) || Purse (similar)
I feel that this post is long overdue, but I think it's finally time that I share my best tips for how to build a wardrobe on a budget. For the last 9 years, I have been on a style journey to create an affordable wardrobe full of clothes that I love to wear. After college, I found myself in a style rut. I wasn't sure how I could transition my wardrobe into adulthood. With student loan debt and a low-paying job, I didn't have the money to shop for a brand-new wardrobe.
*This post contains affiliate links.
Everything changed when I started writing my blog. Instead of dwelling on not being able to shop as much and buy new clothes, I decided to get creative with what I already had in my closet. I started to thrift shop and find ways to update my wardrobe without spending much money. As the years went on I decided to be more intentional with my purchases and only buy clothes that I really love.
I'm still learning as I go and making improvements every day, but I feel that I have created a wardrobe full of clothes that I absolutely love to wear. I've built my wardrobe on a budget and I hope that I can help you do the same thing!
10 Tips for Building a Wardrobe on a Budget
1.) Shop with a plan
Shopping without a plan can lead you to buy clothes that you don't need or even like. I often compare clothes shopping to grocery shopping. When I go to the grocery store hungry, without a list, I usually come home with a bunch of food that looked really yummy to me at the time, but nothing to make an actual meal with. It's the same thing when you go clothes shopping without a plan. You will come home with pieces that looked cute at the store, but nothing that can work with your wardrobe.
I always recommend keeping a shopping list on hand. You can keep it in the notes of your phone, or write it down on paper. As long as your list is accessible and you stick with it, you will stay on track when shopping and avoid buying things you don't need.
2.) Assess your lifestyle
Before you shop, it's important to understand what you actually need clothes for. Have you ever bought anything for an imaginary event that hasn't happened yet? Knowing your lifestyle will help you shop for outfits that fit your actual needs. Make a list of the daily places that you go in a week and focus on shopping for outfits for that. Avoid buying that cute destination wedding guest dress for the imaginary wedding that you might get invited to and stick to the clothes you know you will wear in your daily life.
3.) Buy versatile clothes
Having versatile clothes in your wardrobe that can be worn in many different ways is always going to help you save money. You will have more to wear and want to buy less when you have clothes that can be worn over and over again in new ways. This is why I always love to share How to Wear it posts on the blog to show how you can wear one piece over and over again in a new way each time.
4.) Keep your closet organized
Having an organized closet is often overlooked as a way to save money on clothes, but I believe that it is the key to building a wardrobe on a budget. You want to make sure that you know where everything is and it's easy to find. Do an inventory of your closet every couple of months to get rid of the clothes you aren't wearing anymore and rediscover the clothes that you forgot about. When you know what's in your closet, you will be less likely to want to shop for more. You can read more about how I organize my closet HERE!
5.) Avoid clearance racks
I was always guilty of clearance rack impulse buys. From a young age, I was taught that the clearance rack was where the best deals were! Don't get me wrong, I still love a good clearance deal, but what I found out was that I was buying a lot of clothes that I didn't love. I was settling for something just because it was a great price. I started to realize that my clearance buys were not lasting long in my wardrobe before they were off to the goodwill.
Now I try to be more intentional with my purchases. I am still open to the occasional clearance find, but only if it's something from my wishlist. I have found that quality items that fit and are the exact color I want are better than settling for a good deal.
6.) Shop second-hand
I only wish I would have discovered thrift shopping sooner. It's truly the most affordable way to shop, plus it's good for the environment which is always a plus. I just love the idea that someone else's trash can be your treasure. Thrifting does take time and patience. You are not always going to find exactly what you are looking for on the first try, but if you go often and stay persistent you will eventually find what you are looking for.
7.) Keep track of your clothing purchases
I don't like setting budgets for myself. To me, a budget is the same as a diet. It's restrictive and I don't do well when someone tells me I can't do something. That's why instead of setting a shopping budget, I record all my purchases. This helps me keep track of my spending. When you track your purchases it makes you aware of how much you are spending. Having an actual visual written down can be very eye-opening to see where all your money is going.
8.) Avoid trendy fashion
There is nothing wrong with buying something trendy here and there to keep your wardrobe feeling fresh and current. What you want to avoid is getting into the habit of buying too many trendy fashion pieces. Instead, focus on buying staple wardrobe pieces that can be mixed into any outfit that will stand the test of time.
9.) Join store reward programs
I totally understand that having an inbox full of store emails can get a little annoying and overwhelming, but I figure if you are going to shop at the stores anyway, then you might as well get as much back as you can. I am all about joining store reward programs. Even if you don't earn enough points to redeem them all, you will still benefit from cashback or coupons. They also keep you up to date on the latest sales. However, you need to have self-control when you get those emails or text messages. Don't even open them if you don't need to buy anything.
10.) Don't buy something just because it is on sale
When it comes to shopping on a budget it really comes down to self-control. You don't need to shop just because there is a sale. There will always be a sale. Stick to your wish list and always shop with a plan!
Hopefully, these tips are helpful for you! If you need more help on how to build a wardrobe on a budget, make sure you join my email list to get my free workbook! Start saving money and looking fabulous in everything that you wear!