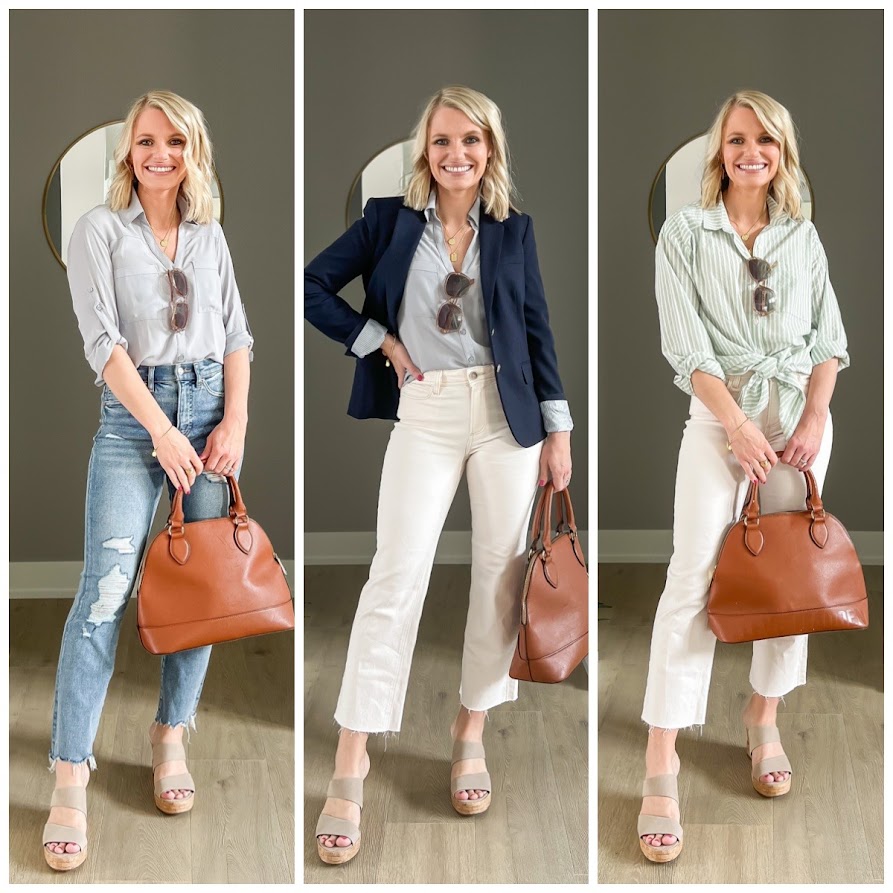 Did you know you can shop for unique, Pinterest-inspired pieces on GoodwillFinds? Last week, I shared a reel on Instagram with looks from GoodwillFinds, and today I'm here to share insights from my shopping experience. Whether you're a thrifting veteran or just starting out, this guide will help you successfully navigate the online world of thrifting at GoodwillFinds. From my treasure trove of finds, I want to share my tips and tricks for a successful online thrifting shopping experience at GoodwillFinds.
*This post is sponsored by GoodwillFinds. Clothes are c/o GoodwillFinds.
I've always enjoyed an afternoon of thrift shopping at one of my local thrift stores, but after having my second baby I found it much harder to get to the actual store. When I go to the thrift store with my toddler, she is often distracted by the vibrating colors and sounds of the toy section and I never get a chance to give the racks a thorough look. This is why I have been enjoying online thrift shopping from the comfort of my home for the past couple of years.
This year I have been branching out from my typical online thrift sites to see what else is out there. I recently discovered GoodwillFinds, and I was thrilled with my shopping experiences. Online thrift shopping can be a little intimidating when you can't see the items in person, but I found the GoodwillFinds website to make the online thrifting experiences easy to navigate.
How does GoodwillFinds work?
GoodwillFinds partners with a number of Goodwill stores across the country to make donated items from the store available to browse and purchase online. The money you spend at GoodwillFinds goes directly back to your community by providing job training, employment opportunities, and career support services to those who are in need.
What can you buy at GoodwillFinds?
GoodwillFinds has a variety of categories to shop from. You can find everything from clothes, home items, electronics, books, toys, luggage, and even musical instruments. Basically, you can find anything you like at GoodwillFinds.
My main focus when thrift shopping is always women's clothing and accessories. I found the selections at GoodwillFinds to be pretty impressive! I browsed through some of my favorite go-to brands like J.Crew, Express, Abercrombie, and LOFT, but I also found some higher-end brands that are typically out of my budget. My best find was a pair of Paige white jeans that typically retail for around $200. At GoodwillFinds, they were only $9.99!!
Tips for thrift shopping online at GoodwillFinds
Create an account! By creating an account at GoodwillFinds you will have the ability to save items you like. You will also stay up to date on sales through your email. Best of all, you can get a 10% off coupon on your first order at GoodwillFinds!
Use the filters! GoodwillFinds has an easy layout to navigate. Click on the categories you wish to shop and from there you can narrow down your options. Use the filter to filter out size, brand, color, and more. This feature allows you to narrow your choices only to see items you are interested in. I find that helps me feel less overwhelmed by the selections.
Shop the sales! GoodwillFinds offers a lot of promotions and deals throughout the year. You will get sale updates through e-mail when you created an account.
Set a budget! I always set a budget when I thrift shop. I usually will sort by low to high and only look at the items that fall within my budget.
Prepare to pay for shipping! As a charity, GoodwillFinds does not offer free shipping. Shipping can vary based on location and can be expensive. For frugal shoppers like myself, paying for shipping can initially be challenging. I have learned to factor the shipping costs into my budget.
Make a thrifting wishlist!– As always, I recommend when building a wardrobe on a budget, you should always shop with a plan! Keep a little wishlist on the notes app on your phone and watch for those items as you shop. This will help you be an intentional thrift shopper! It's easy to get distracted by the amazing prices when thrift shopping. Make sure you love it before you buy it!
What I found on my online thrift shopping trip at GoodwillFinds!
As I mentioned before, I was really impressed by the selections at GoodwillFinds. I was able to find some inspiring clothes and accessories! Almost everything that I bought was brand new with tags on. Most of the items were also on sale, so I got an even better deal! Here is a list of my finds…
Express Grey Button-Down Shirt- $14.39
Paige White Ankle Wide Leg Jeans- $9.99
Express Distressed Cropped Flare Jeans- $12.49
J.Crew Navy Blazer- $19.99
Anthropologie Green Striped Oversized Button-Down- $21. 49
Franco Santo Wedge Sandals- $17.49
Steve Madden Brown Handbag- $17.99
Feisedy Sunglasses- $9.99
How I styled my finds…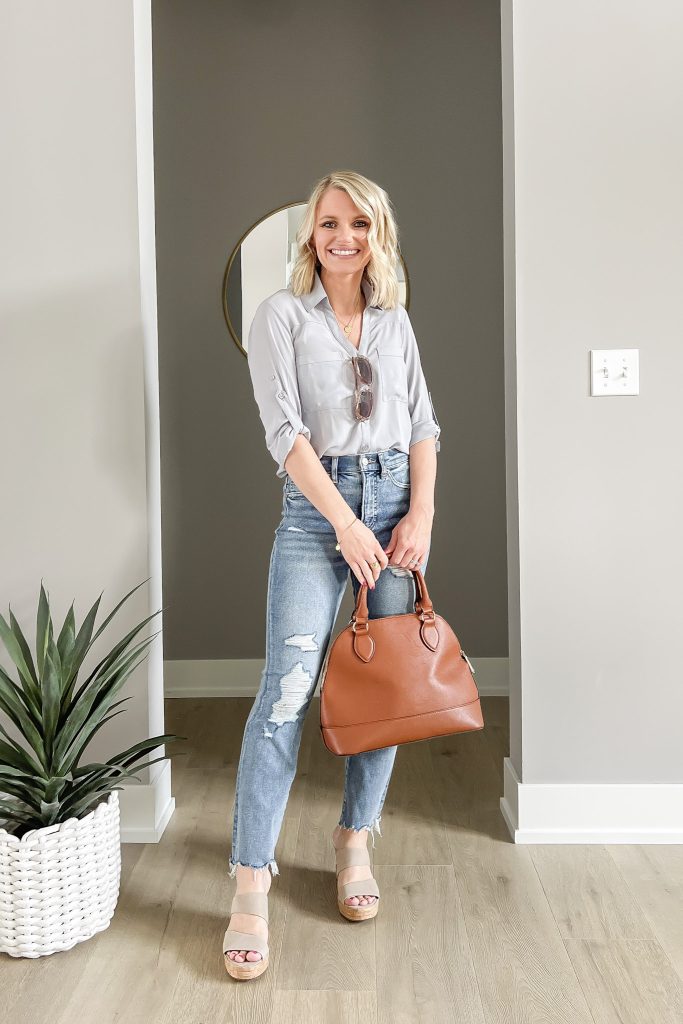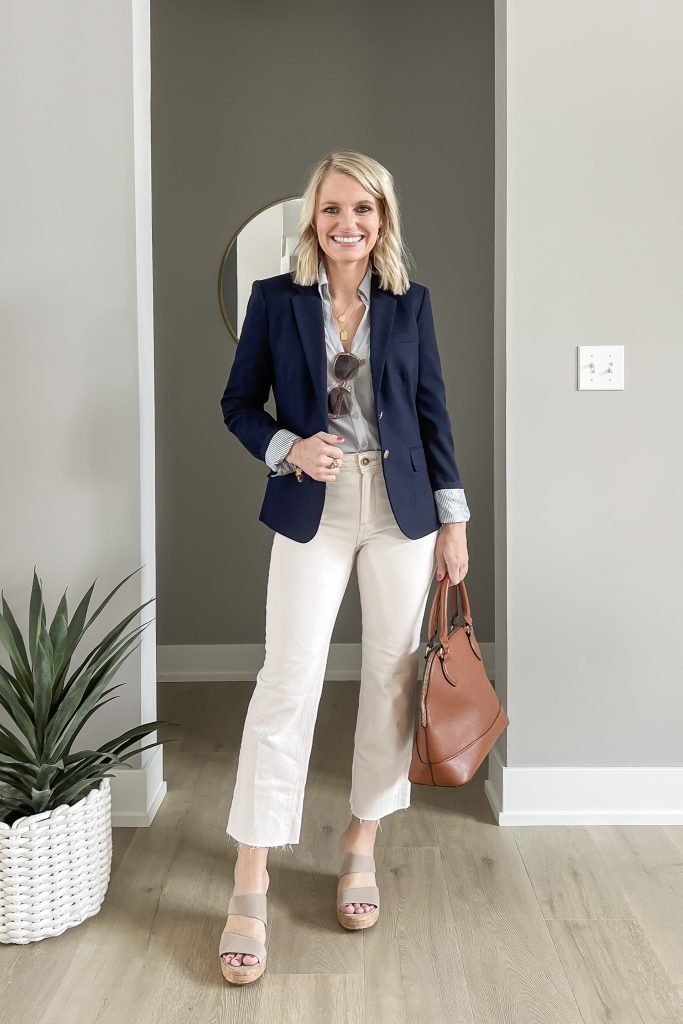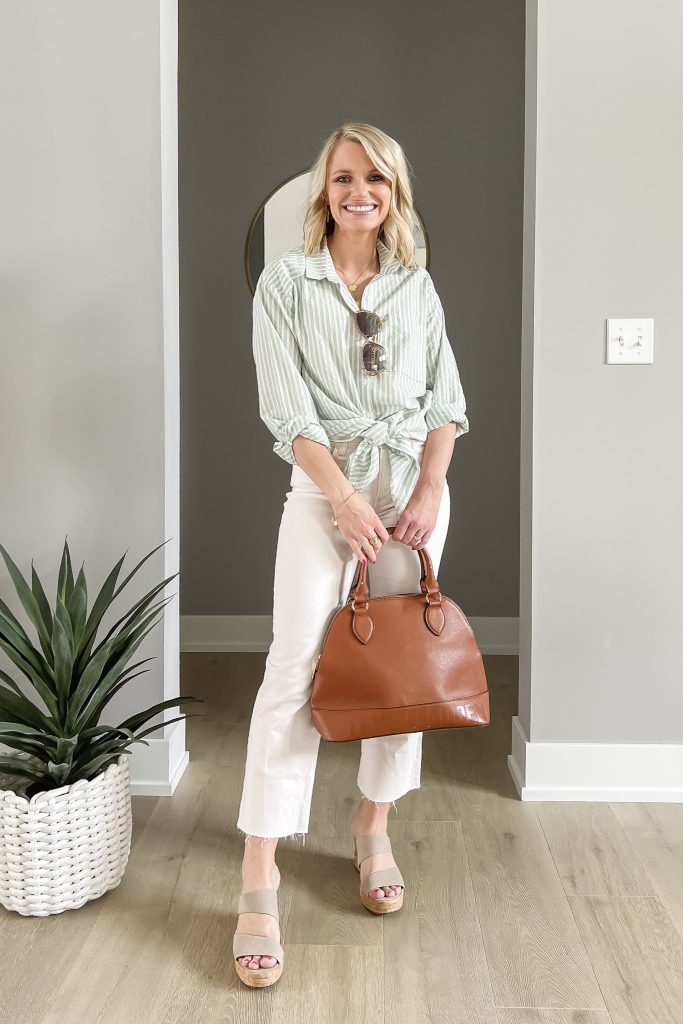 Head over to GoodwillFinds.com to see what fun treasures you can find online thrift shopping! Make sure you are following along with me on Instagram to catch my Thrifty Thursday posts!