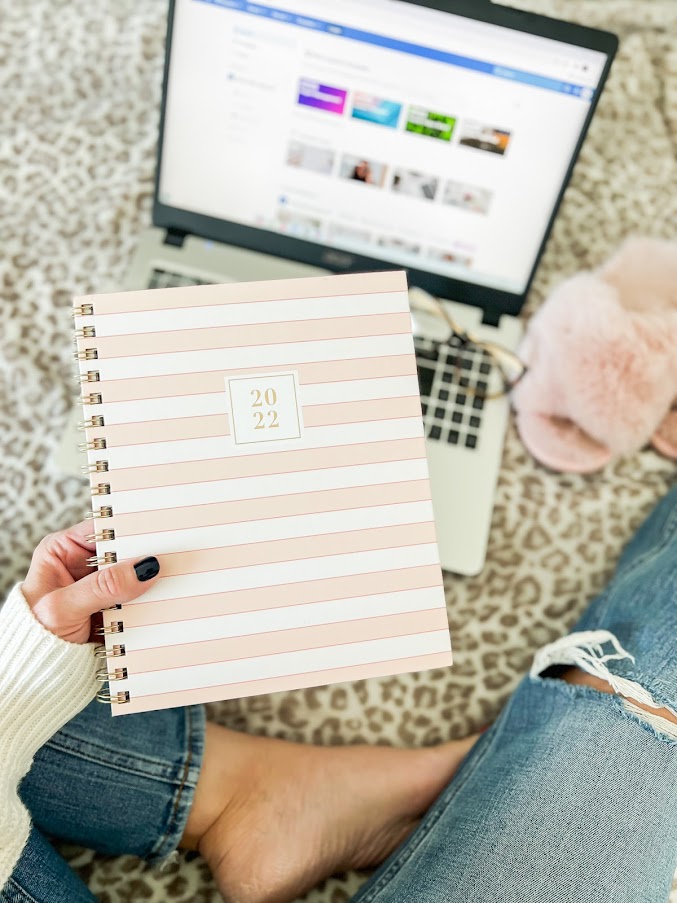 Every year I strive to be a more organized person. It's something that doesn't come naturally to me. My brain is all over the place. It's filled with ideas and thoughts and having mom brain 24/7 doesn't help me at all. When I was younger I struggled to stay organized and on task, but as I have gotten older I have learned ways to help me stay focused and be more efficient. My goal is always to work smarter not harder, yet sometimes that is much easier said than done. This is why I have created organized systems in every aspect of my life.
*This post contains affiliate links.
It's a lot balancing a household as a mom.  There are a lot of things that you need to stay on top of.  Meal planning, grocery shopping, homework, school activities, doctor's appointments… just to name a few.  On top of all my responsibilities in my personal life, I also run my own blog.  I don't have anyone else's help when it comes to blogging, so all the work I do is 100% on me.  I answer emails, pitch to brands, write blog posts, take pictures, actively post to 4 social media platforms and I know that there is more, but that's all I can think of at the moment.  It can be overwhelming at times.
Related post: Working Mom to Stay-at-Home-Mom: 10 Tips to Help You Stay Productive During Your Transition
This is why I need tools to help me stay on track. These are the organized systems that help me stay focused and plan my life out. Without these tools, I wouldn't know where to start.
Here are my favorite organizational tools that help me in both my mom-life and blog life.
Planner- I'm old fashion when it comes to using a planner. I like to put pen to paper and write out my plans. There is something about writing things out that helps me remember the task, rather than typing it out. I just bought a new planner at Target this year (HERE). I like something that is simple and to the point. I don't want something where it feels like a worksheet to fill out. I like to have a calendar, a weekly breakdown with room to write, and a spot for notes. My new planner has this and more. I also have a special Blog Planner from Pose Planners (HERE). It's perfect for planning blog posts out and also remembering to do all the things after your posts go out.
Trello- Trello is a free app used for project planning. I love this app because you can separate what you want to focus into a board, within the board, you create lists and tasks. You can move the tasks along as you accomplish them. I keep a separate board for each section of blogging (Blog posts, Instagram, Brand Collaborations). I find it a great place to get the ideas out of my head and start writing blog posts.
Google Spreadsheets- My google drive is full of spreadsheets. I keep track of my brand collaborations and track my money earned from the blog. I also use it for meal planning. A couple months ago I decided that I wanted to meal plan monthly instead of weekly. I make a spreadsheet and copy and paste the recipes right from Pinterest. This way when I go to make the meal, I pull the spreadsheet up on my phone and click on the recipe and it's all in one spot. It works great and saves me so much time when it comes to meal planning and list-making for grocery shopping.
Phone Timer- I think the timer on my phone is the most underrated organizing tool. I am someone who gets distracted easily. It can be so hard for me to stay on task. I've been using my timer when I clean, write blog posts, take pictures, get on Instagram. Anytime I am heading into a task that I think I might get distracted or veer off task, I set my timer. This way I stay mindful of my time and focus on completing one task before I move on to another one.
Reminder App-

The reminder app on my phone is so helpful because it creates a checklist. I have checklists made for the grocery store, Target, leaving the house, daily task to-do list, and pretty much any other checklist I need. I do most of my planning in my planner and then I make a to-do list for the day either in the evening before bed or when I wake up in the morning. Whenever I feel like I am getting off tasks I check my list and I am reminded what to focus on.
Those are the current most helpful tools I am using. My biggest struggle is making sure that I follow through with using my tools and that is my goal this year is to stay consistent. It doesn't matter what stage of life you are in. You could be a stay-at-home-mom, working mom, a college student, or a retiree, there are always ways to be organized to help you reach your goals!
Don't forget to pin the post for later!!