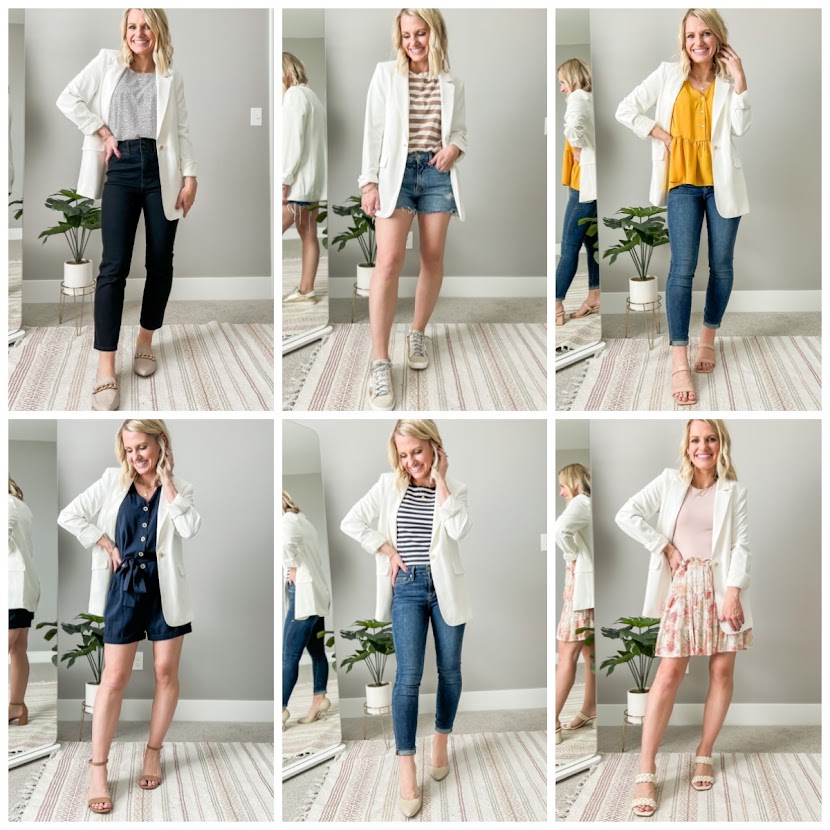 One of my favorite pieces of clothing in my wardrobe is a blazer.  I absolutely love the look of a classic blazer with an outfit.  You can wear them in so many different ways and it always looks polished and put together.  I have a few different colors and styles of blazers, but one color I have had my eye out for is a white blazer. 
*This post contains affiliate links.
A good blazer can be kind of pricy and that's why I usually thrift my blazers, but a few weeks ago I was shopping at Tanger Outlets when I walked past the H&M store and saw this white blazer hanging in the window.  I had to go take a closer look. When I saw that they had it in my size and it was only $34.99, I knew I had to get it.  Plus, I had a coupon for 20% off and I ended up paying around $27 for the blazer!  A white blazer had been on my wishlist for a very long time, so I felt really good about this purchase. 
A white blazer can be the perfect laying piece in the spring, so today I want to share 6 ways to wear it!

Black and White
You can't go wrong with black and white. I think that this is the perfect work outfit that you could wear year-round with this blazer. I love the white on top and the black on the bottom and then this black and white top helps to even out the look.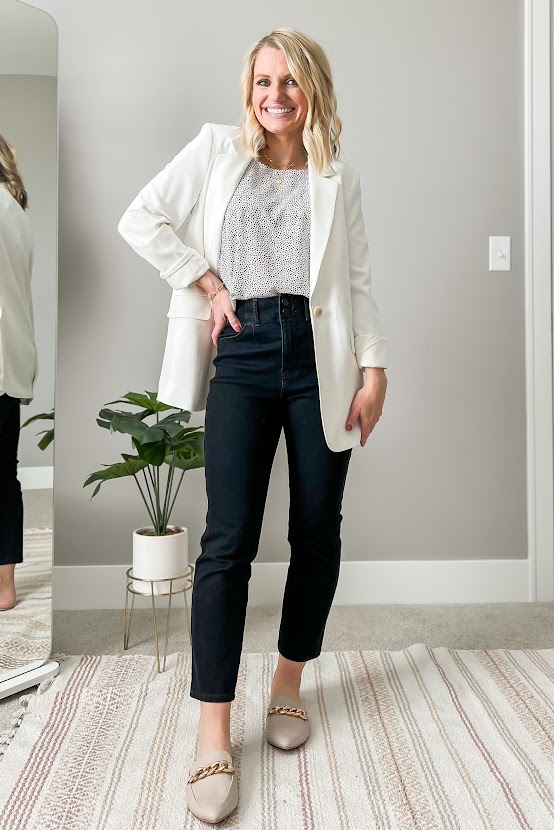 Blazer (xs, runs a little big) || Jeans (similar) || Top (similar) || Shoes (similar)
Denim Shorts
I've been wanting to try out denim shorts with a blazer, but I feel like you need the right kind of fit. This blazer works great with shorts because it's longer. I love how it dresses up such a casual look and makes it look so polished when you add the blazer.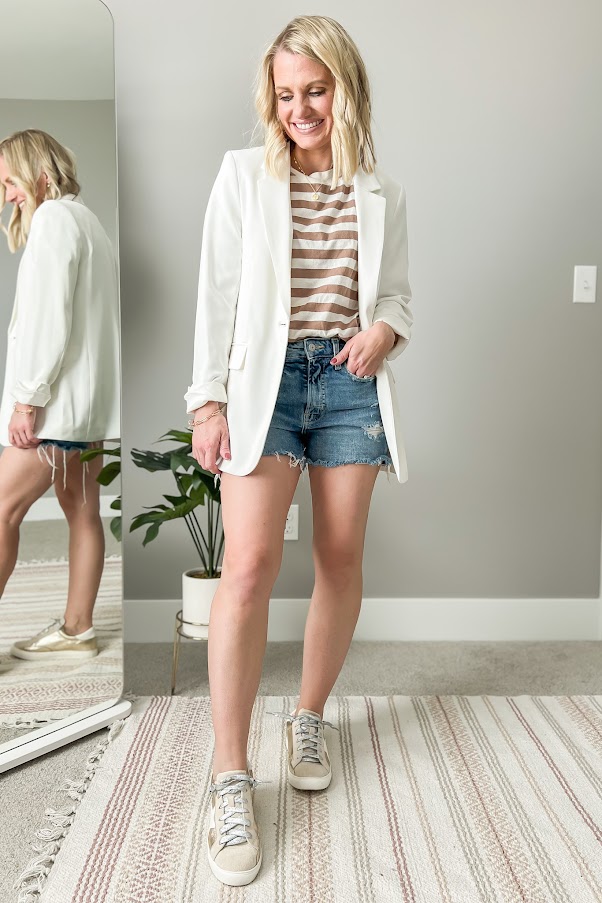 Blazer || Top (small, TTS) || Shorts (0, runs a little big) || Shoes
Pop of Color
Adding a bright pop of color to a neutral outfit is always fun. I love to wear this golden yellow color. I feel that this yellow color goes so well with the white blazer. It would also work great with other bright colors.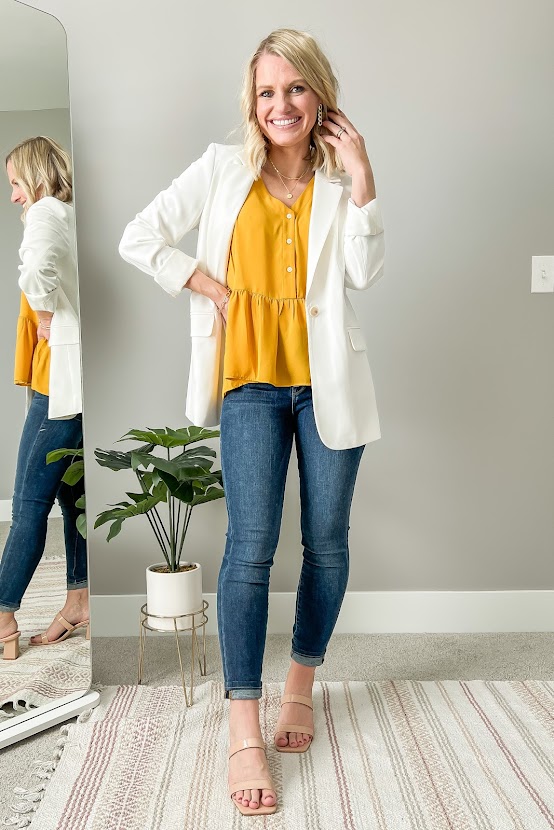 Blazer || Top (similar) || Jeans- Thrifted (similar) || Shoes (similar) || Earrings (code: KATIE10!)
Romper
I love one-piece rompers because they make getting dressed easy. When you throw on the white blazer and some block heel sandals, it elevates the look and turns it into a cute date night outfit.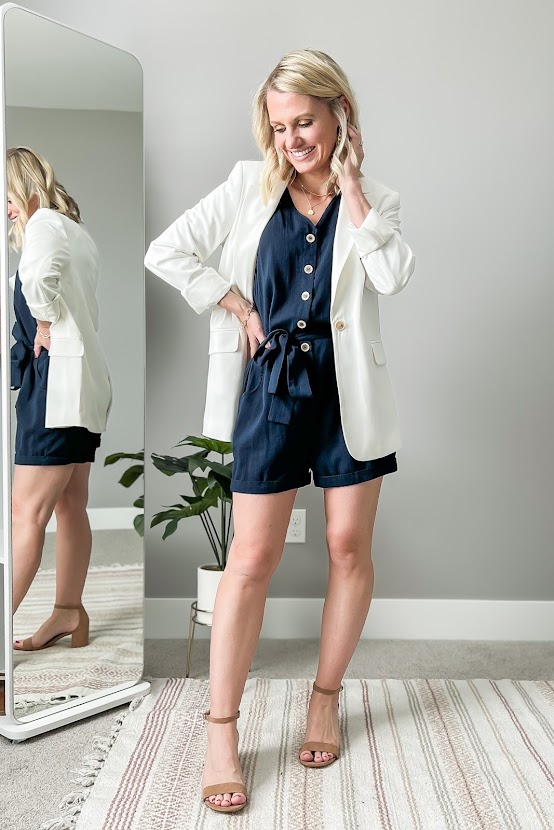 Blazer || Romper (small, runs big) || Shoes (similar)
Nautical Stripes
This outfit is a Kate Middleton-inspired look! I just love navy and white stripes, but when you pair them with a crisp white blazer they are even better!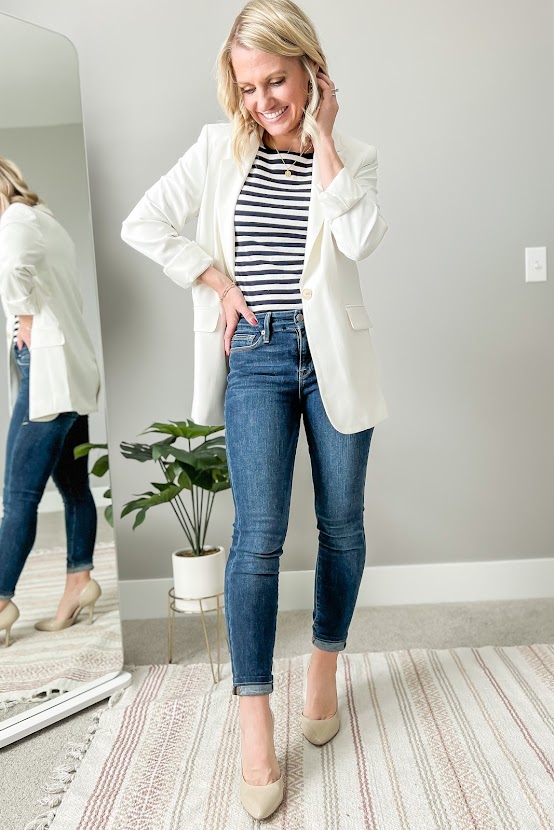 Blazer || Top (Small, TTS) || Jeans- Thrifted (similar) || Shoes- Thrifted (similar)
Floral Skirt
This would be a fun outfit to wear to a shower or Mother's Day brunch. The peasant-style tiered skirt is very casual on its own, but the blazer helps dress it up and complete the look.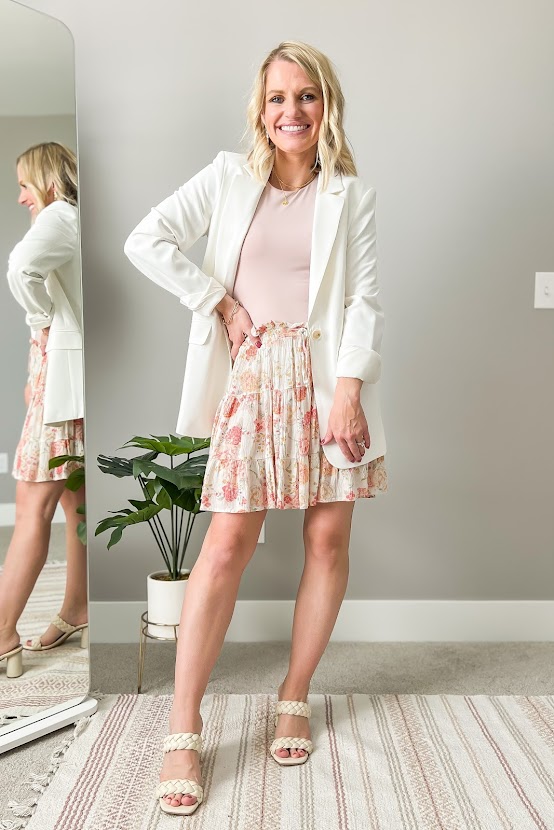 Blazer || Bodysuit (xsmall, runs big) || Skirt (similar) || Shoes (71/2, TTS)

Don't forget to pin the post!!