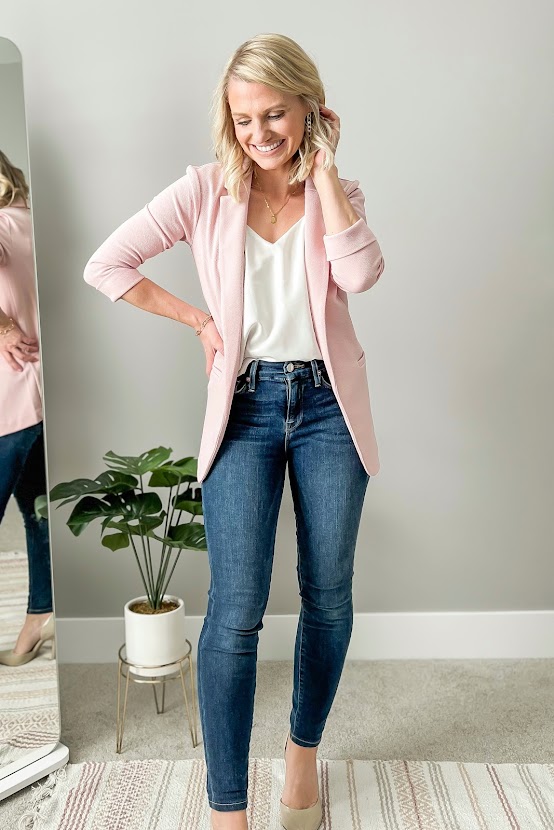 In 2021, Instagram announced that they are no longer a photo-sharing app and wants to be thought of as an entertainment-sharing app. This announcement sent many content creators through the roof. For years we have all been trying to create the perfect curated Instagram feed. But now we are supposed to be entertainers and create video content.
At first video content seemed very overwhelming to me. I am shy. I am not an entertainer and I am not overly comfortable in front of a camera. I wasn't sure how to jump on this video bandwagon. My first attempt at creating video content was through IGTV. I started sharing videos here and there. Some were style videos and some were just me talking to the camera, similar to a YouTube video. My videos were never a big hit and I wasn't really enjoying creating these videos. They were too long and just not very engaging.
In 2020, it seemed like TikTok started to explode. I didn't understand TikTok. I didn't get the trends and I wasn't about to start sharing dance videos. Then Instagram introduced reels later in 2020. Instagram is my main social media platform and I understand that the best way to share my messages and grow my following is to get on board with whatever new features that Instagram is offering. I decided to start sharing some reels in my feed shortly after the feature launched.
At first, I didn't know what I was doing, but after making a few videos I started to get comfortable with it. After hearing about other content creators' success from reels I decided to start sharing them constantly. For a long time, my reels were hit or miss. Some would do well and some would flop but I kept going. In the fall of 2021, I started sharing reels more often. I tried to incorporate at least 2 reels per week into my Instagram content. By December, I started to notice that some of my reels seemed to be picking up momentum. By January, I was getting over 10k views on my reels pretty consistently.
It's now been a few months since my reels started to pick up and I have seen a huge increase in engagement and followers. It took me over 5 years to reach 10k followers on Instagram. Now in less than a year I have more than doubled that number. I am now at over 41k followers and counting. Most of them have found me in the last couple of months. At first, I was worried that something was wrong and these were just bots following me, but when I look at the people who are hitting follow I see that they are exactly the type of audience that I want to attract. Almost everyone that I have talked to said that they found me through my reels.
I know how hard it can be to grow on Instagram and I also know that not everyone is seeing the same kind of success from reels. A lot of people are feeling frustrated by the video content and don't want to try it. That's why today I want to take a moment to share some tips that I have used over the last year that have helped me be successful with Instagram reels. Remember that I am not an expert and I am still learning as I go, but these are some things that I have done that have really helped me perfect my skills with making video content for Instagram reels.
1.) Know your niche
It's so important to know what people who follow you want to see. Last year I tried out a bit of mom humor reels. I thought it would be fun, but they kind of flopped. I love talking about motherhood and laughing about the funny things that happen through motherhood, but I think my followers prefer to see me share fashion. That's why now I mostly share style reels that are geared towards moms.
2.) Edit your videos from a separate editing app.
Do not use the Instagram app to create your reels! Instead, find a separate app where you can upload the videos from your phone to the app. There are a few different editing apps out there but I use Inshot. I like its features and I find it to be very user-friendly!
There are a couple of reasons why you should do this. The first reason is that the Instagram app isn't very user-friendly. If you have ever tried to use the app to save your drafts and the app crashes or you sign out you can lose your videos. Another reason why you should use a separate editing app is so that you can repurpose your videos. You can edit your reels and save a blank video without the sound or text and then use that video on Instagram, Pinterest, TikTok and anywhere else you use videos. Also if you work with brands they will often ask you to send them a video without sound and text.
3.) Find your comfort zone
Like I said when I first saw these short videos I just didn't feel comfortable with them. But I figured out my comfort zone when it comes to filming these videos. For me, I am comfortable sharing outfits, so that's what I stick to. I'm working on getting better at talking in videos, but I haven't done a lot of those.
4.) Don't worry about the trends
I think sometimes everyone overthinks the trends they see on Instagram reels. There are so many voiceovers and dances you can do to the music, but once you see one of those videos you have seen them all. I will say that if you are going to try a trend make sure that it relates to your content and your message. I've tried a couple of voiceovers or trends just for fun and I just try to make sure that it's relatable to what I am sharing.
5.) Create content with a purpose
The intent of Instagram reels is either to educate, inspire or entertain. I try to create reels with a purpose. Most of my reels are to inspire people through the outfits that I share. I also like to educate when I can by sharing thrifting tips or shopping tips. Whenever I share a video, I make sure that it has a purpose behind it.
6.) Keep your videos quick and to the point
One thing I didn't like about those IGTV videos was that they had to be a minute long. I felt a minute was too long for someone to watch a style video. I like to keep my style reel videos between 20-and 40 seconds. I don't want them to be too long or too short. I want to get to the point quickly so people can continue scrolling along.
If you are making style videos, I also think that they look better when you speed them up. When I edit my videos I typically speed them up x2. I do this for a few reasons. One, it allows me to share more in less time. Two, it helps transitions look cleaner. And Three, it makes helps make me feel less awkward.
7.) Post consistently
You need to post constantly. I noticed that I saw a big jump in views when I was posting at least 2 reels per week. I'm now sharing more reels over images, but I will say that I don't feel the need to post on my feed as often as I did when I was only posting photos. If you only post 2 reels per week and that's it, that's fine, but if you post 5 reels one week, then skip a week and post another the next week people won't know what to expect, and the same with the Instagram algorithm.
8.) Repurpose your reels and share them on other platforms
Instagram is not the only place where I have seen a lot of success from short-video content. I have also grown my TikTok following and my Pinterest following all from resharing my reels to these platforms.
I try to make it a little different for each platform that I share to. Instagram has a large library of music to choose from, so I like to pick popular songs to add to my videos. On TikTok, I feel that it's more about the audio. I don't always like doing a voiceover, so most of the time I do the text-speak (robot voice) to describe my video. On Pinterest, it's much more visual, so I sometimes leave the sound out completely and just post the video with a little bit of text. This saves me so much time when planning out my content for other platforms. It's also helped me gain followers on Instagram because people who follow me on other platforms will often follow me on Instagram as well.
9.) Don't overthink it
I think that reels sometimes seem overwhelming because people overthink them. A reel doesn't need to look like it was professionally filmed. It doesn't need to have all sorts of special effects. You also don't need to come up with new concepts all the time. One of my best-performing reels was a snow day outfit I shared. It was about 10 seconds and I filmed it as I was getting ready to go shovel the driveway. It has over 100k views and I really did nothing special to create it. I also sometimes go through my camera roll and pull photos I've posted and turn them into a slide show. You don't need to recreate the reel (lol, get it?)
10. )Don't give up! Keep posting!
I know how it can be so discouraging when the content that you work so hard on doesn't do well, but don't give up. Keep posting and keep learning. Remember that you don't always have control of your success when it comes to Instagram. All you can do is create the best content that you can and post it. Keep note of what does well and try to lean in that direction!
I hope my tips were helpful and you start creating the best reels on Instagram! I know that I am still learning every day about what is working for me and what's not. All I can say is to stay in your own lane and don't get distracted by what others are doing. Once you learn what works for you, success will come! Good luck on your Instagram journey!!