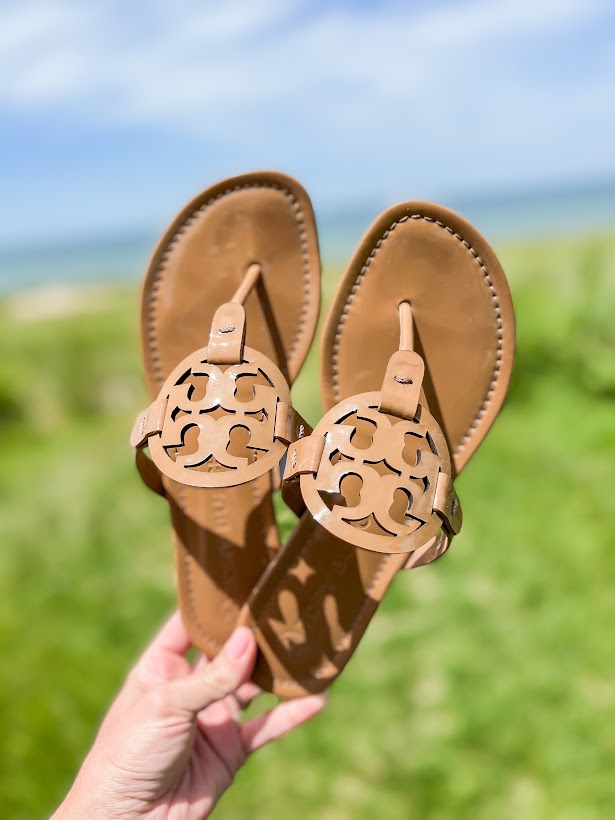 Last month I shared a post on my Tory Burch sandals called The Most Versatile Summer Sandals. As promised, I wanted to follow up on my post to give an honest review of my real Tory Burch sandals compared to my fake Tory Burch Sandals.
*This post contains affiliate links.
I don't typically share items that are over $100, but when I had the opportunity to do a gifting sample with Tory Burch this summer I was excited. These sandals have been on my splurge wish list for years, but I could never bring myself to spend the money on them. That's why I ended up settling for 2 less expensive look-a-like sandals instead. Today I want to go through and review each one of my sandals and see how they compare to the real Tory Burch sandals.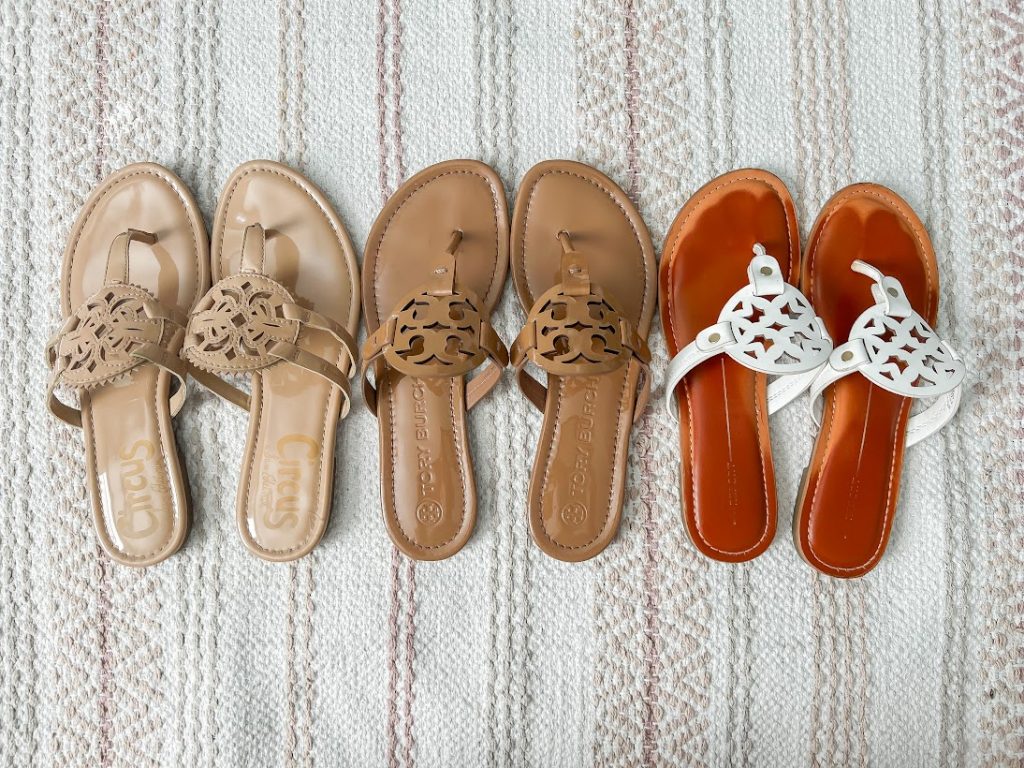 I have been wearing my Tory Burch Miller sandals so much this summer. They are my go-to shoe. The one thing that I noticed about these sandals compared to my others was the quality. They are very well made. The structure of the sandal holds up well. I wanted to make sure that these sandals would hold up in style year after year, so I went with the classic miller style in the color tan. Tan is a color that goes with everything. I also chose the patent leather sandal over the leather. I feel that the patent leather holds up better against the elements.
For me, it doesn't matter how cute and versatile a shoe is. The real question is are they comfortable? I find my Tory Burch sandals to be extremely comfortable. I haven't experienced any discomfort or blisters while wearing them. With that said, I did size up from a 71/2 to an 8. I read in the reviews that these sandals run small. Personally, I could have just stuck with a 71/2 since that is usually my bigger size, but I don't regret going up a size.
The only thing that could make these sandals feel uncomfortable, besides running small would be that the sole of the sandal is a bit narrow. If you have a wider foot, you might find these sandals to be uncomfortable. The good thing is that Tory Burch does have the Tory Burch Miller Cloud sandal and the Tory Burch Miller Soft sandal. Both those sandals have a wider and thicker sole. I haven't personally tried them out, so I cannot speak to their comfort, but I did read the reviews and heard good things!
I bought the Report Genie sandals 2 years ago and since then they have been discontinued, but I still wanted to talk about them in case you ever come across them. I also found a similar sandal to link to (HERE). The pros of this sandal are that they are of great quality. The emblem on the report sandals is almost exact to the Tory Burch symbol and they are easily mistaken for the real thing. They are also just as comfortable and versatile as the Tory Burch sandals.
The biggest con for me with these sandals is that they were only available in leather. This was the reason why I chose the patent leather with the Tory Burch sandals. Leather just doesn't hold up as well with water or just getting dirty. As you can see from the pictures, my pair of sandals have a foot mark on them from wearing them. Obviously, this has never been an issue while the sandal is on, but it is noticeable when they are off. I also know that there are ways you can clean leather sandals, but I have not done that yet.
I also bought the Circus by Sam Edelman sandals 2 years ago, shortly after I bought my other pair. One day I was at Walmart in their shoe section and I saw this pair of sandals sitting on the shelf and the tag said $8. I knew they were not an $8 pair of sandals and sold between $49.99 and $29.99 on the website, but sometimes when people make online returns at the store, prices get messed up. I guess I got lucky because I bought them and they have been my favorite pair of sandals for the last couple of summers.
These sandals are probably my favorite fake Tory Burch sandals that I own. They look very similar to the real Tory Burch Miller sandals. The only difference is the emblem is a little different and instead of 1 strap on each side of the foot, there are 2.
There is a slight difference in quality compared to the Tory Burch sandals. They don't feel as structured, however, I've had these sandals for over 2 years and they have held up very well over time. I have them in the color almond with patent leather. They are a very cute style of sandal and also get mistaken as the real Tory Burch sandal all the time.
If you already own the real Tory Burch sandals I would recommend this pair as a backup pair. I don't like to wear my expensive sandals to the beach or the park, so I usually bring this pair with me as my backup. They have the same cute style, but I worry less about them getting messy.
Are the Real Tory Burch Sandals Worth Buying?
In conclusion, I will be honest, I like my Tory Burch sandals the best. However, I do not think you need to splurge on these sandals if they are not in your budget. There are plenty of quality sandals out there that you can buy for a cheaper price that will give you the same look and style of the Tory Burch brand. You shouldn't buy the designer brand if you are only buying it as a status symbol. Buy them because they will add value to your wardrobe and you will wear them all the time.
Here are a few other options out there if you are looking to get the look for less!