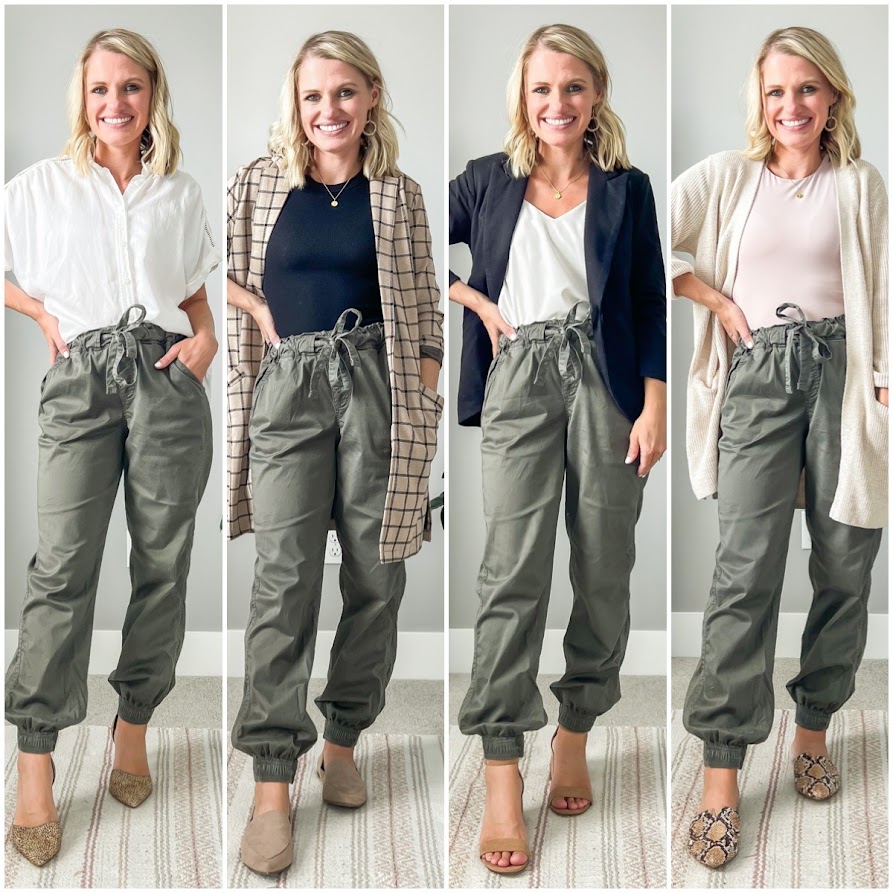 I recently polled my Instagram followers on what kind of clothing pieces they would like to see styled and I had a lot of requests to see how to wear joggers as workwear.  It didn't surprise me because last year I did a post on how to style dressy joggers and it was one of my more popular posts. I mean I get it because who doesn't want to be comfortable in a work setting, but still, feel and look professional?
*This post contains affiliate links.
I recently found this cute pair of joggers at Target.  I really love the color. They are the perfect pair of joggers to wear casually, but you can also dress them up and wear them as workwear. I always feel that having versatile items in your closet that work for more than one lifestyle need adds so much value to your wardrobe.
How to Wear Joggers as Workwear
The key to wearing joggers as workwear is to start by finding the right fit of joggers.  I always tell people to size down on joggers. It doesn't matter if you are buying a casual pair of joggers or a dressy pair. If your joggers are too baggy, your outfit won't look polished. 
The next step is to pair your joggers with a business casual style of top.  Anything that you would typically wear with your work dress pants will do.  I like to wear a button-down blouse or a sweater.  I also love to layer.  A cardigan or blazer is always a great option for laying workwear. 
The last step is to make sure that your outfit is complete and balanced. Make sure that your waist is defined by tucking in your shirt. For shoes, you can wear any shoe that is workwear appropriate. I like to wear shoes that elongate my legs, so any shoe with a pointed toe or some height will make a big difference.
4 Outfit Ideas with Joggers as Workwear
*Sizing details- I'm 5'1 and 115 lbs. I am wearing an xsmall in the joggers.
Button Down Shirt + Jogger + Leopard Heels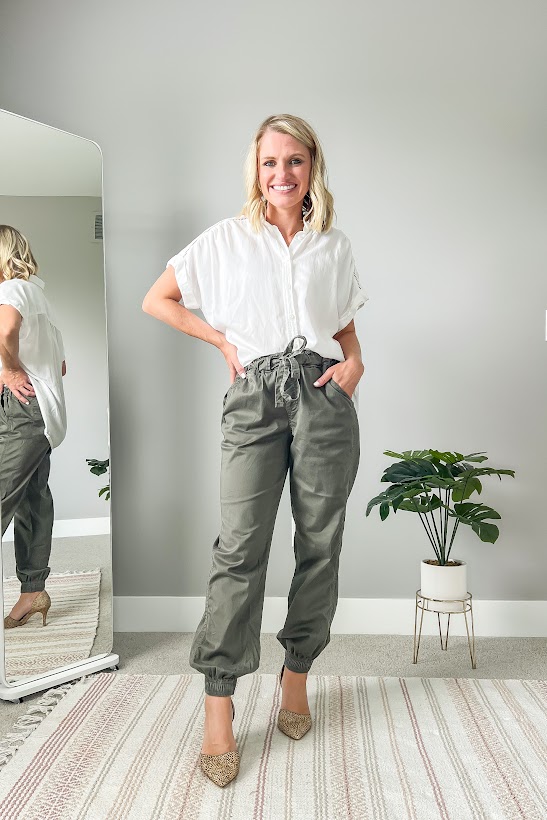 Blouse || Joggers || Heels- thrifted from Poshmark, Brand J.Crew (similar)
Cardigan Blazer + Joggers + Loafers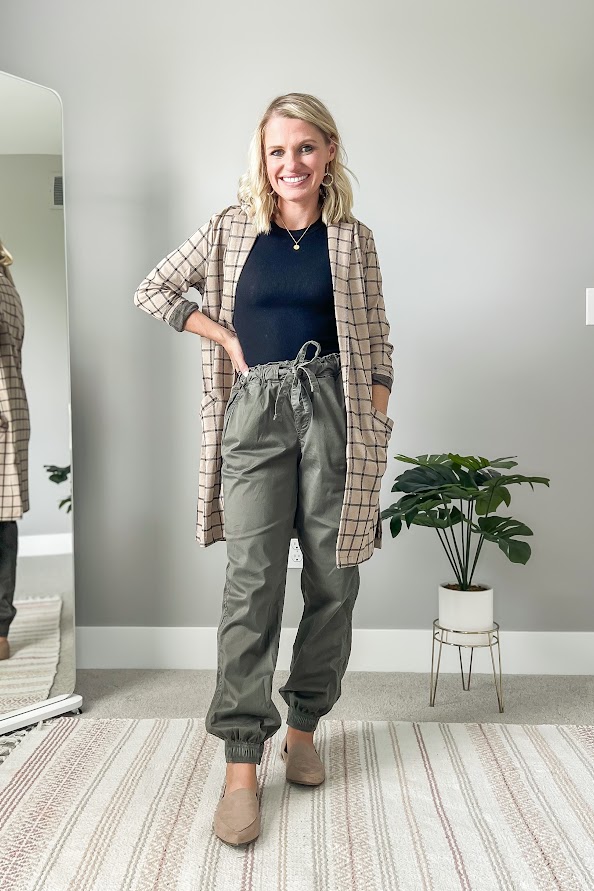 Tank Top || Cardigan Blazer || Joggers || Loafers (similar)
Black blazer + Joggers + Block heel sandals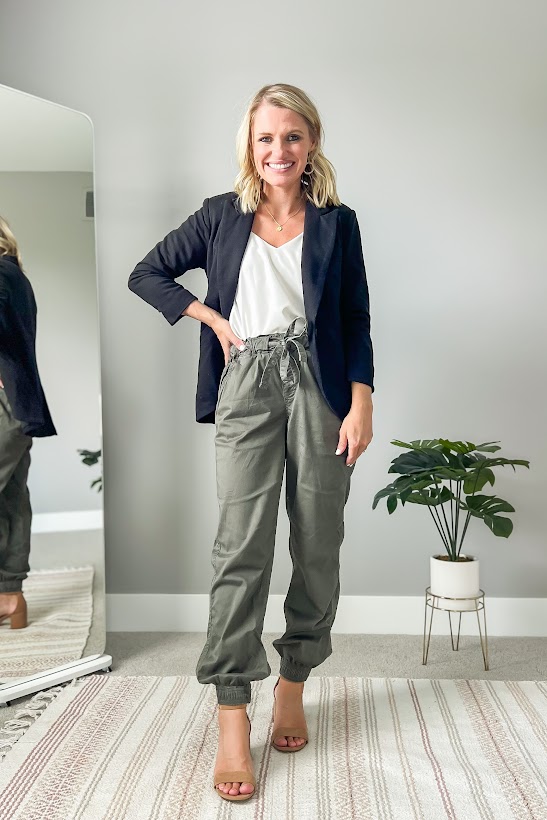 Cami || Blazer- thrifted from Thredup, Brand unknown (similar) || Joggers || Shoes
Cardigan + Bodysuit + Joggers + Snakeskin Mules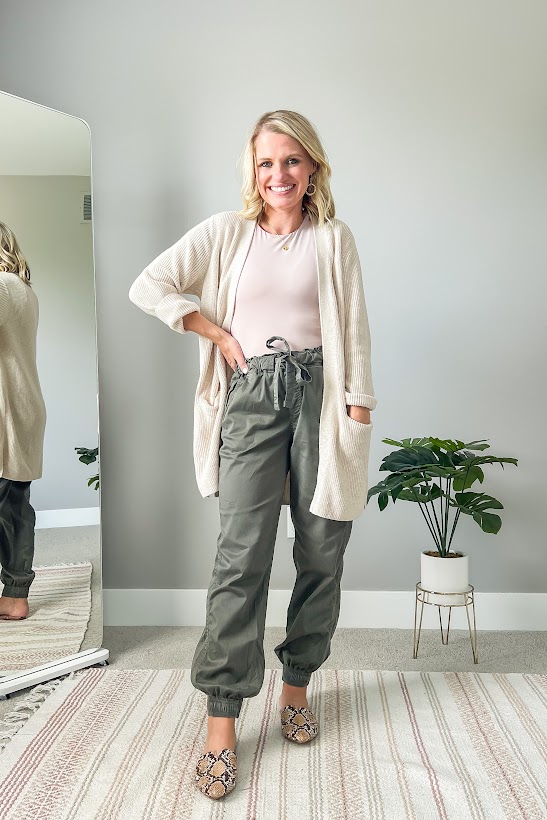 Bodysuit || Cardigan || Joggers || Mules- thrifted from Poshmark, brand Steve Madden (similar)