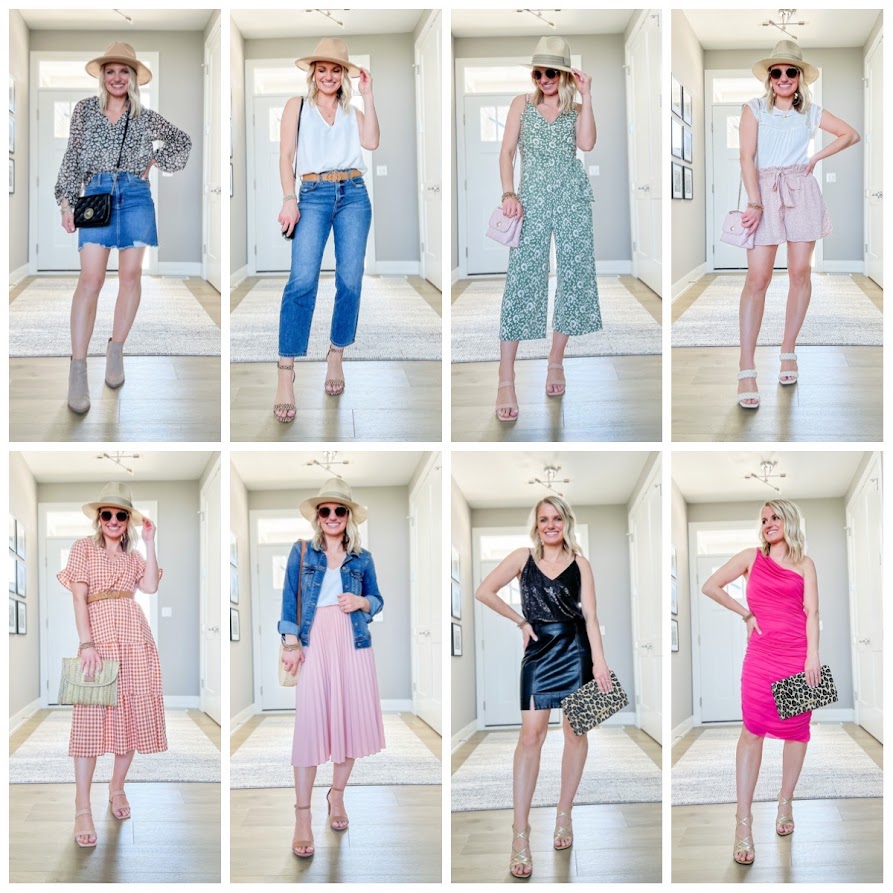 Does anyone have a girls trip planned this summer? My friends and I have been throwing the idea around to plan a weekend getaway, but we don't have anything nailed down yet. I thought it would be fun to start planning out some girls trip outfit ideas. That's why today I wanted to share some cute weekend getaway outfits to wear in different popular girls trip destinations of the country.
*This post contains affiliate links.
One thing that I am guilty of any time a vacation comes up is feeling the need to go shopping for new outfits. Traveling can be expensive enough. That's why I always try to fight the urge to buy new clothes for a trip and look inside my closet first. I often find that I have a lot of clothes that I don't get to wear a lot in my daily mom outfits. Vacations are the perfect opportunity for me to pull those pieces out and have some fun.
For today's looks, I did my best to create some girls trip outfit ideas with some of the clothes that I already have in my closet.
Girls Trip Outfit Ideas
Nashville
Nashville is currently the number one girls trip destination in the country! I have never been, but it's at the top of my list of cities to visit with friends. When it comes to putting together a Nashville outfit I immediately think of country music. There are a lot of ways that you can bring that country music vibe into your outfit without needing to buy a ton of new clothes. I would look in your closet for boots, hats, denim, ruffles, or anything that sparkles.
Cowboy boots are a popular item to wear in Nashville, but if you're like me you may not own a pair of cowboy boots. Nor would you get much use out of cowboy boots in your wardrobe. This is why I like the idea of styling a pair of booties that I already own. Pairing them with a denim skirt and hat gives it a country vibe without needing to invest in a new pair of cowboy boots that might only be worn once.
I also don't think there is anything wrong with skipping the boots in Nashville and just going with a basic going-out outfit. For me, I always feel the most comfortable in a pair of cute jeans with a fun top and some heels. Adding a hat and belt will give the outfit that Nashville look, without needing to get out of your comfort zone.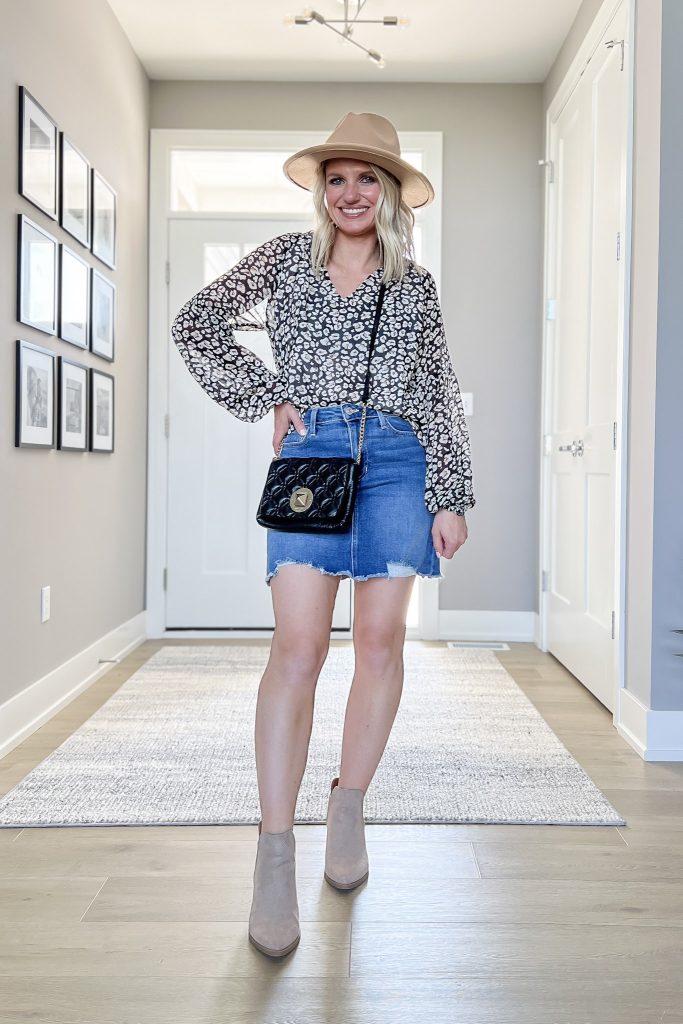 Top || Skirt (similar, similar) || Booties (similar) || Hat || Purse (similar)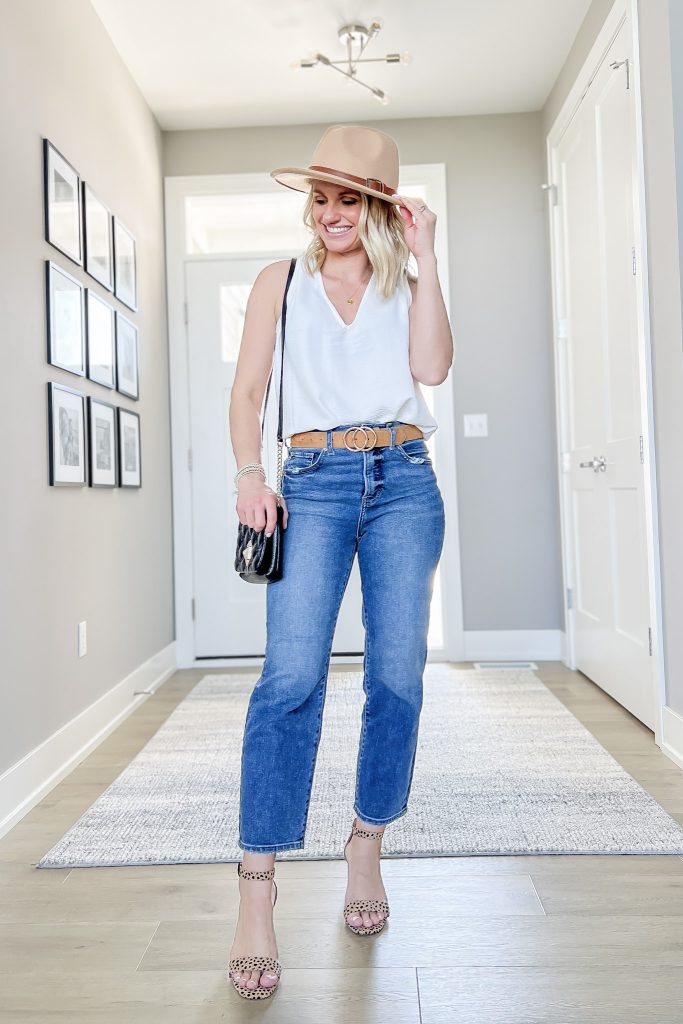 Bodysuit (Code: THRIFTYWIFE10) || Jeans || Belt || Shoes (similar) || Hat || Purse (similar)
Charleston
I went to Charleston once on a family trip in high school and loved it! I think it would be a fun town to visit with a group of girl friends. When I think of Charleston, I think of the Southern styles, with pretty florals and pastel colors. I also remember that summer can be pretty hot and humid in South Carolina, so keeping cool and staying cute is key.
I think a jumpsuit would be perfect for packing on a trip to Charleston. They are easy to pack and so versatile that's why I wanted to style my Kaileigh Rica Knit Crop Jumpsuit from Stitch Fix FreeStyle. I also thought that these Amazon shorts would be a fun option to wear in Charleston. You could easily layer these outfits if needed, but they would be perfect for a summer girls trip.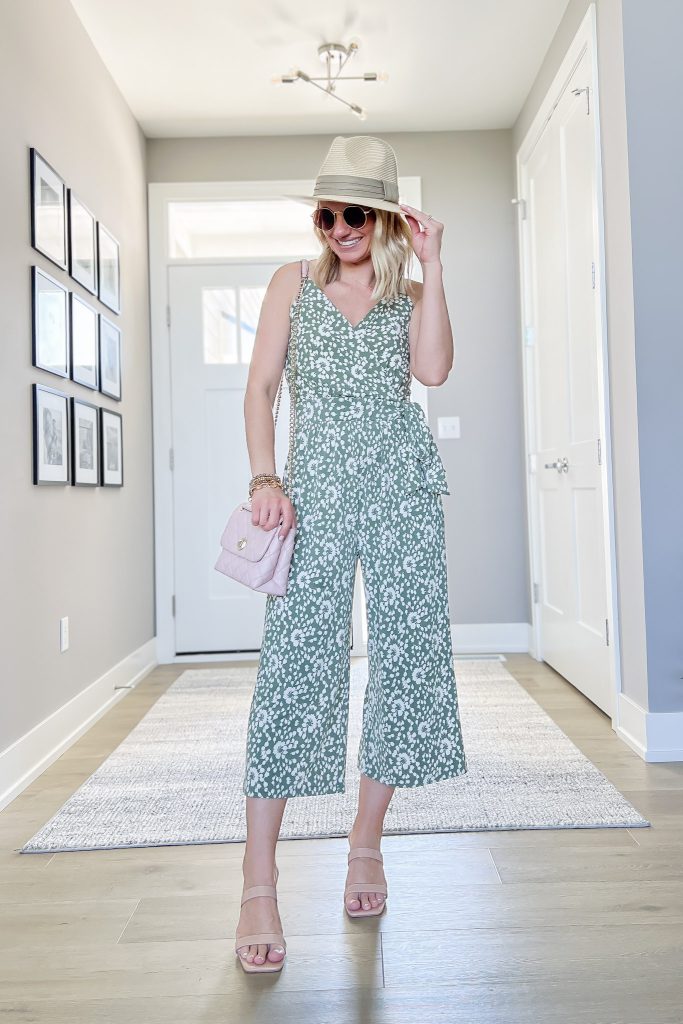 Jumpsuit || Shoes (similar) || Hat || Sunglasses (Code: THRIFTYWIFEKH) || Purse (similar)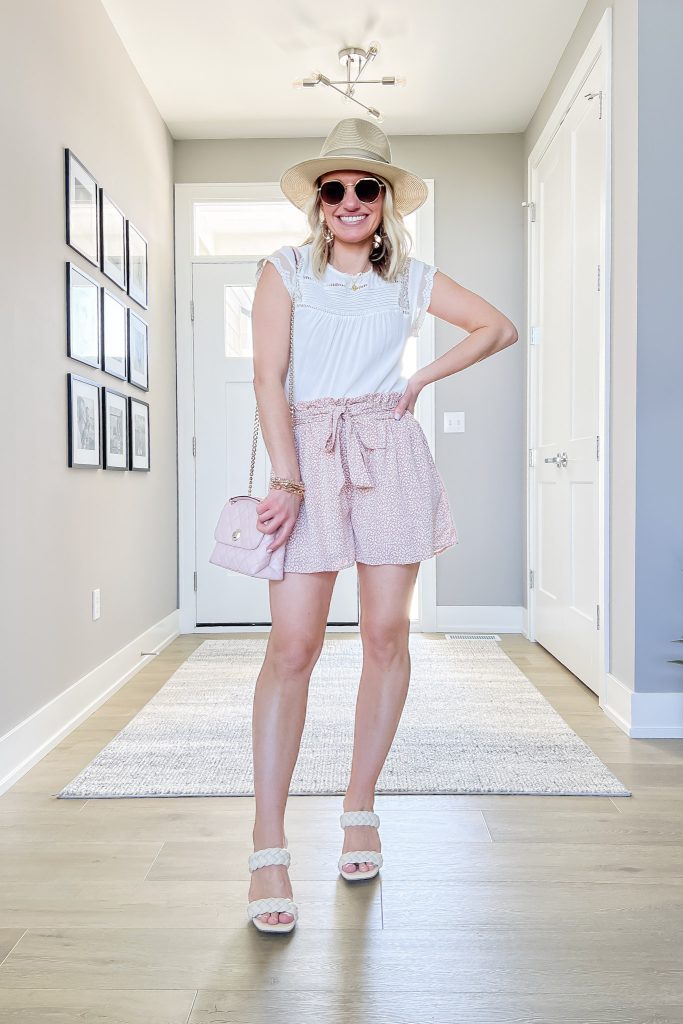 Blouse (similar) || Shorts || Hat || Shoes || Sunglasses (Code: THRIFTYWIFEKH) || Purse (similar)
Napa Valley
I love to idea of a girl's trip to wine country! The last time I was in Napa Valley, I wasn't old enough to drink wine, so I would love to go with a group of friends. They call the dress code in Napa- wine country casual. This just means dress nice but keep it casual. This is why I would opt for some midi dress or skirt options. Layering is important in wine country, so I would opt for a denim jacket.
When it comes to accessorizing, I would want to make sure that I had a hat and sunglasses for when outside. For shoes, I would most likely go for flats, but if you want to wear heels I would go for a lower heel. Something with a block heel or wedge would work best for comfort.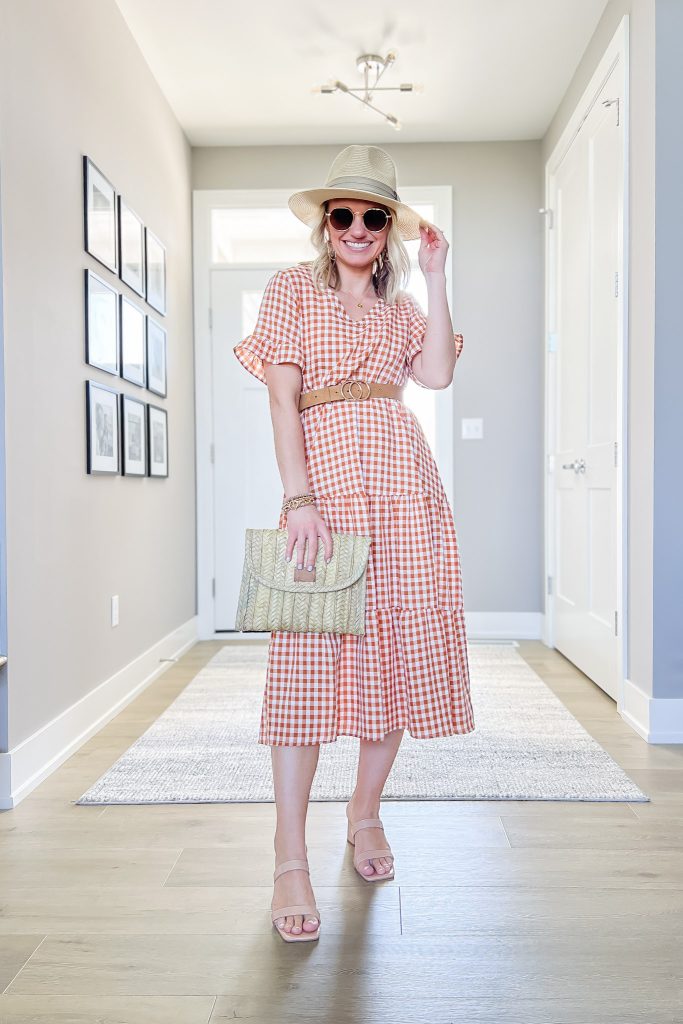 Dress (similar) || Belt || Shoes (similar) || Hat || Purse || Sunglasses (Code: THRIFTYWIFEKH)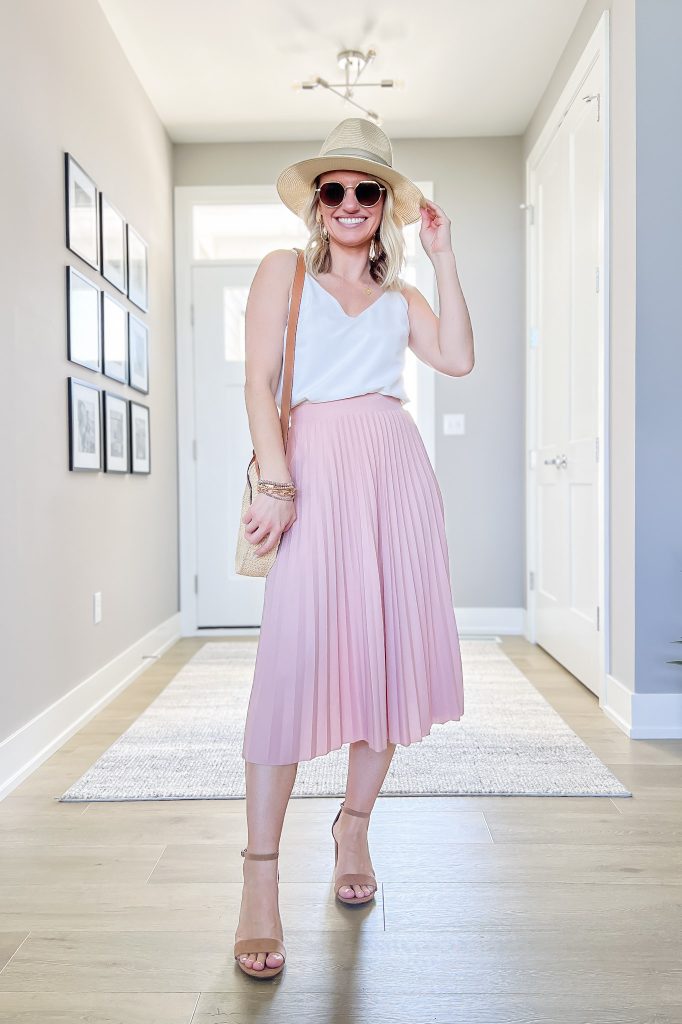 Top || Skirt || Jacket || Shoes (similar) || Purse (similar) || Hat || Sunglasses (Code: THRIFTYWIFEKH)
Las Vegas
Vegas is a town I know well! As many of you already know, I lived in Las Vegas. Whenever I was out and about on the strip, I always took note of what other people were wearing on their Vegas vacations. What I learned was that anything goes in Las Vegas. You can get as dressed up or as dressed down as you would like.
If I was going on a girls trip to Las Vegas, I would want to have fun with what I was wearing. You really can't go wrong with sequins in Las Vegas. That's why I wanted to put together an outfit with my black sequin tank top. I also thought this hot pink dress would be perfect in Las Vegas.
For accessories, I really love my thrifted leopard clutch. I brought it on my last trip to Las Vegas! (Read my post: What I Wore in Las Vegas to see all my outfits from that trip.) You also can't go wrong with a fun pair of gold heels. This pair of heels is an old pair I bought in college. I love pulling them out for fun occasions like this one.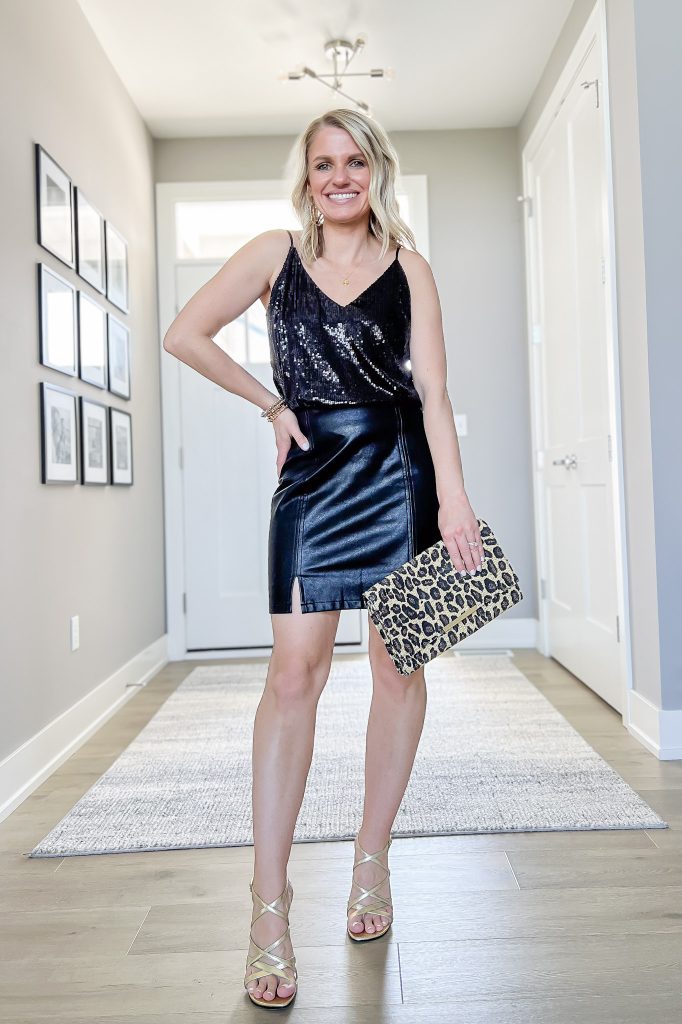 Top (similar, similar) || Skirt || Shoes (similar, similar) || Purse (similar)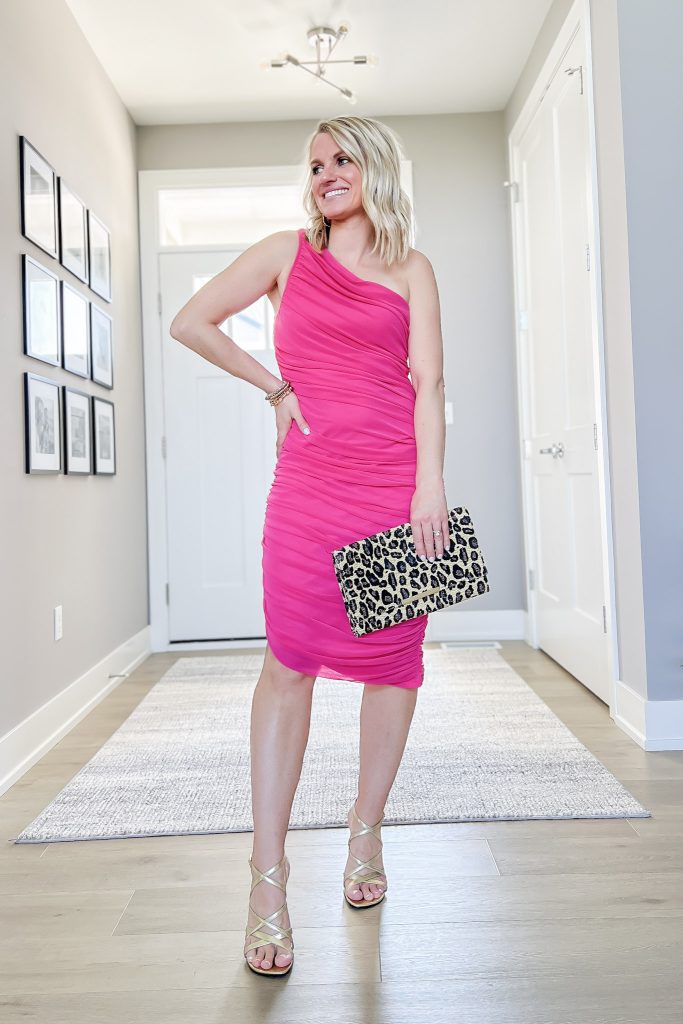 Dress || Shoes (similar, similar) || Purse (similar)