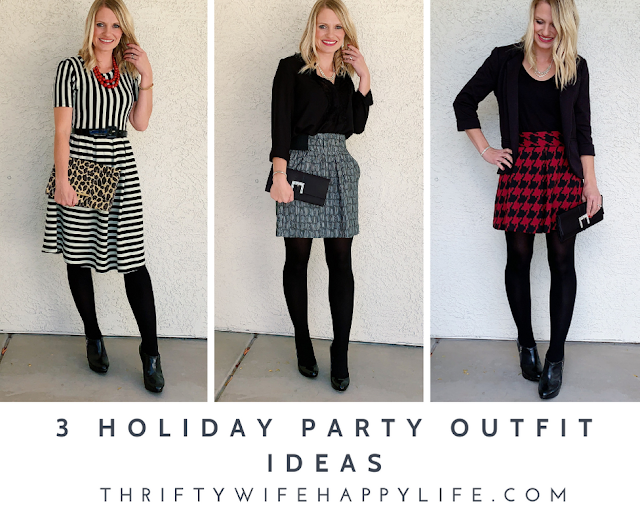 I just love a good holiday party. It's the perfect excuse to get dressed up and out of the house for an evening. Every year, my husband's company throws a pretty good party here in Vegas. In the last couple of years, we had to miss the party, because of Jack and no baby sitter. This year we are taking up my brother and sister-in-law on some babysitting so we can attend and I'm so excited to have a night out with just Kevin and me.
When we first decided to go to this event, my first thought was that I needed to go shopping to find a cute new outfit for the party, but then I remembered that I have tons of clothes in my closet that I never get to wear, because well… I work full time, I'm a mom and I have no life. I might as well let some of my nicer clothes get a night out too. Why spend money when I don't need to? I decided to put together a blog post to share my options, so here at 3 outfit ideas for holiday parties this season.
(I have tried my best to link similar affordable options under each look, but since my clothes are either really old, thrifted or hard to find, nothing is exact. Feel free to leave me a message or email if you have any questions!)
*This post contains affiliate links, which means by clicking on and/or making a purchase through a link, I will earn a commission for this blog. Thank you for your support!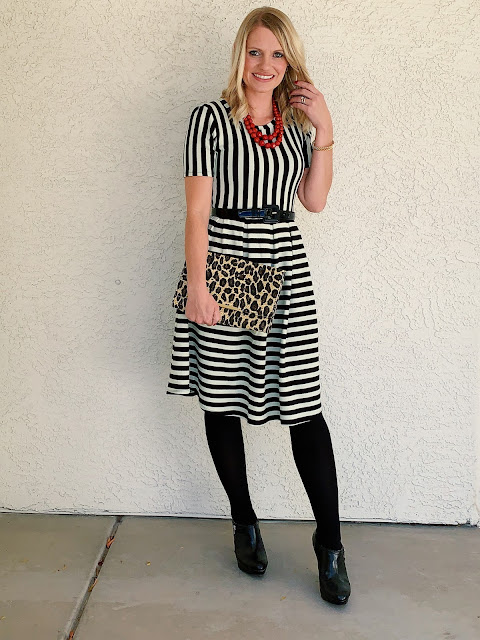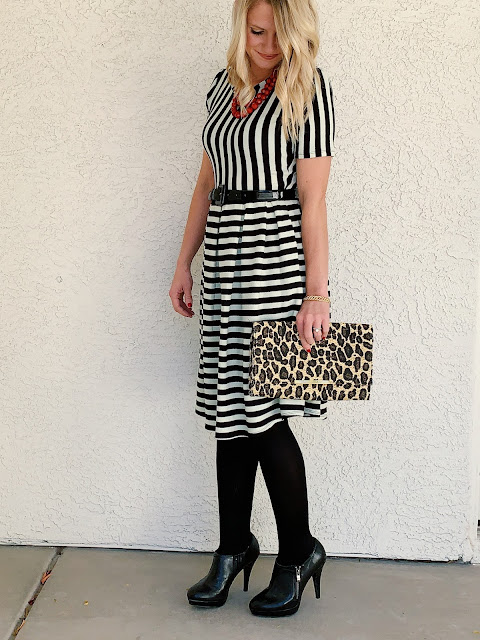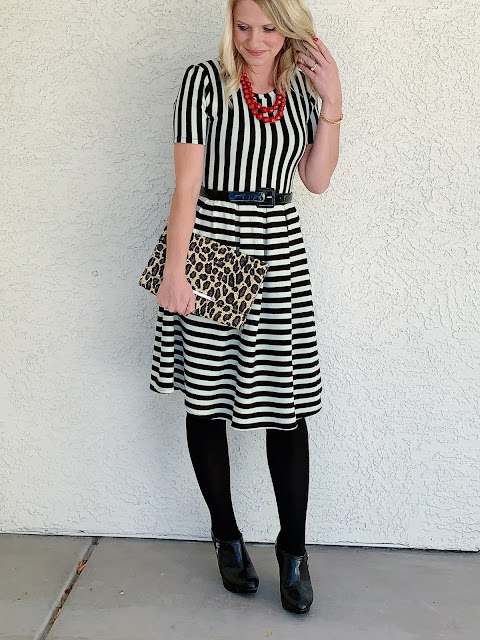 Outfit #1- Striped dress with red and leopard accessories
This striped dress is the LuLaRoe dress that I shared last month in a post (Post
HERE
). Stripes are always easy to accessorize. I always hold on to my red necklace to use as a holiday accessory. I also like mixing it up with the leopard clutch. For shoes, I stuck to a black bootie with a heal, because they are more comfortable for walking in. You will also notice that I have black tights on in all these looks. I just love black tights under a skirt in the winter. I love how they suck everything in and make your legs look flawless.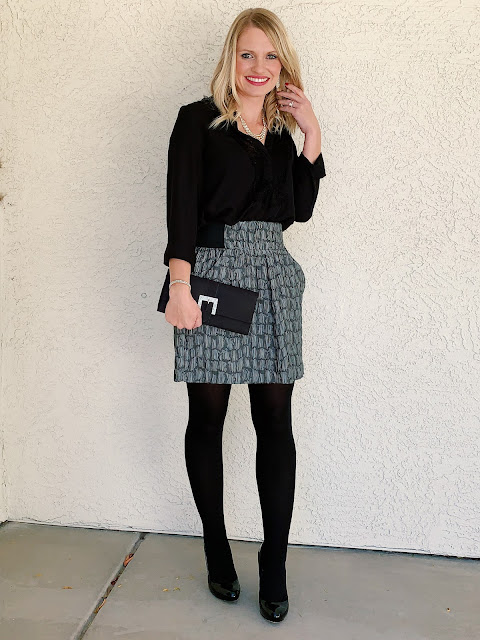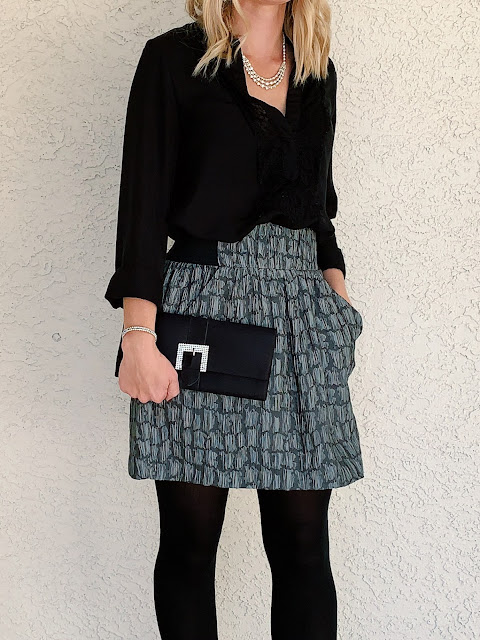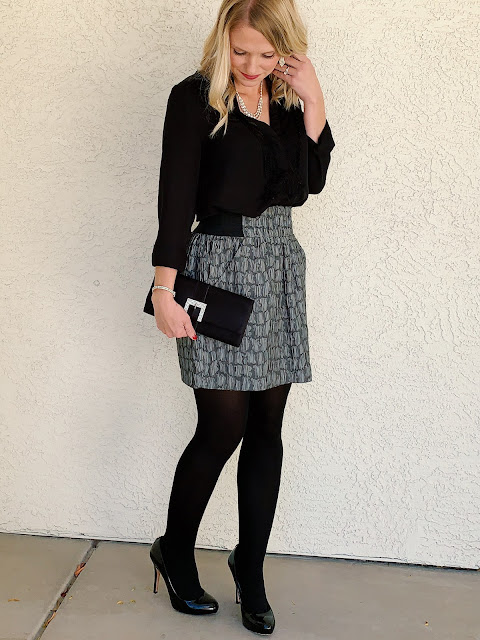 Outfit #2- Metalic skirt with a black blouse
Who doesn't love a bit of sparkle around the holidays? I bought this silver metallic skirt about 7 years ago because I remember wearing it during Kevin and I's first married Christmas together. I love this skirt because it's so easy to wear with anything black. For this look, I paired it with the black blouse that I bought a while ago on clearance at Kohls. These patent leather Ivanka Trump shoes are my favorite pair of shoes for special events. They were one of my favorite deals of all time. I found them in the clearance shoe room at Von Maur marked down to $29 from $125. I love the height they give me. To add a little extra sparkle I accessorized with my rhinestone jewelry.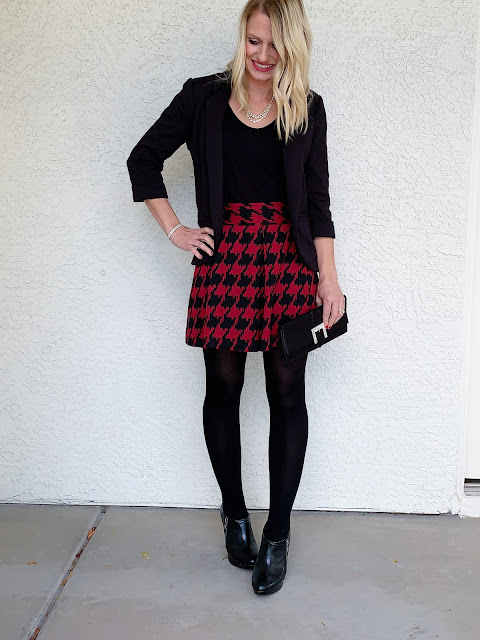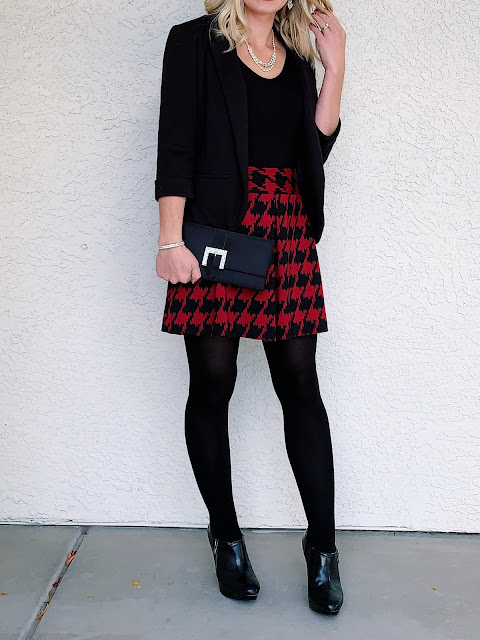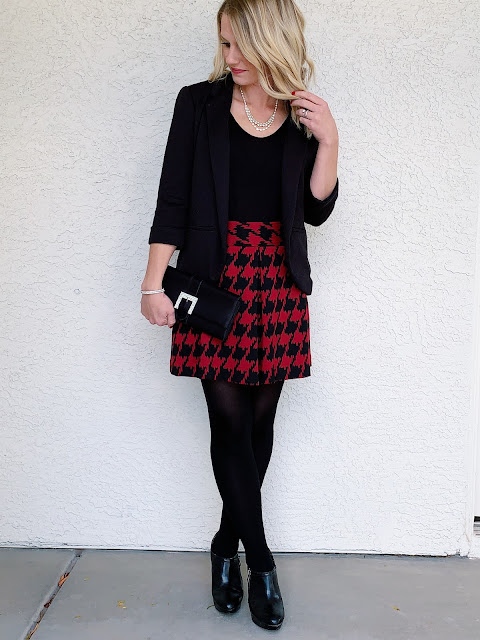 Outfit #3- Red houndstooth skirt with a blazer
For my last look, I have to share my favorite Christmas skirt. This skirt was a hand-me-down from my mom's closet. It's from Express and I just love it! The red makes it the perfect holiday skirt. I wore it with my black blazer because I figured that it could double as my jacket while out in the evening. For jewelry, I accessorized with my rhinestones again.

The party is tonight, and I'm still deciding which outfit to wear. Which do you like best? I will share what I pick on my Instagram!
Like the post? Don't forget to pin it for later!