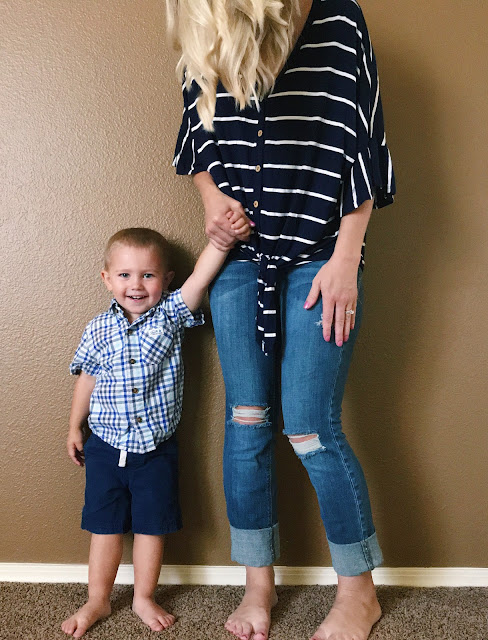 Today I'm talking about the 2 things that I always have on my mind; my toddler and fashion. I remember thinking that having an infant kept me so busy. Between the feedings, diapers, and lack of sleep, I thought that I never got a minute to rest. Now that Jack is 2, all that baby stuff seems so easy to me now. People always told us that some things will get easier as your child grows and other things will be harder. Boy were they right. Sometimes, being a toddler mom is so easy. When Jack gets engaged in something and is in a good mood it's so great, but then there are the other times when I am just exhausted. Jack is so busy and he can be so demanding of my attention. It can definitely be challenging figuring out how to balance my home life, my full-time job, my blog, and social media all while trying to be a good mom. I'm constantly multi-tasking. What I'm finding out is that multi-tasking is just a part of being a mom.
People always ask me when are we going to try for another baby. I will say that I don't even want to think about having another baby until Jack will sleep consistently through the night for a whole month. I'm pretty sure that Jack is the world's worst sleeper. It's gotten better, much better from the first year, but he is still waking up during the night. Now he just comes into our bed whenever he wakes up. I wouldn't mind having him in our bed if he didn't sleep sideways and toss and turn all night long. With as sick as I was for my first trimester with Jack, I do not know how I could get through a pregnancy with no sleep, a demanding toddler and still function at work. Hopefully, Jack will get better at sleeping, at least that's what I've been telling myself since the day he was born.
Even though my little guy can be a total crazy person at times, he is also so adorable! I think God makes toddlers extremely cute for a reason. His little smile and laugh puts a smile on my face all the time. He is talking so much and forming sentences. We understand him and even other people are starting to understand him sometimes. I do have a lot of fun with him. One thing I've been trying to do more often is spend more quality time with him, by putting my phone in the other room and just playing with him. Sometimes I have too many distractions, but Jack is what's important right now. Watching him grow and soaking in this toddler age before it's too late.
This post is part of a collaboration with PinkBlush. All opinions are 100% my own.
Now on to the fashion! Every year around this time of the summer I start getting excited about fall fashion. Since we don't really experience fall temperatures until late November, I usually get really into transitional fall looks. One trend I'm really loving right now are the front button tie tops. I've been seeing them everywhere. They are so cute and casual, plus perfect to transition into your fall wardrobe. This
navy striped button tie front top
is from my favorite boutique
PinkBlush
. I really love the ruffled sleeves on this top. I think it sets it apart from some of the other tops I've seen like this. I styled it for today's look with distressed jeans and my slides, but it could easily be styled with jean shorts for summer or a nicer pair of jeans or pants and some flats for the classroom. I plan on wearing it to one of my professional development days this week at work.