I have to admit that I've been on a bit of a shopping kick lately. I always get like this at the beginning of a new season. The problem for me, as always, is that I don't have very much money to be spending on new clothes. I have to make do with the small amount of money I can spend. This means I can't just walk into a store and buy whatever I want. I have to be smart about it to stretch my money or else I'm going to have an empty closet.
Right now, my husband and I have absolutely no dept. We don't have a car payment, a mortgage, student loans or any credit cards with balances on them. We still use credit cards and put everything we spend on them. This is a great way of tracking how much we spend each month, plus we get cashback rewards, which who doesn't love getting free money every few months? We have a $1,500 budget each month for both of us. That includes our phone bills, energy bill, cable/internet bill, grocery's, gas and anything else we spend. For two people this is not a lot of money. This is why I try to do my best to spend as little money as I can on the extras.
How do I still go shopping on this low of a budget? Well here are some tips on how to still be able to shop and buy new clothes, but spend as little as possible…
1.) Always check out the clearance racks! This is my favorite place in any store. I have found some of the best deals here. I feel like sometimes people have such a negative view of clearance clothes. I know they're last season's clothes, they're the ugly colors no one wants or worse they have nothing cute in your size. Yes, all these things can be true, but it's just like the thrift store thing, you have to be selective. Keep your eyes open and look through every item. Usually the end of the season is a great time to look for clearance clothes. There is a great selection and the deals get better and better the closer you get to the new season!
2.) Use coupons and store loyalty programs! I love getting those e-mails with coupons in them! I get e-mails from all kinds of stores. 20% off here, $5 off there. They really add up and help you save. Most of the time you can use those coupons on top of clearance and sale items.
3.) Look for Apps on your smartphone! I use my iPhone for everything. There are so many great store apps that offer rewards or coupons. One app that I am a huge fan of is Old Navy's Snap App. It's so easy to use. All you do is take a picture of the Old Navy store logo and you have a chance to get a coupon to save anywhere between $5 to $15. My favorite is the Snap Five, because it gives you $5 off anything in the store, as long as it is at least $5.
4.)
Make it into a game!
For me, it's fun to find the deals. Set a budget before you go shopping and stick to it! Sometimes you will lose at this game and sometimes you will win. Have fun with it!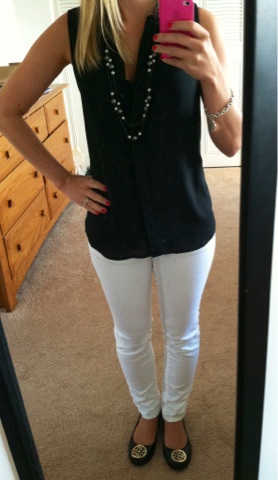 Here is my latest outfit. All these items came from clearance racks and I used coupons.
(Oh yes, don't judge the white pants after Labor Day. I did my research and most people say white pants are fine to wear all the way through the winter.)
Shirt- Target-$5.98
Pants- Target-$6.88
Shoes- DSW-$32.83
Necklace-$4.20
Total price of outfit– 49.88
Honestly my best advice to stretch your dollar is to never pay full price! I challenge everyone to try to stretch their money! You will feel great knowing how much you saved!