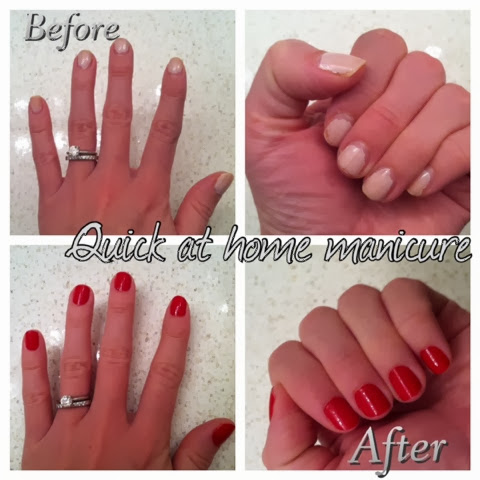 I am always getting asked by people, where I get my nails done? I always have to tell them, I do them myself and they never believe me. I can't tell you the last time I had a manicure professionally done. If you are trying to live your life on a budget, one of the first things to go should be the mani/pedis! Honestly, there is no reason to pay for something like that, when you can do it at home yourself for free!
I always try to keep my nail looking nice at all times. My nails and hands take quite a beating throughout the week, especially with the cold weather. Once a week, usually on Thursday night or Friday, I like to redo my nails, put on a fresh color and give my hands a quick renewal. It's easy and doesn't take very much time.
These are the products I use.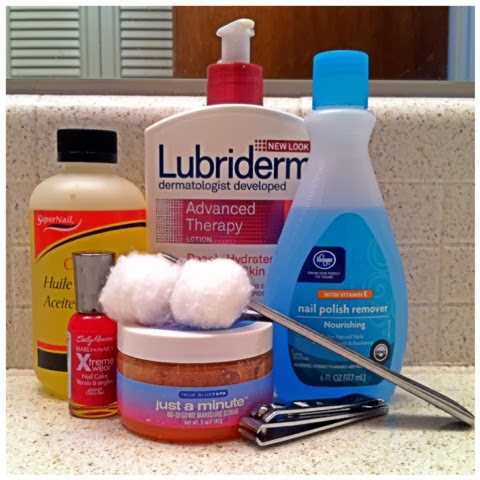 I start off by removing the old polish with regular nail polish remover. Then, I like to touch up and shape my nails with a nail file and clippers. I like to keep my nails on the shorter side, because of my job. After, I put some cuticle oil on my nail beds and let it sit for a minute, then just wipe it off with a cotton ball. Then, I move on to a sugar scrub. I've been using the
True Blue Just a Minute 60-second manicure scrub
. I've had it for a while and I'm probably due for some more but, I really like how it leaves my hands so soft after. I've also used some homemade sugar scrubs as well, but I don't have any on hand right now. I will have to do some additional research to find some recipes to use in the future. Anyway, I rub that all over my hands for a minute, making sure I rub around my nail beds and knuckles really well, before I wash it off in warm water. Then, I use some lotion on my hands. My favorite brand is 
Lubruderm
. That seems to work best when my hands are at their driest.  After, I start the polish. Sometimes, I spend more time with this step and use a top and bottom coat, but most of the times I get lazy and just do the colored polish. Here is a little tip for putting polish on your nails… Paint your nails at night and let them dry. The next morning take a hot shower. This will help remove any of the polish that you might have got on your skin. After your shower, your nails will look complete.
A manicure at a salon is great, but I say, save it for a very special occasion. Try an at-home manicure and save your money!