I haven't posted anything for "What I Wore Wednesday" in a while. This has been for 2 reasons. First of all, I've been really busy and second of all, I haven't really loved what I've been wearing. I guess I really haven't felt that I've worn anything that special to work lately. I tend to repeat the outfits I like and I just don't feel that there always worth sharing.

Well, I'm excited to say that I just got a promotion at work and I'm now the assistant director. This is something I've wanted for a long time. I really love working with children and I want to advance as much as I can in my career. This is just another step in accomplishing my career goals. There is a lot to learn in the position, but one thing that I feel is helpful in keeping my confidence up is to look the part. I like to wear something that I feel good in. Like I've said before, looking good and feeling good go hand and hand. When I'm at work I like to feel professional and cute at the same time.
Here's what I wore this week.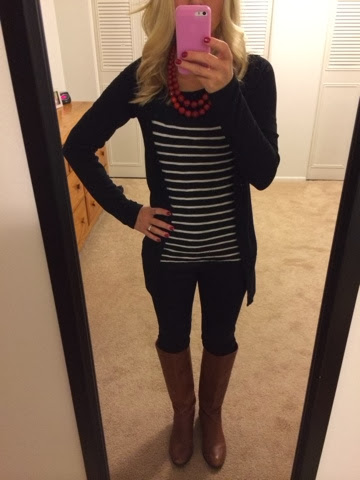 Black long sweater- Macy's
Black and white stripe shirt- Target
Black Jeggings- TJ Maxx
Brown boots- DSW
Red Bead necklace- Aldo
Hopefully, I'll have more outfits to share in the future. Babies won't be spitting up on my clothes as much anymore, so it should be easier to find cute outfits for work now.