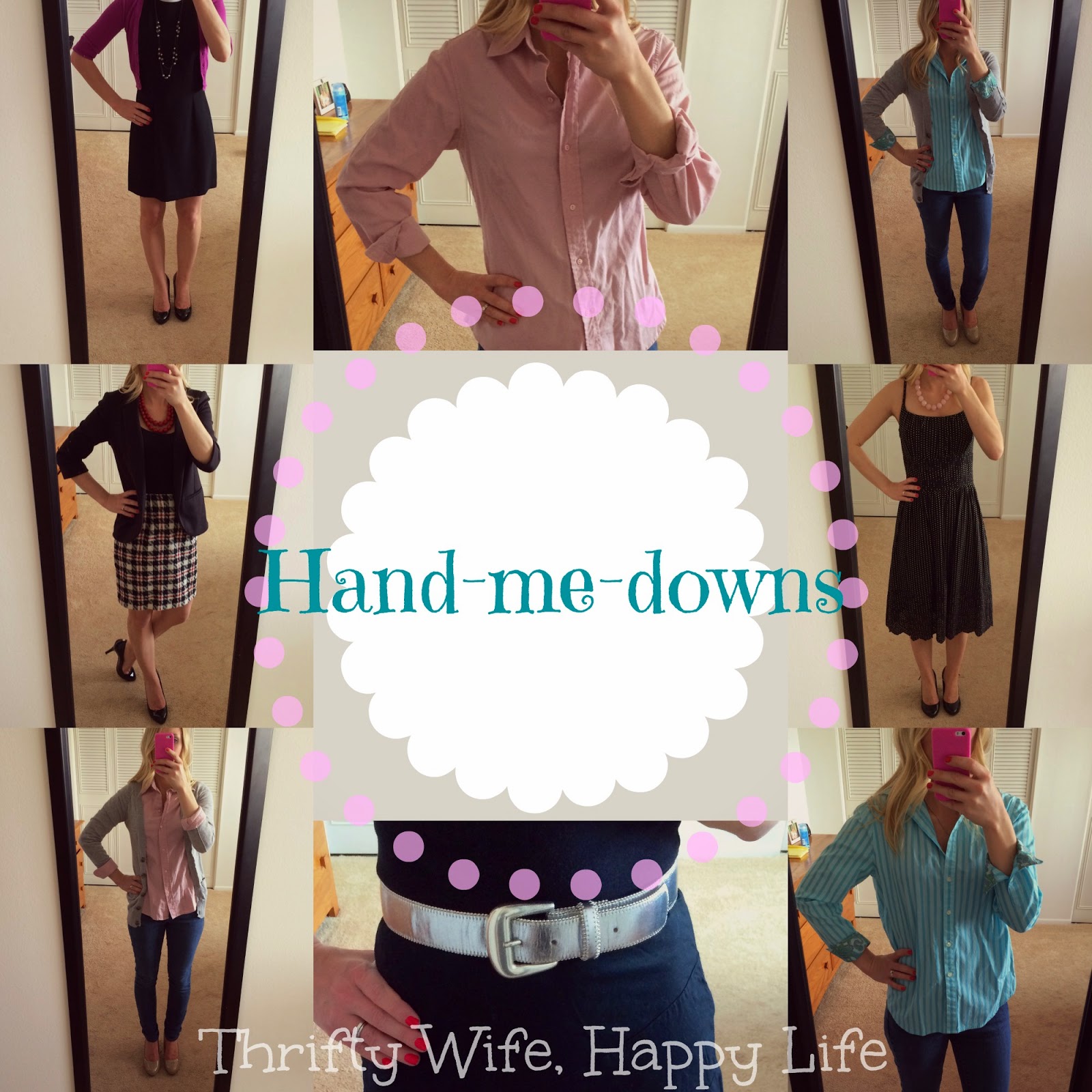 One thing I have learned in my quest to save money on clothes… is to never underestimate a hand-me-down. Typically, hand-me-downs are known as old, worn-out clothes that your older sister, cousin, neighbor or family friend passed down to you when they either grow out of them or just don't want them anymore. That's not always the case. Everyone can give away hand-me-downs. I like to go through my closet every so often. Usually, I will set aside clothes to give away. They are not always worn out or ugly clothes. They are just clothes that are either not my taste anymore, or maybe it's a cute shirt I bought, but it's just not my color and it's too late to return it. I always like to offer my clothes to people I know first before I give them away to charity. It's a great way to recycle your clothing.
I get hand-me-downs all the time. Most of the time they are coming from my Mom. Luckily for me, my mom loves to shop and she has good taste. Whenever she goes through her closet, she always asks me if I want anything, before she gives it away. Sometimes I find things I like, and sometimes I don't. Hand-me-downs are just like a thrift store. You're not always going to find something you want to keep, but it's always fun to look.
Over the past couple of years, my mom has given me quite a few items, and I like them! They are not always clothes that I would buy for myself and that's why I like them so much. I love finding new ways to wear clothes. Hand-me-downs allow you to be creative and make outfits that you may have never thought of wearing before.
This is a dress my Mom gave me a while ago. I love it because it's simple and classic. It reminds me of a dress from the 1960s. I found this fuchsia sweater in my closet, which also happens to be a hand-me-down, and put together a cute work outfit. They always sell this sweater at Old Navy every season, so it's a great item to keep in your closet.
This is an Ann Taylor skirt that my Mom gave me. It's very classic. It's a great skirt to have in your closet. I put this outfit together with a black blazer and red beads. It's a cute work or church outfit.
This dress is another Ann Taylor dress. Like the other looks, it has a very classic style to it. I like to stick with that when it comes to collecting hand-me-downs.
I'm really loving button-down blouses right now. I love layering button-downs with sweaters and blazers. My Mom recently came over to my house with a bag of clothes, mostly filled with button-downs. These are the 2 that I kept.
This is one of my favorite accessories that I've held on to throughout the years. This is one of my Mom's belts from the early '90s. I always liked it when I was a kid. It's a little dated, but I love accessorizing with it. I have actually gotten a lot of compliments every time I wear it.
Before you throw away or get rid of your clothes, ask a friend or family member if they would like to look through them first. You never know, one person's trash could be another person's treasure. I'm not saying to go steal your friend's clothes, but if anyone ever offers you some free clothes, take them up on it. The worst thing that can happen, is that you end up giving a big bag to the Goodwill.