Maternity fashion has definitely come along way over the years. People used to think about maternity clothes as a bad thing because there were no cute options. When I look back on some of the clothes that my mom wore in the '80s when she was pregnant with me, I question how anyone ever thought that looked good. Why would you put a pregnant woman in a giant sheet hiding her figure completely? Now a day's being pregnant is all about staying fashionable and cute. Women have the chance to show off their baby bump proudly without hiding under a giant piece of clothing.
When I first found out I was pregnant, the one thing that I was really excited about was putting together cute maternity outfits. I couldn't wait to find ways to dress my baby bump. Well, it takes a while to grow a baby, so really maternity fashion comes later in pregnancy. I'm currently in my 5th month, so my baby is still very small. My belly is slowly growing, but I still feel like it looks like I just ate 2 Thanksgiving dinners. It won't be long until I'm officially in maternity clothes, but as of right now, I'm still in that in-between stage.
Even though I'm still pretty small, I am constantly uncomfortable in my clothes. My jeans are tight, my tops are tight…all I've been wanting is to be comfortable, without looking like a slob. So today, I thought I'd show off a few of my favorite "before the bump" maternity outfits. These are just a few of my favorite clothing pieces that have helped me get through the first 4 months of pregnancy.
The first look that I have really been enjoying are my sundresses. Sundresses are great during early pregnancy, especially during the summer. It was so hot this summer and even though I wasn't showing yet, I was sick and miserable. Being able to throw on a cute empire waist sundress helped me dress myself up a bit and stay comfortable and cool at the same time. Above are a couple of my dresses that I've worn recently. Here are a few more sundresses I've posted in the past that I've also been getting a lot of use out of (
here
) (
here
) (
here
).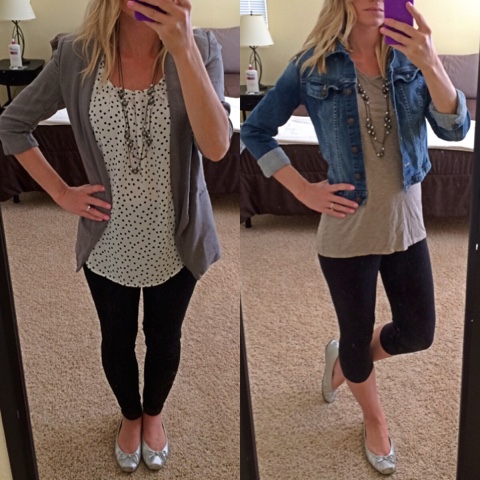 Another piece of clothing that I'm loving is my leggings. Leggings are my best friends right now. Who doesn't love a comfortable pair of leggings, especially when your feeling bloated? Even though my jeans still fit, it's just been too hot and they feel too tight, so I've been pretty much living in a legging. I even bought a pair of jeggings a month ago at
Ross
, so that it didn't look like I was wearing leggings to work every day. I sometimes feel like leggings are a bit too casual for normal daily wear, but I think as long as you wear a long enough shirt and accessorize properly, leggings can be a cute option.
Maxi dresses and skirts are another perfect options during early pregnancy. I'm sure they will also be great to wear throughout my entire pregnancy as well. I just love maxi dresses and skirts, because they're comfortable and casual, yet they are dressy at the same time.
Those are just a few of my favorite "before the bump" looks. I can't wait to start putting together more maternity outfits and of course sharing them with you!
What's your favorite "before the bump" look?