As you may already know, I'm kind of obsessed with stripes. Why do pregnant people look good in horizontal stripes? I have no idea, but they are my favorite patterns right now.
Here are my stripe outfits from the weekend.
Saturday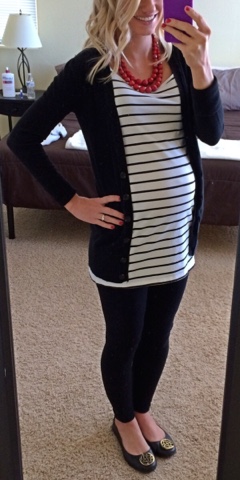 Tunic Tank Top- H&M
Leggings- Kohl's
Sweater- Target
Shoes- DSW
Sunday
Dress- Old Navy
Jacket- Meijer
Belt- Target
Shoes- Target
Here is my baby bump picture for the week. I feel about the same this week as last….lots of growing and lots of pain for mommy in my ribs, but other than that, things have been great. He's been kicking away and I love feeling that!