I am definitely getting into the nesting stage of pregnancy. I'm counting down the weeks until my little guy is finally here and I'm trying to prepare for his arrival. Babies need a lot of stuff, and I am just hoping that I have everything he will need. With all the major items already purchased, I felt that it was time for me to get a few extra little items with the leftover money on my gift cards.
When it comes to clothes shopping for my baby, I want him to look cute, but I also don't want to spend a lot of money on his clothes. Babies grow so fast, and not to mention, they also dirty up their clothes so quickly. I feel like it's a waste to spend full price on baby clothes. This is why I plan to look for the best deals I possibly can find for this little guy. I plan to be just as frugal with him as I am with my own clothing.
Here are some of my purchases from Babies R Us this past weekend. All clearance clothes were 50% off the already marked down price. I just couldn't resist stocking up on a few things.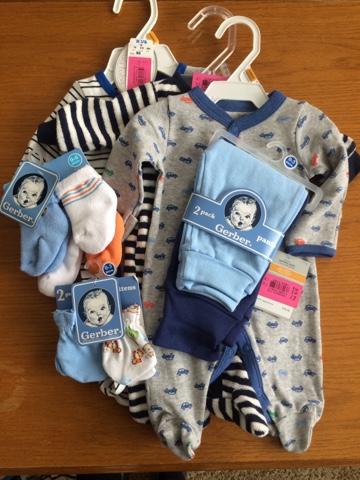 3 sleepers- $3.49, $2.99, $1.49
2 pack of pants- $3.49
Newborn mittens- $1.49
Socks- $2.99
Total- $15.94
I went to Babies R Us thinking that I would spend what was left on my gift cards, but I walked away still having money on my cards, which is never a bad thing. I guess I will just have to do some more bargain shopping soon.