It was another hot weekend in Las Vegas. This is my first real summer of planning outfits while living in Las Vegas. Last year I was pregnant with Jack and spent the entire summer indoors as much as possible with morning/ all day sickness. This year I'm really trying to embrace the heat with my wardrobe, but it's not always easy dressing in the heat. I'm learning that I've been overthinking my outfits this summer. I'm now just trying to keep my looks simple and comfortable. That's what I did this weekend. I really haven't had the opportunity to do much shopping this summer, so I'm trying to pull out old clothes that I haven't worn in a while and find new ways to wear them.
On Saturday, I kept it really casual and wore cut off shorts that I actually made out of an old pair of Bermuda shorts that I wasn't feeling anymore. I cut them to a better length and now I've been getting a lot of use out of them around the house.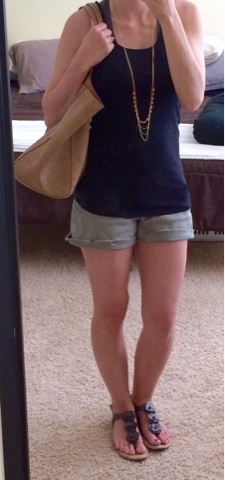 Top- Old Navy
Shorts- Kohl's
Sandals- Target
Necklace- Target
On Sunday, I wore this green striped halter top dress that I've had since college. I never got much use out of it, because I always felt like it was never hot enough to wear. Well, it's perfect for Las Vegas, because it's defiantly hot enough around here to wear a summer dress like this, even if I do go into an air conditioned place.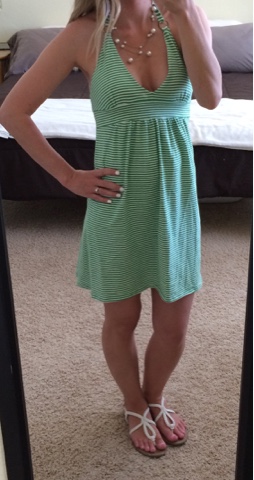 Dress- Victoria Secret
Sandals- Target
Necklace- Kohl's
Hope you liked my weekend looks. Have a great week!