My evening bedtime routine with Jack is a very important part of my day. For the first year, Jack had a very hard time sleeping through the night. I tried everything to get him to sleep. During that time, I did a lot of reading for advice, and the one thing that seemed to be consistent in my research was to set up a daily bedtime routine. This was something I did right from the start. I feel that it's so important for young children to have a predictable and comfortable evening routine. Not only does our nightly routine calm down my little guy and prepare him for bed, but it's also a special time for us. It's the time of the day that I get to spend the most one on one time with him.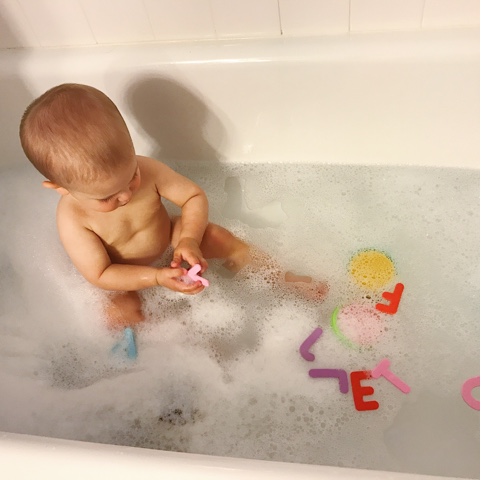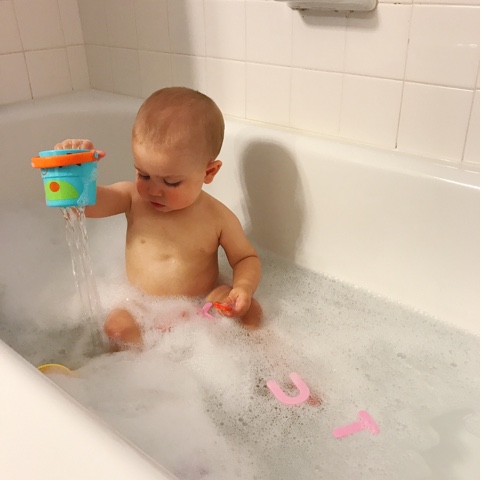 Today, I wanted to share with you some of our favorite products that we use during our evening bedtime routine.
1.) Honest Company Bubble Bath–
My friend sent me a care package from the Honest Company with some of her favorite products when Jack was born. My favorite product in the box was this bubble bath. I love the smell and how gentle it is on Jack's skin.
2.) California Baby Shampoo and Lotion–
I got this set as a gift at my baby shower and I love this brand. The shampoo is super genital with no fragrance and so is the lotion. Living in the desert makes it hard to keep Jack's skin from drying out, but this lotion does a great job of keeping his skin nice and soft.
3.) Foam Bath Letters and Numbers–
Jack got these foam letter bath toys for his birthday and he loves them! They are perfect chew toys for babies and great for older toddlers and preschoolers who are learning their letters and numbers.
4.) Skip Hop Zoo Bath Stack and Pour Buckets–
These are another one of Jack's favorite bath toys. He loves filling the cups and listening to the water. He loves these cups so much that he plays with them around the house and outside too!

5.) Blanket Animal- Jack loves sleeping with his little blanket animal. He loves how soft it feels. He calls it "ni ni" because he knows that he sleeps with it. It helps soothe him at night, and as a mother of a child that could not self-sooth themselves for 12 months, I love his little blanket animal too.
6.) Carter's 2 Piece Pajamas–
I just love freshly bathed babies in their jammies. There is nothing better. I love the 2 piece pajama sets. They are much easier for diaper changing. I'm a big fan of Carter's clothes because they seem to hold up pretty well and their sizing is pretty true to size. Jack has this pajama set with dinosaurs, but obviously, we would love to have the airplane set!
7.)
Huggies Overnite Diapers-
I can't lie, I buy a lot of generic brand baby products, but sometimes there are just things that you need to buy name brand. One of them is overnight diapers. These diapers have been a game-changer for me. Around 12 months Jack finally started to sleep longer stretches through the night, but he would still wake up around 3 am with a soaked diaper that had leaked through. As soon as I started using
Huggies Overnite Diapers
, he started sleeping through the night without the 3 am wake up. This makes me a very happy mama!

8.) Brown Bear Brown Bear What do you See?- You always have to have a good bedtime book. This is one of Jack's favorites. This series of books are perfect for toddlers because they are repetitive and do a great job keeping your little busy body's attention.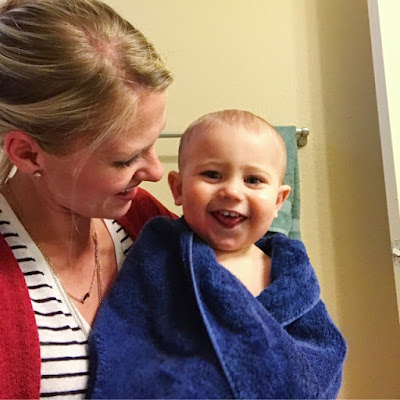 That's my list for my favorite products that are apart of our bedtime routine. What are your favorite bedtime products?