Believe it or not, I have a bit of a fear of wearing color. Don't get me wrong, I love color, especially when accessorizing, but most of my closet is full of neutral colors. I rarely wear a bright colored piece of clothing. That's why on my last shopping trip to
Old Navy
, I bought a few solid bright colored tees and tanks. I figured that summer is almost here and I should brighten up my wardrobe a bit.
Today, I wanted to share this look wearing the new bright pink tank top that I bought on my Old Navy shopping trip last weekend. I found it on clearance for only $7.99. I really love how lightweight this top feels. I figured it would be perfect to wear with jeans or shorts. For this look, I wore it with my white pants and nude heels. I accessorized with a turquoise necklace and wristlet clutch. I thought that this look would be perfect for a date night out with your husband or maybe drinks out with the girls…. those are both outings that are rare for me these days, but at least I have an outfit all ready to go!
*This post contains affiliate links which means by clicking on and/or making a purchase through a link, I will receive a small commission. Thank you for your support.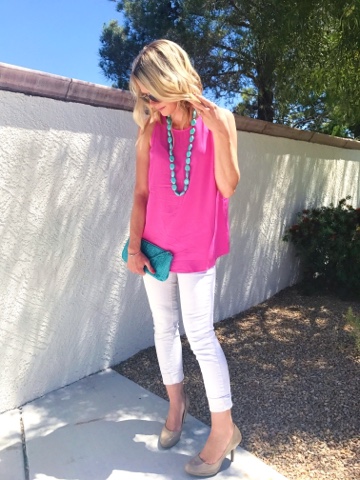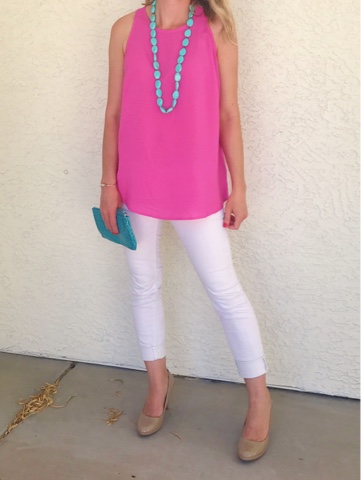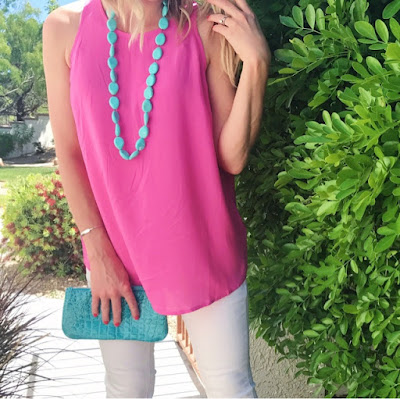 Shop my closet