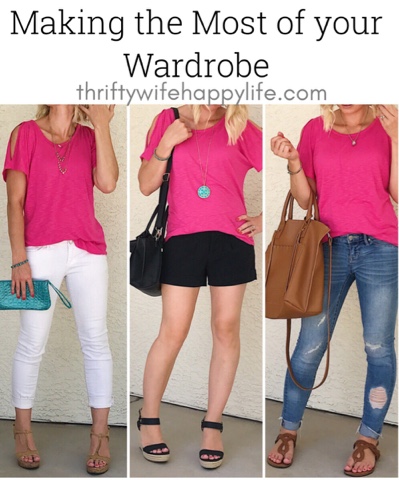 I've been dreading writing this Year of Color post for a while. I always like to do some kind of outfit post with the color of the month, but this month's color theme is neon.

When I started to brainstorm outfits with neon colors all I could think about was an 80's theme party outfit. I felt completely stumped on how I could incorporate neon colors into my wardrobe. But then I remembered that I do wear neon colors. I typically stick to neutral colors when putting together outfits, but when I do dress in color, it seems that I always gravitate to bright neon pink. I have a cute hot pink cold shoulder top that I've been wanting to share in an outfit post for a while, so I thought that this would be the perfect opportunity. Today I have 3 looks for you to show how you can easily incorporate a bright color into your wardrobe.
*This post contains affiliate links which means by clicking on and/or making a purchase through a link I will receive a small commission. Thank you for your support.
For my first look, I wore my bright pink top with white pants, then I accessorized it with some gold and turquoise accessories. I really love how the turquoise looks with the bright pink. The two bright colors go well together. I also love how the white pants help keep the whole outfit bright. It's a great look for summer.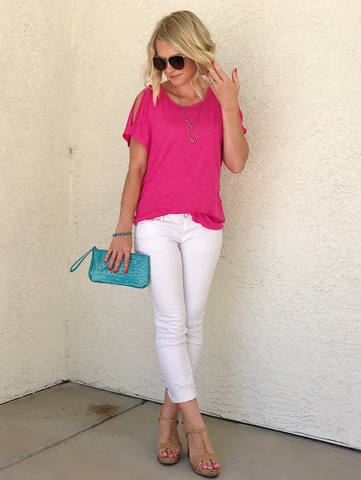 I've always liked pink and black together, that's why for this next look I wore black shorts, black wedge sandals and a black satchel purse. I accessorized with a turquoise necklace. I figured that this would be a cute look for a summer date night out.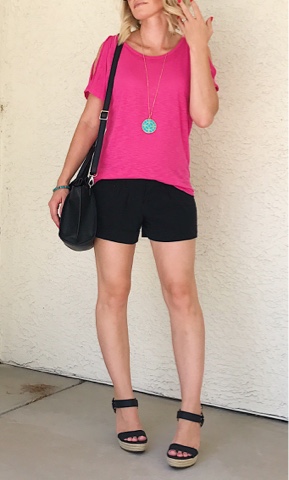 The last way that I wore my pink top was with my distress jeans and I accessorized it with a cognac bag and sandals. This is a more casual everyday look for me. I like keeping the accessories simple, because the bright pink is a big enough statement.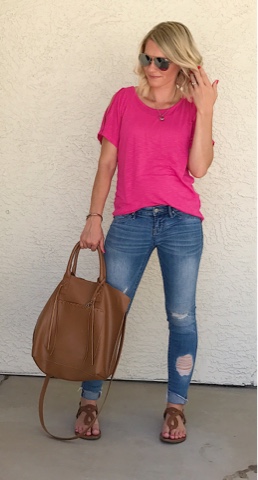 Shop my closet
Here are some similar pink tops I found that you can style in similar ways.
Do you incorporate neon colors into your wardrobe ever? If so, how do you wear it?
Don't forget to leave your link below with your neon post. Next month our color theme will be blue! I hope to see you there!