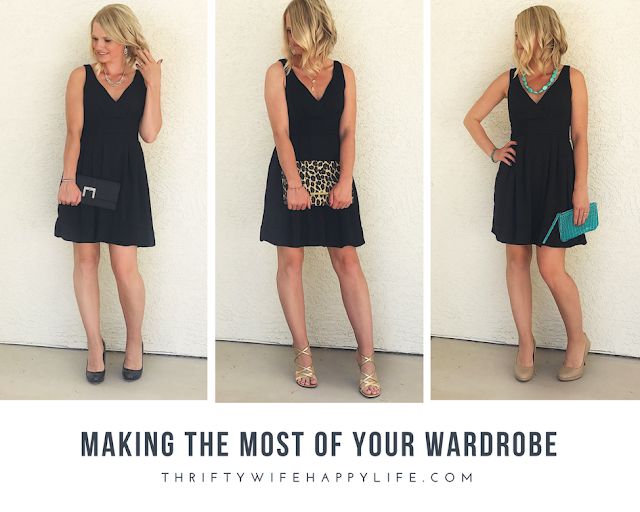 October seems to be flying by. I can't believe that it's already time for another Year of Color linkup post. In case you just started following along, every 3rd Friday of the month I team up with some of my fellow blogger friends to host a link party called A Year of Color. Each month there is a color theme and you can share ANYTHING you like on that color. I always like to share an outfit post, because that's what I feel I do best. This month's color is black!

*This post contains affiliate links, which means by clicking on and/or making a purchase through a link, I will receive a small commission with no extra cost to you. Thank you for your support!

I can't lie, I was so excited about this color. Black is always my favorite color to wear. It's easy to accessorize, you can wear it with anything, plus everyone looks good in black. With that said, I had a difficult time narrowing in on what kind of outfit posts I would do for today. I ended up deciding on one of my favorite wardrobe pieces in my closet…..a Little Black Dress a.k.a. LBD.
In my mid to late '20s my weekends were filled with going to weddings. All my friends were getting married, and to be honest I couldn't afford to go buy a new dress for every wedding I attended. I bought this simple empire waist black dress for my rehearsal dinner (similar). Instead of going with a traditional bride rehearsal dinner dress, I played it safe and went with a black dress. I'm so happy I did because I've worn this dress on a number of other occasions since then.
Today I am going to show you how easy it is to accessorize an LBD like this.
The first way is a very classic traditional look. I wore black patent leather pumps, rhinestone jewelry and a satin clutch with rhinestones. This is perfect for a more formal wedding. I wore this exact look at my husband's cousin's wedding in Chicago a few years ago.
Shoes- Ivanka Trump- Von Maur (similar) || Necklace- Target (similar) || Clutch- Jessica McClintock (similar)

For my second look, I chose leopard accessories. I wore my gold sandals, with my leopard clutch and gold jewelry.
Shoes- DSW (similar) || Necklace- LC Lauren Conrad- Kohl's (similar) || Clutch- H&M- ThredUp (similar)

For my final look, I accessorized with some color. I always love how turquoise looks with black, so I wore turquoise jewelry with my turquoise clutch. For shoes I went with my nude pumps. I think that this look would be great for a destination wedding.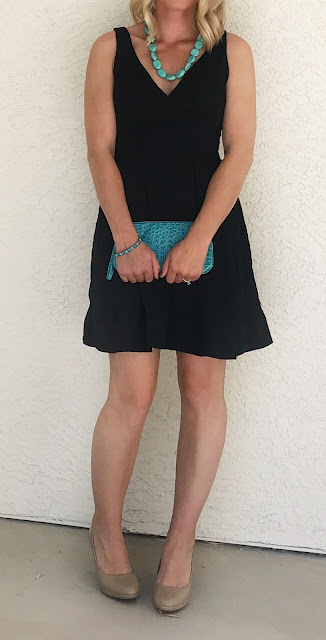 Shoes- Target (similar) || Necklace- Kohl's (similar) || Clutch- Hand-me-down (similar)

Hopefully this will give you some ideas on how to accessorize your black dresses and maybe help you out next time your stumped on what to wear to a wedding or special occasion.
I hope to see everyone back here next month for the color Orange. Don't forget to leave your link below!