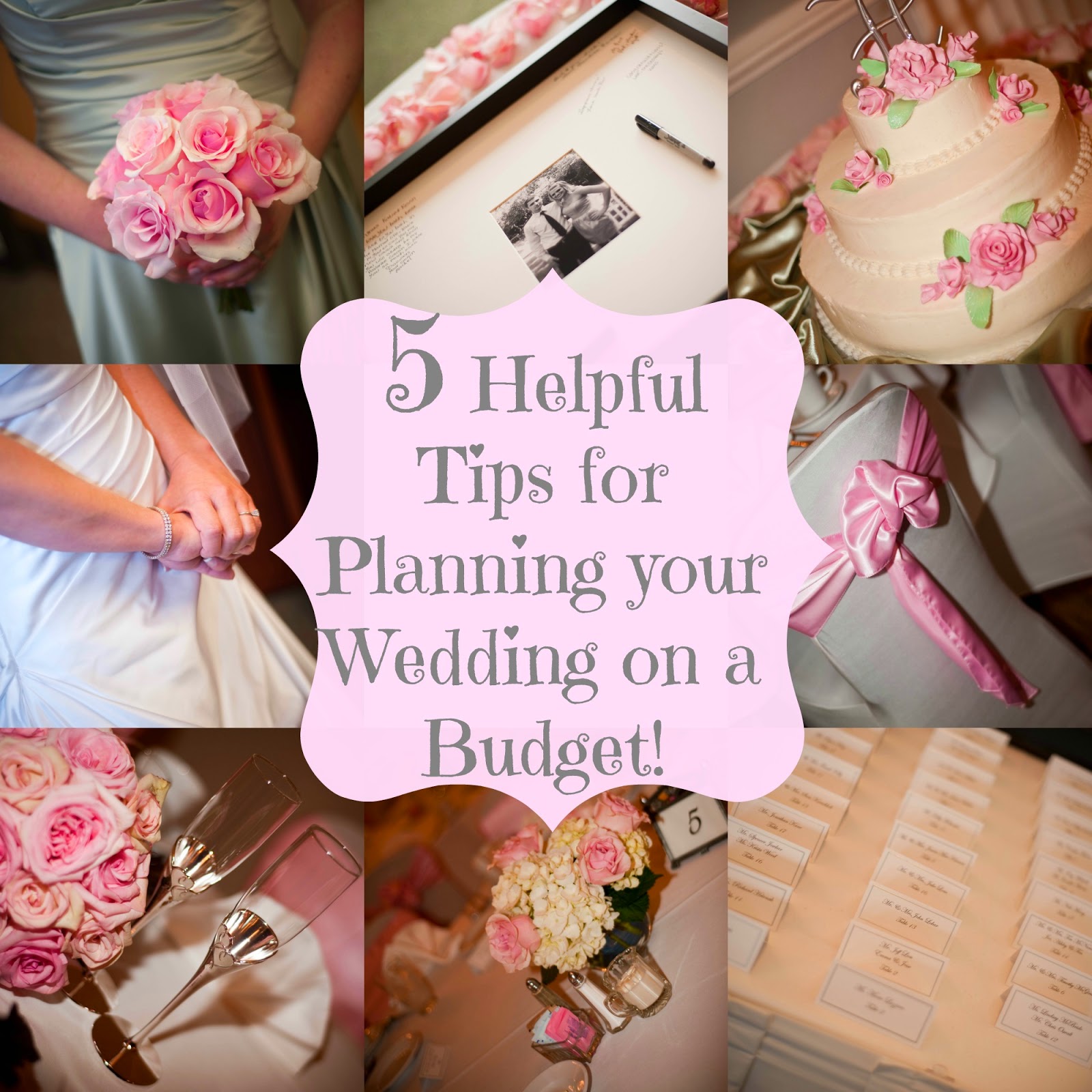 The heart of the wedding season is approaching fast.  I figured that there's no better time to write a post on saving money when wedding planning than right now.  At the end of this month, my husband and I will be celebrating our 3rd anniversary.  I had so much fun planning our wedding.  I loved picking out my colors, flowers and planning all the details of our special day.  Weddings can be a lot of fun to plan.  The stress of planning a wedding tends to kick in when it comes to sticking to your budget.
The bottom line is that weddings are expensive.  There is just no way to get around that.  The average wedding in America costs $25,200.  That's an awful lot of money for a young couple who are just starting their lives together to spend.  My husband and I were very fortunate to have our parents pay for our wedding, but in no way did that mean it was a free for all.  We had a budget to stick to.  Our parents told us what they were willing to spend and anything extra would come from us.  At the time we didn't have any extra money to put towards a wedding, so we stuck to our budget.  We stuck to our budget so well,  that we had extra money to spare in the end.
When it came to wedding planning, I followed one simple rule: DON'T OVER SPEND!  Here are some tips that helped me keep my budget throughout my wedding planning.
1.) Pick a date in the offseason or pick a Friday or Sunday- Everyone pictures their wedding day on a beautiful sunny 80 degree Saturday in June or July (at least in Michigan we do, considering it's cold and clouding 70% of the year.)  Well, get that thought out of your head right now, because that Saturday summer wedding is going to cost you top price.  When I started looking into a date, I learned fast just how much a Saturday wedding would cost.  I ended up picking a Friday night.  Most banquet halls and vendors offer discounts for Friday and Sunday weddings.  You can find even more discounts if you book a wedding in the offseason, anywhere between January and March.
2.) Find a low-cost location- Everyone has their own idea of where they would like their wedding ceremony to be.  For me, I wanted to get married in a church.  That worked out great because there was no charge for the use of the church.  They even had fresh flowers delivered every Friday.  Not everyone envisions a church wedding, so I would suggest looking into parks or someplace you could have a ceremony without paying a high rental fee.  When looking for a reception hall, I suggest finding a place that includes everything you need.  Some places need you to provide a caterer, bar, chairs, tables, table clothes and all the decorations.  The reception hall I used included all of that.
3.) Use referrals- If you're in your 20's or early 30's, most likely you have a dozen friends who were recently married.  Don't be afraid to ask your friends for referrals.  Almost everyone I used, from my chair covers to my cake, were people whose family and friends had referred me to.  I also used the referred vendors that my banquet hall had suggested to me as well.  I ended up getting some really great referral discounts from almost every vendor I used.  I've been able to pay it forward to new brides as well, which always makes me happy.
4.) DIY- When you can do it yourself, do it!  I'm not very crafty, but there were still a few things I did on my own when planning my day.  I made my own veil.  After trying on $500 veil's at bridal boutiques, I knew I wanted to make my own.  I also printed my own table cards, programs, and my mom made the bows for the chairs at the church.  I suggest if you're a crafty person, go ahead and do as much as you can yourself, but don't overdo it.  I thought I wanted to make my own table centerpieces, but then I realized that would overwhelm me, so I had them professionally done.  There is no reason to stress yourself out by doing everything yourself.  Pick do able projects, that you know you can take on, that will also save you some money.
5.) Look below your budget!- This is probably the most important tip I can offer to anyone when planning a wedding.  Just because you set a budget, doesn't mean you have to shop at the top of your price range.  Be smart and look below what you are willing to spend.  Sometimes when planning a wedding you can get distracted and all in a sudden you just have to have that beautiful dream dress that is twice over your budget.  Well here is my suggestion to you, don't even look at the dress that is too expensive.  If you are always looking lower than what you plan to spend, you will never go over budget.  You never know what kind of unexpected expenses might pop up when planning a wedding, so it's best to be prepared.
Planning a wedding can be a lot of fun, very exciting and a little stressful.  If you follow these tips, they will definitely help relieve some of the stress of money.  Remember to have fun while planning, but don't break your bank.  There is no reason for a young couple end up in debt over a wedding.