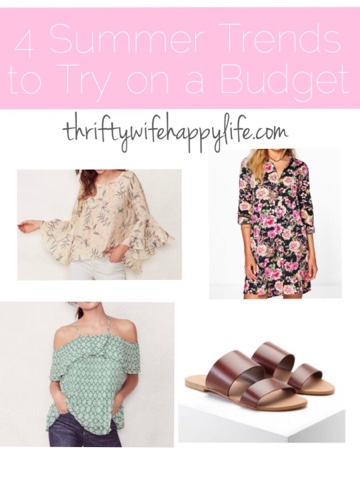 I wouldn't consider myself a very trendy person. I like to play it safe and stick to the basics. I find that it's easier to mix and match your wardrobe when you keep it simple. However, that doesn't mean that I don't ever buy trendy pieces. I am loving some of the trends I've been seeing lately. There are so many great styles out this summer that I would love to try out. When it comes to making a trendy purchase, I always have to stick to a low budget. Something that I'm loving right now, might turn into something that I don't want to be caught dead in 6 months from now.
I've been doing a lot of research and I've found 4 trends that I would like to try this summer. I've linked some of my favorite pieces below. Everything is under $30, so you can try a fun trendy piece of clothing and still stick to your budget!
*This post contains affiliate links which means by clicking on and/or making a purchase through a link, I will receive a small commission. Thank you for your support.
Statement Sleeves
I'm really loving statement sleeves right now. When worn with the right top, they can look very fun. I would probably go for something a little more subtle because I really wouldn't want it to look like I was wearing the puffy shirt from
Seinfeld
.
Floral print dresses
Floral prints are everywhere right now and my closet has very little floral in it. I'm loving all the dresses with the floral. It's so fun for summer.
One || Two || ThreeFour || Five || Six
Off the shoulder tops
I'm really liking the off the shoulder look. I think it's cute to have your bare shoulders showing. It's a very 80's look that is fun to see come back around.
One || Two || Three
Four || Five || Six


Slide sandals
These sandals remind me of the kind of sandals that my mom wore in the 90's. I guess I've been wearing the thong style of sandals for so long, I forgot about slide sandals. I'm really liking the look right now, especially with our summers being so hot, it would be nice to have a cute pair of slide sandals to slip on easily.


One || Two || Three
Four || Five || Six
What are your favorite summer trends? Do you think these trends are worth a try?