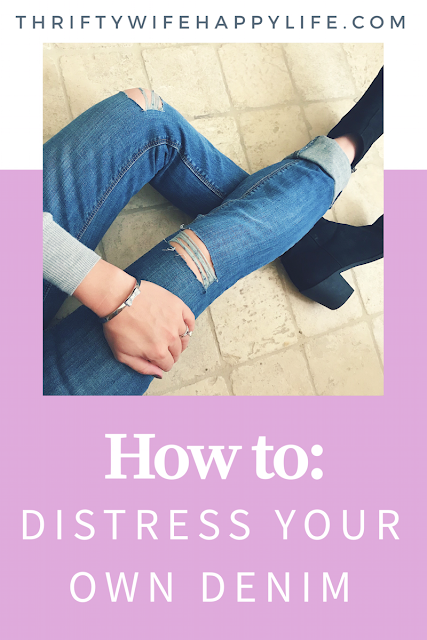 Today, I want to share my latest obsession with distressing my own jeans. I love the look of distressed denim, but I've had bad luck finding distressed jeans that I really love. They are either too distressed or not enough. I feel like the ones that I really like are way out of my price range. I feel like you shouldn't have to spend $70 + for a cute pair of distressed jeans. That's why this fall I started looking over some of the jeans in my closet that I never wear anymore and I decided that I would make them new again by adding some holes to them and distressing them a bit. (sounds weird to make something new by destroying them, but hey it's the style.)
I started searching on Pinterest for how to distress your own jeans and I was confused by some of the articles I found. Some talked about using a cheese grader or sandpaper. Luckily, I was able to find a good video on YouTube that broke it down for me.
So here are the steps I took to distress my jeans.
Step 1: Pick out a pair of jeans that you want to distress. I would go for an older pair or a cheaper pair of jeans that you wouldn't mind if you messed up. The jeans I picked for this post are a pair of Express jeans that I've had in my closet for probably 10 years. They needed a makeover! I recommend that you do some research first on what style of distressed jeans you want. I personally don't like too many holes, so I kept it simple with 2 holes on the knee and a small hole on the upper leg on one side.
Step 2: I used a white eye shadow to mark where I wanted to make the cut. (I read to use eye shadow instead of a marker or pencil because it washes out easily.)
Step 3: Once you have your spots marked, start cutting.

Step 4: After you've made your cuts, use your fingers to fray the material a little until you see the white fibers.

Step 5: Once you've frayed the ends, you will be able to see the blue fiber ends. Use a pair of tweezers to pull the blue fibers out. This is the time-consuming part. I recommend you do this part in your bathroom or somewhere you can easily clean it up because it gets a little messy.

Step 6: Once you're done with one hole, move on to the next and do the same technique until you're done. I was very pleased with how my second pair of jeans turned out. Now a pair of jeans that I was ready to put in my Goodwill bag a month ago are my new favorite pair of jeans.
I hope that was helpful. Let me know if you have any questions. I'd be happy to help!