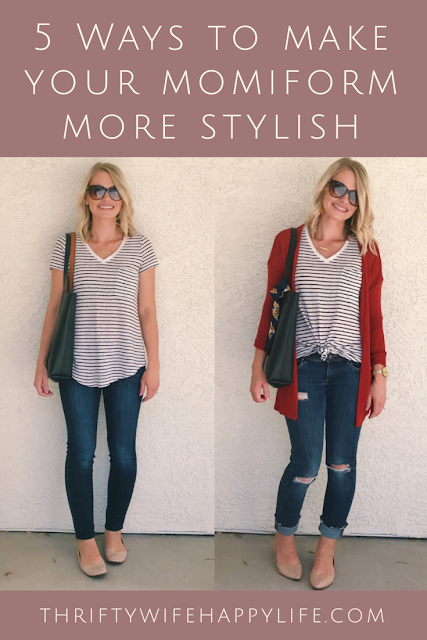 Momiform is a hashtag that I use often on Instagram. A "momiform" is basically your mom-uniform. It's what you wear every day as a mom. It's the mom-friendly fashion that you feel the most comfortable in. It can be any kind of outfit from athleisure, to a simple dress. I find the most common momiform involves a t-shirt, jeans and some sort of flat shoe, at least that's my go-to momiform. Today I want to help you transform a typical momiform and make it feel more fashionable to give you more confidence in your everyday style.
*This post contains affiliate links, which means by making a purchase through a link I will earn a commission for this blog. Thank you for your support!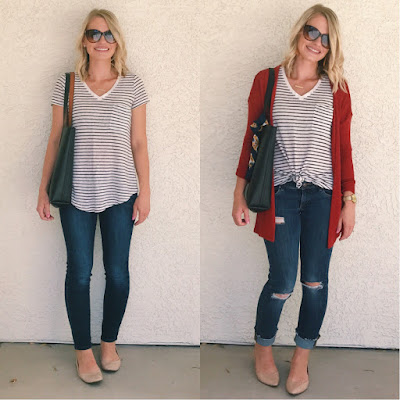 Above I have two looks. The one on the left is simple. There is nothing wrong with the look, but it's a little boring. It could be style up a little more. The look on the right is an example of how you can easily style up the simple look.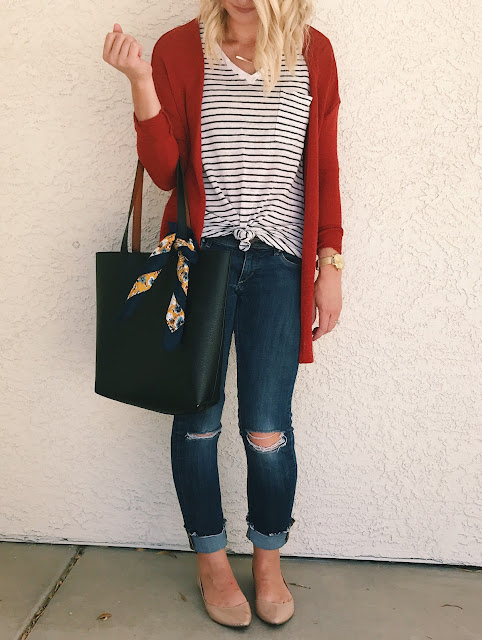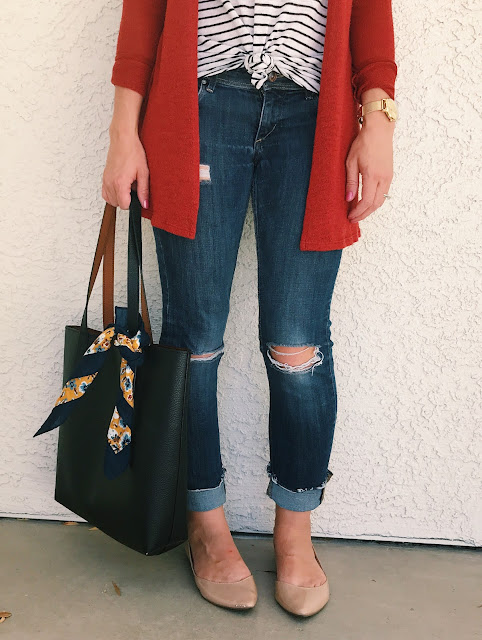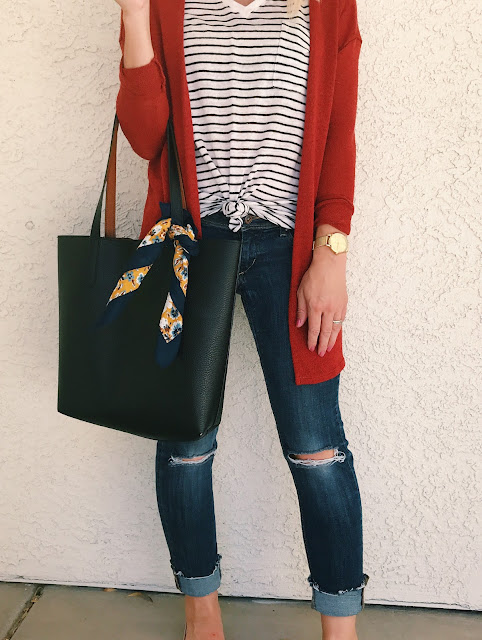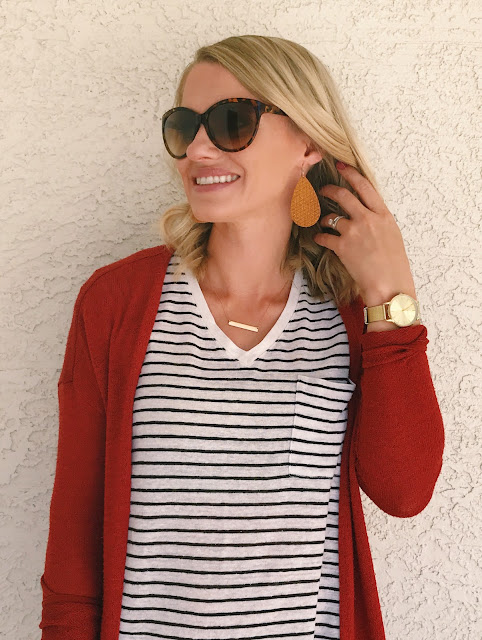 1.) Accessorize
Adding a few accessories to any outfit is an easy way to make your outfit more fashionable. I use to love big chunky necklaces, but now that I'm a mom I'm all about dainty light jewelry. I typically wear a dainty gold necklace, with a watch or small bracelet and earrings. My favorite new earrings are my leather earrings from Brinley & Co on Etsy. I won them in a giveaway and I absolutely love them. They are so lightweight and make it feel like I'm not even wearing any earrings. Whoever invented leather earrings was either a mom or a teacher, because they are the perfect statement earrings for wearing around little kids. I've also been loving accessorizing with a scarf or bandana. I like to wear one in my hair or on my purse. I like wearing it on my tote purse because it just dresses it up a little bit.

2.) Tuck or knot your tee
I am a huge t-shirt fan. T-shirts are not what they used to be. I love the loose fit. They are perfect for hiding any mom imperfections you might have around your midriff. I find that when you tuck in your t-shirt in the front of your pants or tie it in a little knot, it makes your outfit look complete. I love the French tuck, a term I learned from watching Queer Eye. I think it's the perfect way to hide your tummy. I'm also a big fan of knotting, if you've been following me on Instagram, I'm sure you're already aware of how much I love to knot my tops.

3.) Layer
Fall is the perfect season for layers. Adding a layer to your outfit is always nice for practical reasons and also just helps to make your outfit pop a little more. I love to layer with a cardigan, denim jacket or a big trend right now are utility jackets. Cardigans are my favorite for fall. I love a good neutral color cardigan, but adding color is always fun. Burnt orange, olive green, muster yellow and maroon colored cardigans are all great fall and winter colors to try out.

4.) Distressed denim or cuffing jeans
I love my distressed denim. I don't know why, but having wholes in your jeans gives them a totally different look. I also love to cuff my jeans. I'm only 5'1, so I have to cuff my jeans all the time. I really like the look it gives to your jeans though. I like being able to show off your ankle a little. Plus it makes your shoes look better.

5.) Pointy flats
I wear flats most of the time. I just love the look of a pair of ballet flats. Lately, I've been loving pointy toe flats. I think that wearing pointy-toed flats makes your outfit look more polished. They are defiantly my favorite shoe trend at the moment. I have 2 neutral color pointy-toed flats, but I have my eye on a leopard pair. If you want to step it up a notch, I'd recommend trying out some loafers or mules. Those are super trendy right now and also very comfortable.

So there you have it! Those are 5 easy ways to make your momiform pop. What are your go-to mom outfits?