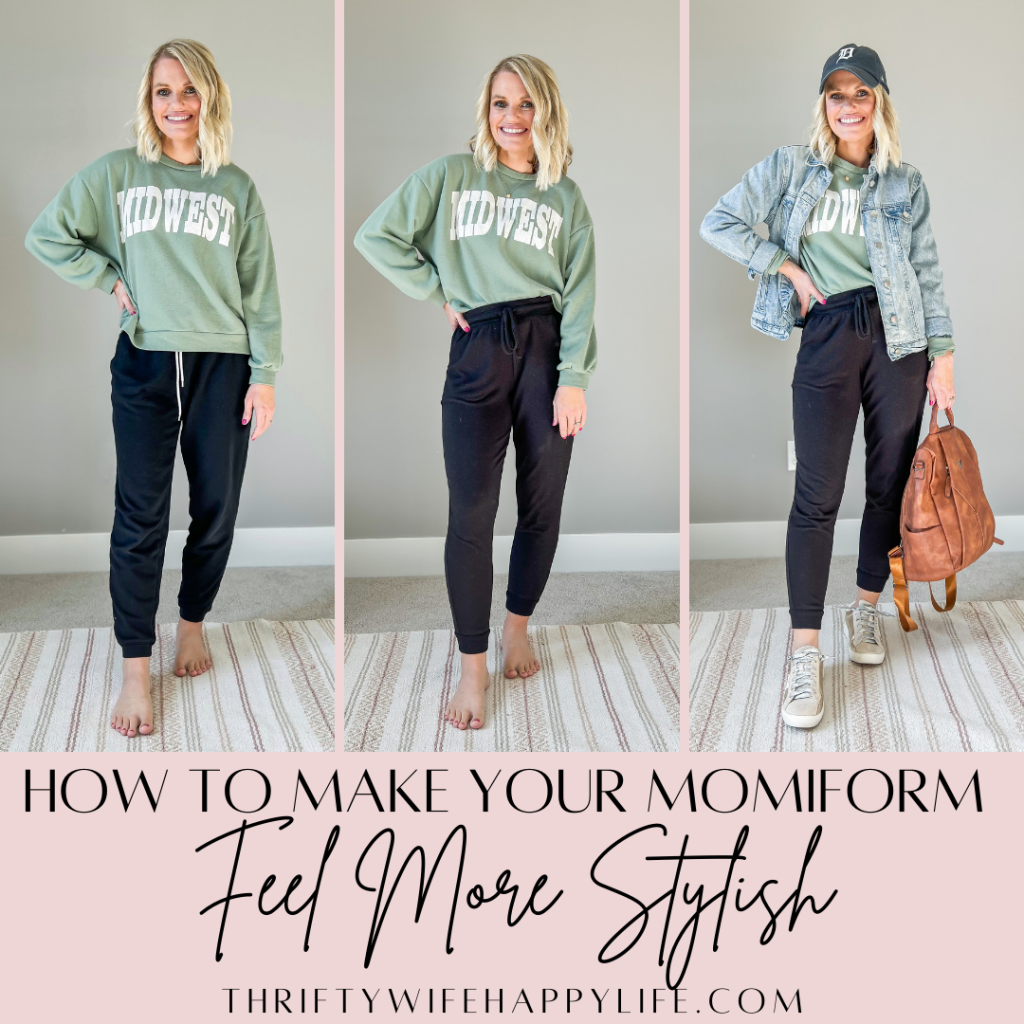 A few years ago I wrote a blog post called 5 Ways To Make Your Momiform Pop! The post has been one of my most popular posts on Pinterest and I know that it's because so many women are looking for the answer to the question of, how can I feel more stylish in my everyday outfits as a mom? It's hard to find the balance between comfy and cute when you have little kids at home. I know this first hand. That's why I wanted to continue to talk about this topic with a new blog series of posts to help make your everyday momiform feel more stylish.
*This post contains affiliate links.
For those of you who are unfamiliar with the word momiform, it basically means your mom-uniform. It's the everyday mom-friendly outfit that you throw on every day to do your mom job. Sometimes your outfits start to feel like a uniform because life gets so hectic that you start to wear the same thing every day. This is where I want to help. I want to help you feel more stylish in your everyday mom outfits and give you new ways to wear what you are already wearing.
For today's momiform outfit, I am going with a comfy at-home basic mom outfit. I am going to assume that most of you have a pair of jogger sweatpants and a sweatshirt in your closets. Who doesn't love being comfy in an outfit like this, especially if you are spending your days at home with little kids? The only problem with this look is that I wouldn't call it an outfit. It's sloppy. It looks like I just threw on my clothes. There's no thought or effort in this look. So let's see what changes we can make…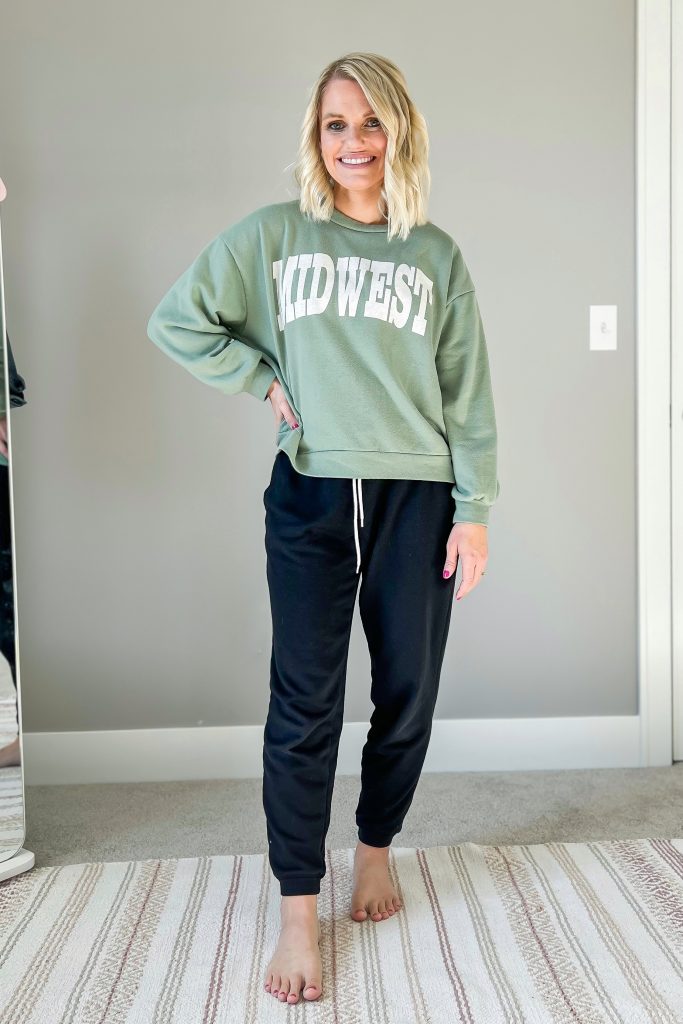 Step 1- Tuck the sweatshirt
This may not work with all sweatshirts, depending on the thickness and length of the sweatshirt, but it works with most of my crewneck cropped sweatshirts. A little front tuck can make a world of difference in any outfit. It breaks apart the look and defines your waist. This is the first thing I do with any outfit that I want to feel more stylish wearing.
Step 2- Trade out your baggy joggers for a fitted pair of joggers
I love these Old Navy joggers I am wearing in the first picture, however, they are a little baggy. If I want this outfit to look more stylish, I would probably trade them out for a fitted pair, like this pair of joggers from Maurices. I almost always size down on my jogger sweatpants to have a more polished look.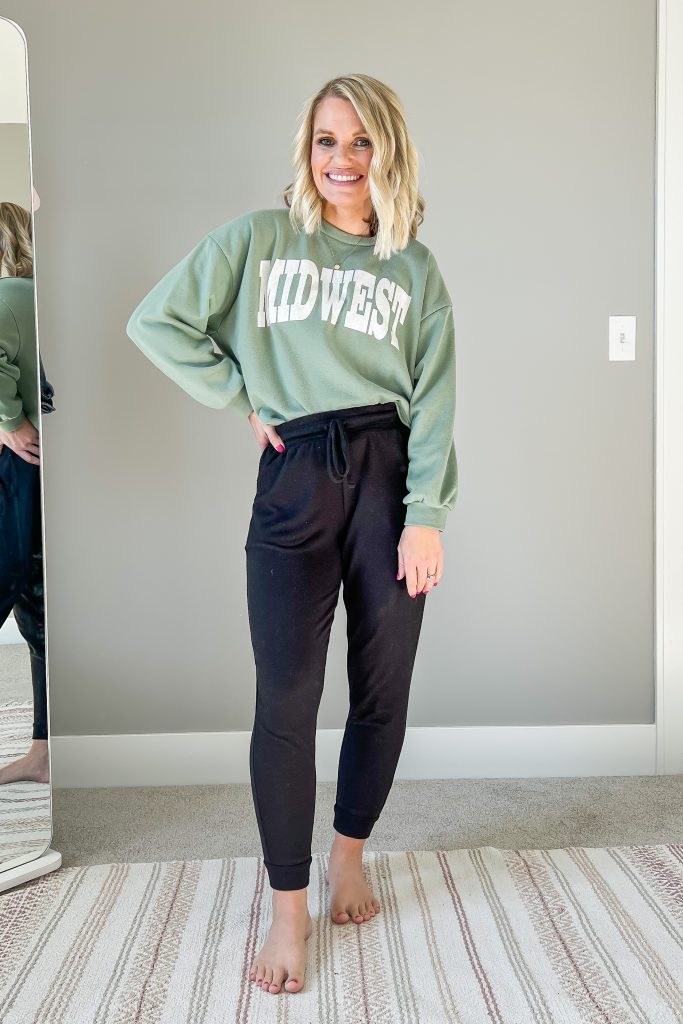 Step 3- Add jewelry
I always feel more stylish when I am wearing jewelry. It takes nothing more than a dainty necklace and some little stud earrings to make me feel complete. Some might say that it's too dangerous to wear jewelry around little kids because they might break it, but I would argue that if you wear jewelry all the time, they don't usually bother it. It's rare that my kids would try to pull on any of my jewelry, because they see me in it all the time.
Step 4- Add a denim jacket
I have this fashion rule that I made up, where if I am wearing denim, I automatically feel put together. This is why I almost always put on jeans or a denim jacket when I leave the house to run errands. By adding a denim jacket to this jogger outfit it feels like a cute outfit that I can wear to the grocery store.
Step 5- Complete the look with cute sneakers and a baseball cap
To complete this momiform look I added a pair of comfortable sneakers and a baseball cap. You can't go wrong with cute sneakers, like this cute pair from c/o Lou Lou's Boutique. I also love a good 47′ baseball cap. My six-year-old has now caught on to my secret because whenever he sees me with a hat on he always says "mommy, did you not do your hair today?" It's the perfect way to hide my dirty hair.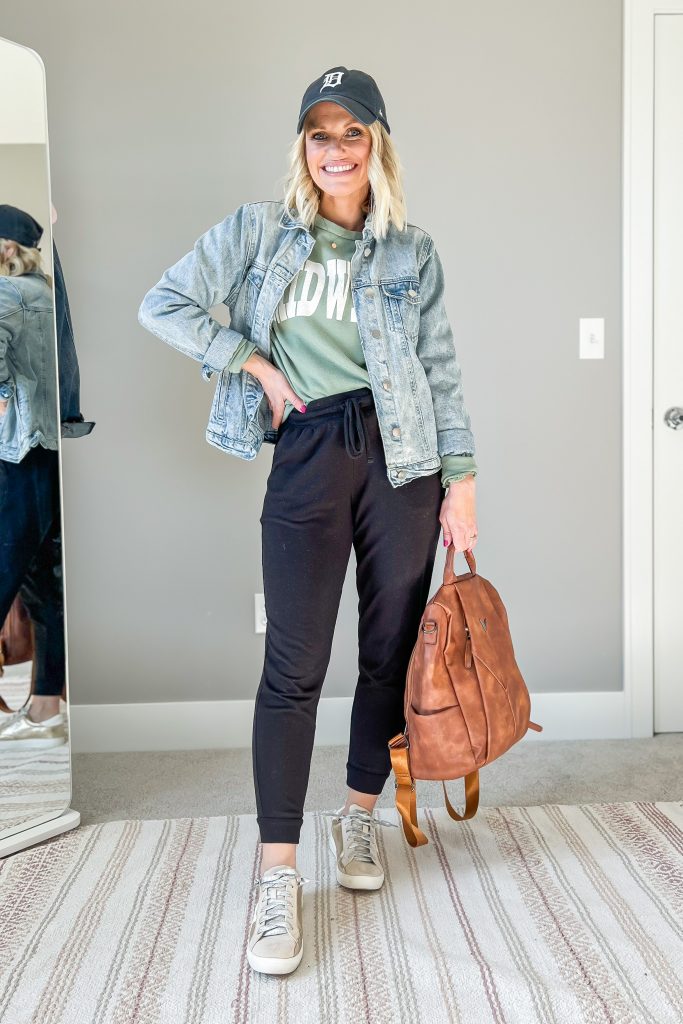 Outfit Details
Sweatshirt- c/o Lou Lou's Boutique (HERE) (Discount code: THRIFTY for 10% off) (SIMILAR, SIMILAR) Joggers– First pair- Old Navy (HERE) Second pair- Maurices (HERE) Denim Jacket- c/o JustFab (SIMILAR, SIMILAR) Sneakers– c/o Lou Lou's Boutique (HERE) (Discount code: THRIFTY for 10% off) (SIMILAR, SIMILAR) Hat- Lids (HERE) Purse– Amazon (HERE)
If you are looking to step up your everyday momiform and you have a specific look in mind, email me or DM me on Instagram. I'd love to get some ideas for your mom outfits that you are struggling with and want to feel more stylish wearing! Look for more posts like this in the upcoming months!