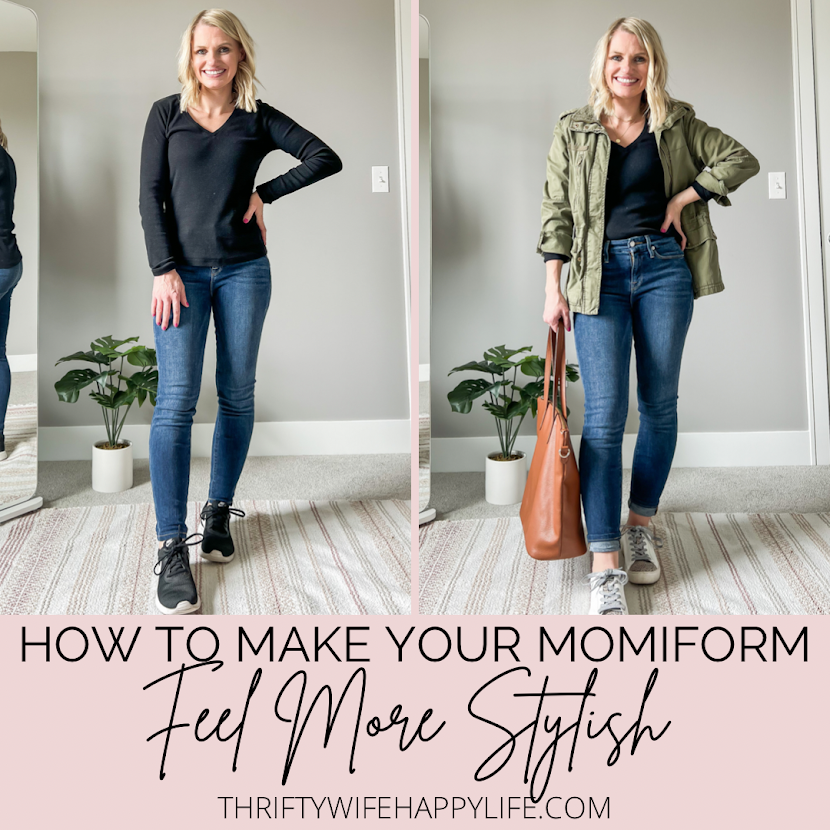 Hi Friends! It's time for another How To Make Your Momiform Feel More Stylish. If you missed my last post HERE, I talked about how a momiform is an outfit that we wear every day as a mom that often feels like a uniform for us. This is why I love to share tips on how we can take typical everyday clothes that many of us already have in our closets and turn them into cute and stylish outfits.
* This post contains affiliate links.
I wasn't planning on doing another momiform so soon after my last post, but I had an outfit pop into my head that I have seen many women wear. It's a simple outfit made up of a long sleeve black top, skinny jeans, and tennis shoes. Now there is nothing wrong with any of the items I am wearing here. They are all great basics that I think we should all have in our wardrobe, however, this outfit is kind of blah. There's not much to it. Let's see how we can fix it.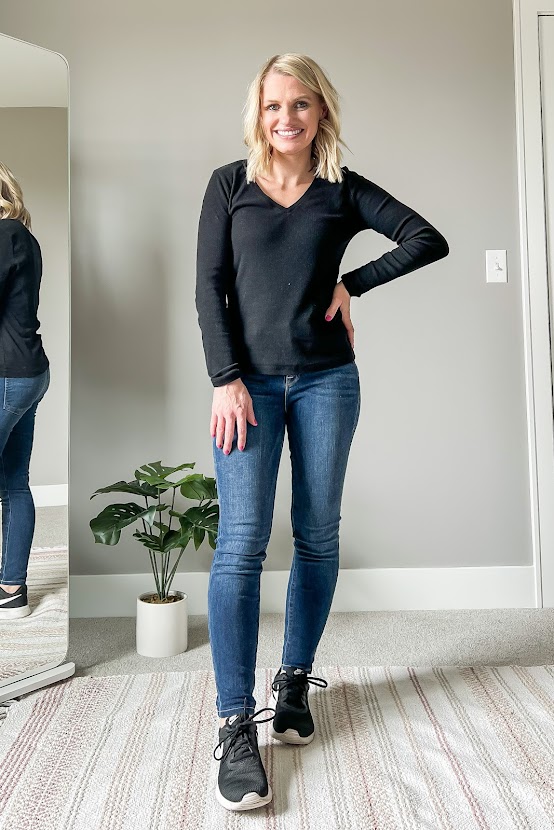 Step 1: Tuck the shirt
I am almost always going to tell you to tuck in your shirt. It can do so much for an outfit. It breaks apart the look and defines your waist. I've heard the argument that some women don't feel comfortable tucking in their shirts due to their "fupa", as it's called. If this is the case for you, I recommend trying out some different bottoms and playing around with what makes you feel comfortable. It is amazing what a good pair of jeans can do for your troubled areas. I have seen women of all sizes using the front tuck, so before you write off a front tuck completely, first give it a try.
Step 2: Switch out the athletic tennis shoes for a cute pair of fashion sneakers
I love my black Nike tennis shoes. They are a great pair of shoes, but when it's paired with this black skirt and jeans they do nothing for the look. I recommend trying a pair of fashion sneakers with some sort of print or shine to them. There are so many cute sneakers out in stores right now. My sneakers are from Target. Just check to make sure that the shoes come down low enough and work with the jeans you are wearing.
Step 3: Roll your jeans
I always like to wear a little bit of a cropped jean. I like to show a little bit of ankle because it elongates my legs and makes me look taller. That's why if my jeans are not already cropped, I will often just roll them once to get the cropped look.
Step 4: Add a layer with some color
It's always nice to add some sort of layering piece over a simple t-shirt like this one. I wanted something with a color, so I chose my army green utility jacket. This jacket is a great layering piece for spring and fall. It's perfect to wear with jeans and it has a really nice length to it. I like to roll the sleeves to give it a little style. It has an adjustable cord at the waist, so it's a great way to highlight your waist.
Step 5: Don't forget to accessorize!
No outfit is complete without a little accessorizing. I always wear some simple gold jewelry. A necklace and earrings are usually all I do on a normal day. I chose my cognac tote bad to carry. If I had to carry one purse in one color for the rest of my life, this would be it! It goes with everything and it's nice and big, so I can still fill it with plenty of fruit snacks and graham crackers when needed!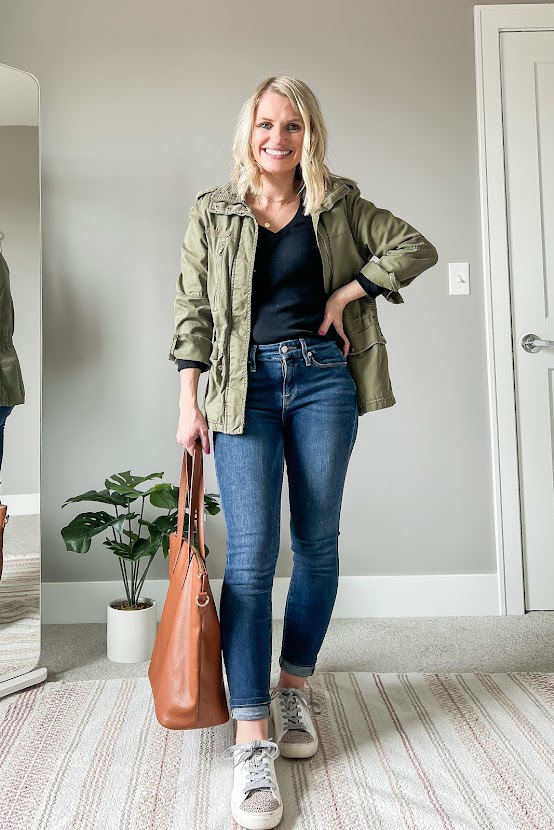 Outfit Details
Top- Target (HERE) || Jeans- Good American, thrifted from Poshmark (SIMILAR/SIMILAR) || Shoes- First pair- Kohls (HERE) Second pair- Target (HERE) || Utility Jacket- H&M, thrifted from Poshmark (SIMILAR) || Tote- Old Navy (SIMILAR)
I hope that you are finding these posts helpful. If you get inspired by any of my posts and put together an outfit that you are proud of and makes you feel good, tag me on Instagram @thriftywifehappylife! I would love to see what you guys come up with!!