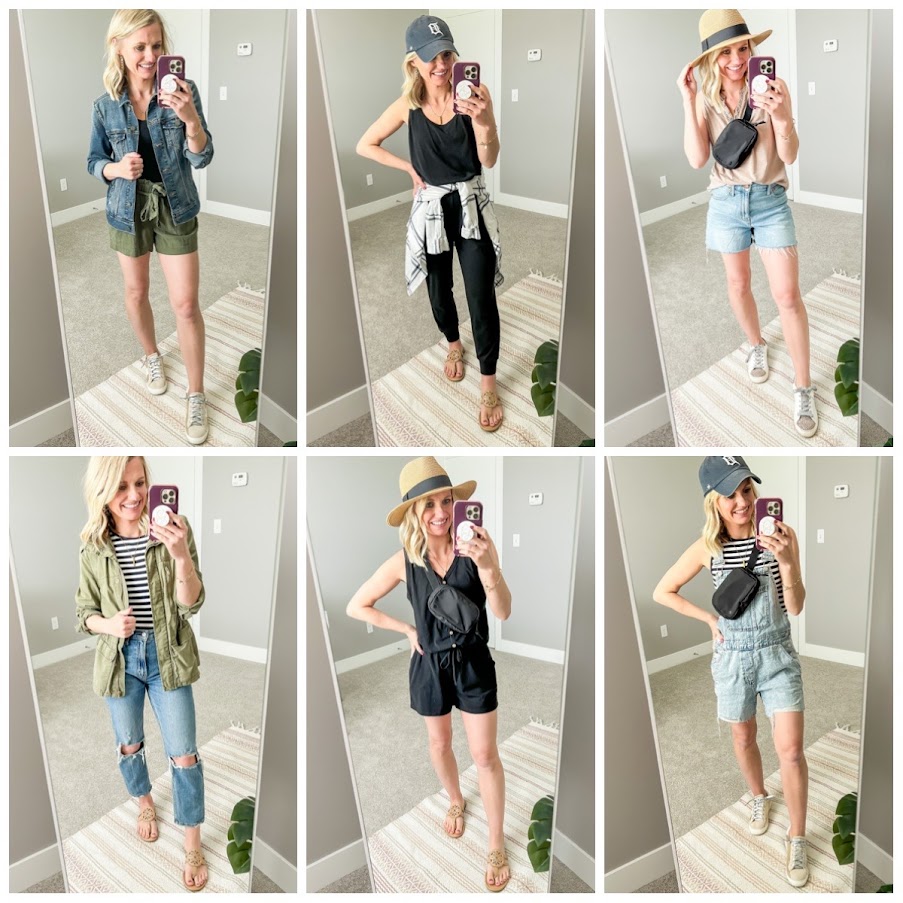 I don't know about you, but I am excited that the school year is coming to an end. My little guy is just finishing up his first year of kindergarten and it's so fun to see how much he has learned this year. His school is ending with a few fun events that involve the parents and I am so excited that I get to be a part of them. One event in particular that I am excited about is chaperoning a field trip to the Zoo. That's why today I thought it would be fun to share some cute mom outfits to wear on a field trip!
Of course, with any event, I thought about what I was going to wear and it made me think that other moms might be needing an outfit for an event like this as the school year comes to an end too. That's why I put together 6 mom outfits to wear on a field trip or while volunteering or chaperoning a school event this spring! Let me know in the comments which outfit I should pick to wear on the field trip!!
*This post contains affiliate links.
Related Posts: How to Make Your Momifrom Feel More Stylish
Green Shorts + Jean Jacket + Sneakers
I love comfortable shorts and these linen paper bag shorts are perfect to wear on a field trip. They are a step up from an athletic color short, but they are still casual, especially when paired with a denim jacket and sneakers.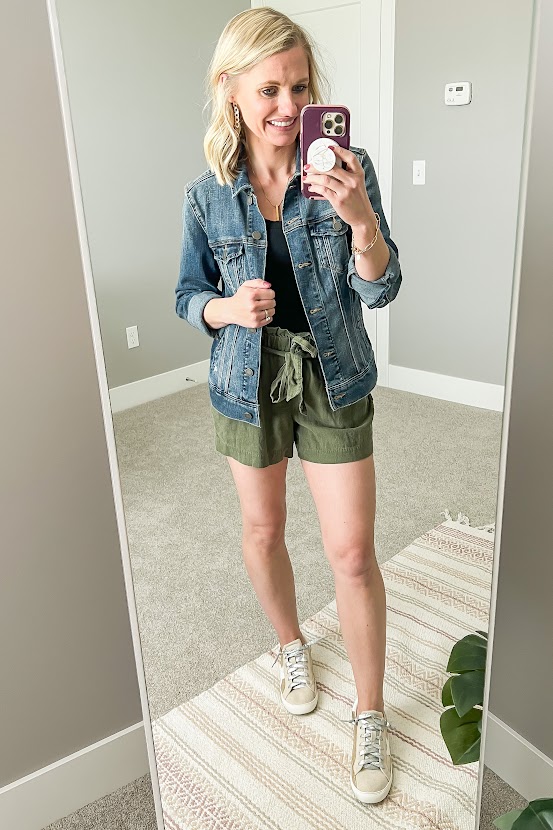 Top || Shorts (similar, similar) || Jacket (similar) || Shoes || Necklace
Jumpsuit + Button-Down Shirt
This Amazon jumpsuit is one of my favorite mom outfits. It's so easy to wear and super comfortable! I'm always finding new ways to layer with it. I have been wearing this lightweight button-down shirt lately, and I love how it looks with this jumpsuit to add a print with a pattern to the outfit.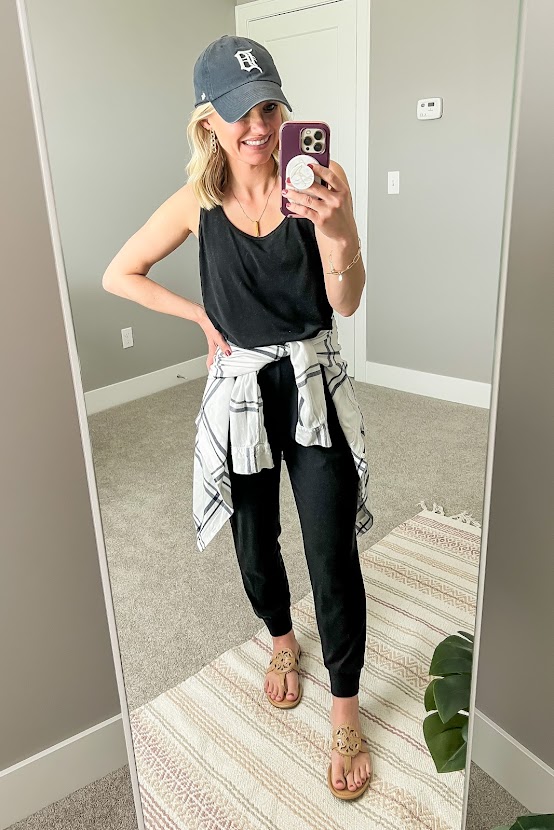 Jumpsuit || Shirt || Hat || Shoes || Necklace
Jean Shorts + Tank Top
Jean shorts are always a great summer staple! A comfortable pair of shorts and tank top is perfect to wear on a field trip. To dress up this simple look I added a cute straw hat, some fun sneakers, and a belt bag.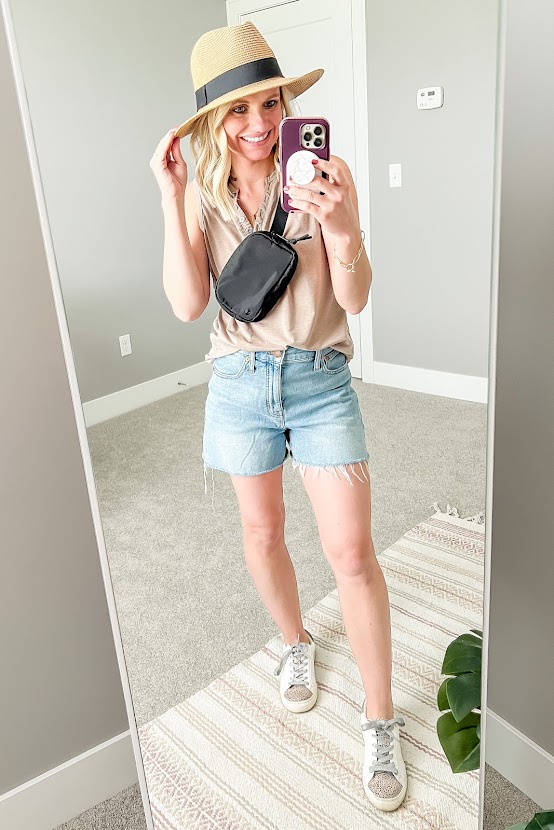 Tank || Shorts || Shoes || Hat || Bag
Jeans + Stripe Tank+ Utility Jacket
I love my distressed straight-leg jeans! This pair is perfect for mom life. I wear them all the time in the spring with a tank top and sandals. If it's a little chilly you can always layer up. My green utility jacket is always my go-to layering jacket when I'm wearing jeans like this.
Tank || Jeans || Jacket (similar, similar) || Shoes
Romper
This black romper is one of my favorite mom-friendly pieces for summer! This would work great for chaperoning a field trip or even an end-of-the-year water day! I often wear this when I take my kids to the splash pad in the summer.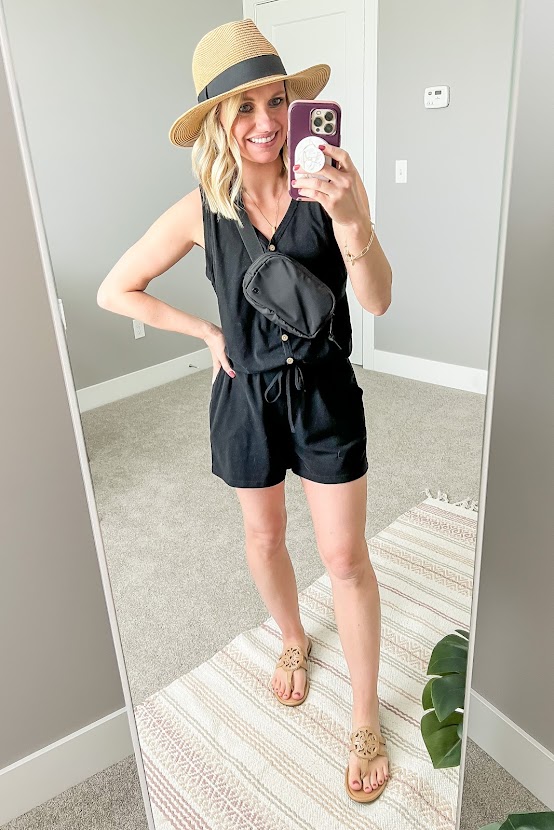 Overalls
These overalls are new to my wardrobe and I feel like they are great to wear while chaperoning a field trip. They are a great alternative to wearing regular jean shorts.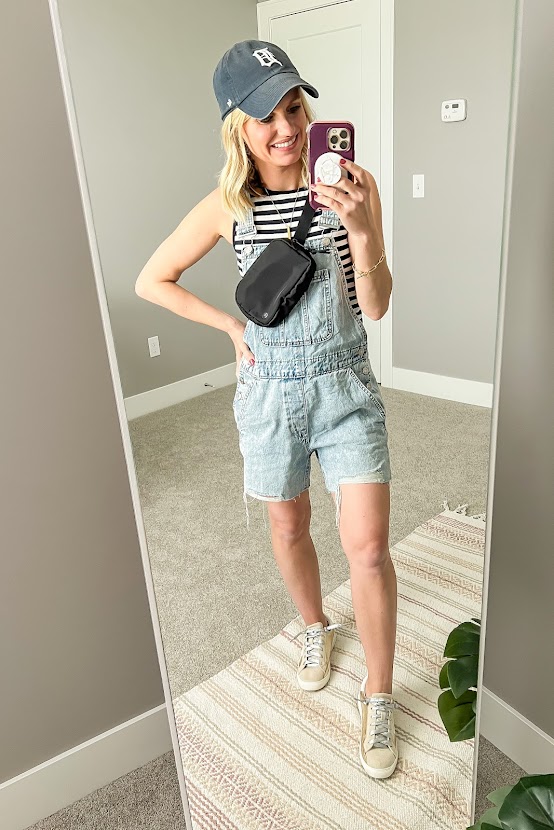 Overalls || Tank || Shoes || Hat || Bag